Forensic Analysis of Exchange EDB Files
Summary: This blog has mentioned various situations in which cybercrimes have disrupted organizations. We have also talked about the challenges in examining mounted EDB files. Challenges such as the risk of evidence spoliation, and lack of search options, account for the risk of human error. Moreover, analyzing EDB files outside the Live Exchange environment is not always viable. We have also emphasized the importance of a reliable eDiscovery tool, Stellar Email Forensic, for examining EDB files offline.
With increasing cybercrimes occurring daily, organizations with Exchange server environments are becoming more concerned about their server's security. Most have implemented safety measures to safeguard the server and associated mailboxes against common threats. Still, cybercrimes continue to impact these organizations. In case a cybercrime, such as data theft, phishing attack, etc., takes place in an organization, one of the first things to do is to seek the help of email forensics investigators to identify the culprit.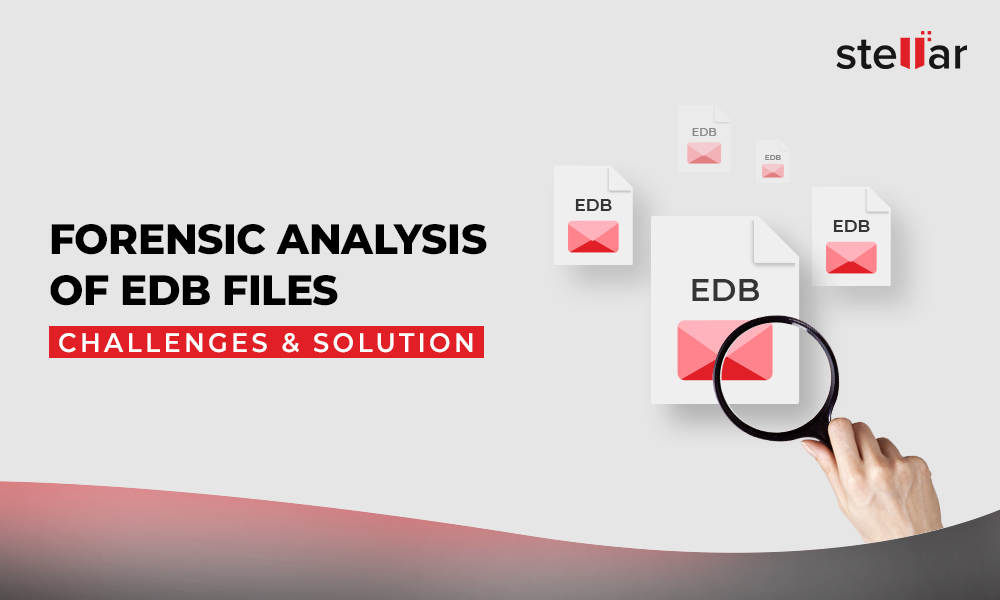 To investigate cybercrime and extract evidence, the most direct approach email forensic investigators can take is to get access to the mounted EDB files and examine the mailboxes in the organization's live Exchange Server environment. However, this is seldom possible for the investigators as organizations are usually reluctant to grant access to their Exchange servers, mainly because of security and privacy concerns.
Challenges in Examining Mounted EDB Files
Gaining access to an organization's Exchange server for forensic analysis is difficult. However, it won't make the investigation process easier even if you somehow get access to the server. This is because you will still face challenges, such as:
1. Risk of Evidence Spoliation
Email forensics investigators must create copies of the EDB files and then analyze these copies instead of the original files stored on the Exchange Server to prevent evidence spoliation. This is because the risk of human error is always there. For example, you may accidentally trigger an event, like opening an unread email that can modify the email's original Metadata. Similarly, someone from the organization may try to delete certain emails from their mailbox during the investigation to conceal case-related information. So, it's better to create a copy of the Exchange database file as soon as possible and analyze this copy for investigation.
2. Lack of Search Options
When you have access to the Exchange server, you can search the EDB files and the mailboxes for evidence. However, the search options available in Exchange are limited and ineffective for an in-depth investigation.
Analyzing EDB Files outside Live Exchange Server Environment
Since examining EDB files in a live Exchange environment is usually not viable or even possible, email forensics investigators have no choice but to open and examine EDB files outside the Exchange Server environment. This also prevents evidence spoilage and provides more room to experiment with the data for evidence collection.
The best way to examine EDB files outside of a live Exchange Server environment is to use a reliable third-party eDiscovery software, such as Stellar Email Forensic, that is designed specifically for the application of email forensics.
Why Use Stellar Email Forensic for Examining EDB Files?
Stellar Email Forensic is an advanced and intuitive email forensics software that supports more than 25 email file formats, including EDB, PST, OST, DBX, NSF, MBOX, OLM, TBB, EML, etc.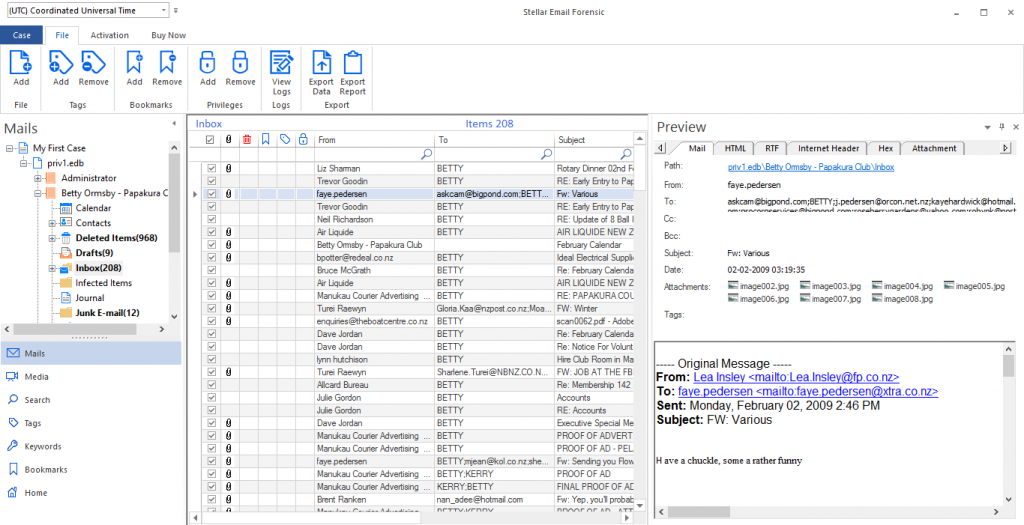 The following are some reasons why Stellar Email Forensic is the best choice for examining EDB files offline:
No Exchange Server Environment Required: Stellar Email Forensic allows you to open and examine unmounted or offline EDB files easily and instantly. An Exchange Server environment is not required for accessing the email database.
Advanced Search Options: Stellar Email Forensic offers advanced search options for finding relevant emails for forensic analysis. You can use options such as Boolean Search and Regular Expression Search to narrow down the results. You can filter email attachments based on file types, categorize emails with tags, and many more.
Recovery of Deleted Emails: Stellar Email Forensic comes with the deleted email recovery feature. So, when you open and scan an offline EDB file with the application, it displays all the emails in the file, including the deleted emails.
Support for Both Public and Private Folders: You can open public and private folders, i.e., pub.edb and priv.edb files with the help of Stellar Email Forensic software.
Support for Opening Multiple EDB Files at Once: You can simultaneously add multiple EBD files in Stellar Email Forensic and examine them in a single process. It also supports large EDB files that may contain thousands of emails. Since it maintains the hierarchy of the folders and organizes emails accordingly, you can navigate through many emails easily, irrespective of the size of the files. See Figure 1 for more details.
Compatible with all Exchange Versions: Stellar Email Forensic can analyze the EDB files of Microsoft Exchange Server 2019, 2016, and older versions.
Bulk Email Forensics of EDB files: Stellar Email Forensics has greatly helped legal professionals with cases such as unsolicited commercial emails or others involving forensic analysis of thousands of emails. Stellar Email Forensic is a specialized eDiscovery and email forensics software that can make working with bulk emails simple, fast, and easy.
Calculating MD5 and SHA1 hash values of the original EDB files: Stellar Email forensic is state-of-the-art software that automatically calculates MD5 and SHA1 hash values corresponding to emails in the mailbox data. This ensures that no evidence has been altered during the investigation. While the litigation process continues, ensuring that everyone has identical copies of the EDB files is crucial.
Are you interested in using Stellar Email Forensic software? Download this software today and use it free for up to 60 days!