Free Download Photo Repair Software to Fix Corrupted Photos
Summary: This blog discusses how a photo repair tool can help you repair your corrupted or damages photos. This post also discusses why your pictures get corrupted and shares tips to avoid this corruption in the future.
Photos can get corrupted due to virus or malware attacks, bad sectors in the hard drive, USB or SD card, and improper ejection of storage media. Moreover, an image can also get corrupt because of sudden system crash or shutdown, file system errors, and interruption during data transmission.
Corrupt photos, when opened, show an error that the 'file cannot be opened' or they open with random or blank color lines or a different error code. However, these corrupted pictures can be easily fixed using an efficient photo repair tool.
In this blog, we will discuss the causes of image corruption and why use photo repair software to fix corrupted images. Moreover, it also explains how to use Stellar Repair for Photo to fix damaged pictures.
What Causes Image Corruption?
Image corruption is a fairly common issue for any user and there could be many reasons, which can be responsible for corrupt photos. Some of them are:
Abrupt system crash or shutdown
Power loss and system shutdown during the file transfer process
Broken or corrupted header of the image file
Malware or virus infection
Storage media or device has bad sectors
Improper sharing of files via an infected medium
Incompatible file format
Why Use Best Photo Repair Software to Fix Corrupted Photos?
Stellar Repair for Photo is the best tool to fix damaged and corrupted JPEG/ JPG or other format photos. This advanced tool is designed to fix unreadable or corrupted image file headers, unknown or invalid markers, invalid image file structure, missing SOS markers, etc.
You can use this tool to repair inaccessible, fuzzy, tinted, grainy, faded, blurry, greyed-out, pixelated images.
If your photos are severely corrupted beyond repair, then Stellar Repair for Photo will automatically recommend Advanced Repair. This Advanced Repair option uses a sample file – it is a working file taken from the same device as your corrupt image and uses the information from the sample file to fix your corrupted photos. You can extract the thumbnails of severely corrupt images.
The tool can repair JPEG/ JPG pictures from all popular digital camera brands, such as Sony, Nikon, Olympus, Kodak, Fuji, etc. It even repairs the photos taken from camcorders, CCTV, iPhones, Android, iPad, and other devices. You can repair all popular image file formats like JPEG, JPG, HEIC, TIFF, DNG, NEF, NRW, CR2, CR3, etc.
Key benefits of using the Free Stellar Repair for Photo software to fix corrupted pictures:
Repairs RAW photos from various cameras like Canon, Nikon, Sony, Fuji, and other brands
Batch repair multiple photos of the same or different file formats simultaneously
No limit on the image file size
Use a sample to repair severely corrupt image files
Provides thumbnails for photos that are severely corrupt beyond repair
Provides a preview of the repaired images before saving
How to Use Best Photo Repair Software to Fix Corrupted Photos?
To repair corrupted photos, you can follow the steps mentioned below:
Step 1: Launch the Stellar Repair for Photo
You need to download and install the Stellar Repair for Photo software on your Windows and Mac. Once it is installed, launch the software to proceed forward.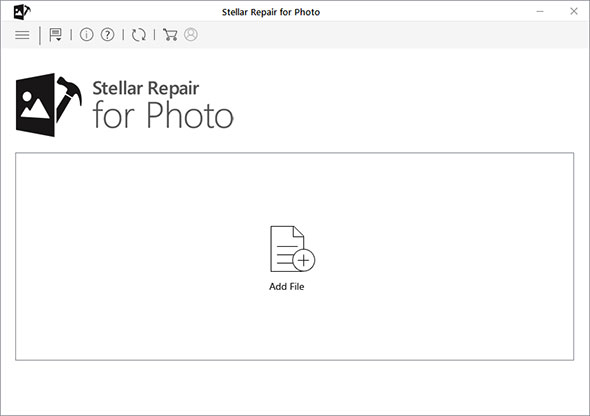 Step 2: Add Files
On the main screen, click on the 'Add File' icon to insert corrupted image files. Select single or multiple images and click Open to add photos to the software for repair.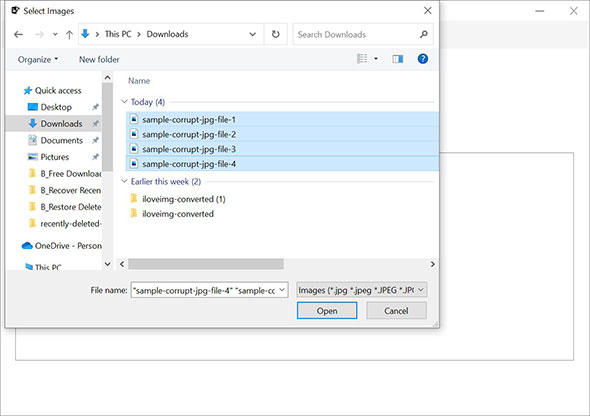 Step 3: Perform the Repair
Once you finish adding corrupted photo files, click the 'Repair' button to initiate the repair process.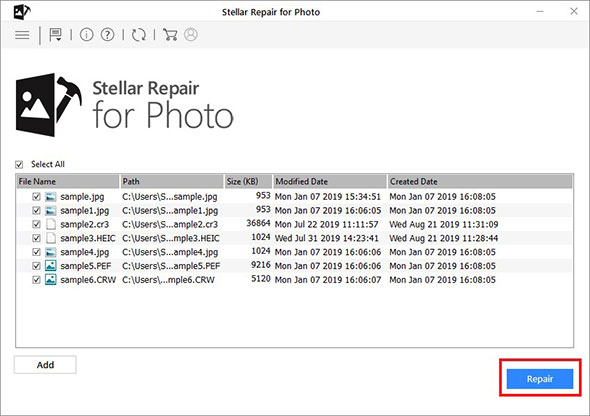 You can see the progress of the image repair process. Moreover, you can click Stop if you wish to stop the current repair process.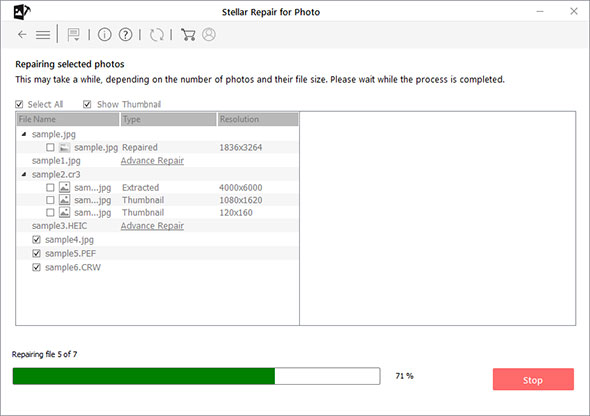 Step 4: Finish the Repair Process
Click OK when the software prompts 'Repair process completed'.

Moreover, some corrupted photos are difficult to repair, in such a situation, you need to go for Advanced Repair.
Advanced Repair
Those image files which are complex to fix are repaired with the help of a sample file. Now what exactly is a sample file?
The working image file is generated by the same device as your corrupt photo file. Stellar Repair for Photo tool uses the information from sample files to fix severe corruption issues in your photos.
Step 5: Choose the Advanced Repair Option
First of all, within the list of repaired image files after step 3, you can see some files are not repaired. Click the Advanced Repair option present under the Type attribute.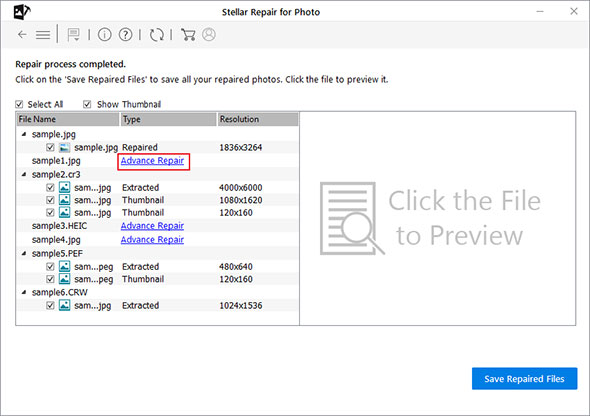 Step 6: Add Sample Files for Repair
Click Next in the dialog box that appears with information about Advanced Repair. Click Browse to add a sample file for repairing corrupt images.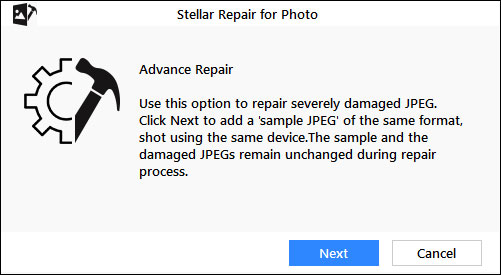 Don't forget to select the option of Apply to all JPEGs of same format and click Repair to begin the repairing process.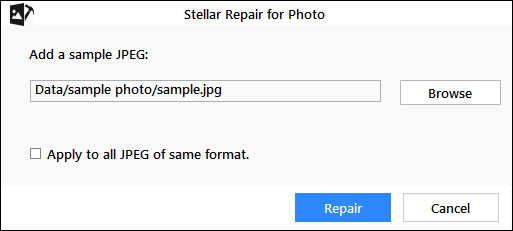 Step 7: Finish the Advanced Repair Process and Preview
After the process is over, click OK when you get the prompt of 'Repair process completed'. Select the files you want to Preview to see how repaired image files look.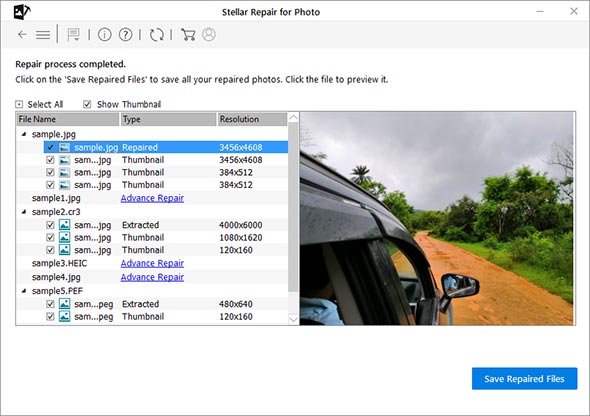 Step 8: Save Repaired Files
Once you are satisfied with the repair result, click Save Repaired Files. Next, browse the location to save the repaired images at a desired destination. Then click Save. After the saving process completes, click OK.

How to Prevent Corrupted Photos?
You are now aware of how free photo repair software can help in repairing corrupted images. However, a few tips can help you prevent image corruption in the future.
1. Ensure to use a compatible photo viewer
If you are getting error messages while trying to view your images, there is a high possibility that your viewer is not compatible and outdated. This is why you need to make sure that you have installed the latest and compatible image viewer in your system.
2. Use Storage Media Properly
Some people eject the storage drive carelessly, which leads to corruption or damage to the media files stored in them. To avoid corruption of media files stored in various storage media, you must insert and eject them by following the correct procedure.
3. Avoid interruption
Make sure that there is no interruption while you are saving, sharing and downloading, or transferring the media files across systems. Because interruption can lead to data loss scenarios that can damage or corrupt your files.
4. Avoid working on original files
Make it your habit to never work on the original image files, instead make several copies of the original image and then edit those. Working on copy images will ensure that if something goes wrong during the edit, your original files will remain untouched.
Conclusion
There are multiple reasons for your pictures to get corrupt and if they get corrupt, you don't have to worry. Use the free tool Stellar Repair for Photo to fix damaged, distorted, and corrupted JPEG or other formats of photo files. This tool ensures your images are back to their original self in no time.
It is recommended to first take the free trial of Stellar Repair for Photo to preview your repaired images and assess the efficiency of this tool.
FAQ
Can I fix a broken or corrupt JPEG header?
Yes, Stellar Repair for Photo can fix images with broken or corrupt JPEG header error messages. For more information, you go through the fix broken or corrupt jpeg header blog.
My repaired photos are deleted accidentally. How to restore them?
If your repaired photos are lost or deleted, use Stellar Photo Recovery software to restore them. To know how to do it, read the step-by-step guide for recovering deleted photos.
Why can't I view photos on the Windows system?
You cannot view the photo on your Windows due to various reasons like an outdated or incompatible image viewer, corrupted or encrypted photos, and virus or malware attack. To fix the issue of photos cannot preview on Windows, you can refer to this blog.
How do I know if a picture is corrupted?
If your image doesn't open in any image viewer application, is faded or blurred, and has an unusual color, you can say your image is corrupted.