Get Stellar Drive Clone Software Registration Key Online. Activation Process Explained
Summary : The objective of this blog is to help users activate or register Stellar Drive Clone software with the help of a legal registration key or activation code. Further, the blog educates the user to avoid searching or using Stellar Drive Clone Crack, Keygen, or otherwise acquired an illegal full version of the software.

Stellar Drive Clone Activation or Registration process is quite simple. All you need to do is Free Download Stellar Drive Clone Software

Step 1) Follow the below-mentioned process to activate/register the Stellar Drive Clone software, which is now macOS Sierra compatible. (Steps includes registration from the software)
Step 2) Otherwise, go to Stellar Drive Clone Official Buy Page (Direct Registration)
Important
Stellar Data Recovery discourages use of Stellar Drive Clone Crack, Stellar Drive Clone keygen, Stellar Drive Clone serial key acquired from unofficial or torrent based websites. Using Stellar Drive Clone crack version is against the EULA of Stellar Data Recovery. Moreover, the crack version of the software doesn't include benefits which an ethically registered version would provide. Some of the key advantages of the Stellar Drive Clone officially registered version will be discussed towards the end of the article.
Stellar Drive Clone Registration Process through Software
#1) Launch the application and click Register from the Tools menu.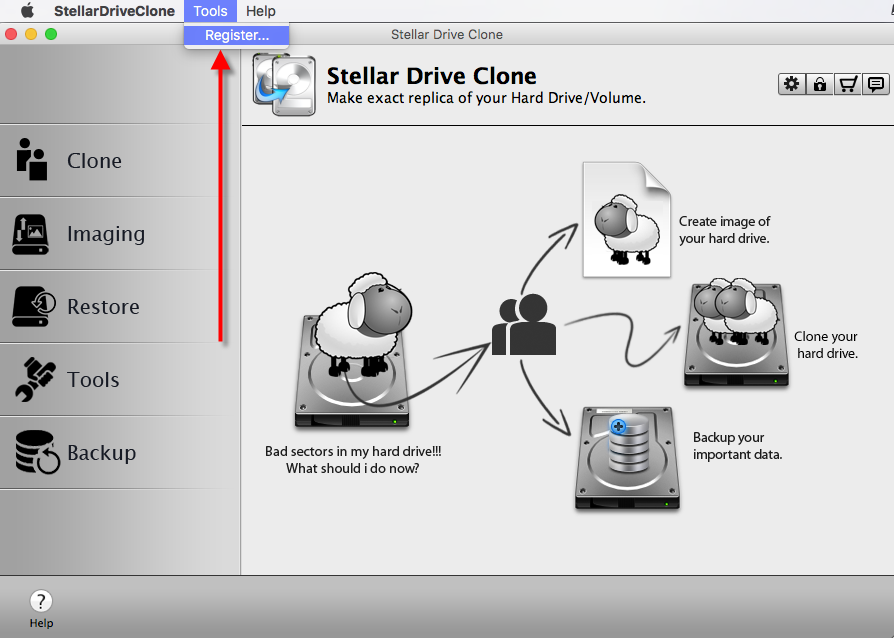 #2) A dialogue box will appear with the statement as below:
I don't have a key to register
I have a key to register
Select the first option (I don't have a key to register) and click OK
#3) Stellar Drive Clone buy page will open in Safari browser where you can order SOHO license of the software. Click on the Buy Now button mounted below the product Box. You will be redirected to Order ShareIT Checkout Page.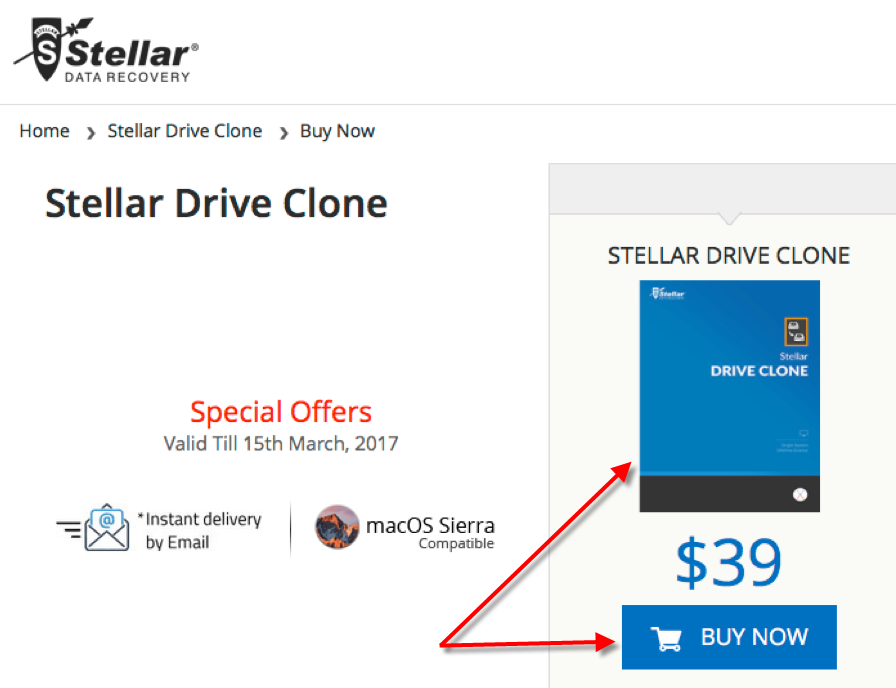 #4) If you want to order multiple licenses of the Stellar Drive Clone software then increase the Quantity and click Update on Order.Shareit.Com.

#5) After having done this, you can fill up the billing and payment information and proceed by clicking on the Buy Now button.

Once the payment for Stellar Drive Clone is made, you will receive the registration code or software activation key through your provided email id. With the received key, you can successfully activate the Stellar Drive Clone software on macOS Sierra (and below macOS).
This time select the option – I have a key to register << Enter the Activation Key << Click OK. This will successfully register Stellar Drive Clone software on your macOS.
Benefits of the registered copy of the software and not using Stellar Drive Clone Crack, Torrent, Keygen or any other illegally obtained software copy:
24 X 5 Free Lifetime Technical Support
100 % Money Back Guarantee. Please read more about Refund Policy.
You receive a safe and malware free copy of Stellar Drive Clone software. The crack, keygen or torrent version of the software are unsafe for your Mac since they contain malicious adware and possible malware.
Though optional, but you can subscribe to our newsletters, blogs and other data recovery knowledge articles.
Author's Note
Stellar Drive Clone is a smart macOS backup software that offers drive cloning, disk imaging, data restore, bootable USB support and scheduling backups. The software is fully compatible with macOS Sierra 10.12 and below versions including 10.11, 10.10, 10.9, 10.8, 10.7, 10.6 and 10.5. It's a good choice for managing backups on your macOS through a legally obtained copy of the Stellar Drive Clone software.
Read this related article How to activate or register Stellar Partition Manager online