Effortless Data Recovery from Complex RAID
Summary: When a RAID array fails or corrupts, the volume becomes unreachable, and the data is lost. But unlike regular drives, you can't access or recover data from RAID hard drives independently. In such cases, consider using Stellar Data Recovery Technician for effortless data recovery from a RAID configuration.

Are you looking for an effortless approach to performing complex RAID data recovery? Have you lost valuable data and can't access your backup files? Don't panic! Dozens of tools and utilities are available that help you recover your information with minimum hassle. However, it's essential to understand which one to opt for to receive ace results.
On the one hand, RAID configurations improve the cost-effectiveness of your setup, enhance the overall system performance, increase computer speed and reliability, and boost the availability and resiliency of your data. On the other hand, when a drive fails in RAID configurations, another drive becomes more likely to break, which results in massive data loss.
The following blog post discusses what RAID recovery is, how to deal with data loss, and eventually perform complex RAID data recovery using the best available utility.
What is RAID Recovery?
Everything that goes wrong on a standard Hard Disk Drive could also happen to a complex RAID configuration, including human errors, hardware or software failure, malware corruption, power outage, bad sectors, intensive system shutdown, etc. However, a broken RAID data recovery is much more complicated than fixing a regular HDD.
When a RAID volume breaks down, the drive becomes inaccessible, resulting in massive data loss. You can't restore lost information directly from the broken disk and must reconstruct or rebuild the RAID configuration to retrieve lost data. Although most users find it rather challenging, dozens of third-party recovery tools help simplify the process. Keep reading to learn about the best complex RAID data recovery software.
Best RAID Recovery Software – Stellar Data Recovery Technician
The Stellar Data Recovery Technician is a unique utility for complex RAID data recovery. The software provides cutting-edge technology to minimize the risk of data loss in a RAID configuration. Here's when to use Stellar Data Recovery Technician:
Accidentally deleted or lost RAID data: The software can restore data lost due to accidental deletion, malware, logical errors, software glitches, or power outage.
Incorrect rebuild of the RAID array: Incorrect array configuration could also cause a system failure, leading to data loss in a RAID setup.
RAID error messages: Facing read/write errors while accessing data stops you from utilizing the information on a drive, leading to a RAID system failure.
In such cases, you can benefit from Stellar Data Recovery Technician software and recover lost data in a few steps. Meanwhile, let's discover what features Stellar Data Recovery Technician provides to simplify complex RAID data recovery:
Recover Data from an Inaccessible RAID Volume: The software lets you restore information from corrupt RAID 0, RAID 5, and RAID 6 volumes and partitions without the RAID controller card.
Recover Data from SSD RAID Array: Stellar Data Recovery Technician retrieves data from formatted, deleted, or logically failed SSD RAID drives.
Formatted RAID Array Recovery: The software automatically rebuilds a virtual RAID array to save the restored data to another internal/external disk, even without the RAID parameters.
Deleted RAID Partition Recovery: The recovery utility scans for all the information from deleted partitions and retrieves them no matter what caused the accidental deletion.
Recovers from RAID-configured NAS: Stellar Data Recovery Technician efficiently restores data from NAS devices configured to RAID 0, 5, or 6.
Recovery with Virtual RAID Construction: Using the software, you can rebuild RAID even without its parameters, such as the number of disks, file system, block size, and parity order.
Recover Hardware and Software RAID: The software enables you to restore data from hardware and software RAID 0, RAID 5, or RAID 6 arrays with no hassle.
Recovery from Non-Booting Windows System: Even if the system fails to boot, you can use Stellar Data Recovery Technician to create a bootable USB media that initiates RAID data recovery.
Resolve the RAID controller issues: RAID controllers are software programs or hardware components that help manage volumes in a RAID setup. Stellar Data Recovery Technician lets you fix possible controller issues and recover all the data you might've lost due to this failure.
Knowing all the features, you can now learn how to perform complex RAID data recovery using Stellar.
How to Recover Data from Raid Hard Drive
Although RAID recovery is often a technical process and terrifies the average user, Stellar Data Recovery Technician makes it simple for everyone to retrieve lost data without hassle.
Follow these instructions to do so in five steps:
Select the type of data you wish to recover, then click Next.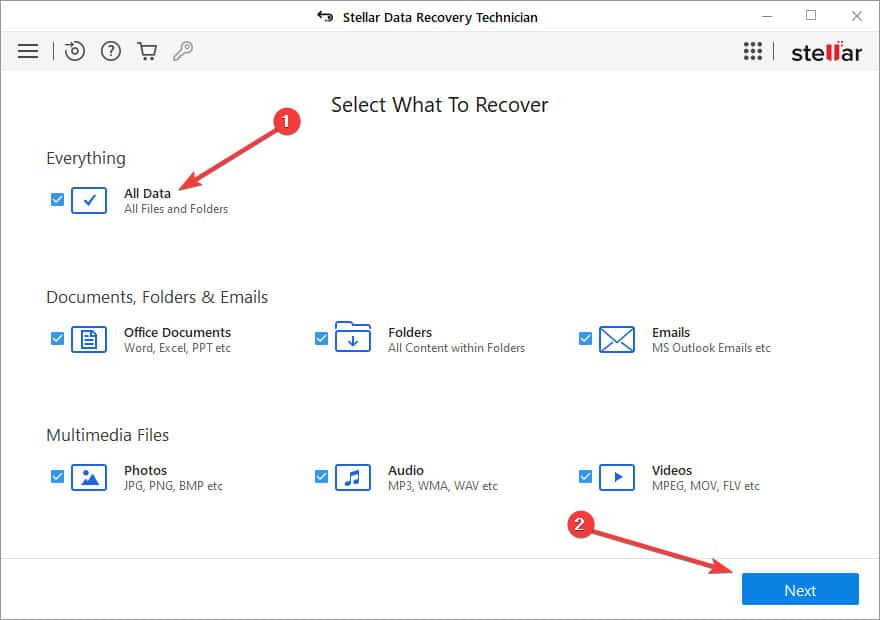 Choose Raid Recovery to recover data from RAID drives, and click Scan.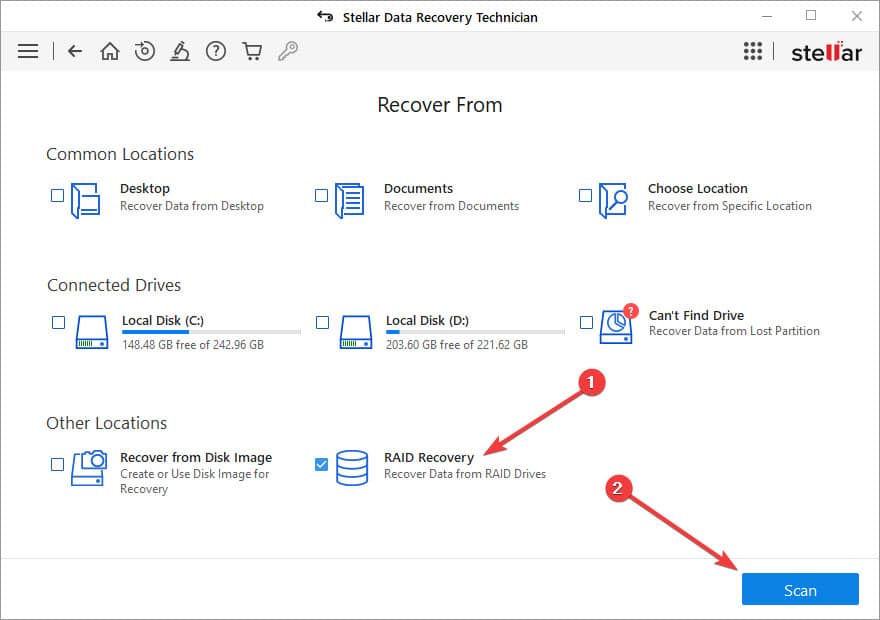 Pick the disks to Reconstruct RAID using the arrows.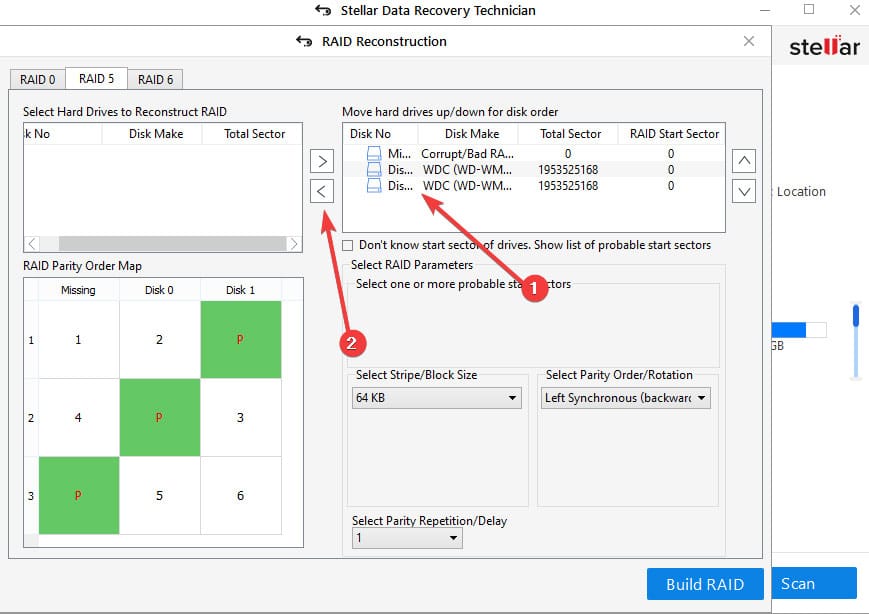 Use the drop-down menu to select Parity Order/Rotation.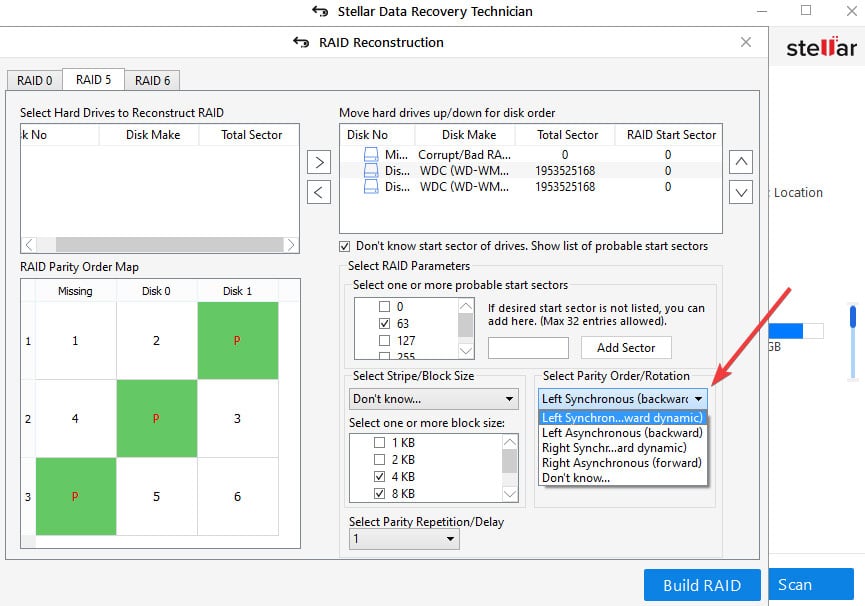 Finally, select the Parity Repetition/Delay and click Build RAID.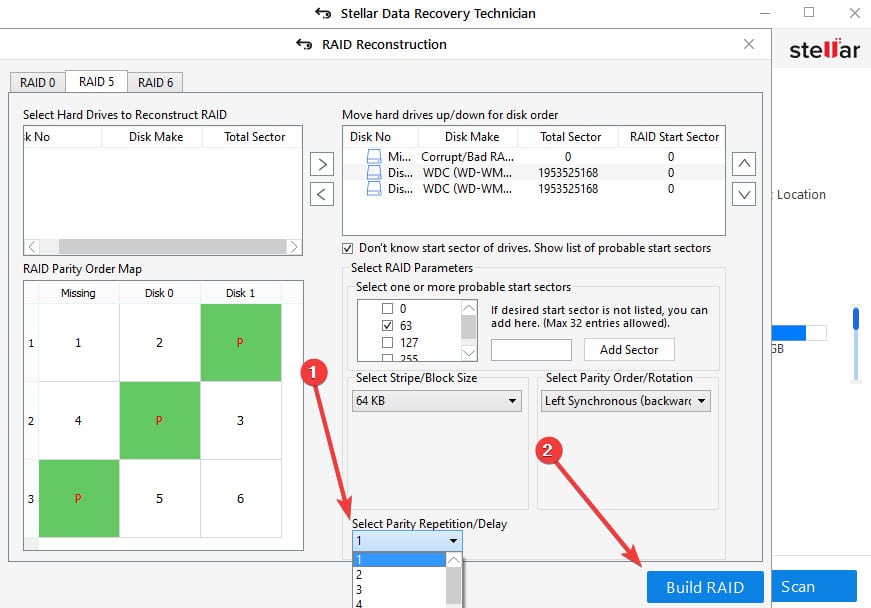 You can now access the data from the path you picked in the software.
Conclusion
Although RAID configurations come with plenty of benefits, they also have a few downsides. In case of a drive failure, the RAID setup becomes more vulnerable to disk corruption, leading to many problems for non-technical users. However, using third-party raid recovery software, including the Stellar Data Recovery Technician, you can quickly perform complex RAID data recovery without acquiring further knowledge.
FAQs
Which RAID configuration is most reliable?
RAID 5. It utilizes parity data on all the storage media to restore lost data in case of an accidental system failure.
Is there anything better than RAID?
Object storage offers a more straightforward and flexible alternative to RAID storage configurations.
Is RAID faster than SSD?
An HDD RAID array is understandably slower than an SSD RAID of the same size.