How to Fix an iPhone Stuck on the Apple Logo
In the present digitized realm, iPhone is the most in-demand smartphone. Users find it an epitome of perfection with a perfect blend of advanced technologies. Every individual has several inputs to justify why it is the most sold phone.
Despite being intuitive and having zillions of fans, occasionally it creates a hindrance for its prestigious users by creating issues, such as iPhone Stuck on Apple logo. If you are an avid Apple iPhone user and stuck on the white Apple logo or indicating Apple logo on a black screen when you try to start the device, then your search for a solution to the issue ends here. This blog is a sure-shot guide to resolve this challenge.
Prior to digging into how to fix the Apple Logo issue on iPhone, let us have a quick overview of the factors that cause 'iPhone Stuck on Apple Logo' error.
Why iPhone Stuck on Apple Logo?
Several reasons due to which 'iPhone Stuck on Apple Logo' error occurs are as follows:
Jailbreak of iPhone
iOS update
Attempt to retrieve iPhone data from previous iOS or backup
Software Conflict
Hardware issues
Accidental deletion of some iOS-related files
Expiry of beta version running on iOS
How to Fix an iPhone Stuck on the Apple Logo?
Several troubleshooting methods are in used to fix this issue. Some of the approaches are:
Course of Action 1: Restart the iPhone
It is the simplest way to fix the issue. Though the probability to resolve the concern is low yet in some instances it helps.
Steps are as follows:
Hold the Sleep/Wake button
Next, let go of this Sleep/Wake button
Now, shut down the iPhone by moving the Power-off slider from left to right.
Now, again hold the sleep/wake button until Apple Logo appears
Leave the button and allow the iPhone to finish booting up
Course of Action 2: Hard Restart the iPhone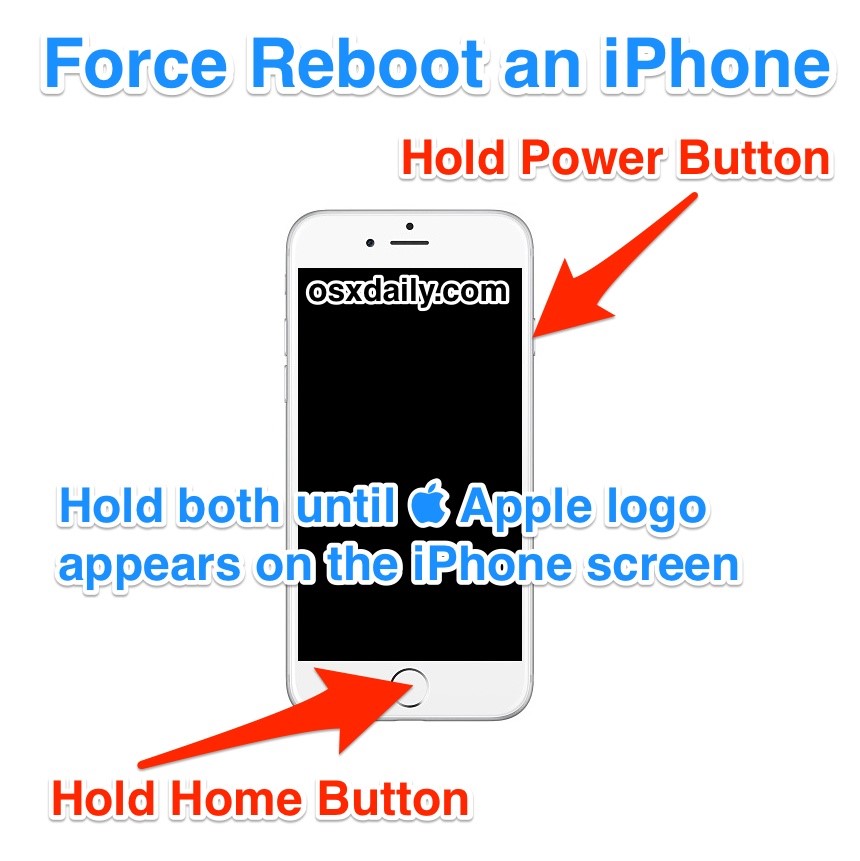 Figure: Hard Reset the iPhone
This another approach to restart the iPhone is more inclusive restart type and is comparatively more powerful. On several occasions, this little trick helps to resolve the concern.
Steps are as follows:
Hold Home button and sleep/wake button simultaneously
Don't skip the buttons even when the power-off slider appears
Wait till the Apple Logo appears
Let go the buttons and allow the iPhone to reset
Course of Action 3: Recovery Mode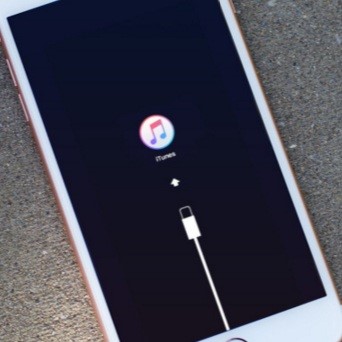 Figure: Recovery Mode
Another potential approach to fix 'iPhone stuck on Apple Logo.' Issue. This approach is relatively simple and helps in most of the cases. When the device is in Recovery Mode, it makes iPhone connectivity with iTunes to either backup the data or let it restore iOS fresh installation.
Steps are as follows:
Hold down the Sleep/Wake button to turn off the device
Power off the iOS device by swiping the slider to right
Next, hold Home button
Plug your iPhone into your system (make sure you have running iTunes on the system)
When you see Connect to iTunes screen, choose Update and release Home button
Note: It does not work in jailbreak or hardware concern
Course of Action 4: Use DFU Mode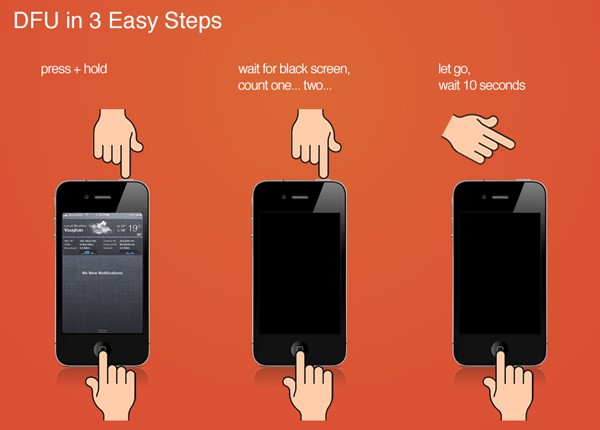 Figure: DFU Mode
If the issue is because of booting, then it is a great solution. Device Firmware Update mode allows you to communicate with the iTunes without starting bootloader. Using it, you can restore the iPhone from any stage. Always remember it wipes the complete iPhone and starts fresh.
Steps are as follows:
On your system, launch iTunes
Make a connection between your system and iPhone
Turn Off the iPhone
For 3 seconds, hold down sleep/wake button
Now, press Home button along with sleep/wake button for 10 seconds
Next, leave sleep/wake button and just hold Home button for another 5 seconds
If iPhone does not show anything, you are in DFU mode (if not, practice again)
On successful entry to DFU mode, a pop-up will prompt under iTunes on the system and asks for restoration for previous backup or restore iPhone to factory settings.
Note: It can erase all the data from the device thus, should only be practiced when you have a handy backup.
What if you still face the iPhone stuck on the Apple Logo issue? What if you don't have backup and you have lost data in course of fixing the above issue?
Step-Forward Solution
In such scenarios, going for a professional solution like third-party recovery tool is a great option. This solution being software-directed not only protects you from Data compromise and loss risk but also makes recovery journey simple, fast, and an efficient process. Also, it is completely free from manual intervention. The only point to take into consideration is to avoid challenges and ensure safe recovery selection as online market has plethora solutions.
Well, to try, you can go for iPhone Data Recovery. Potent enough, this software allows you to recover data from iOS devices, iCloud backup files, and iTunes backup effortlessly. Using it you can easily regain your lost or deleted Contacts, Reminders, Voice Memo, Safari Bookmarks, Call history, Notes, Messages, to Calendar. The best thing is it promises Data Integrity.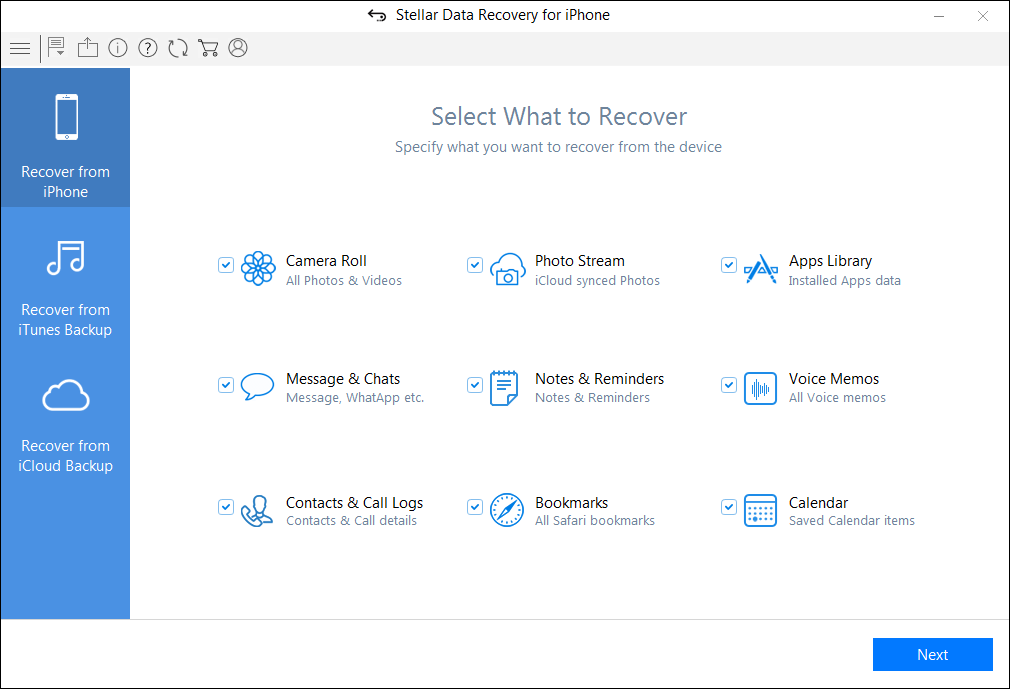 Figure: Stellar Data Recovery for iPhone
The functioning of this software is very simple. You simply have to connect iPhone to your system, launch the software and follow the sequential steps for different Recovery option—Recover from iPhone, Recover from iTunes Backup, Recover from iCloud Backup.
The Final Word
Apple iPhones are the most in-demand and widely used phones nowadays. Being an electronic stuff, similar to other devices it sometimes too suffers from one or another issue. When you face such an annoying state such as stuck on Apple logo, there is a dire need to fix the issue without affecting the valuable data saved on it.
To overcome the issues, several hacks are discussed. You can choose any of them as per your need. However, if you need an easy, secure, and powerful sure-shot solution to recover lost data , then iPhone Data Recovery Software by Stellar is the perfect pick. It works like a wonder. Try it!