How to Permanently Erase Browsing History from Hard Drive
Today, web browsers aren't used just for browsing the web pages; they've transformed into web applications—better known as Web apps. People use web services to upload videos, share photos, do online shopping, chatting and what not.
The web browser and the websites you visit always track and record these several types of online activities that you perform while browsing a web page or accessing a web app. We browsers store this activity data in the form of web history and cache files, and websites use cookies.
However, modern-day browsers can keep much more information than just browser history and cookies. Besides storing web history, a web browser can also store other sensitive data such as autofill form data, social media login credentials, online banking passwords, transaction details, saved credit/debit card details, and much more.
While the stored data such as browsing history makes it easy to quickly access the last visited site or a particular URL that you visited last week or last month, at the same time it makes you more vulnerable to hackers and also poses a threat to your privacy.
Here's How!
You must have noticed sites saying they use cookies to improve the browsing experience. Basically, a cookie is a thin piece of information (.txt file) stored by websites in your computer/device to improve load time and overall user experience (by means of personalization). However, the same cookie is also used to track your online activities.
In fact, websites can track your online activity even if you log out of the site and never access it again; all because of the cookies stored on your PC.
While social media giants like Facebook claim to use cookies only to improve your ad experience based on your online activities, malicious sites can use the same to cause severe harm.
Besides, your system also stores the activity data in your local hard drive storage. If your laptop or storage media gets stolen or lost—which is entirely possible given the stats—the person who finds your device can quickly gain access to your sensitive data and information about your activities.
Therefore, it is crucial to keep your browsing data and cookies cleaned as they pose a significant threat to your privacy.
How to Permanently Delete Browsing History from Hard Drive
Web browsers have made it easy to clean your browsing history. However, the problem with browsers is that they only delete—not erase—your browsing data and hence the data can be easily recovered. This means that your web browsing history containing sensitive information such as passwords, autofill form data, card details and more stays at risk.
Therefore, it becomes vital for you to get rid of sensitive, confidential, and private data permanently beyond the scope of recovery.
To ensure your privacy and data security, sanitize (secure erase) your sensitive data by following these two methods:
1. Erase Internet Activities and System Traces
Tools such as BitRaser File Eraser can erase internet activities, application traces, system traces, and unused space, etc. with the help of 17 internationally accredited data erasure algorithm such as DoD 5220.22-M (3 pass/7 passes), NATO, etc.
Follow these quick steps to use the data erasure algorithms for sanitizing confidential data beyond recovery:
Download, install and run BitRaser File Eraser software

Click 'Tools'. Select the data erasure algorithm and verification method from the respective dropdowns
Click 'Home'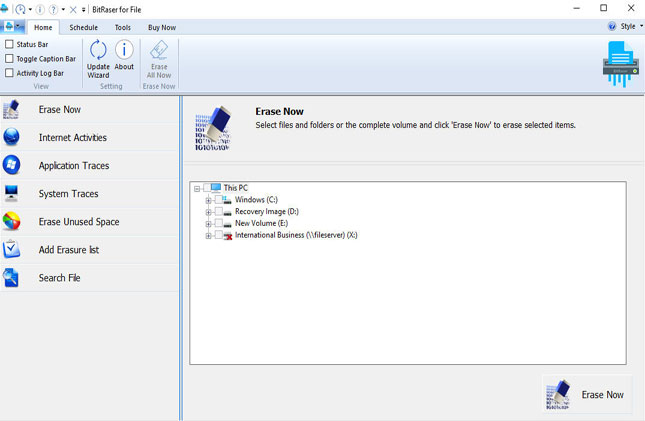 Click 'Internet Activities' in the left pane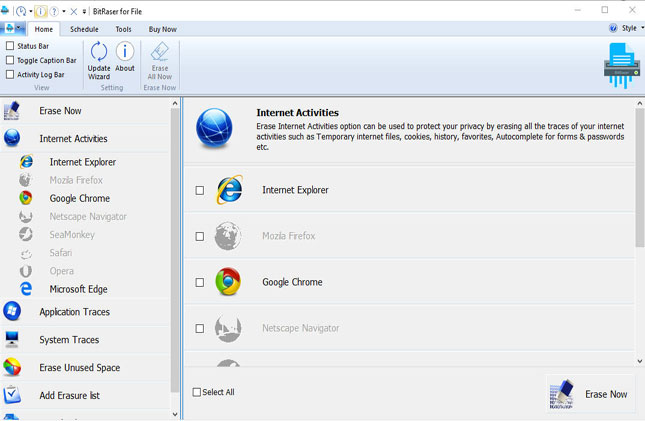 A list of web browsers installed on your system appears in the right panel
Select the web browser that you often use to browse the web or click 'Select All' at the bottom to choose all listed web browsers
Then click the 'Erase Now' button and confirm when prompted
After erasure, the software prompts you to restart the system, click 'No.'
Now click on 'System Traces' in the left pane
Choose the locations from where you wish to erase data permanently. Or click 'Select All' at the bottom to select all locations
Click the 'Erase Now' button and wait for the software to wipe your system traces with the selected data erasure algorithm
After erase, click 'Yes' when prompted to reboot the system
That's how to permanently delete browsing history from the hard drive.
You can also automate the erasure task based on time or system boot in 3 simple steps—
Use the Schedule option in BitRaser File Eraser
Choose the frequency
Select the data erasure algorithm…
…and you are done.
The schedule option takes care of your data erasure and ensures privacy even if your device is lost or stolen.
2. Erase Empty (Unused) Storage Space
It's possible that the browsing history and other sensitive files that you deleted earlier might still exist on your storage media. To check, you can use a good data recovery software. However, BitRaser for File takes only a few minutes to permanently erase your deleted files by overwriting the unused empty space with the help of multiple data erasure algorithms. This doesn't affect existing and undeleted files.
To ensure your previously deleted data is wholly sanitized, follow these steps:
Run BitRaser File Eraser
Choose Data Erasure algorithm and Verification method from 'Tools.'
Click 'Home' and then choose 'Erase Unused Space.'
Select the hard drive that you wish to sanitize
Click the 'Erase Now' button
After erasure, the software will prompt you to reboot the system. Click 'Yes'
After reboot, the erased data can't be recovered, and the software guarantees that.
You can generate a certificate of erasure also by using 'Search File' option. It lets you locate particular files on your drive and erase with selected data erasure algorithm. After erasure, the software generates a certificate of erasure that can be used to meet regulatory compliance.
Conclusion
In this post, we discussed how web browsers store data, how cookies can be used to track your activities, and why it's important to erase—not just delete—your confidential and sensitive data such as browsing history.
Further, we mentioned how you can securely erase your web history, cookies, and other confidential data by using a privacy-safeguarding tool such as BitRaser File Eraser. Also, how you can quickly sanitize system traces, application traces, and internet activities either manually or automatically by scheduling the aforesaid data erasure tasks.
The software not just performs effective and easy data erasure but also generates a certificate of erasure after erasure that guarantees that data destruction has been done beyond the scope of recovery.
Was this helpful?