How To Recover Corrupt Video Files in Windows
Summary: Deleted videos can be recovered with a data recovery tool, but you require a separate video repair tool to recover corrupt video files. However, with advanced data recovery software such as Stellar Data Recovery Premium, you can recover as well as repair corrupt video files in just a few clicks.

Easy availability of high resolution mobile cameras and compute power has led to mass production, storage, and processing of video files at all levels — from consumers to corporate.
From shooting a documentary film, wedding album or live music performance to editing vlogs, ad shoots, or outdoor vacation shots, video production has seen massive growth.
Correspondingly, video corruption situations have also become numerous and frequent, with an unusual demand build up for restoring videos that were lost in myriad situations.
One may lose video files due to drive corruption or accidental deletion, which are more common due to human errors. However, a video file can also get corrupt or deleted due to malware infection, hardware issues, or software failure. File overwriting after deletion is also a reason that can lead to file corruption.
While you can recover deleted videos from SD cards and other storage media with a data recovery tool, you will require a separate video repair tool to recover corrupt video files.
However, with an advanced data recovery software such as Stellar Data Recovery Premium, you can recover as well as repair corrupt video files in just a few clicks. It's the only data recovery software that is equipped with a video repair tool, which can recover and repair virtually any video file type.
Recovering Corrupt Video Files
Here's how you can recover and repair corrupt video files in Windows:
Download, install and launch Stellar Data Recovery Premium software

Click 'Data Recovery'.
Select 'Videos' under Multimedia Files and click 'Next'.
Select the connected drive that contains the deleted videos and turn on 'Deep Scan' toggle switch that appears at the bottom left.
Click 'Scan' and wait for the scan to finish.
Click on a video file to preview.
NOTE: There may be a case where the recovered video might not play. That doesn't necessarily mean the file is damaged. Proceed with saving the recovered data and check after recovery to confirm if the recovered video is playable or not.
Select the video files that you wish to recover. Use the search bar to locate the video file quickly or click 'File Type' in the left pane to sort video files according to their extensions.
Click 'Recover' and then click 'Browse' to choose a save location on a different drive.
Click 'Start Saving'.
Check the recovered video files for corruption.
What if a Video File Turns Out to be Corrupt?
In case, a video file turns out to be corrupt (not playable), follow the steps to repair corrupt video files:
Open the Stellar Data Recovery program; click 'Repair Video' under the 'Waffle icon'.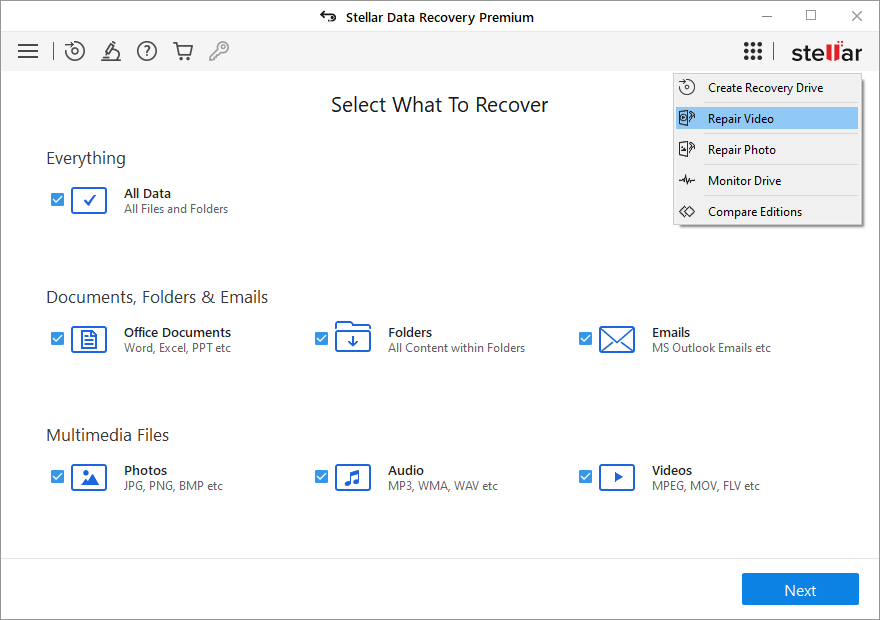 Click 'Add File' icon and then browse location to select the corrupt video files.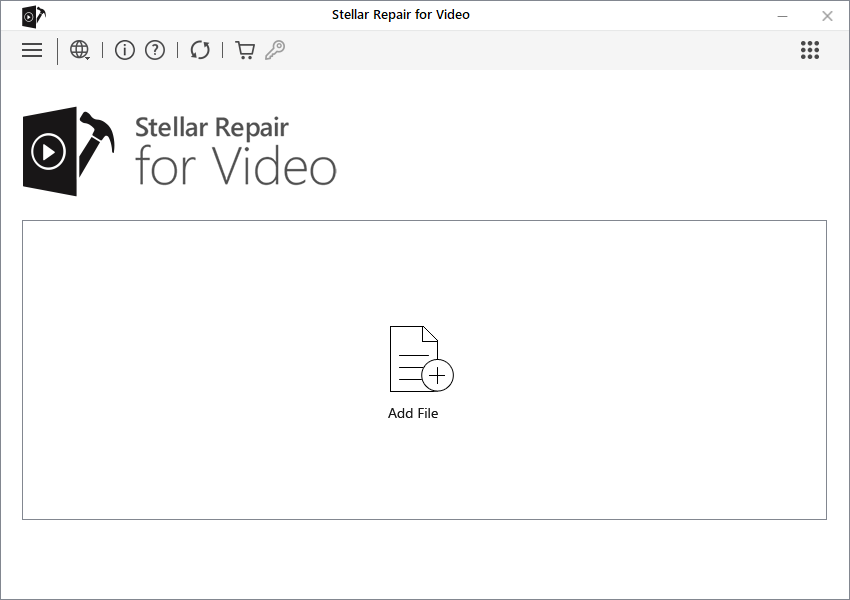 Click 'Open' or double click the video file to add it in the software for repair.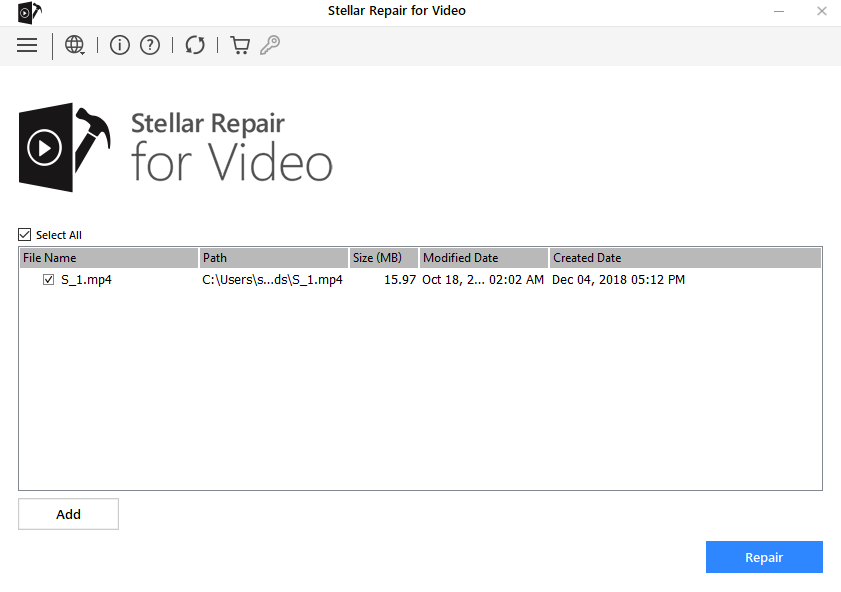 To add more video from other location, click the 'Add' button and browse to select the video files.
Once you finish adding corrupt video files, click the 'Repair' button.
After some time, the software will show the prompt 'Repair process completed'. Click 'OK'.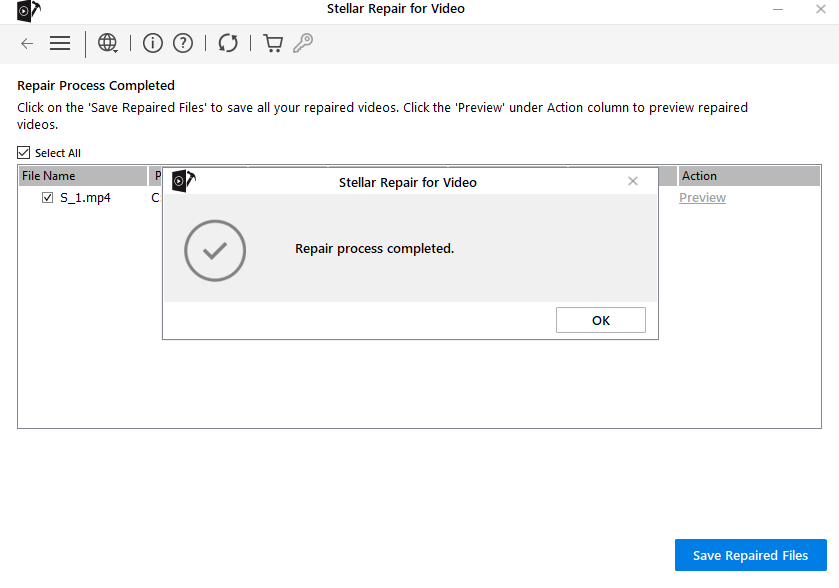 If a video file is not repaired, an 'Advance Repair' option appears below the Action tab. A new repair wizard appears.
Click 'Next' and then click 'Browse'.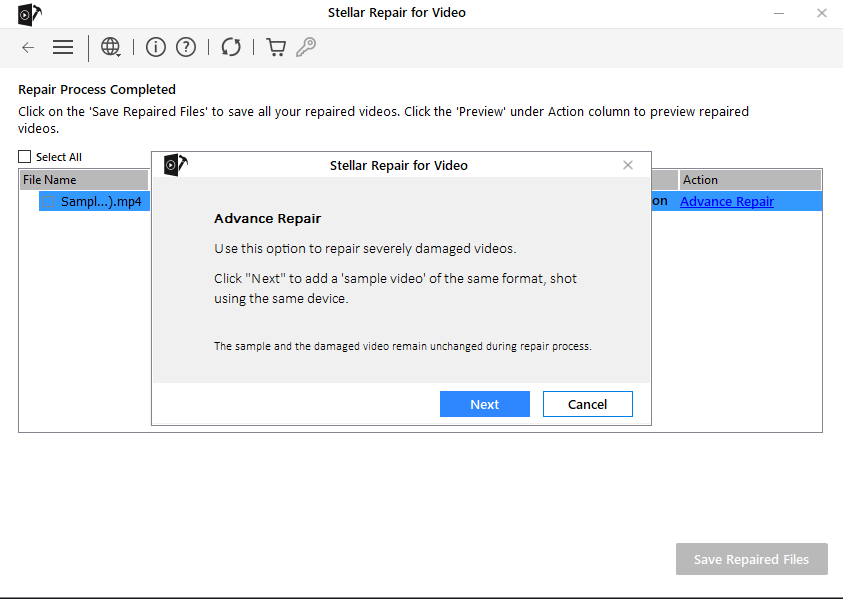 Choose a sample file. Make sure to choose a healthy and playable video file with the format same as the corrupt file.
If the list contains multiple videos with the same extension that need Advance Repair, click 'Apply to all files of same format' checkbox.
Then click 'Next'.
After video files are repaired, you can click 'Preview' to see how repaired video file looks.
Then click 'Save Repaired File'. A new pop up dialog box appears.
Click 'Browse' and to save at custom location or simply click 'Save' to start saving the repaired video files.
Tips to Avoid Video File Corruption
Turn off the camera or smartphone before removing the SD card.
Always eject the SD card or other storage media before disconnecting/unplugging.
Use antivirus tool in PC and turn on 'Real Time'.
Use 'Monitor Drive' feature in Stellar Data Recovery Premium to analyze disk health and avoid data loss or corruption. Alternatively, you can run a scheduled CHKDSK scan.
Always install software and OS updates as they arrive. Try to avoid installing the beta version of a software or OS update.
Conclusion
Stellar Data Recovery Premium is the only data recovery software that can recover and repair deleted, formatted, and corrupt video files. Moreover, the software is equipped with the necessary data recovery and file repair tools along with Drive Monitor—a perfect setup for a robust data recovery software in today's digital world.
You can download the software for free and try it to recover and repair corrupt videos or photos. However, you will need the license key to save the recovered corrupt video files.