How to Recover Data from a Crashed Hard Drive?
Summary: Hard drive can crash anytime hence we should always be prepared to deal with it. Here in this blog you will get to know what you can do when already facing this issue and how you can get your data back from a crashed hard drive.


Recovery of data from a Crashed hard drive is possible with the right tools. However, the success of data recovery from internal or external hard drive crash depends on several factors associated with hard drive crash.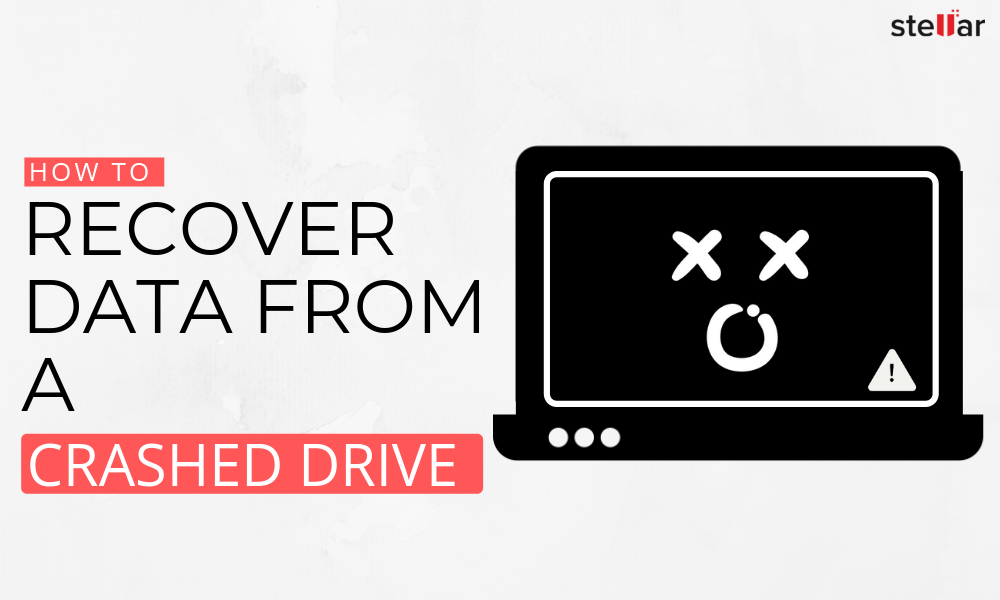 For instance, if the hard drive is old or has a large number of reallocated bad sectors, it will be more difficult and costly to perform crashed hard drive recovery and get back the lost data in an integrated form.
However, if a drive crash is due to malware infection or software glitch such as outdated OS or corrupt device driver, a user can get back his data easily—sometimes without any data recovery tool.
Following are a few more reasons that may cause a hard drive to crash
Mechanical damage due to improper use
Drive overheating
Careless disk handling
Moisture
System file corruption
File System errors
Loose wires and connections
Severe Fragmentation
Malware or Virus infection
A sudden power surge or failure
What to Do When a Hard Drive Crashes?
Use a tool like Drive Monitor or CrystalDiskInfo to check the SMART disk information. The SMART parameters indicate critical problems to help you find the right course of action to deal with a crashed hard drive.
Follow these steps to safely retrieve data from a crashed hard drive.
3-Steps to Crashed Hard Drive Recovery
Step 1: Stop using the hard drive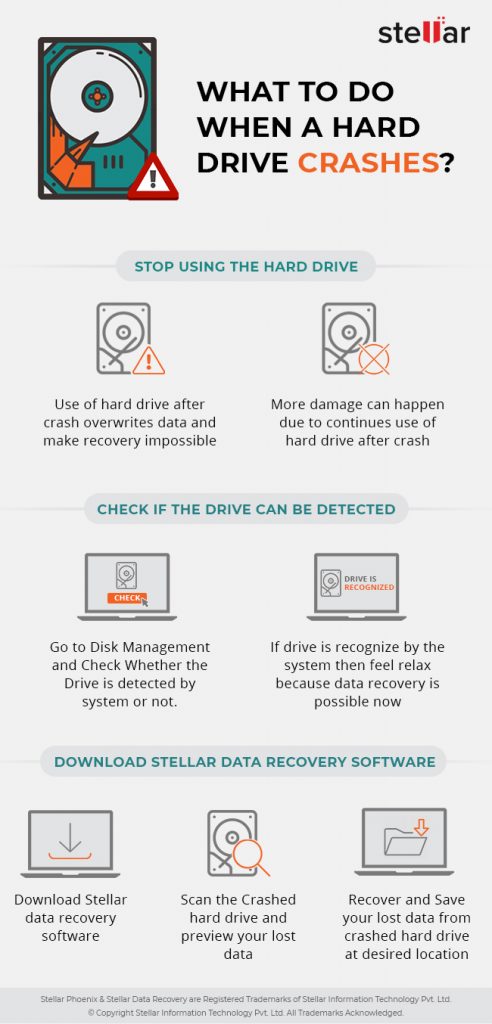 Rule number one is to stop using the hard drive or any storage media immediately after crash or data loss. Also, avoid hit and trial methods to fix the drive, as these methods can lower the odds of data recovery. Instead, use a SMART disk analysis tool to check disk parameters and detect drive health issues.
If you force the system to boot after a few instances of drive crash, you may permanently damage the hard drive or corrupt the data beyond recovery.
If the drive has turned corrupt (RAW) after crashing and the system doesn't boot, immediately remove the drive from the system and use a SATA-to-USB converter cable to connect the drive to another functional Windows PC. Then, follow Step 2.
Step 2: Check if the drive can be detected
Press Windows+X and choose Disk Management
Check if the crashed hard drive is detected in the tool
In case it isn't detected, reach out to a data recovery expert for immediate help. But if the drive is detected and recognized, continue to follow the next step and get back your inaccessible data from a crashed drive.
Step 3: Recover Data from a Crashed Hard Drive
Download and install Stellar Data Recovery Standard software
Launch the software and select what file types you wish to recover. Click 'Next'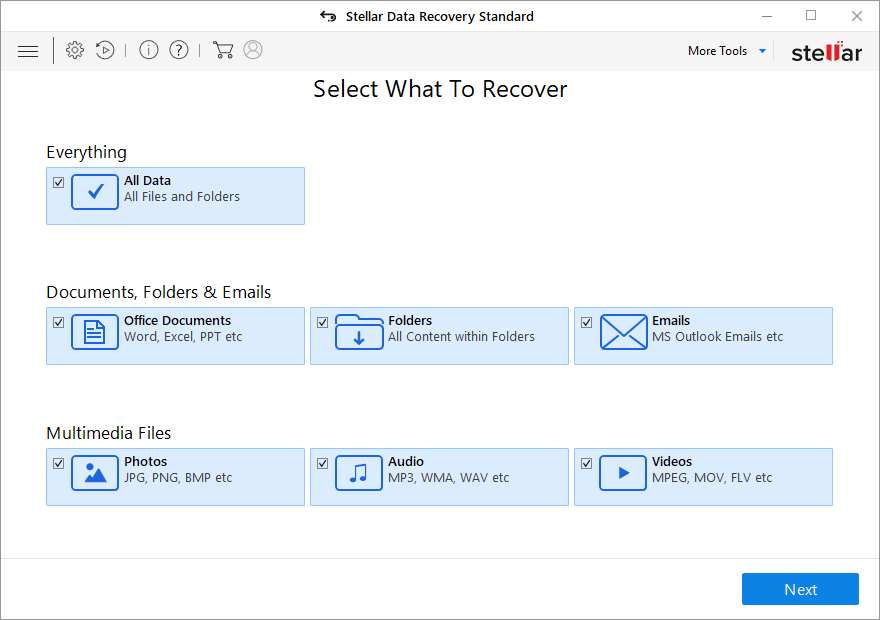 Choose the crashed hard drive volume under 'Connected Drives' and click 'Scan.'
The software recognizes and displays corrupt (RAW) partitions for recovery. However, if the partition(s) isn't listed, click 'Can't Find Drive' under 'Other Locations' and click 'Scan.'
After the scan, use the search bar or manually expand the folder tree structure to locate important files that you want back. You may also preview them before recovery.
Further, if the desired files are not found, click 'Click Here' link at the bottom to run 'Deep Scan'. The deep scan can get back lost data from a severely corrupt and formatted hard drive.
Select the files to recover and click 'Recover.'
Click 'Browse' and choose a save location on a different drive volume. DO NOT SELECT THE VOLUME OF AFFECTED DRIVE.
Click 'Start Saving', and that's it
All your important files and folders are saved from permanent data loss by using the Stellar Data Recovery Standard software.
Quick Tips to Prevent Hard Drive Crash and Data Loss
Keep a regular backup and a data recovery tool handy
Always eject or safely remove the external drive before unplugging
Ensure uninterrupted power supply therefore
Handle the external drive and laptop carefully to prevent damage to drive due to sudden shock or drop
Defragment the drive and run CHKDSK scan once in a while to keep the drive optimized
Ensure proper airflow around the hard drive to prevent overheating. Use laptop cooler to keep your laptop hard drive cool
Conclusion
Hard drive crash is unpredictable but it can be prevented by maintaining drive health and keeping it optimized. In this post, we shared the steps for crashed hard drive data recovery in Windows. We also presented a few quick tips to prevent hard drive crash and data loss in Windows OS.
The best way to avoid data loss due to hard drive crash is to maintain regular data backup and also have data recovery software such as Stellar Data Recovery Standard.
The backup will restore the lost files, and the software will retrieve the files that aren't available in the latest backup, or in case the backup fails or isn't available.
For a physically crashed hard drive, it's strongly advised to seek professional help for recovering the data.