Summary: JPEG/JPG photos shot with a digital camera often get corrupt. Stored in PC, Mac, HDD, SD card, or a pen drive, etc., these photos may show color damage, grey box, colored lines, errors, blur, or other issues. This post shares the best ways to repair JPEG/ JPG files from digital cameras of any make and model.
'This weekend, I sat to sort and organize my photos saved in PC. To my shock, I found many of them are corrupted. Photos have grey areas or show damaged colors. All these photos are in JPEG format shot with my Canon DSLR. How did my photos get corrupt? Is there any way I can repair damaged JPEG files?'
Digital cameras usually record photos in JPEG or JPG format. JPEG files stored in your camera memory card can get damaged or corrupt over time due to varied reasons.
Why your JPEG photos get corrupted?
JPEG photos shot with digital camera are saved either in the camera SD card or built-in digital camera memory. There might be a system disconnect during transfer of these JPEG files from camera to the computer or another device. This can lead to corruption in JPEG or JPG photos. Digital camera errors can also corrupt JPEG files.
Some common reasons for corruption in JPEG pictures from digital camera are:
JPEG photos didn't transfer/ download/ copy properly due to a sudden system shutdown or crash.
The storage drive or media is corrupt or virus-infected.
Camera memory card, USB, or HDD is physically damaged.
Digital camera error.
How to fix corrupted JPEG photos from digital camera?
Thankfully, you can repair corrupt JPEG or JPG files. There are JPEG repair tools that can repair photos as new from any camera.
Here we have shared the best 4 ways to fix JPEG files from digital cameras. These methods are applicable for DSLRs, SLRs, camcorders, etc., from Nikon, Panasonic, Fuji, Sony, Canon, Olympus, Kodak, and others.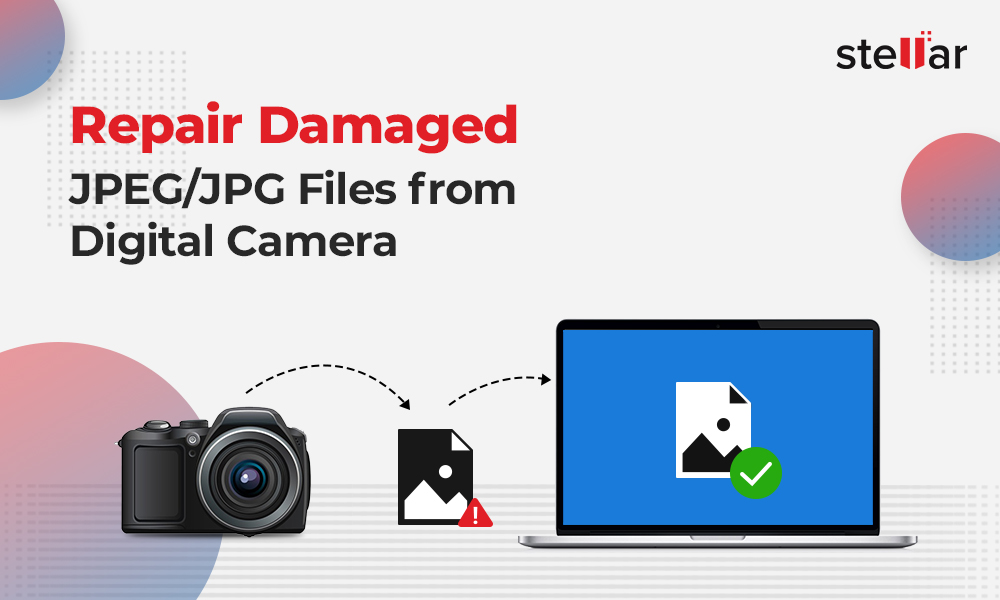 Method 1:  Repair corrupt JPEG file with Stellar Repair for Photo
Any damage or corruption in JPEG files is best repaired by Stellar Repair for Photo. It's an advanced tool designed to fix corruption in the image file header, data, invalid image file structure, unknown or invalid marker, etc.
You can use the software to open unreadable JPEG files or fix photos that have turned grainy, blurry, greyed-out, or color-damaged.
Just in case the JPEG photos are severely damaged, Stellar Repair for Photo automatically recommends 'Advance Repair'. 'Advance Repair' uses a sample file of JPEG format from the same camera as your corrupt picture. You can also get the thumbnails of corrupt JPEG/ JPG files.
The software can repair JPEG/ JPG photos from all kinds of digital cameras. It is compatible with DSLRs, camcorders, Android, iPhone, iPad, and others. Further, you can use it to repair TIFF, HEIC, DNG, and RAW image formats from Sony, Nikon, Olympus, Kodak, Fuji, and other cameras.
Key Advantages
Batch repairs multiple JPEG/ JPG photos simultaneously
Allows preview of repaired photos
Works on photos from all types of digital cameras
Gets thumbnails of severely corrupt JPEG/JPG images
Plus, repairs RAW file format from cameras
Step-by-step: Repair damaged JPEG files
Download and Run Stellar Repair for Photo on computer.
On the home screen, click Add File

to add corrupt JPEG images.



After you have added all the corrupt files, click on Repair button.

Once the repair process completes, Preview the repaired JPEG photos.

Click Save Repaired Files and save the photos at your desired location.
Method 2: Repair corrupt JPEG files using Hex Editor
Hex editors are file editing tools that let you change the hexadecimal or binary data of an image file. You can use it to fix broken JPEG/ JPG file header by comparing the damaged JPEG file with the correct one.
However, we recommend using the hex editing tool only if you have prior knowledge about the hexadecimal format. Else, you may end up doing more damage to your photos.
Common hex editors are OxED, HexEd.it, Hex Workshop, Hex Fiend, and others. They are available for both Mac and Windows.
Method 3: Repair using sfc/scannow in Command Prompt on Windows
Just in case you are facing an issue with every JPEG/ JPG photo stored on your Windows system, try fixing it by System File Checker (SFC). The sfc /scannow command scans system files fixing the corrupt ones. This may fix any image files problem on Windows PC.
Follow the below steps to restore JPEG/ JPG files using SFC scan:
In Windows Start button, type Press Enter.
From the list, right-click on CMD and select Run as Administrator.
In the command prompt window, type sfc /scannow and hit Enter.
Wait till the scan process finishes. Next, restart your computer.
Now open your JPEG/ JPG photos to check if the problem is resolved.
Also read: How to fix damaged photos in Photoshop
Method 4: Fix damaged JPEG in image editing tools
Certain JPEG photo-damage issues like noise, blur, or grains are caused due to shaking of camera, wrong camera focus, shooting in low light, and other reasons. You can fix such issues using photo editing software, such as Photoshop, Paintshop Pro, or Lightroom.
There are free online photo editing tools as well that can quickly sharpen and fix blurry pictures.
You can also fix grainy photos that have grains, spots, or lack color using photo editing tools. Further, add plugins in your image editing tool to reduce noise in JPEG pictures. Some noise-reducing plugins are Noise Ninja, Neat Image, Photo Ninja, etc.
Conclusion
No more need to worry about the damaged or corrupted JPEG/ JPG photos. You can easily repair them with the help of advanced photo repair software – Stellar Repair for Photo. Its efficient algorithms fix corrupt or broken file header and data that leads to unreadable, inaccessible, or damaged photos. Unlike the hex editing tool, the software is fast, simple, and doesn't require any technical know-how.
You can repair JPEG photos from all digital cameras, be it from Fuji, Sony, Canon, Nikon, or others.
It's recommended to first go for the trial version to be assured about the software performance. It shows the preview of your repaired JPEG/ JPG photos.