Camera failures can happen anytime. Even the high-end Nikon, Sony or Canon cameras are not devoid of malfunctions. Sometimes it is a digital camera sensor problem, pictures showing black screen, or just your camera falling into water leaving you in a fix!
Huge camera repair costs and the fear of losing valuable videos and photos can make you restless.
But every camera issue doesn't mean loss of your pictures and videos. You can also troubleshoot some camera problems yourself.
Here we have listed 12 common camera problems and their solutions. You can apply the troubleshooting methods in various types of digital cameras, DSLRs, SLRs, etc. The solutions cover all popular brands of Nikon, Fuji, Sony, Canon, Panasonic, Kodak, Olympus and other.
Read on…
1. DSLR camera won't turn on

2. Camera battery drains quickly

3. Camera LCD not working or blank

4. Camera SD card error

5. Picture has black or white spots

6. DSLR cannot save photos or video

7. Camera microSD card photos and videos are missing

8. Camera shutter error

9. Camera won't focus or poor autofocus

10. Get Camera lens error - ERR, FEE, For, E, etc.

11. Camera battery error

12. Wet camera
Troubleshooting Camera Problems
1. DSLR camera won't turn on
When a camera doesn't turn on, mostly it's a battery issue. Either the DSLR battery is not charged, not inserted properly, or it is damaged.
What you can do:
Charge the camera battery to full.
 Properly insert the battery into the compartment.
Remove the lens and SD card from the camera. Wait for a few minutes before inserting them back.
 A popular method reported by a number of users on various technology forums is to use vinegar to clean the battery. Clean the battery compartment using a cotton swab moistened in vinegar, if you see corroded residue. Then dry it with a clean cotton swab before placing the batteries.
Caution: This method is not a professional tip to fix a non-working DSLR battery. It is one of the popular tips recommended by other users. Be advised that if not executed properly, it can result in battery damage.  
Once everything is in place, press the power button to turn on the camera. If still, your camera doesn't turn on, the battery could be faulty and need replacement.
2. Camera battery drains quickly
It's true that DSLRs consume a lot of your battery. Camera LCD and flash consume the maximum battery resulting in frequent low battery warning
What you can do:
Minimize the LCD usage, instead use viewfinder to set up your shots.
Reduce the number of flash shots as they consume a lot of battery power.
Avoid using LCD screen, autofocus, and shutter half-press together. You can use them in isolation.
Use good quality rechargeable batteries instead of AA batteries. Prefer Li-ion batteries that last longer.
Enable power saving mode of your camera. This will shut down the camera automatically after a predetermined duration of inactivity.
In cold temperature, DSLR batteries drain faster. To keep the batteries warm, take them out and wrap in a cloth when not in use.
3. Camera LCD not working or blank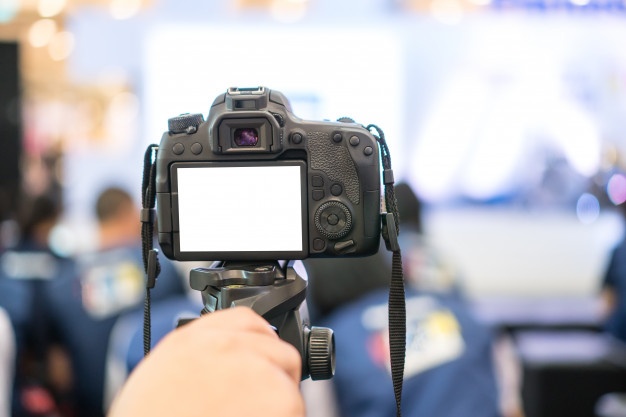 LCD not working or gone blank can be due to many reasons from wrong settings to battery issue.
What you can do:
 Make sure you have removed the lens cover before taking photos.
Press the FINDER or LCD button to turn on and off the LCD.
If your camera has a DISPLAY /DISP button, press it several times.
Check if the power saving mode settings has turned off the LCD.
Check if the camera brightness level is not dim.
Remove camera battery and SD card and wait for few minutes before reinserting.
When above workarounds don't work, try to reset camera settings to default. Some DSLRs like Nikon have 2-button reset feature. You can use it reset camera to default settings when display is black or not working. Check your camera manual for specific camera buttons to reset.
4. Camera SD card error
Camera memory card errors such as 'Card error', 'This card cannot be used', 'write error', and so on can worry you, as they risk your valuable photos and videos in the SD card.
What you can do:
Remove, clean, and reinsert your SD card in the camera.
Unlock your camera SD card by sliding up the lock switch on side, if it is write-protected.
 Connect the camera memory card to computer and transfer all photos and videos. Next insert in the camera and use.
If you find any photo or video missing from memory card, try to recover it using SD card recovery software .
Ensure you are using only camera manufacturer's approved SD camera.
If the error message appears, then format your SD card either within the camera or on computer.
5. Picture has black or white spots
If several black or white spots on photo repeatedly appear at the same location, then it's the result of dust on your DSLR lens or sensor.
What you can do:
Clean the lenses using DSLR cleaning kits that have the right tools like swabs, micro-fiber cloth, cleaning solution, lens brush, air blower, etc.
While to protect your camera lenses further:
Ensure the lens cap is on in your DSLR.
Avoid changing the lens frequently.
Don't change the lenses in a dusty environment.
6. DSLR cannot save photos or video
Usually a corrupt or full memory card don't let the camera to further save photos or videos.
To rule out the camera SD card issue, try to record and save in another storage card. If it works, then fix your camera memory card.
What you can do:
Remove and reinsert the card in the slot.
Transfer the photos and videos from SD card to your computer.
Troubleshoot corrupt SD card on your computer.
 Format the card in the camera to reuse it.
If the problem continues, get a new SD card.
7. Camera microSD card photos and videos are missing
SD cards are prone to corruption and data loss. The photos and recordings can get lost when the memory card turns corrupt or you have deleted the files by mistake.
What you can do:
Download Stellar Photo Recovery software to retrieve lost or deleted photos and videos from SD card. The software supports all types of memory cards used in Nikon, Canon, Sony, Fuji, etc.

 If your card is corrupt, format to reuse it. 

 Consider getting a new memory card. Use only an approved storage card for your camera brand and model.
8. Camera shutter error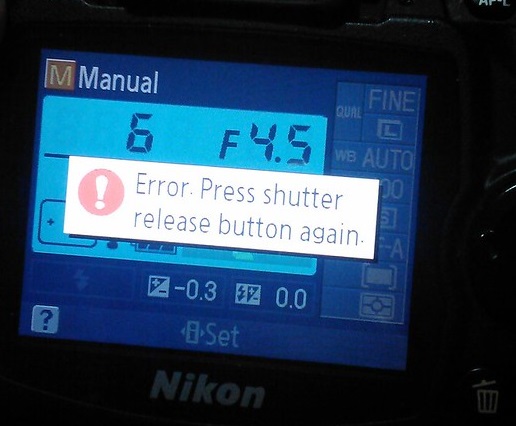 The error message, 'Error. Press shutter release button again' on digital camera LCD is often a hardware issue. The gear motor of the Shutter either gets tight, damaged or contaminated with dust. Lubricating the gear motor can help. If your digital camera is under warrantee, turn to the dealer for replacement or repair. Don't open it yourself.
If you are novice, submit it to a professional service center for repair as opening the gear operating camera shutter can be risky.
However, you can try the below hacks that may fix the shutter error.
What you can do:
Remove the battery and reinsert after a few hours.
Charge your camera battery to full.
Remove the camera lens and reattach it.
Carefully clean the lens surface and its attachments points using lens brush.
Switch to manual mode and set the shutter speed to bulb or the slowest setting.
Try with a different lens on your DSLR.
9. Camera won't focus or poor autofocus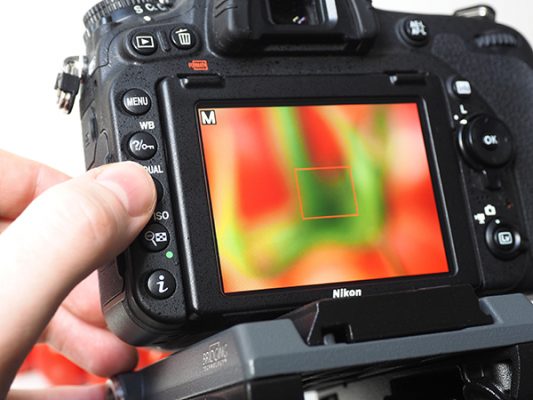 A digital camera won't be able to focus when there is poor light; you are trying to capture a plain subject like a clear blue sky, with no edges or corners; or the lens is not working properly.
 If you are shooting in the dark or poor light, turn on camera flash or illuminate the subject of your photo.
Use back-button focus technique in which the shutter release takes the shot while a button (AF-ON or AE AF lock) on the back locks the focus. Hold the back button continuously while taking a shot. And as soon as you take off your finger from the back button, the focus gets locked.
Carefully clean your lenses.
Switch to manual focus settings.
10. Get Camera lens error - ERR, FEE, For, E, etc.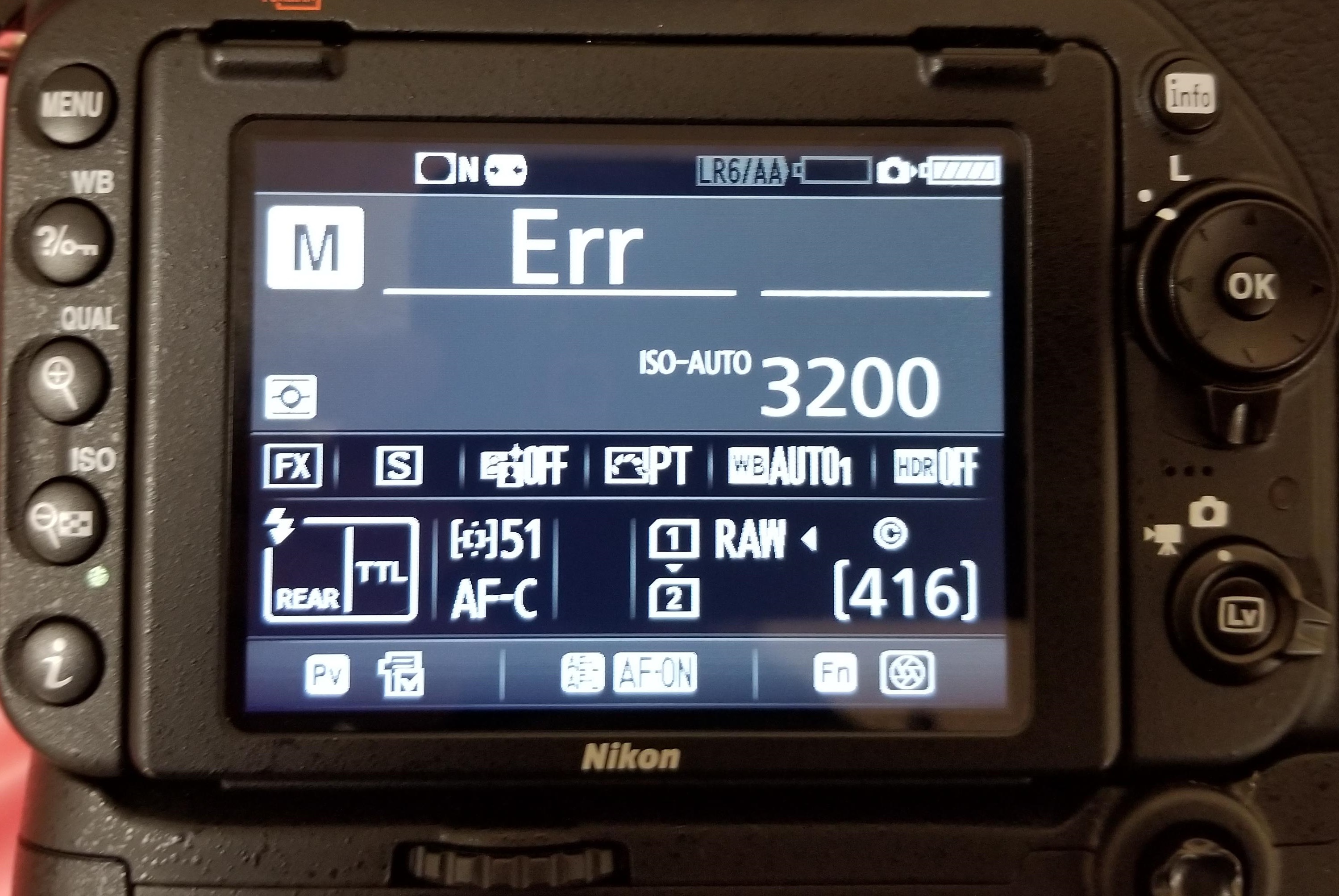 The lens error messages can freeze your camera. Even turning it off and on won't help. Usually, a lens error occur when the lens has dirt or it is not fitted properly on the camera.
Some errors like Cd, Cha, or Err appear when due to problem in camera memory.
What you can do:
 Clean the lens and its connection points using a microfiber cloth and air blower.
Remove and reinserting memory card properly.
 Format SD card within the camera.
Remove and reattach the camera lens.
Remove and reinsert camera battery.
Also read:
11. Camera battery error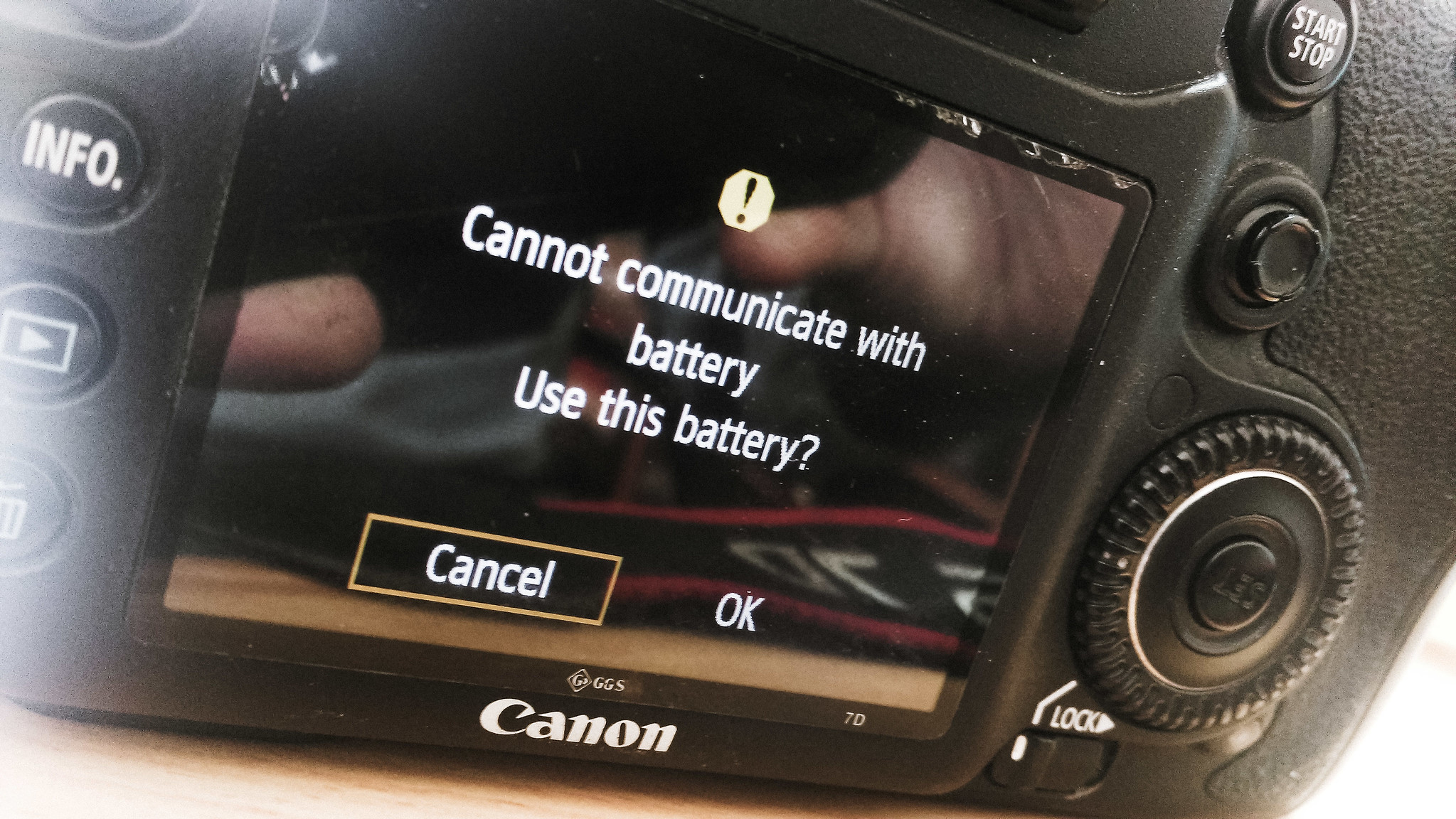 Battery errors such as 'cannot communicate with battery' or incompatible battery error' on Canon, Sony or Nikon DSLRs are reported by many users. It usually appears when your batteries are not connected properly; there is dust in the battery terminals/ compartment; or the battery is damaged.
What you can do:
Remove the batteries from the camera. Air blow dust in the batteries compartment.
Clean the terminals with a dry cotton swab. Next reinsert the batteries.
Remove and reinsert batteries after few hours.
 If the battery is old, consider replacing it.
 If you are recording in a very cold environment, remove and keep the batteries at a warm place like wrapped in a cloth or keep them in pocket for some time.
12. Wet camera
Spilling water on camera or if it falls into water can be a big jolt. There are high chances your device may get damaged.
What you can do:
Switch off the camera and don't turn it on. Turning it on immediately can damage the electrical components.
If it's a saline or other liquid, there's risk of corrosion. Wet the cloth in sterile water and wipe the camera and its compartments carefully. Don't penetrate into deeper parts of the camera as it can create other problems.
Remove the lens. Carefully dab clean the lens gently to avoid scratches.
Remove the batteries and leave open the compartment.
Place the camera in a dry area for at least 2-3 days.
Once your camera dries after a few days, turn it on.
If it doesn't start, try with different batteries and SD card. If it still doesn't work, contact the authorized service center.
Wrapping Up
Hope this post was helpful.