Summary: Are you unable to use your Nikon camera due to errors like ERR, FEE, F, F0, For, E, etc.? Learn how to fix 12 most common Nikon errors and how to recover photos and videos from camera lost due to these errors.
Table of Content:
Nikon users often face various kinds of errors that pop up on their camera display panel. The common ERR, FEE, For, E, etc. freeze camera to the extent that even turning it off and on doesn't help. The situation is annoying as these errors don't let you use your camera further and may lead to loss of photos and videos from the camera SD card.
Whether it is Nikon D70, D80, D90, D750, D3500, D7200 or any other model, the error could be due to multiple reasons such as non-CPU lens, improper SD card, dust, etc.
Read on to know how to fix 12 such common Nikon errors, and how to recover deleted or corrupt Nikon photos & videos from Nikon cameras.
12 Most Common Nikon Camera Error Codes & Solutions
1. 'Err' error message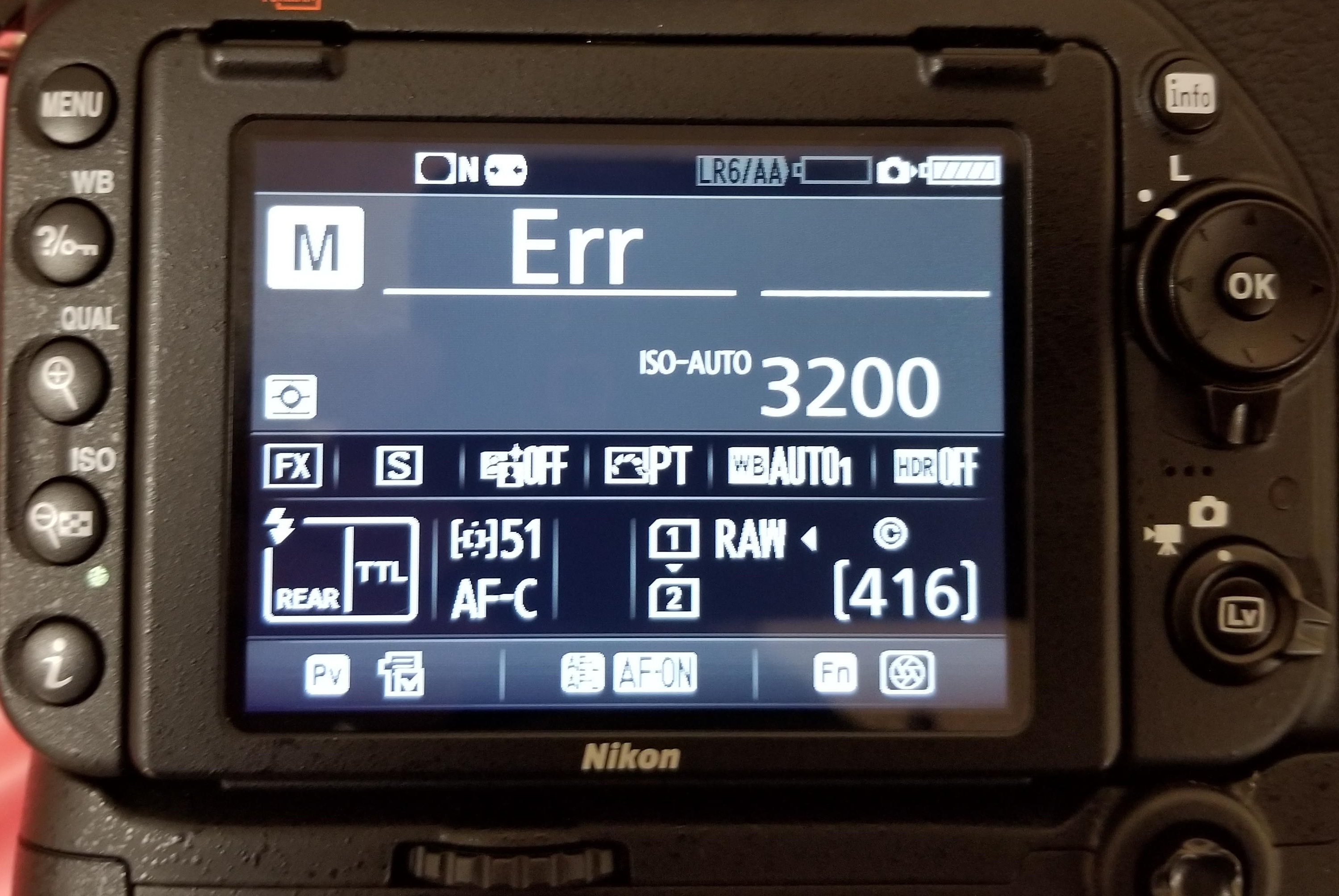 Figure 1: Nikon 'Err' message in D750
'Err' message on Nikon D750, D80, D810, D90, etc., points toward internal camera issues. The error could be because of faulty lens, dirt, incompatible SD card, inappropriate camera exposure settings. It may also occur when you turn-on the camera and immediately start recording at high shutter speed, which more often than not, disables or crashes your Nikon DSLR.
Solution: You can do the following to fix Nikon 'Err' camera error:
Remove and reattach the lens.
Clean the connection points on the lens and the camera using a microfiber cloth.
Remove the camera battery and SD card for 10-15 min and then re-insert.
Check if the lens connection pins or Aperture control lever are broken.
Replace the lens with a new one.
If the problem persists, contact an Authorised Nikon Service Centre for service or for damaged Aperture lever.
2. 'FEE' error message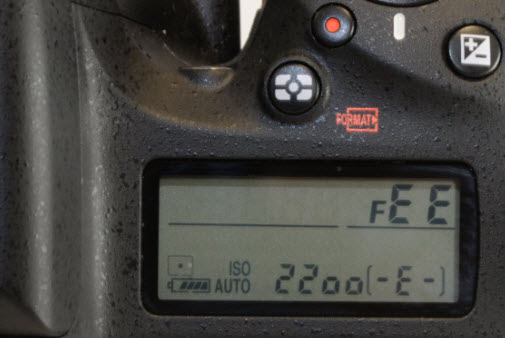 Figure 2: FEE error message on Nikon DSLR
The 'FEE' error on Nikon DSLR appears when the camera lens is not attached properly; has incorrect aperture setting; or you're using non-CPU lens such as the NIKKOR AF or NIKKOR P lenses.
Solution: To fix 'FEE' error in Nikon, you may try the following:
Set the aperture to F22, or the highest aperture number normally marked in orange on the lens. Lock it using the aperture locking switch.

    Figure 3: Highest aperture marked in orange in camera

Check that the EE servo coupling on the lens and F-min switch highlighted on the camera body are not broken.

Figure 4: EE servo coupling on Nikon lens      Figure 5: F-min switch on Nikon camera
If either of the two is broken, the lens issue could be due to this. Contact the authorized service centre for return or service.
3. 'F' error message
  Figure 6: F error on Nikon camera screen
If you see 'F' error message on your Nikon D7000, D7100, D850 or other camera, this can indicate a lens issue. Either the camera lens is not connected properly or the non-CPU lens is attached.
Solution: Remove and reattach the camera lens ensuring that it fixes properly. It's recommended to use a CPU lens, such as NIKKOR lenses type D, E and G. However, if you have old non-CPU lens, select the exposure mode A (aperture-priority auto) or M (manual) on the camera.
If the problem continues, try a different lens.
4. Triangle with F0 error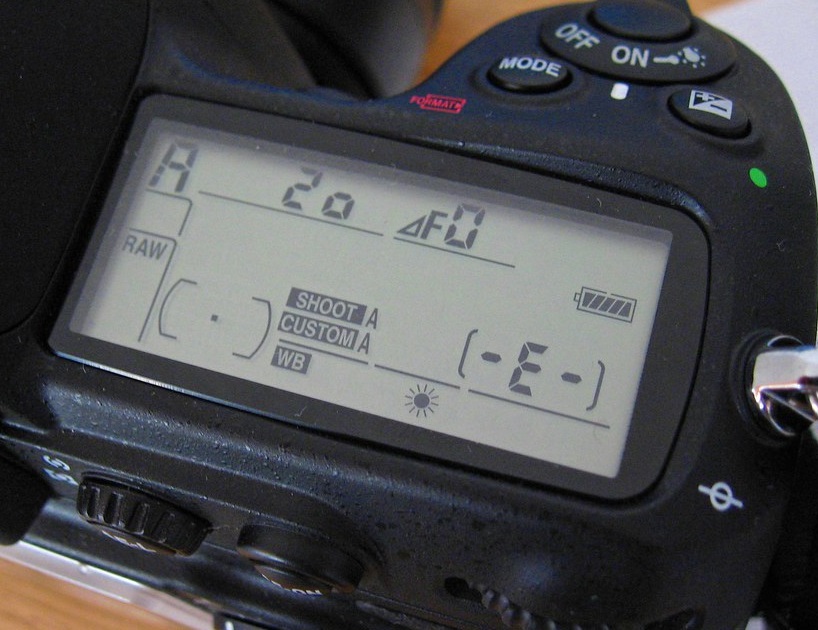 Figure 7: Nikon error triangle with F0
A triangle with 'f0' is typically reported in Nikon D700, D300, and D200 using G-series lenses. It is also one of the case where the lens is not attached to the camera properly because of dirt or alignment issue.
Solution: Turn-off the camera. Remove and reattach the lens so that it attaches properly to the camera. Also, clean the connection points between the lens and camera using a microfiber cloth.
5. 'For' error code
Nikon D7200, D500, D80, D90, D70 and others often show 'For' error code in the camera's control panel. It is a format card error, which means your DSLR is unable to read the first sector of the SD Card.
Solution: To fix the 'For' error in Nikon devices, you may do the following:
Turn-off the camera.
 Format your camera SD card.
Insert a new memory card in the camera.
6. 'Cd/Err'/'Cha' error code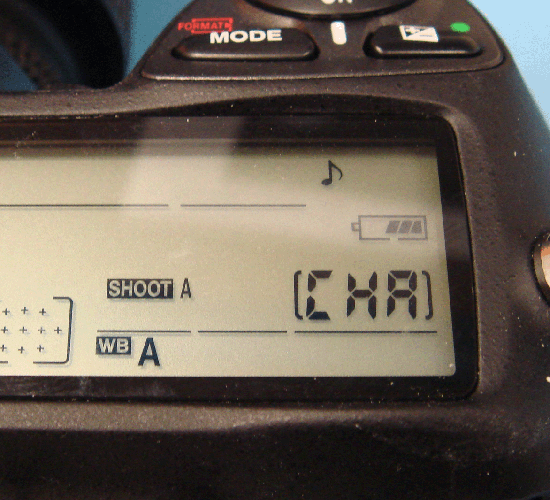 Figure 8: Nikon D80 Cha error
'Cd/Err' or 'Cha' is old Nikon D40, D70, D80 error issue. When you see 'Cd' or 'Cha' error in the control panel of the camera, it indicates memory card problem. Either your camera doesn't recognize the SD card or it has detected an invalid partition. 'Cha' error is commonly reported after users copy or delete photos from the Nikon SD card and reuse it without formatting.
Solution: You can do the following to fix 'Cd or 'Cha' error:
Try once by removing and then reinserting the SD card properly.
Format SD card within the camera.
Ensure you are using a memory card compatible with Nikon model.
If the problem remains, contact the Nikon service centre.
7. Information icon error in Nikon
If you see an 'i' in a circle on your camera display, it is the information error icon. The error appears because of camera battery or SD card issue. Nikon battery may be drained out or your camera SD card is unable to store photos and videos.
Solution:
Remove and charge the camera battery, if it is drained out.
Unlock your camera SD card, if it's write-protected. Slide upward the lock switch.
Check if the SD card is full. Transfer its photos and video files to another device.
8. Nikon Error (-E-)
The (-E-) message on Nikon display screen is a memory card error. Either SD card is not inserted in camera or the camera is unable to read the card.
Solution: Do the following to fix the Nikon error:
Turn-off the camera. Remove its SD card. Clean and insert it again.
Use a Nikon approved SD camera.
 If the SD card is full, it will not record any more videos or photos and may show error. Move the files from camera card to your PC or other media.
If still the same error message appears, then format your SD card either within the camera or on the computer.
9. Nikon 'This card cannot be used/read' error
'This card cannot be used' or 'this card cannot be read' error message on Nikon camera means your SD card is either incompatible with the camera, damaged, corrupt or not inserted properly.
Solution: Do the following to fix Nikon memory card error:
Use Nikon approved memory card.
Remove and reinsert the SD card properly.
Check the camera card, it is not damaged.
Gently clean the SD card and contact points with camera with soft dry cloth. Next re-insert the card.
Reformat the SD card.
If none of the methods are helpful, change SD card, and make sure you use the Nikon approved camera card.
You can also apply the same troubleshooting methods in case of 'No memory card error' message on Nikon screen.
10. Nikon error 'Recording interrupted. Please wait.'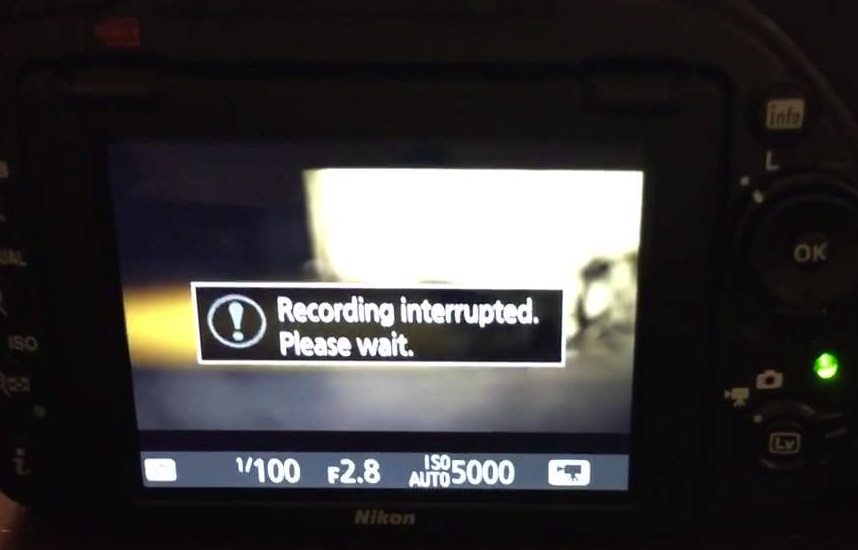 Figure 9: Nikon Recording interrupted error
You turn on the camera and start recording. But after few seconds receive the message, 'Recording interrupted please wait'. This may be followed by camera freeze or ERR card error, after you turn-off and turn-on your Nikon DSLR.
The record movie error, 'Recording interrupted. Please wait' is commonly reported in Nikon D750, D3100, D3300 and other D-series models. It occurs when the camera can't save the recording data to the SD card. This usually happens when the memory card is of lower Class, which has slow read/ write speed. Most of the other video recording error messages in Nikon camera are due to slow SD card.
Solution: Get a memory card that has faster write speed. It is recommended to use Class 10 SD cards such as Extreme SanDisk SDXC UHS-I Card or Lexar Professional 633X UHS-I etc.
11. Press shutter release button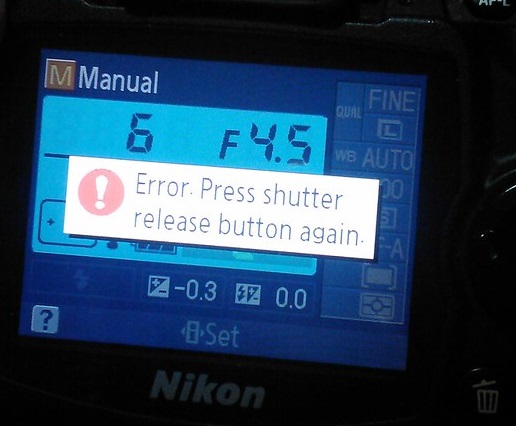 Figure 10: Nikon Shutter Release error
Nikon 'Press Shutter Release button' error appears when your camera's shutter is jammed due to dust particles.
Solution: Turn off the camera and clean the Shutter button.
12. Nikon error code r18, r19, r02 etc.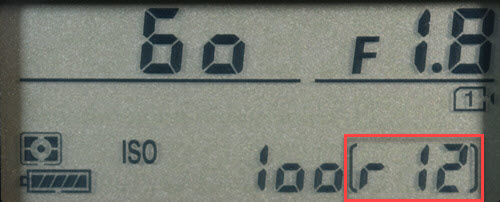 Figure 11: Nikon r12 error
Nikon camera display stuck with letter 'r' and a number like r13, r12, r04, etc., when you half press the shutter button is often mistaken as an error. However, it's simply a notification from your camera about the number of more shots your buffer memory can hold under the current camera settings. When the buffer shots are full, you won't be able to shoot temporarily till the images are processed. Post processing, buffer space is again available and recording automatically continues. So no need to worry if you receive r12, r02, r20 and so on message on Nikon camera.
How to format Nikon camera SD card ?
Before formatting camera card, backup your photos and videos. If the SD card is not accessible due to any error or other logical issue, use a Nikon SD card recovery software that retrieves lost photos and videos.
Also read:
How to fix corrupt SD card on Windows PC
How to fix corrupt SD card on Mac
Steps to format the Nikon SD card in camera :
Go to Menu > Setup Menu > Format memory card
 Choose your card slot in case there are more than one slot
Select OK. Wait till the process completion message appears.
If you are trying to fix any Nikon DSLR error using formatting, but the problem doesn't resolve, it means the SD card is damaged. Get the new SDXC or SDHC camera card.
How to recover photos & video lost after fixing Nikon error?
Get the Nikon file recovery software — Stellar Photo Recovery . It is compatible with all models of Nikon cameras and their memory cards. The software can help you restore files deleted or lost while fixing Nikon camera error. Stellar Photo Recovery is an advanced tool that recovers photos and videos from corrupt and formatted camera SD cards as well. It is available for both Windows and Mac system.
Step-by-step: How to recover from Nikon photos and videos
Install and launch Stellar Photo Recovery on your computer.
Connect the Nikon SD card to the system.
Next, select the SD card in software interface and click

Scan

.
Click

Recover

Preview

and Save the recovered photos and videos.
Note: Don't use the camera SD card, until the lost files are recovered to avoid overwriting of data.
How to Repair Photos & Videos Corrupted due to errors in Nikon DSLR?
There are instances reported that after fixing an error code in Nikon DSLR, the saved videos and photos are corrupted.
You can use Nikon photo repair software – Stellar Repair for Photo to fix corrupt JPEG, and RAW (NEF and NRW) image files.
While the best tool to repair corrupt video is Stellar Repair for Video that supports Nikon H.264/ H.265 MP4, MOV, and AVI files.
These software are compatible with Nikon memory cards including Class 10 UHS-I SanDisk, Transcend, Lexar Professional and others.
Recommended: You may be interested in Stellar Photo Recovery Premium — a unique software that not only recovers Nikon's deleted photos and videos but also repairs those (photos +videos) that get corrupt.
You can avoid the above errors on Nikon Camera! Here are the tips.
 Use Nikon CPU lens instead of old non-CPU lens.
Use only Nikon approved SD cards of Class 10 speed.
After copying, format the Nikon SD card instead of deletingthefiles.
Always format card inside the camera.
Carefully insert/ remove SD Card from camera.
Don't wait for Nikon battery to fully discharge. Recharge it before.
Don't continue recording when the card storage is nearly full
Wrapping Up
Nikon camera error troubleshooting is helpful. However, if you are not able to fix the error, contact the authorized Nikon Service Centre near you.
In order to recover photos & videos lost due to camera error, use Nikon Recovery software – Stellar Photo Recovery. It's best to try the free demo version to preview the recoverable Nikon camera files.