Summary: This blog is a step-by-step guide for performing Exchange 2013 to 2016 migration. It includes the setup of a CAS co-existence environment, migration of mailboxes and finally the withdrawal of Exchange 2013. To migrate Exchange 2013 to 2016, it is first required to install Exchange 2016 and then migrate from Exchange 2013 to 2016 version.
Well, the first thing for migration is Environment Preparation that is as follows:
Environment preparation to Migrate from Exchange Server 2013 to 2016
Before users migrate Exchange 2013 to 2016, it is required if exchange 2013 to 2016 migration checklist has been followed and are in place, Also they need to ensure that they have the right environment for the System Requirements to be met. Thereafter, they should go through the Release Notes and make sure that they would not have any issue after the completion of the migration process. Further, they should determine the significant parameters of Exchange Server correctly. Then, they should make sure that parameters, such as RAM, CPU, and storage space available for the server are adequate to perform correctly. Next, 'Exchange 2016 and Exchange 2013 multirole server' should be of the same size. However, it requires additional resources.

Before migration, it is required to ensure the all the requirement are in place and it would be better to refer the Exchange Deployment Assistant in adavance ,which is a web-based tool which would guide you step-by-step deployment of Exchange Server in your on-premises organization. Exchange Deployment Assistant Checklist
Further, users should find out whether their clients are supported by Exchange 2016 or not. The clients who are not in the list of supported clients they should be upgraded. Install a supported Operating System that can be Windows Server 2012 Standard/Datacenter or Windows Server 2012 R2 Standard/Datacenter. After installation, users need to join the server to the domain.
You may take help from Microsoft Exchange Server Deployment Assistant tool that will guide you to deploy different versions of Exchange Server.
Installing Prerequisites and Exchange Server 2016
The second step is to install Exchange 2016. However, before doing that the users should have appropriate permissions to do it. Before beginning, users should ensure that the pre-requisites are installed. The pre-requisites are as follows:
2.1. Install Pre-requisites
2.1.1. Install and configure Microsoft .NET Framework 4.5.2 version.
2.1.2. Install and configure Windows Management Framework 4.0 version.
2.1.3. Install and configure Microsoft Unified Communications Managed API 4.0 Runtime version
2.1.4. Install those features of Windows that are required. To install the required Windows feature use the below-stated commands that users need to run on a single line from the PowerShell window with eminent privileges.


Note – The AD tools are included in the commands stated above that stop issues with Active Directory operations and the EXSetup program.
2.2 Install Exchange Server 2016
(i) Download Exchange Server 2016.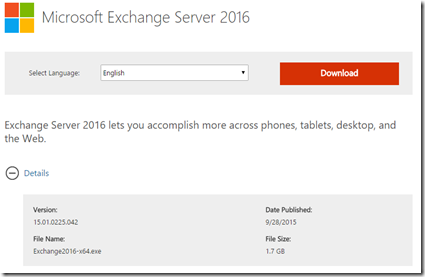 (ii) Extract the setup file.
(iii) After extraction of the file, run Exchange Setup (Setup.exe) file to start the installation of Exchange Server.
(iv) 'Check for Updates?' screen comes up. Check the first option: Connect to the Internet and check for updates and click on the Next tab.
(v) If Updates are found, download them.
(vi) The 'Setup' copies the files.
(vii) The installation process is initialized.
(viii) Next, the Introduction page appears. Here, click on the Next tab.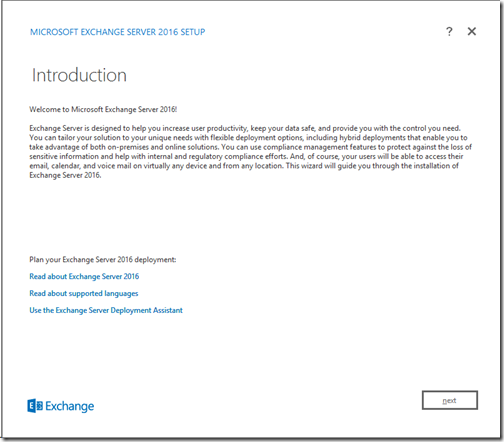 (ix) The License Agreement page opens up wherein users need to accept the license. Then, click on the Next tab to proceed.
(x) Under Recommended Settings, select 'Use recommended settings' and click on the Next tab.
(xi) The Server Role Selection screen appears. Check 'Mailbox role' check box and click on the Next tab.
(xii) State the location for installation of the software. The software can be installed at the default or a different location. For installation at a different location specify the location using the Browse tab.
(xiii) Under Malware Protection Settings, select Yes or No for 'Disable malware scanning' depending on the requirement. By default, the settings are enabled; however, it can be enabled at any given point of time. Click on the Next tab.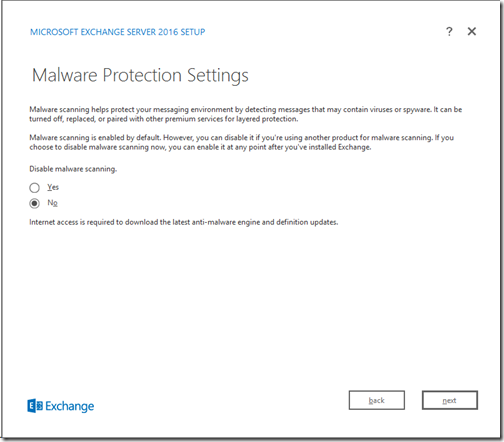 (xiv) The Setup performs a 'readiness check' of the system and configures the pre-requisites.
(xv) The setup process progresses and finally a window pops up stating that Exchange Server 2016 has been installed successfully.
(xvi) The Setup Completed message appears. Here, click on the Finish tab.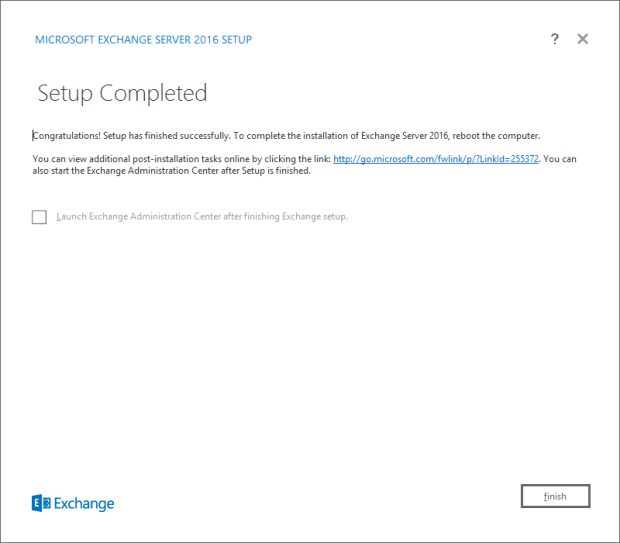 Setup the Service Connection Point
The next and final step to migrate Exchange 2013 to 2016 is the setup of Service Connection Point (SCP), which is Exchange's object in Active Directory directing domain-joined Outlook clients to a URL. This is to receive auto-discover settings. By default, the characteristic is Fully Qualified Domain Name of the server. This should be immediately changed to stop Outlook clients from connecting to it and getting a certificate warning. The warning is generally issued when they are presented with the default self-signed certificate installed by Exchange Server. In this case, the SCP should be configured to reference our Exchange 2013 Endpoint.
Migrate Exchange Mailboxes:
There are many methods to move user mailboxes from Exchange Server 2013 to 2016. You can migrate mailboxes individually or just migrate all mailboxes in one go. Stellar Converter for EDB is a software that has been designed to migrate mailboxes from one Exchange version to another. For this, you only need to select user mailboxes, enter Exchange Server login credentials & export mailboxes to Live Exchange Server.
The Bottom Line
Now that users are acquainted with the process steps for Guide to Migrate from Exchange Server 2013 to 2016 : suitable environment to meet the prerequisites for Exchange Server 2016, preparation of the right environment for Exchange 2016 installation, and configuration of SCP they can execute the steps. However, as it is time taking and involves thorough technical knowledge users can use EDB to PST Converter to avoid the pitfalls of the manual method that has been explained above in the blog. The reason being, it is a software that has been programmed to migrate mailboxes from Exchange 2013 to 2016 version easily. This is possible because of its ability to migrate offline EDB file to live Exchange Server and Office 365 environment.