Recover Data from RAID 5 with One Drive Failure
Summary: RAID 5 array may fail due to many errors. However, recovery is possible as long as two or more drives are functional. This blog lists the best-recommended methods to recover data from RAID 5 with one disk failure. Moreover, download the advanced RAID data recovery tool for quick recovery.

RAID deployment brings performance boost or data redundancy, or both. And, these benefits are provided by multiple RAID levels, including RAID 0, 1, 5, 6, 10, 50, and 60. Out of all, RAID 5 array is considered a universal RAID system among home users, small business setups, and IT professionals. It is said to be one of the best options to gain both higher data I/O (Input/Output) performance and redundancy due to Parity.
However, despite the redundancy factor, RAID 5 is still prone to errors and drive failures, causing eventual data loss. Fortunately, RAID 5 recovery is possible. But, how and what are the parameters to restore data from RAID 5? Let's first understand the concept of RAID 5 and related facts.
What is RAID 5?
RAID 5 array is a popular RAID level that uses disk striping with Parity (collective data from all other drives in the array) to store data. Data and Parity information are split across the disks in the array, hence, there's no single dedicated Parity drive like RAID 4. Parity information provides data security/redundancy, which further helps restore data in the event of data loss. It requires a minimum of three hard drives to function.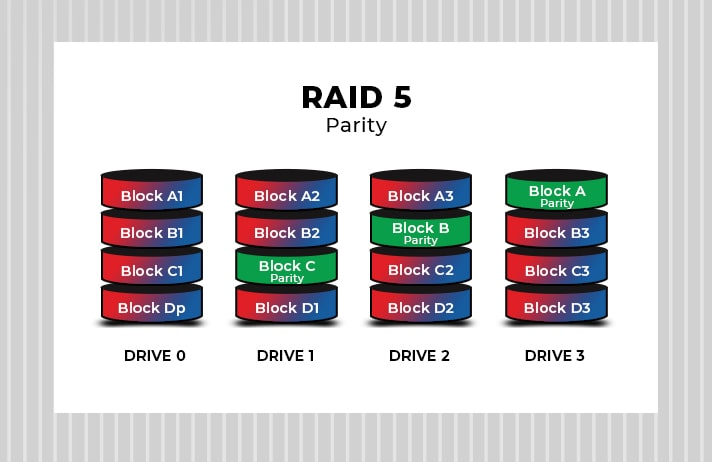 Causes for RAID 5 Drive Data Loss
Even if RAID 5 is chosen by users for speed and data security, it may fail due to several reasons and eventually cause data loss. The primary factors that contribute to data loss from RAID 5 include:
Failure of multiple drives at the same time
Re-establishing RAID 5 Array with a failed drive
No partition configured on RAID
Illogical configuration of RAID volume
RAID Controller Failure
Unexpected power outage
What happens when one drive fails in RAID 5?
RAID 5 offers fault tolerance with up to 1 drive failure. If one drive fails in this array, you can still recover data. The array remains functional since the data on the failed disk can be rebuilt using Parity information and other drives' data. However, the disk array status gets changed to Degraded. Additionally, if more than one or multiple drives fail in the array, the whole setup will fall and recovery won't be possible.
RAID 5 Data Recovery with One Disk Failure?
Recovering data from RAID 5 with one drive failure can be done easily with the following methods.
Method 1: Hot-Swap the Failed Drive
You can try hot-swapping the failed drive in the RAID 5 array to restore data. To do so, follow the given steps:
Open the RAID controller and note down the failed drive.
Next, replace the failed drive with a new or spare drive in the setup.
The RAID controller will initiate rebuilding the RAID array using the information from other drives.
Once the rebuilding process is done, your RAID 5 level will again be operational.
Use your backup media drive to copy-paste the data to the newly added drive.
The Limitations of Recovering Data with Hot-Swapping
The method is time-consuming.
An incomplete backup or corrupted backup is of no use
Fear of data loss due to any interruption
This method can handle single RAID 5 disk failure. However, multiple drive failure makes the data recovery complex, and specialized recovery services may be required.
Method 2: Use RAID Data Recovery Software
If you don't have the RAID backup, you won't be able to restore data with the above method. However, the RAID drive would be operational. In such a condition, choosing an advanced RAID data recovery tool, such as Stellar Data Recovery Technician will be your best bet. This powerful DIY data recovery software can retrieve files, folders, documents, and more from standard RAID levels like RAID 0, 1, 5, 6, and Nested or hybrid RAID drives. Additionally, the tool supports recovery from failed or broken RAID levels. To perform RAID 5 recovery, follow the given steps:
Download, install, and run Stellar Data Recovery Technician on your system.
Connected RAID 5 drive to your PC.
Now, on the Select What to Recover screen, click All Data > Next.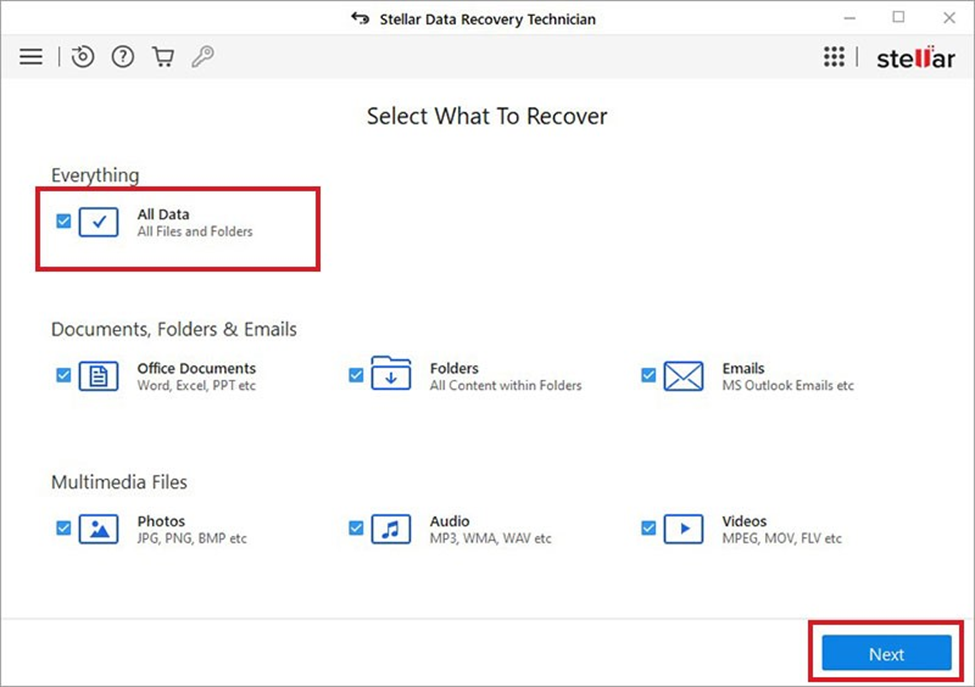 Choose RAID Recovery on the 'Recover from' screen and click Scan.
Select RAID 5 from the left-top corner.
Use the arrow buttons on the screen to move the RAID 5 members to the list of 'Move hard drives up/down for disk order.'
Now, use the up-down arrow buttons to arrange the disks in the sequence as they were set in the arrays.
Enter all the required details, such as RAID parameters, Parity order or repetition, etc. and click Build RAID. You can also click the 'Don't know the start sector of the drives…' option and after entering the asked details, click Build RAID.
The software will start rebuilding the RAID virtually using the entered details. Even if you mistakenly put the wrong parameters, the software intellectually detects them and reconstructs a probable virtual RAID setup.
On the next prompt, select the virtually constructed RAID and click Show Volume List.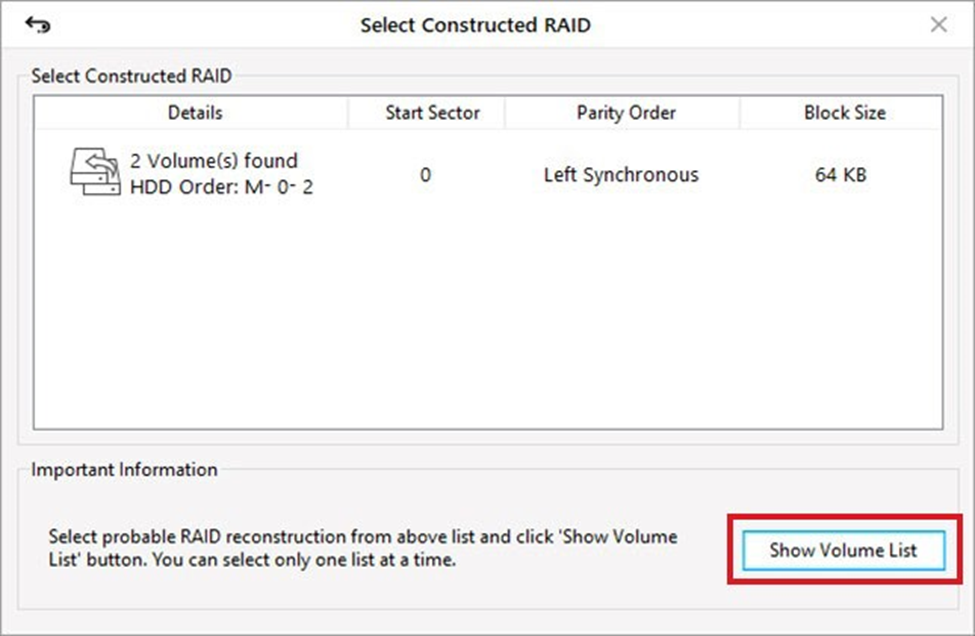 Now, select the RAID volumes and click Scan.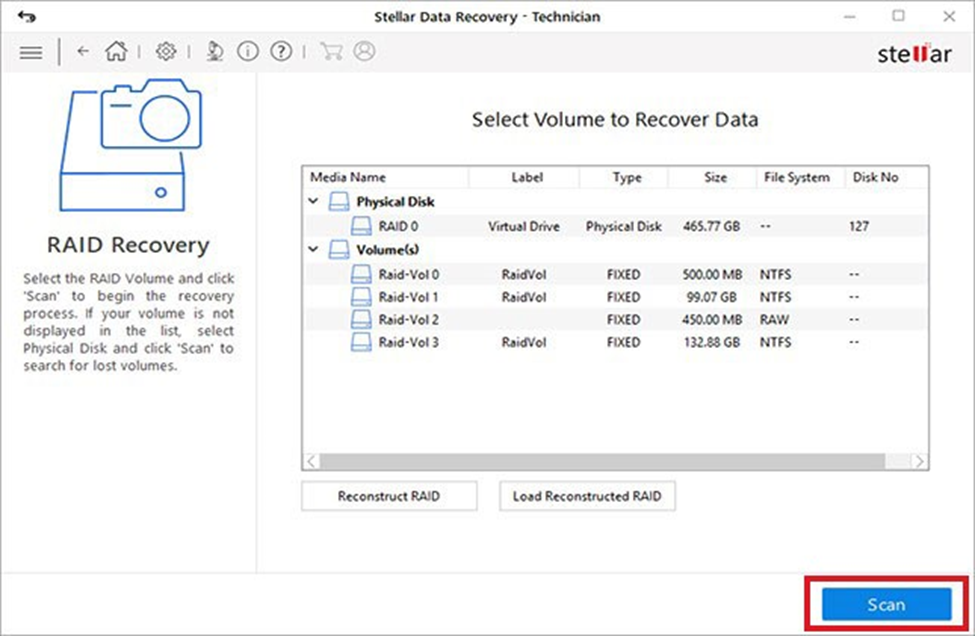 Once the scanning is completed, you can preview the files and click Recover.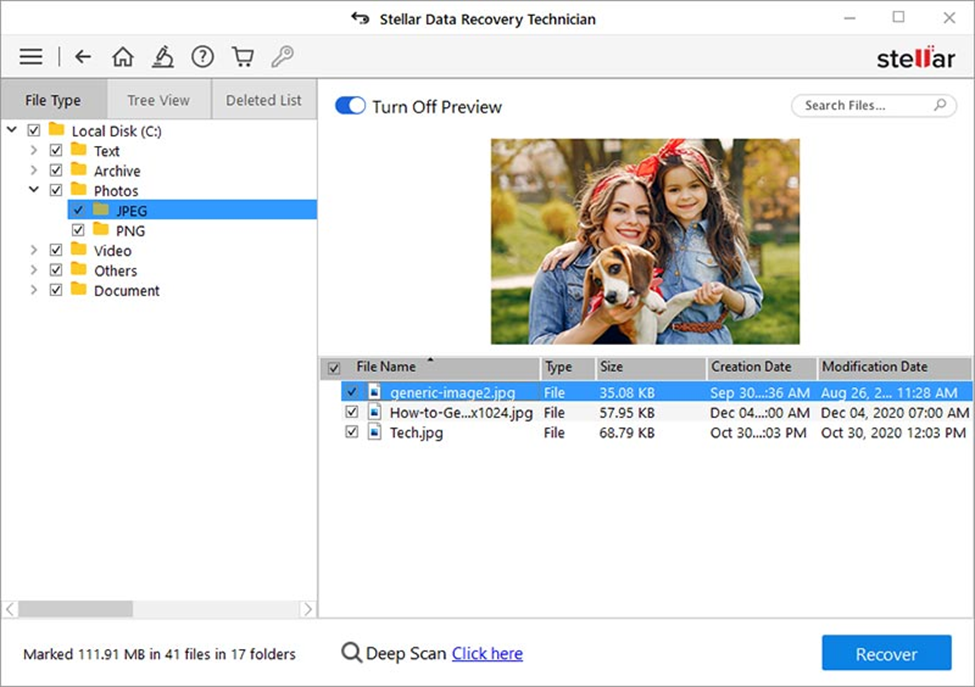 Further, click Browse to choose a location to store the recovered files. (Always choose an external or separate drive as the desired location.)
Finally, click Start-Saving to save the files.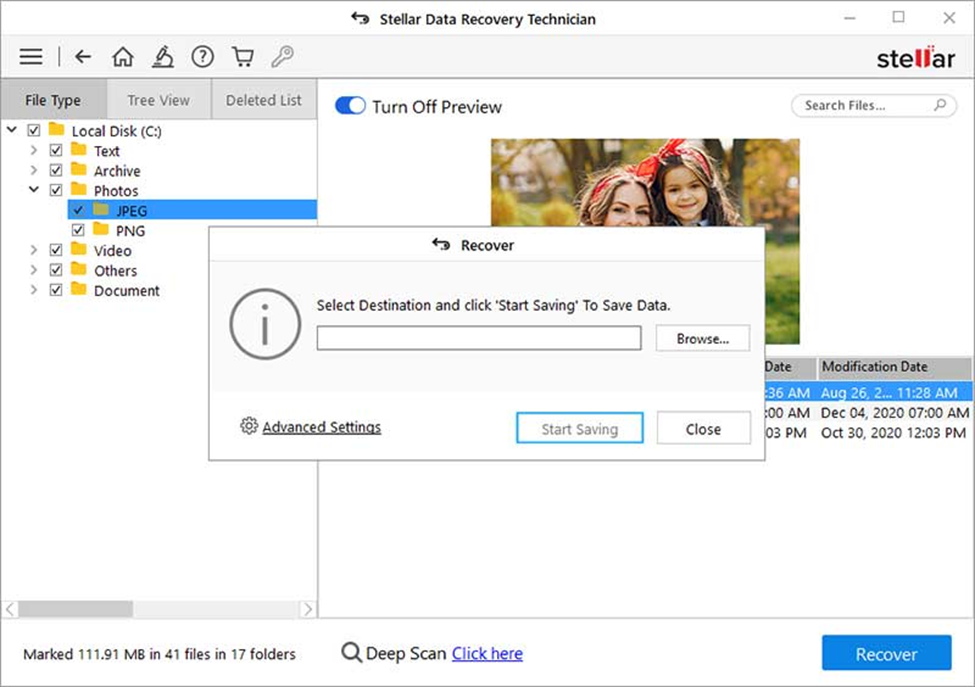 The software will start saving the files to the destination location.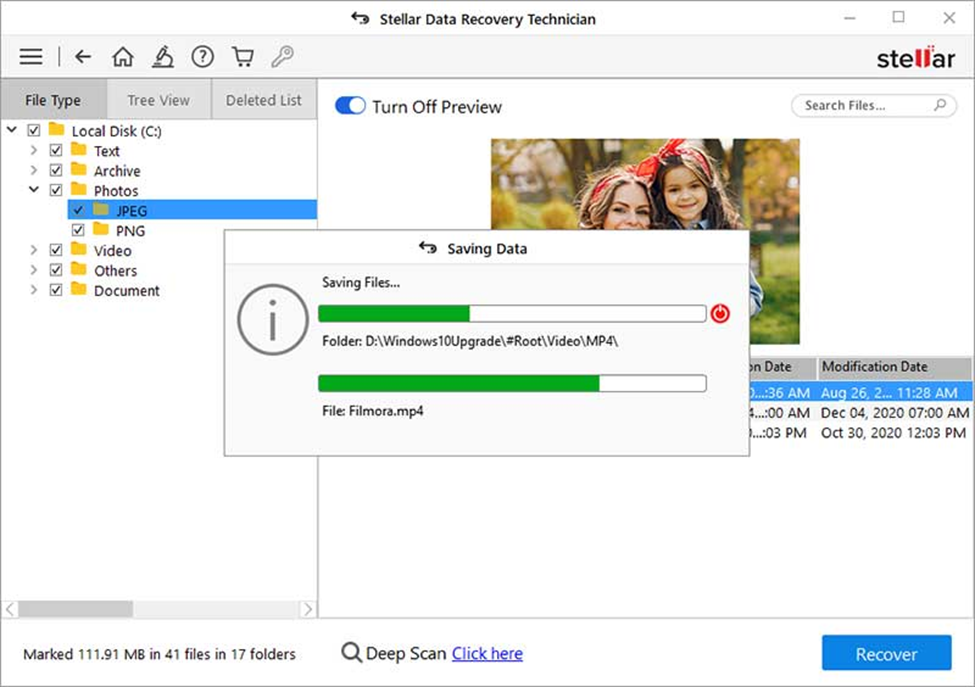 RAID 5 is one of the most recommended levels that you can leverage the speed, data security, reliability, and more. And, recovering data from it may seem complex, but it can be done easily with the methods discussed in this blog. However, there are some drawbacks of RAID recovery with the hot-swapping method. Hence, performing RAID 5 data recovery with professional data recovery software would be better and safer.
FAQ
1. Can I Recover data from RAID 5 with 2 failed drives?
No. RAID 5 can withstand only one drive failure. If there are multiple drive failures, data recovery from RAID 5 will not be possible. You would need to replace the failed drive, delete the array and recreate it again with the file system and copy-paste the data on the newly added drive from your backup media drive.
2. Is RAID a Substitute for Backup?
RAID is not a substitute for backup. Instead, you should take a backup of your RAID drives to prevent data loss against a drive or entire array failure, similar to normal hard drives. Additionally, following a three-generation backup policy means creating at least three copies of RAID drives.
3. How much time it will take to rebuild RAID 5?
Because of its complexity, RAID 5 rebuilds can take a day or longer, depending on controller speed and workload. If another disk fails during the rebuild, users might lose data forever.
4. What is the process of rebuilding RAID arrays?
RAID rebuilding or reconstruction refers to the process of restoring corrupt, broken, or failed RAID arrays to their working condition. You can use a dedicated RAID recovery tool that emulates the RAID controller and helps you rebuild a corrupt RAID array and retrieve data.