Easiest Way to Recover Data From a Damaged RAID 0 Array
Summary: RAID has several levels and each level has its own advantages and limitations. RAID 0, being the basic RAID level, is the most popular RAID array among home users as it can be easily created using tools of the operating system or a standalone controller. RAID 0 offers improved performance but lacks fault-tolerance and redundancy. If one of the member disks fails, all data is lost. But it is possible to do RAID 0 Data Recovery using trustworthy software like Stellar Data Recovery. Download the software now.

Damaged RAID 0 is mostly caused due to human errors, sudden power surges, controller failure, and software failure. Based on the cause of failure, RAID 0 damage can be classified into two categories:
Failure of one or more member disks – due to logical corruption or physical damage.
Failure of not connected with any Member disk – Software failure, controller failure, etc.
1. Failure of one or more member disk
Implement a professional RAID 0 data recovery tool in such case, where the drive has failed due to logical corruption or bad sectors or where RAID volume is deleted or corrupt. This is a safe and quick way to recover data from a damaged RAID 0 array.
Manual recovery, in case of RAID failure, is suitable for users who are well versed with the concept of RAID technology and have a lot of free time. For a normal user, the manual process is too complicated and if anything goes wrong, entire data is lost forever.
2. Failure of not connected with any member disk
After the RAID controller failure or failure due to software issue, it's too difficult to pursue using RAID stripe in its original configuration without the original RAID controller or same software/system. In such cases, files and data become inaccessible that can also lead to permanent data loss.
A reliable RAID 0 data recovery software comes handy in such situations. The software uses precise algorithms to reconstruct and recover data from a damaged RAID 0 array configuration as the drives are still working.
Easiest Way to Recover Data from Damaged RAID 0 Array
Manual RAID recovery is not for everyone. Only experienced users may be able to successfully execute the complicated manual RAID recovery. Most users need a simple, feasible, and risk-free RAID recovery solution and that is possible with a reliable and trusted RAID 0 recovery software but choosing a RAID recovery software from a reliable and trusted source is of utmost importance. Stellar Data Recovery Technician is one such tool.
With an intuitive and user-friendly GUI, this software helps the user to skillfully recover data from a damaged RAID 0 array. It's a standalone tool that doesn't require a costly hardware controller. The tool offers advanced options that can help a user to recover data from deleted RAID volumes and formatted or logically corrupt RAID 0 drives. Follow the instructions given below to easily recover data from a damaged RAID 0 stripe.
1. Remove the RAID 0 drives from the rack and use HDD enclosure or SATA to USB converter cables and connect all RAID 0 hard drives to Windows PC.
2. Download and install Stellar Data Recovery Technician on your Windows PC.

3. Run the program.
4. Select what to recover – photos, audio, videos, documents, emails or other files and folders. Click 'Next'.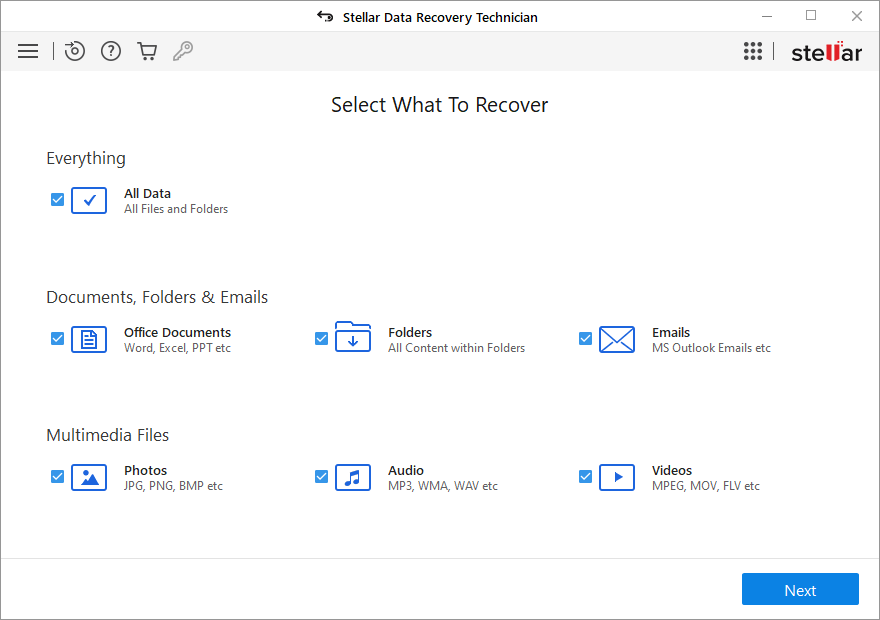 5. Choose 'RAID Recovery' from the 'Select Location' screen and click 'Scan'. A 'RAID Reconstruction' window appears.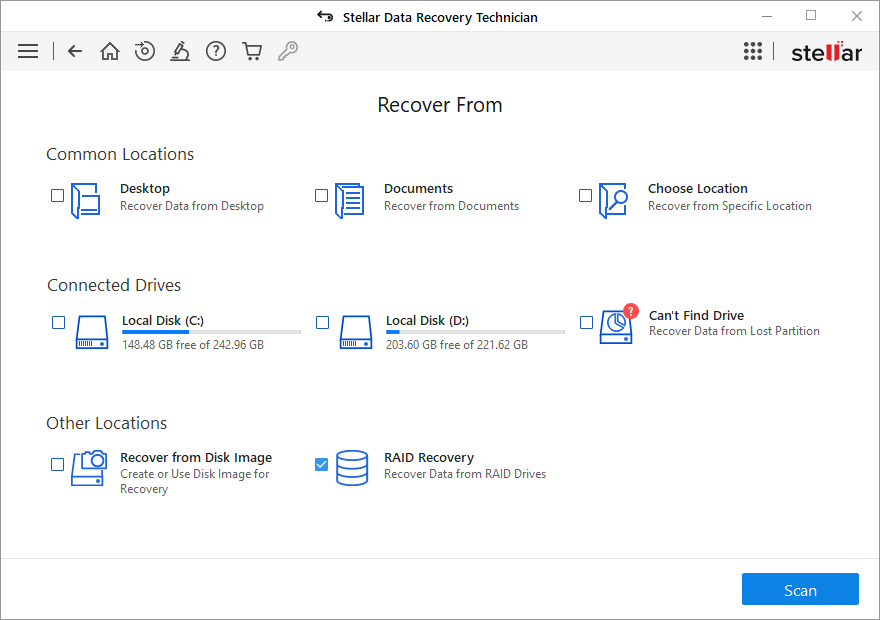 6. Click on RAID 0 tab located at the top-left corner of 'Raid Reconstruction' window.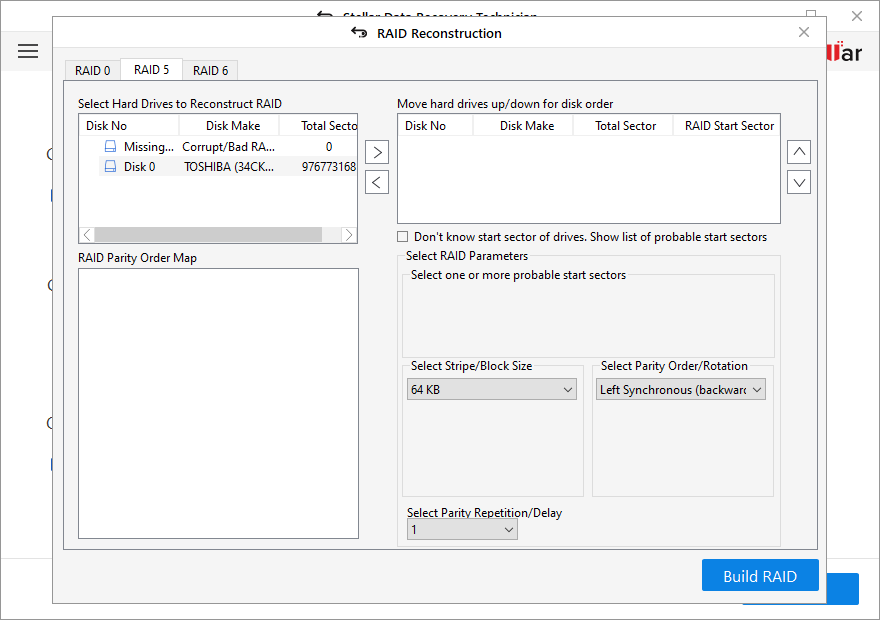 7. From the listed disks under RAID 0 list box, move RAID 0 disks to 'Move hard drives up/down for disk order' list box using left-right arrow buttons between the two list boxes.
8. Use up-down arrow button adjacent to list box to arrange disks in the correct order as they were in the RAID 0 stack.
9. Click 'Don't know start sector of drives. Show list of probable start sectors' if you are not sure about disk order. Then select one or more probable start sectors from the displayed checklist box or use Add Sector button to manually enter and add probable sectors (max 32 allowed) if not listed in the checklist box.
10. Select the 'Stripe/Block size' from the drop-down and click the 'Build RAID' button.
11. If entered parameters are correct, the software creates a probable RAID construction and the constructed RAID volume details are displayed in the 'Select Constructed RAID' window. Click the 'Show Volume List' button.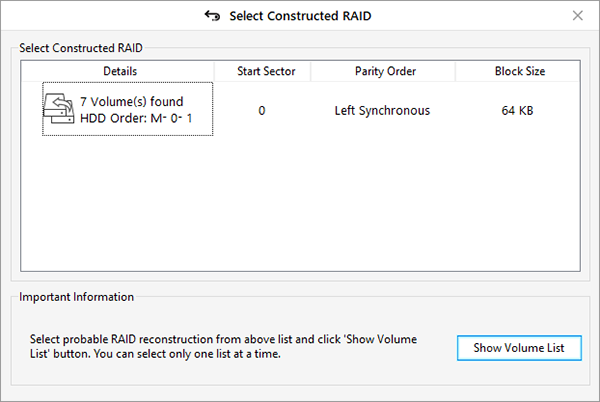 12. In 'Select Volume to Recover Data' windows, choose the volume from the listed volumes of RAID 0– from where data is to be recovered.
13. After selecting the RAID volume, click the 'Scan' button.
14. If the desired files are not found in the scan results, click on the blue link – 'Click Here' – besides Deep Scan text at the bottom of the software window to begin 'Deep Scan' process.
15. In the left 'Tree View' pane, all recovered folders and files are listed. Use the search box on top-right corner to find, preview, and recover specific files or folders. Alternatively, you can click on the 'File Type' tab easily browse and recover the required data.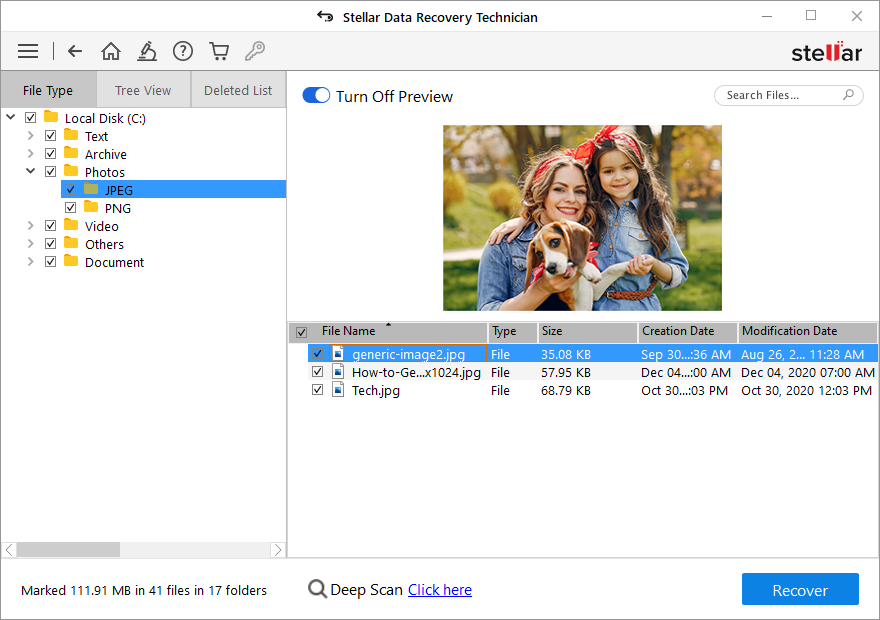 16. Click the checkboxes of the files or folders that you want to recover. Then click the 'Recover' A pop up appears.
17. Click the 'Browse' button to select the location where the recovered data will be saved.
NOTE: Again, make sure not to select the drive which was in the RAID array (now connected to your PC). Use an external HDD or internal hard drive with enough storage space to save recovered data.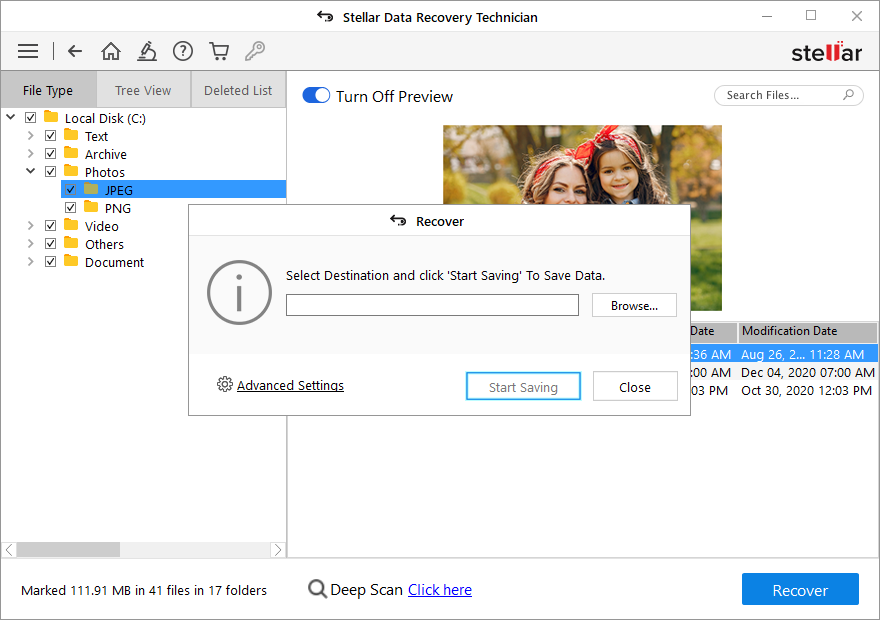 18. Click the 'Start Saving' button to save (recover) the selected files and folders as desired.
That's the easiest and safe way to recover data from a damaged RAID 0 array. Even if you don't know the parameters, this tool automatically determines parameters based on provided probable parameters by the user using advanced algorithms.
Moreover, if the entered parameters are incorrect, this tool helps the user to create a virtual RAID by automatically determining probable parameters. Later, the user can perform RAID recovery of the virtual RAID array. This feature is more useful when the connected RAID drives are corrupt or have a lot of bad sectors.
Conclusion
RAID 0 or any other RAID should not be used for the backup purpose. RAIDs are built for redundancy and help to maintain continuity in business and work. A RAID 0 array is non-redundant and the data loss rate is highest. Therefore, a backup copy of RAID array should be kept in a safe (different) location to help in case of RAID disasters. However, advanced and trusted RAID recovery solutions like Stellar Data Recovery Technician is there to help you when the crisis due to malfunctioning of RAID 0, RAID 5, or RAID 6 strikes.
You might be interested in: RAID 5 Data Recovery