How To Recover Data From Damaged RAID 5 Array
Summary: This blog provides the best ways to recover data from a damaged RAID 5 Array. We have compiled information about RAID 5, including an overview of RAID 5 and the reasons for RAID 5 failure. We've also shared how you can get back the data stored on it using a RAID recovery tool. Get the tool now from below download button!

Redundant Array of Independent Disks (RAID) is a data storage virtualization technology. In RAID, multiple physical drive components are combined into one unit to reap the benefits of data redundancy, better performance capacity, and reliability. The RAID level varies by the number of disks and is assigned specific alphanumeric names, which are in-between "0 to 10". These numbers indicate the particular array level. The higher the number of RAID array, the better the protection you will get against logically damaged drives, drive failure, unrecoverable read errors (URE), and other problems.
RAID 5: An Overview
RAID 5 is the most robust storage solution amongst all RAID levels. It typically consists of a minimum of three hard disk drives. However, it can work with up to 16 disk drives. The data blocks remain striped across all the disk drives. On one drive, there is a parity checksum of all block data. The parity information doesn't remain stored on one specific drive. It is also distributed across all drives, which means it works as a backup for all the other drives. In case, if one drive gets logically damaged, the data remains safe on the other drives and you can easily retrieve it with the help of a RAID data recovery tool.
What are the Causes for RAID 5 Damage?
Though RAID 5 has good fault tolerance, it may get logically damaged due to malicious attack, accidental formatting, file deletion, faulty system configuration or corruption, etc. In a scenario where one of the disks fails, the information will remain available on other drives because of the parity. If there will be extra disks available to the array, they will automatically replace the damaged one. Thus, it is considered the most common secure RAID level as it provides better data protection despite RAID 0, (striping) and RAID 1 (mirroring).
Other reasons that contribute to RAID 5 damage:
The simultaneous failure of multiple drives' at once
Re-establishment of RAID 5 Array with one failed disk drive
Illogical configuration of RAID Volume
Malfunctioning of Raid controller
Corruption in the RAID controller
Unexpected power breakdown/surge
Virus or malicious attack
Recover Data from Logically Damaged RAID 5 Array
All RAID controllers and configurations are different. You may check the disks and replace the faulty one with a new one. In case of virus attack, corruption, formatting or file deletion, you may recover data from the damaged RAID 5 array with the help of a RAID data recovery tool such as Stellar Data Recovery Technician. This easy-to-use DIY software can retrieve the lost or deleted documents, photos, videos, audio files, emails & more from RAID drives. It can efficiently extract lost or formatted RAID logical volumes. It can detect critical RAID parameters and reconstruct virtual RAID to retrieve data from a corrupt, broken, or failed RAID 0, RAID 5, & RAID 6 arrays.
Follow the given steps to recover the data:
Download, install, and launch Stellar Data Recovery Technician software.

a. Select 'Everything' from 'Select What to Recover' screen to specify the data you want to restore. (See Image 1)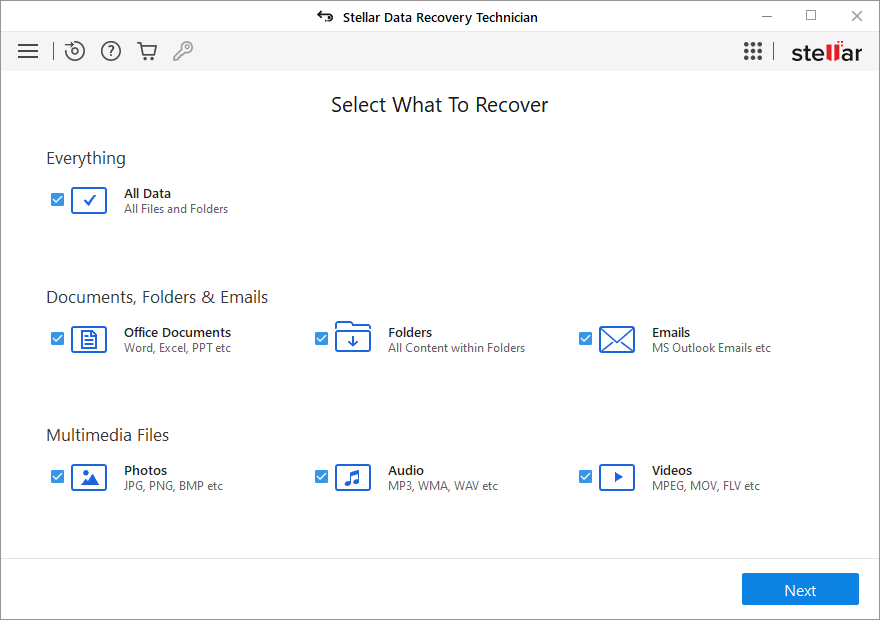 b. On 'Recover From' screen, select 'RAID Recovery.' (See Image 2)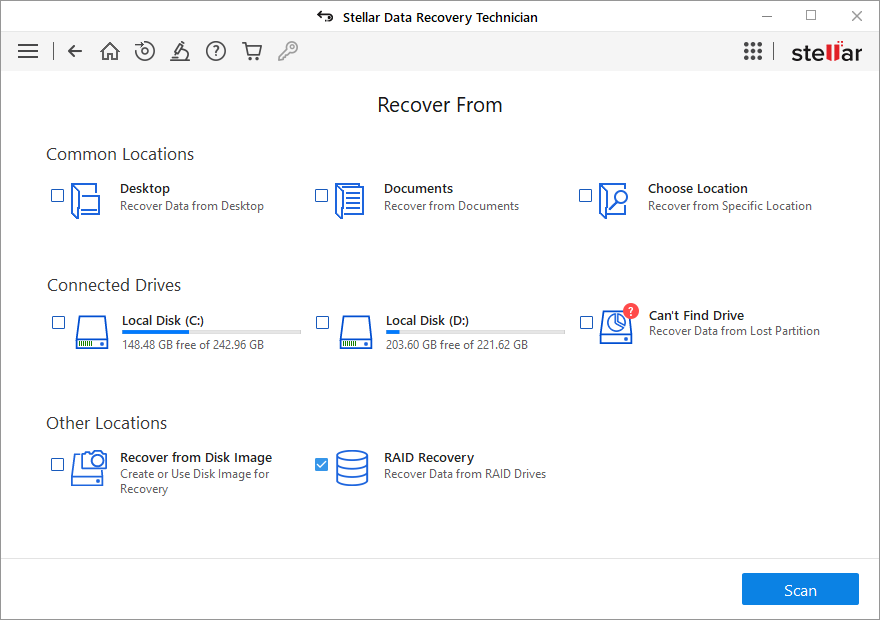 c. On the next prompt, choose all the parameters as available in the original RAID. (See Image 3)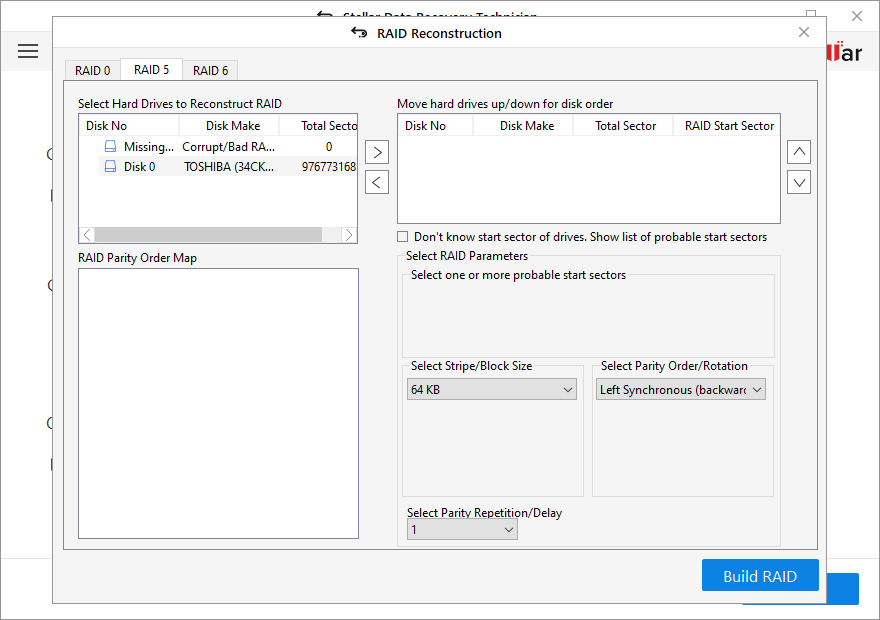 d. You will have an option to rebuild RAID. Scan and restore data in the accessible form, and save the recovered data to the desired location.
e. Once you recover data from RAID 5 array, you can rebuild the array.
What are the benefits of using RAID Data Recovery Tool?
Be it a hardware-based or a software-based RAID without a hardware controller; a RAID data recovery tool can extract the data effectively. The tool uses powerful algorithms for automatically matching the patterns and recognize the RAID parameters. It creates an image of the hard drive for quick and secure data recovery.
The software is efficient at rebuilding portable RAID even if the parameters set to the RAID configuration are unknown. After selecting the 'Don't Know' checkbox with specifying the possible values for Parity Order, Strip Size, Parity Delay, and more, it will reconstruct the RAID.
It enables you to find even the lost or undetected Windows drive partitions and RAID volumes. You can use the 'Can't Find Drive' feature to retrieve the data. If you can't see RAID volume after reconstruction, select the physical disk and scan it to locate and scan the volume.
Is there any way to recover data from RAID 5 array with 2 Failed Drives? What are the possibilities?
The configuration of RAID Array certainly offers sufficient data redundancy and boosts the data performance. Sometimes there is more than one disk experience failure in RAID 5? How to get back the data in such a situation?
The first course of action you should take is to recover the data from RAID 5, and then rebuild RAID with the same configuration, followed by uploading the data to the rebuilt RAID 5. You may read this guide to recover data from RAID 5 with 2 disk failures.
Conclusion
Certainly, data recovery from failed RAID 5 array can sure be quite challenging. Regardless of the reasons, RAID 5 array may damage or fail anytime, leading to a data loss situation. You may try replacing the faulty drive or rebuild the RAID to recover data. However, as reconstructing RAID requires high-expertise and not all RAID users are well aware of the process, the safest way for data recovery is to use an efficient RAID data recovery tool, such as Stellar Data Recovery Technician. This software not only retrieves the data from damaged RAID 5 array but also rebuilds portable RAID.