When you are unable to access the data on Ext4, Ext3, and Ext2 Linux partitions, then the prior thought on your mind is whether you will be able to do linux data recovery from these Inaccessible or corrupt Linux based partitions. The answer is yes. Get Stellar Toolkit for Data Recovery now!

Though data administrators keep a check on their Linux-based storage drives with the help of S.M.A.R.T. (Self-Monitoring, Analysis and Reporting Technology) utility, there are issues which disrupt accessibility of these drives. For such cases, a software can help recover the data from such inaccessible Linux storage's that have Ext4, Ext3, & Ext2 file systems.
Before we start with the recovery process, let's take a look into the probable causes that lead to data loss from Ext4, Ext3, & Ext2 Linux Partitions:
1. Deletion of Linux Partition: A partition may get deleted mistakenly while managing the disk partitions by using partition managers such as FDisk, GParted, or GNU Parted.
2. Disk Format: An entire hard disk containing the partitions and files are formatted.
3. Disk Re-partition: Re-partitioning of a hard drive can lead to accidental formatting and partition deletion. Sometimes unexpected errors may also appear during disk re-partition.
4. Error in the Partition Table: Errors such as 'not enough memory', sudden power outages, and abrupt system shutdown can cause errors in the partition table (file system errors).
5. Broken/ Corrupt Superblock: Broken or corrupt Superblock makes the extended (EXT) drives inaccessible.
6. System Re-install: An administrator must checkbox for the right choice while reinstalling the system. Clicking and selecting a wrong option may lead to partition loss after system installation.
7. Factory reset of PC: Many PC providers provide the 'Factory Reset' option to reset the device to factory settings, which is bound to result in loss of data on the local disk.
How to Recover Data from Ext4, Ext3, & Ext2 Linux Partition on Windows
Stellar Toolkit for Data Recovery allows accessing the Linux files on Windows-based platform. The software supports Ext4 file system used by most Linux distributors. Along with Ext4, the software also supports Ext3 and Ext2 file systems.
Here is the step-by-step process for recovering the lost data from Ext4, Ext3, and Ext2 Linux partitions with the help of Stellar Toolkit for Data Recovery for Windows:
Step 1: Launch the toolkit – Stellar Toolkit for Data Recovery – on Windows based system to start the process of Linux data recovery:

Step 2. Connect the hard drive to the Windows system.
Step 3. The software allows to select the database from the available partitions. Click 'All Data' option to choose the entire Linux data.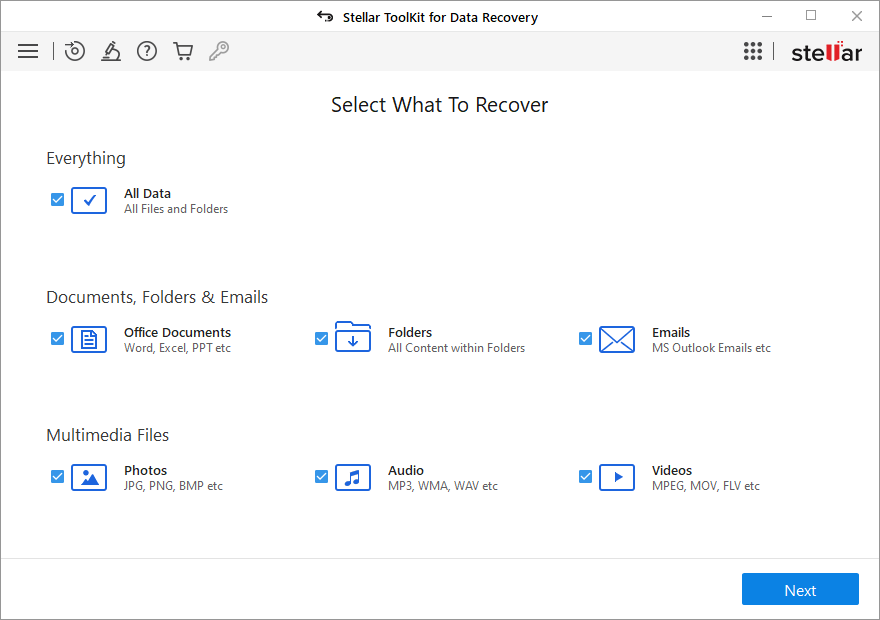 Step 4. The 'Next' button on the slide allows selection of the Drive which is partitioned
Step 5. Select the location from where you wish to recover your lost or deleted data and click on the 'Scan' button.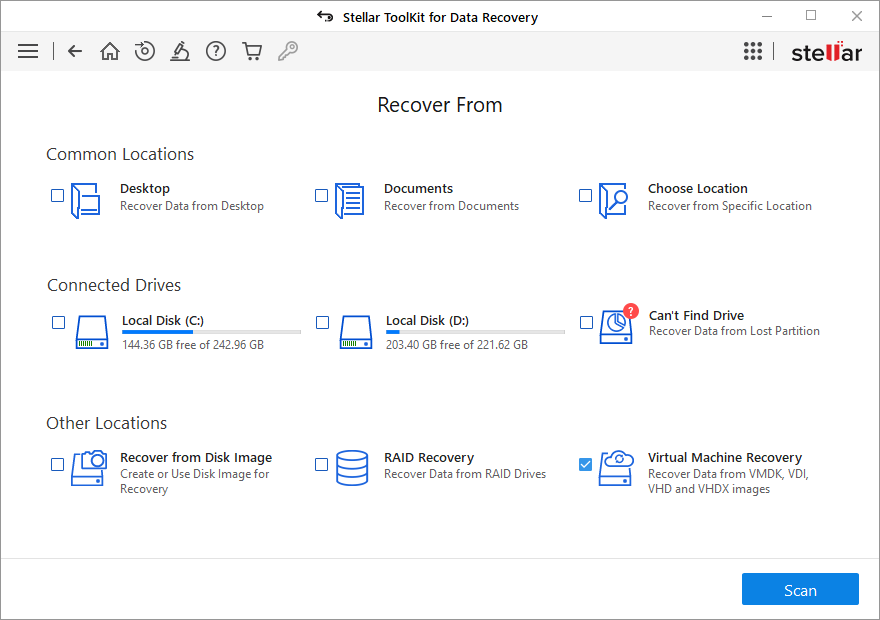 Step 6. Click the 'Scan' button to start the scanning on the selected drive. If needed, you can stop or pause the process by clicking the 'Stop' button.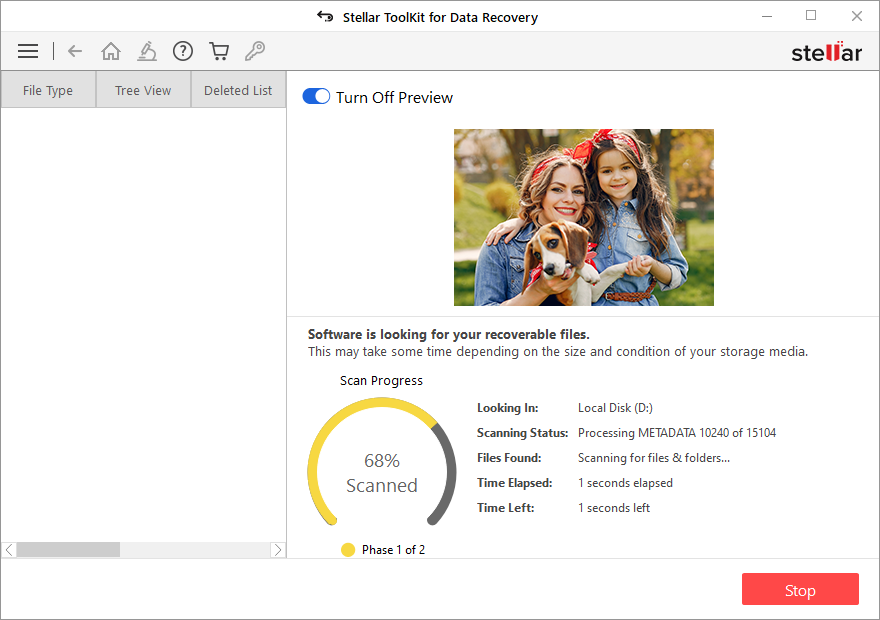 Step 7. The scanning process concludes with the message – "Scanning Completed Successfully". After the scanning process, it shows a preview of the recoverable items.
Step 8. Along with the recovered items, you can also search for the list of 'File Type', and 'Deleted items' in the preview.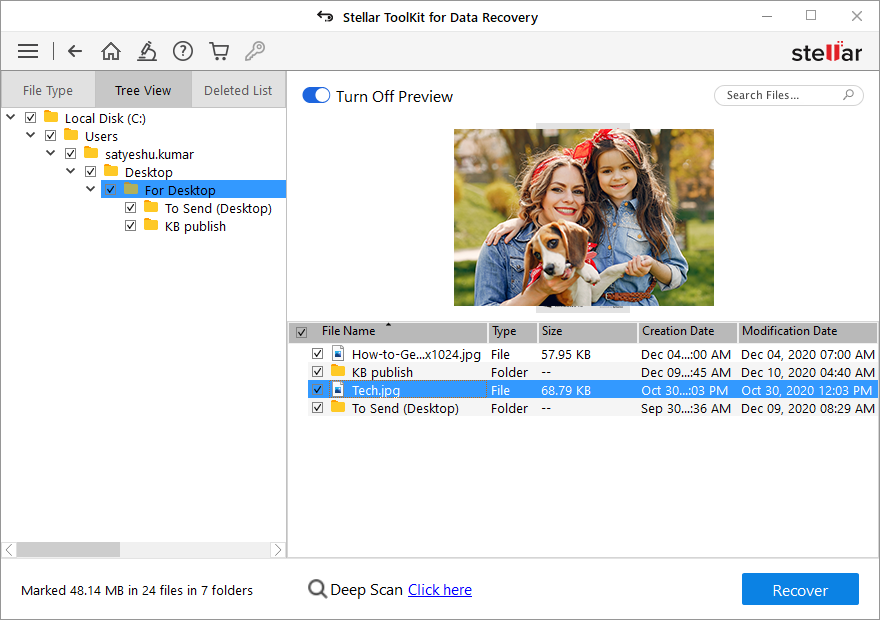 Step 9. Click 'Recover' button to initiate the data recovery process.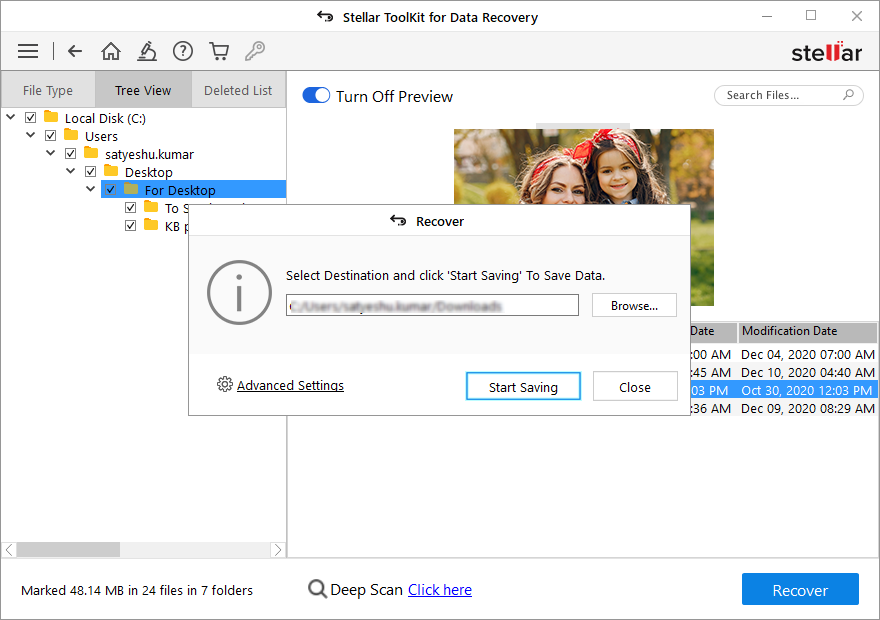 Caution: The recovered data must be restored in a separate external drive. Saving the data to the same partition may result in data-overwriting, leading to permanent data loss.
Further sometimes, there is less space on the external disk, and it may be difficult to save all the recovered files. The software provides an option to compress the recovered files before saving them.
The functionality of Stellar Toolkit for Data Recovery is not limited to data recovery from Ext2, Ext3 and Ext4 Linux partitions on Windows. The software also repairs 'disk errors', 'fixes disk permissions' and replaces the damaged directory. It can also create the disk image to facilitate faster recovery from storage drives that have a lot of bad sectors.
Conclusion
It is critical to preserve data for its intended use and value. Data loss may happen due to corrupt or inaccessible storage partitions in Linux Operating System, which in turn, may have its roots in associated file systems such as Ext4, Ext3, and Ext2. You can avoid such situations by taking precautions while managing disk partitions, factory reset, and system reinstall, etc. Also, it's recommended to use S.M.A.R.T. drive monitoring utilities to keep check on the health and performance of hard drives. However if partition-related issues arrive, despite taking these measures, data administrators must act fast and use a software like Stellar Toolkit for Data Recovery to get fast and secure Linux data recovery from Ext4, Ext3 and Ext2 formatted partitions.