Summary: This blog provides the best methods to recover lost data from Virtual Machine (VM). To quickly restore data from a VM, you may use an advanced data recovery tool, such as Stellar Toolkit for Data Recovery. Try out the trial version from here:

Data loss is an inevitable issue, especially if you are a professional who manages many official documents, files, emails, etc. Trying to recover essential files can cost you a considerable amount of money and time. Hence, to ensure the utmost protection against data loss, you may have to set up a virtual machine on your system.
Virtual Machines help you run an operating system in a virtual environment, functioning as an individual system with its network interface, storage capacity, and CPU. Rather than using your system to load and run programs, it uses software to deploy apps and run programs, etc. in a safe and sandboxed environment. But, what if you lose data stored on virtual machines? Don't fret! Read this article to learn how to recover lost data from a Virtual Machine. Know the possible reasons that may cause permanent data loss and the best methods to retrieve lost data.
Lost data from Virtual Machines? Read this comprehensive article to learn the steps to retrieve your essential files, folders, photos, and more.
What are the common causes of data loss from Virtual Machine?
There could be several causes of data loss from Virtual Machine, such as:
Accidental deletion
Drive formatting
Virtual file not mounted
Corruption in index files
Unexpected shutdown
Hypervisor malfunction
Whatever the reason is, you may recover lost data from Virtual Machines with the following methods:
Methods to Recover Lost Data from Virtual Machine
#1 Recover Files Using Web Console
If you have set up the Virtual Machine (VM) with VMWare, you may use Web Console to recover small files and folders using Web Console without any need for Virtual Server Agent to be installed on your destination Virtual Machine. However, there are a few requirements:
For Windows, the virtual machines should have the NTFS file system
The destination VM should be powered on.
If the Virtual Machine is a part of the same vCenter as the original VM, then data recovery is possible.
The latest versions of VMWare tools should be installed on your system.
You may also use open-vm-tools on guest Virtual Machines supporting Linux releases.
Now, if your system fulfills all these requirements, log in to Web Console with the following steps:
Log in to the Web Console:
a. Click My Data > VMs > My Virtual Machines.
b. Any Virtual Machine, which is archived, will be marked with the archive icon.
Recover files from VM by following the given steps:
a. Go to Computers, click VM to open Virtual Machine.
b. Click Select Files > Restore Files.
c. Enter an entry in the Name column for expanding the volume and folder structure.
d. You may select one or more files and click Restore.
e. Next, follow the on-screen instructions and complete the process to retrieve files.
#2 Use Data Recovery Tool to recover lost data from the virtual machine
Another best method for recovering lost data from Virtual Machines is using a data recovery tool such as Stellar Toolkit for Data Recovery. This software can extract data from Windows, Mac, and Linux. The software supports software such as VirtualBox, Oracle VM, Hyper-V, VMware Workstation, VMware Server, etc., which help you set up a virtual machine on your system.
This DIY software can mount a virtual machine image (VMDK, VDI, VHD, and VHDX) and recover the lost data. Follow the steps given below to recover your lost data using the software:
a. Download, install, and run Stellar Toolkit for Data Recovery on the affected PC.

b. On the Select What to Recover screen, select Everything or type of data you want to retrieve. (See Image 1)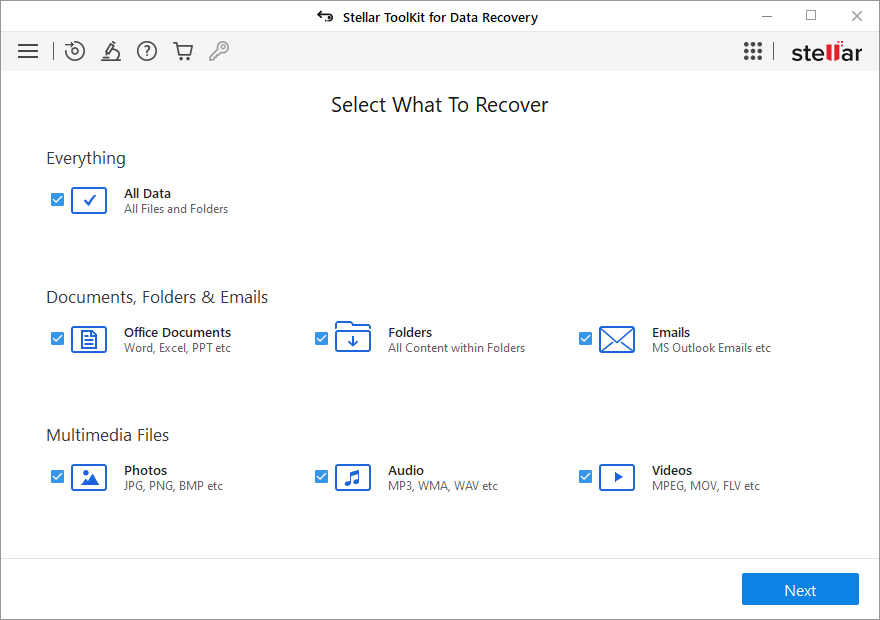 c. On the next 'Recover from' screen, select Virtual Machine Recovery > Scan. (See Image 2)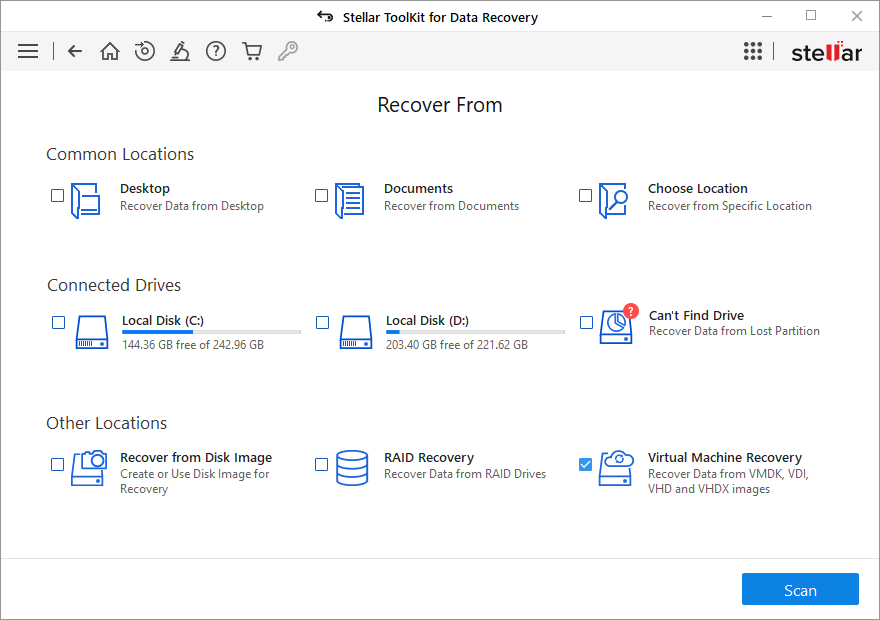 d. Now, click Add Image to select the lost Virtual Machine Image.
e. You may also click Find Image to search and add a Virtual Machine image.
f. After selecting the files, click Mount. (See Image 3)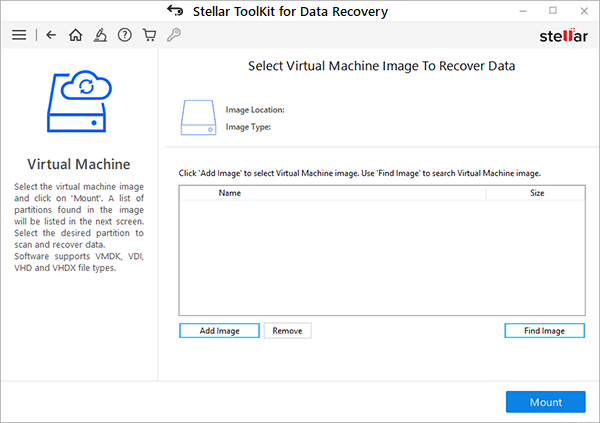 g. Once the software finishes mounting the Virtual Machine image, you may scan it and follow the on-screen instructions to proceed.
h. After scanning, the software will show the lost files on the screen.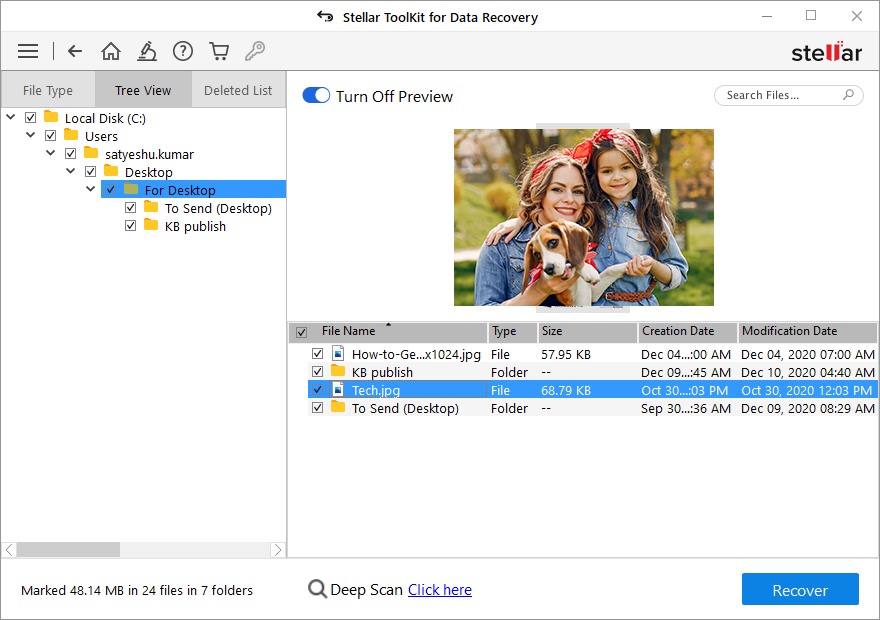 i. Select the files you want to retrieve and click Recover.
j. Browse a location where you want to save the restored data.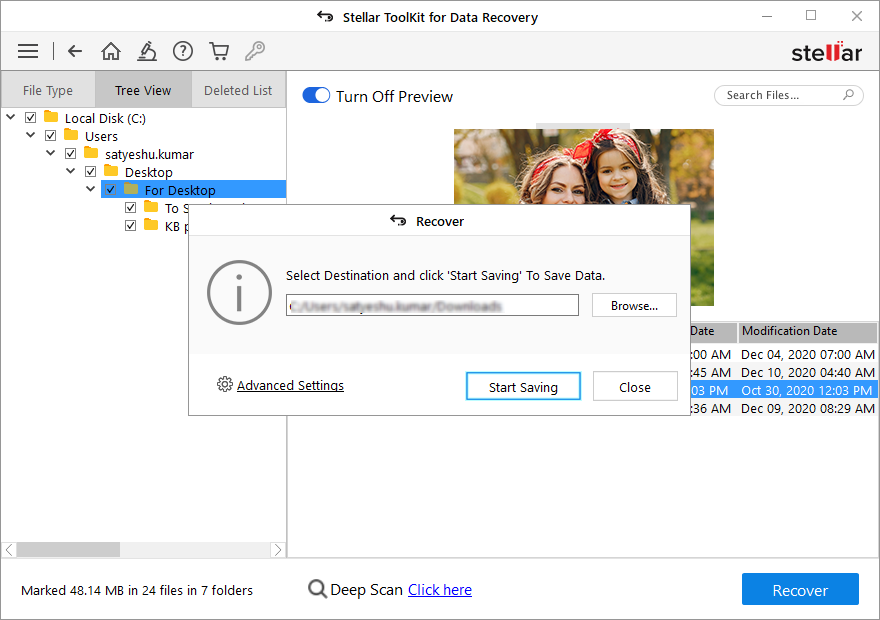 k. Finally, click Start-Saving to store the recovered data.
Conclusion
Virtual Machines offer better protection against sudden data loss. So many small and large business enterprises possess a virtual setup. Though it boasts of being more secure for its users, it may experience software malfunctions, unexpected shutdowns, or human errors such as accidental file deletion, drive formatting, etc. You may recover lost data from Virtual Machines using the pre-approved methods shared in this article. However, we recommend using a powerful data recovery tool such as Stellar Toolkit for Data Recovery for quick and secure data retrieval. This software can recover VMDK, VDI, VHD, & VHDX file formats from virtual drives. You may download the trial version below and check how the software works.
We want to answer your queries (if any). Let us know in the comment section below!