How to Recover Deleted GIF Images?
Summary: Have you deleted or lost GIF images from your device? This blog is a complete guide to recover deleted GIFs on Mac or Windows and Android or iPhone in various data loss situations. In the absence of backup or when the files are removed even from the Trash/ Recycle Bin folder, download Stellar Photo Recovery to quickly recover permanently deleted GIFs on Mac/ Windows or Android/iPhone.
GIF or Graphics Interchange Format is a file format used for processing graphical images and is best suited for creating animated images on the web. These animated GIFs are used for expressing emotions or humor by referring to memorable moments or memes from TV shows or movies.
No wonder, GIF images are precious as they add some spice to our mundane lives. Some people also keep a repository of the funniest GIFs for their daily dose of laughter. But, what if you accidentally delete some cool GIFs from this folder or lose them due to other unforeseen reasons?
This post shares workable methods to recover deleted GIF images. So let's get started without further ado!
Why GIF Images are Missing?
No matter how secure your Windows or Mac devices are, you can lose data from them. Here are some common reasons that may lead to missing GIFs from your system:
Virus or malware attack
Accidental deletion or formatting
Interruption while transferring GIFs from SD card to the system or vice-versa
Corruption in the storage drive
Recover Deleted GIF Images from Windows
Often, you may lose access to GIF images saved on your Windows PC due to formatting, accidental deletion, malware infection, or power cuts. In such a situation, follow the below method to recover deleted GIF images from a Windows PC.
Restore Deleted GIF from Recycle Bin
Normally, accidentally or intentionally deleted GIF images on Windows go to Recycle Bin and it stays there for 30 days until removed manually or automatically. So, check the Recycle Bin folder to recover lost GIFs. Here's how:
Open Recycle Bin on your Windows.
Find and select the GIF you want to retrieve.
Right-click on the GIF and select Restore.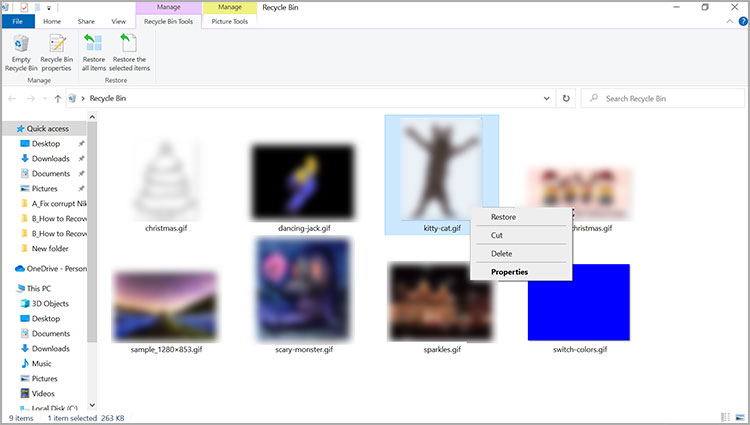 Wait for the process to complete and remember the restored photo will be sent back to its original location in Windows from where it was deleted.
Use Windows Backup and Restore Utility
However, if your GIF images are not there in the Recycle Bin, check your backup folder. If you take regular backups of your media files using various built-in Windows utilities like Backup and Restore, then you can simply retrieve your GIF from those backups. Here's how to retrieve deleted GIF images using the Backup and Restore utility:
Type Control Panel in the Windows search box and click Open to launch it.
Click System and Security and select Backup and Restore.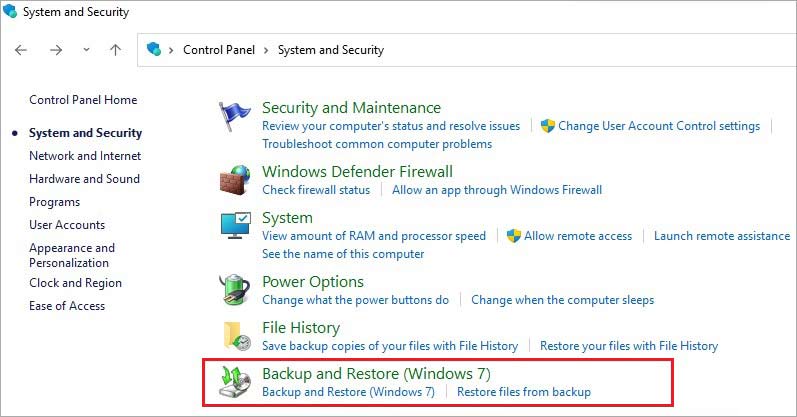 Next, click Restore my files or Restore all users' files.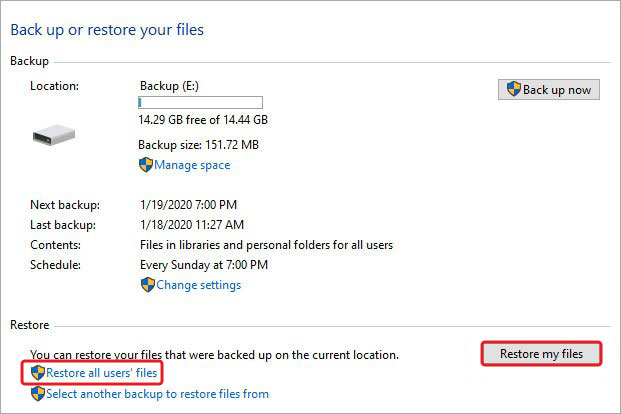 Choose the deleted files you want to retrieve.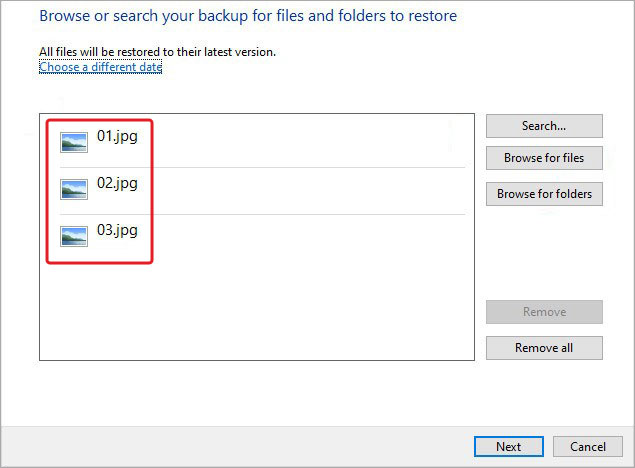 Select Browse for files or Browse for folders, and click Next.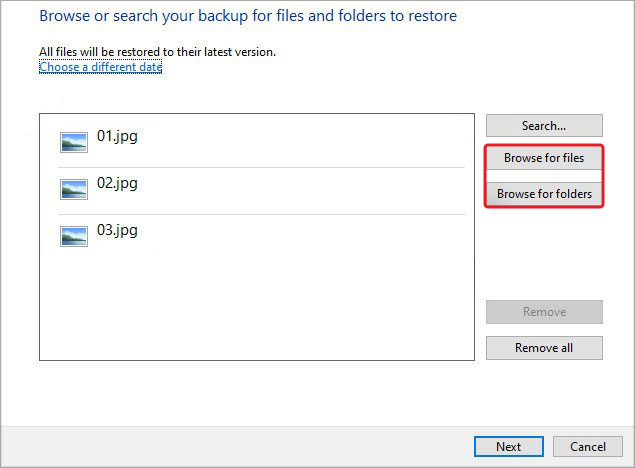 Then choose the desired location and click Restore to save the recoverable GIF images.
Recover Deleted GIFs with the Best GIF Recovery Software
If you don't find your lost or deleted GIFs in Recycle Bin or backup folder, use an efficient GIF Image Recovery Software like Stellar Photo Recovery. It's a DIY photo recovery tool that retrieves all types of media files, including photos, videos, and audio files in all data loss scenarios, such as accidental deletion, corruption, virus attack, formatting, etc.

Here's how to use Stellar Photo Recovery software to recover GIF images.
Download and launch Stellar Photo Recovery software on your Windows PC.
On the home screen, select the drive from where you lost your GIF. Click Scan.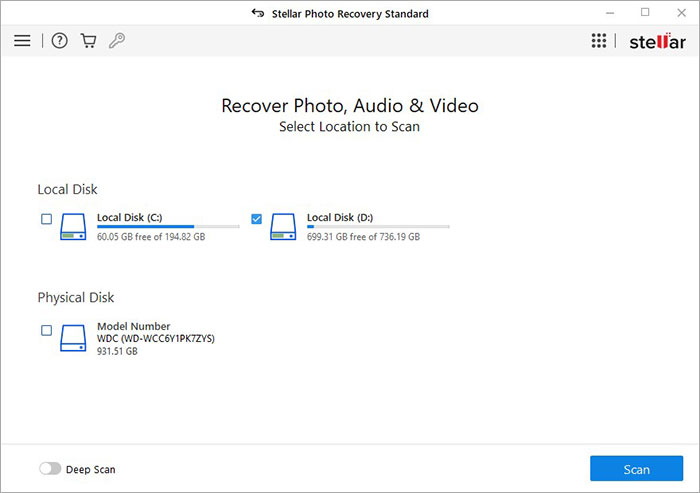 Once the scanning is completed, you can see the list of recoverable GIFs.
Select the GIF images you want to retrieve and click Recover.
Click Browse to choose a desired location to store recovered GIF images. Click Start Saving.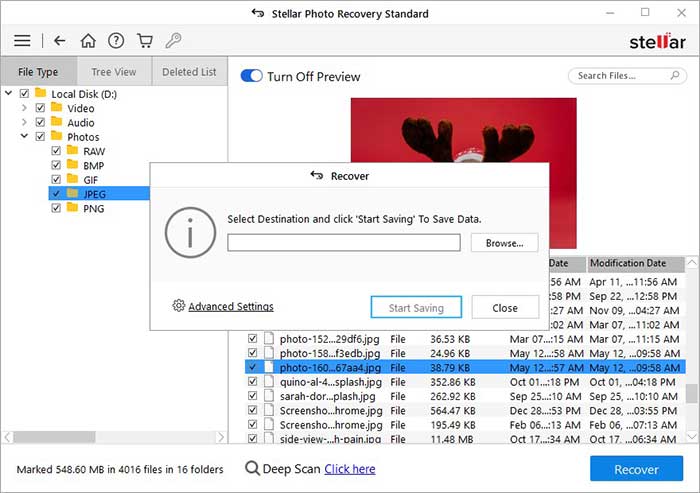 Note: Don't save the restored GIF images in the affected drive/volume/partition/SD card from which you lost the GIF to avoid overwriting.
Recover Deleted GIF images from Mac
If you lost GIF images from your Mac, try the methods mentioned below to retrieve deleted GIFs.
Restore GIF from Trash
The first place to look for deleted GIF images in macOS is the Trash folder. This folder stores your deleted GIF and other data for 30 days, post which, they get automatically deleted. Follow the steps given below to recover GIF from Trash:
Open the Trash bin of your macOS.
Select and right-click on the GIFs you want to retrieve.
Click the Put Back option and your GIF images will be restored to their original location.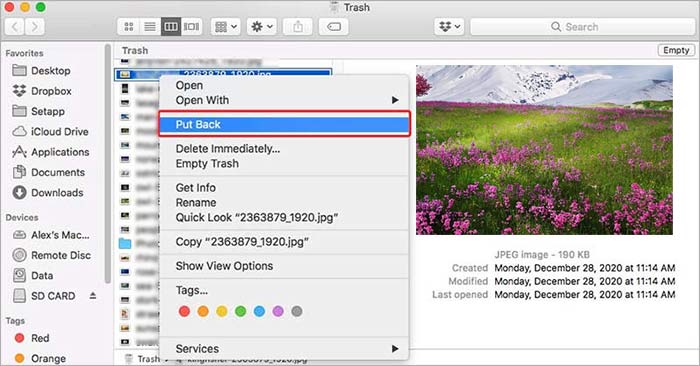 Use the Photos App to Backup deleted GIF
If you save your GIFs in the Photos app on Mac and lost it from there, you can find it in the Recently Deleted section of the app. However, deleted GIF stays in the Recently Deleted folder for 30 days and after that, it is permanently deleted. Here's how to retrieve deleted GIF images:
Open the Photos app in Mac and click Recently Deleted at the left pane.
Now, look for the GIF images that you want to restore and select them.
Next, click Recover to send the GIF to its original destination.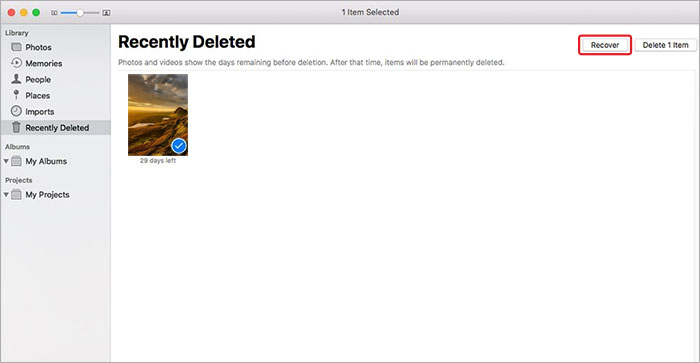 With Time Machine Backup
If you are using Time Machine to back up GIF images, you can easily restore your favorite GIFs. Here's how to retrieve deleted GIF images from Time Machine:
Connect your Time Machine backup drive to your Mac.
Go to Apple menu > System Preferences > Time Machine.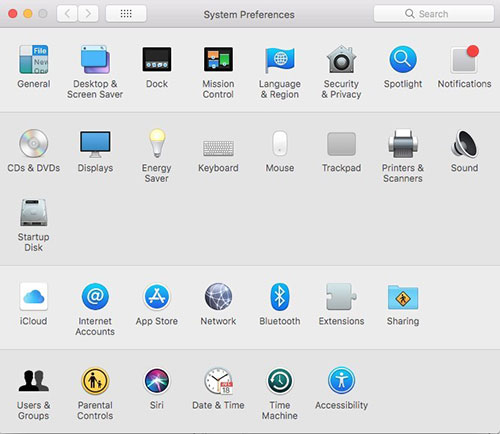 Navigate to the backups using the TimeLine or Up/down arrow button.
Select the date of your last backup and look for your photo library backup and click Restore to recover it.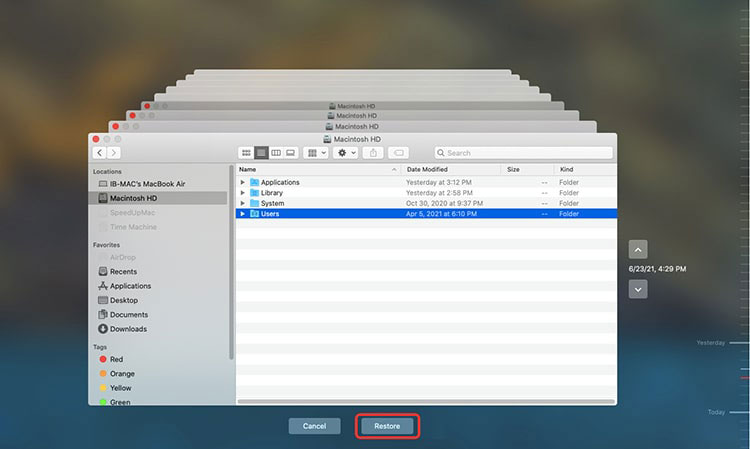 With Photo Recovery Software for Mac
If you cannot retrieve deleted GIF images from your Mac's Trash bin, Photos app, or Time Machine Backup, use an efficient Mac Photo Recovery software just like the GIF recovery software used in Windows. Download free software to get your GIF images back on Mac:
Download, install, and launch Stellar Photo Recovery for Mac.
On the main screen, select the drive or external media from which you want to restore GIF files. Click Scan.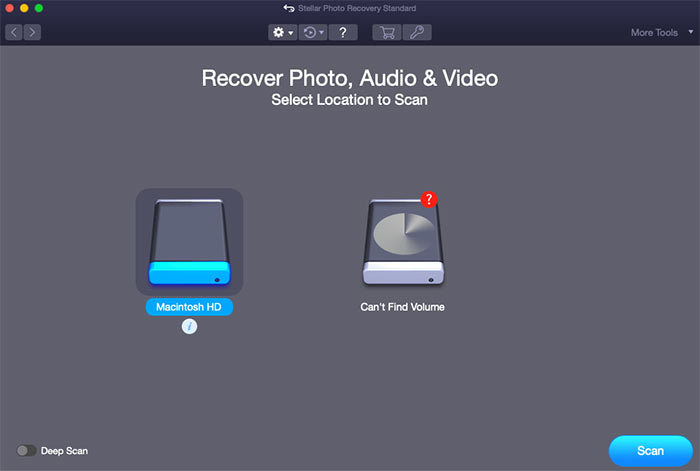 Once scanning is completed, see the list of recoverable files and preview them.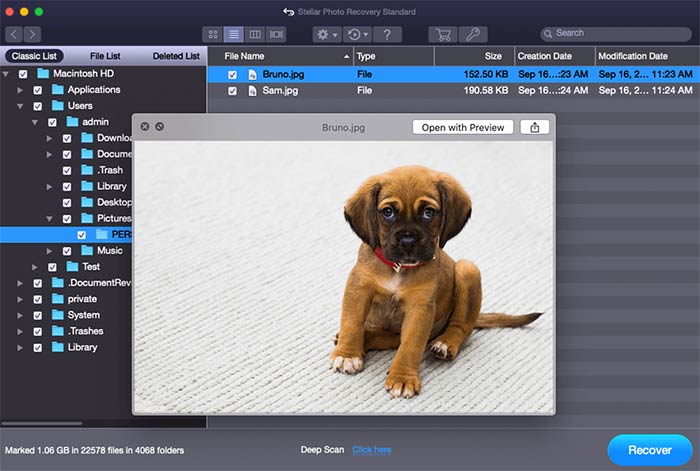 Next, select the required GIF images and click Recover to save them at a desired location.
Recover Deleted GIF Images from Android
People also send GIFs through various messaging apps present in Android. If you lost the GIF images stored on your Android device, recover it using these simple steps.
Use the Trash Folder of Gallery App
Most Android phone offers Trash folder in the Gallery app. You can recover lost GIFs from there.
Open Gallery app of your Android.
Click the three dots and tap on Trash.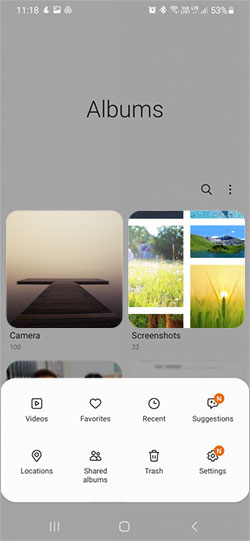 Select the GIFs you want to retrieve and click Restore.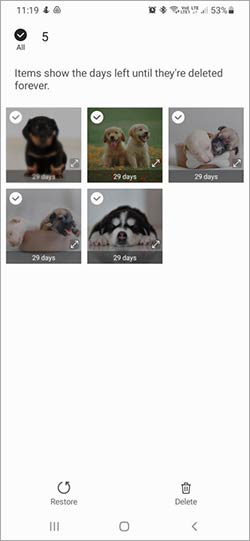 Use Google Photos
If your Android phone is synced with Google Photos, it will automatically save all your GIFs, and other media files to your account. Use your Google Photos account to recover lost GIFs.
Open the Google Photos app on your Android phone.
Sign into your Google Account, select the GIFs you wish to restore.
Click Save to Device to restore GIFs.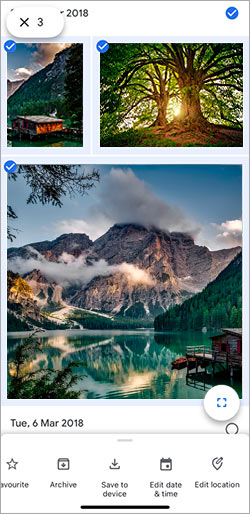 If you cannot find your GIF images on Trash or Google Photos, use photo recovery software to restore lost GIFs. Moreover, if you lost the GIF images saved on SD card of Android phone, refer this blog to recover deleted photos from SD card.
Recover Lost GIF Images from iPhone
Different data loss situation in iPhone calls for distinct methods to restore lost GIF images from iPhone. Read 'How to recover deleted pictures on iPhone?' to know each of those methods in detail.
Tips to Prevent Photo Loss
Never use a camera or system on low battery.
Back up your GIFs, photos, and other media files often.
Make sure to scan the storage drives having GIF images using robust antivirus software to keep viruses away.
Take proper care of your physical storage devices.
Make sure the process of transferring GIF images from one drive to another is not interrupted.
Conclusion
Deleted GIF recovery on Windows/ Mac or Android or iPhone devices can be challenging if you cannot find the lost GIF in the Trash or Recycle bin or don't have the backup. Hence, in such a data loss situation, always trust a secure and efficient GIF image recovery software like Stellar Photo Recovery. This professional software recovers GIFs lost due to any data loss scenario from all kinds of storage drives.
Nonetheless, first, you must take a free trial to evaluate the effectiveness of the Photo Recovery software.
FAQs
1. How to recover lost GIF images from Android?
Check the Trash of your Android Gallery's app or use Google Photos or Google Drive backup to restore deleted GIFs.
2. How to recover permanently deleted GIF images from iPhone?
You can use iTunes or iCloud backup to recover permanently deleted GIF images. However, in the absence of backup, use iPhone data recovery software to restore lost GIFs.
3. How to recover Shift+ deleted GIF images from SD cards?
Use robust GIF recovery software, such as Stellar Photo Recovery to restore Shift+ deleted GIF images from SD cards.
4. How to recover hidden GIF images from an SD card?
To restore hidden GIF images:
Connect your SD card to your PC.
Go to File Explorer and click View.
Now, tick the checkbox next to Hidden items.