How to Recover Deleted Videos from Doorbell Cameras?
Summary: Although doorbell cameras are well-known home surveillance and security devices, they are not free from data loss issues. This post shares how to recover deleted doorbell camera videos with the help of Stellar Photo Recovery software.
Doorbell cameras have become quite popular in recent years as they let people monitor and protect their homes and offices and see what's happening from any location. Some of the most famous doorbell cameras are the Arlo Video Doorbell, Nest Doorbell, Ring Doorbell, Wyze Video Doorbell Pro, etc. These are known for their user-friendly features and ability to record quality video.
With doorbell cameras, monitoring and recording all ongoing activities at your home or office become easier. But what if you lose an essential part of the footage due to an unforeseen event? Losing videos from home or office doorbell security cameras is not new. It can be due to the accidental or intentional deletion of videos from the cloud or local storage.
This post shares how you can recover lost/deleted doorbell camera videos from the cloud and local storage.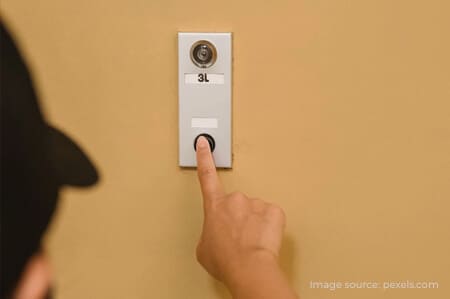 Why do Doorbell Cameras Owner Lose Their Videos?
The owners of doorbell cameras, be it Ring Security, Google Nest, or Arlo cameras, may lose their videos if they somehow forget to download them in time or delete them by mistake.
Accidental Deletion: It takes a few taps or clicks to delete a video from the Ring or Arlo app or the web interface. However, if you accidentally delete the wrong video, you'll face significant challenges in recovering it.
Automatic Removal: Ring or Arlo camera videos are stored in the cloud and are available for up to 60 days, depending on your plan. To keep them longer, manually download them onto your smartphone or personal computer. If not, then they will be automatically deleted.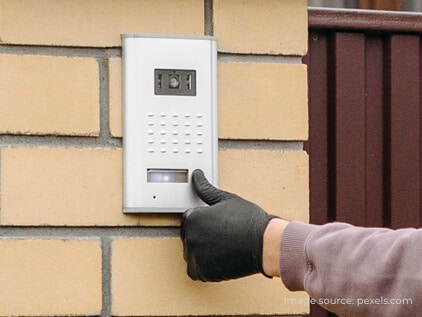 Losing a doorbell camera video simply defeats the purpose of installing the camera. However, recovery of these deleted videos depends on where your Arlo or Ring videos were stored.
Can I Recover Deleted Videos from Doorbell Camera?
Cloud Storage: Unfortunately, with doorbell cameras like Ring, Google Nest, or Arlo, you cannot recover intentionally or accidentally deleted videos from their cloud servers. In simple terms, any cloud-stored videos that have been deleted are gone for good and can't be recovered.
Local Storage: If you have downloaded and saved the recordings of your doorbell cameras from their respective servers to your computer or mobile devices before deleting them, then doorbell camera recovery is possible. Use efficient data recovery software to retrieve deleted doorbell camera videos from their storage device before their deletion.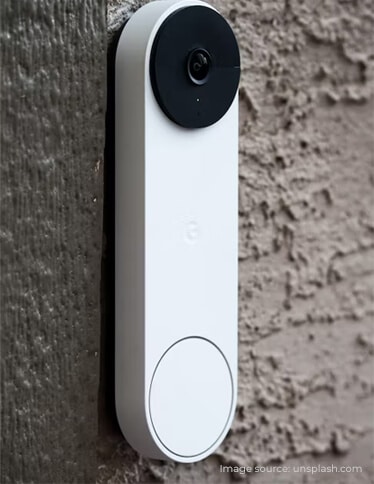 Moreover, the recovery of deleted doorbell videos from local storage is time-sensitive and should be initiated as soon as possible. Because if you wait too long before starting the recovery process, there is a risk of permanent data loss from overwriting the data.
Recover Downloaded Doorbell Camera Videos with Data Recovery Software
Most people download doorbell camera videos onto their local backup drives to ensure their valuable recordings never disappear. In addition, it helps you keep records of unfortunate events like theft and break-in attempts, which will prove invaluable to the authorities.
If you accidentally deleted the locally stored downloaded doorbell camera videos, and now you want them back, don't worry; you can retrieve them using video recovery software. There are lots of recovery applications available online. Choose the one which is secure and supports the video file format of the doorbell camera.
The efficient video recovery software will thoroughly scan and extract the deleted video files of any format from your laptop or PC. It can even recover videos shot with a digital camera, a doorbell camera, CCTV, drone, smartphone, dash cam, etc.
Here, we recommend using multimedia file recovery software like Stellar Photo Recovery. It is a DIY software that recovers lost videos and multimedia files in three simple steps: Select, Scan, and Recover. The software helps doorbell camera recovery in all data loss situations, such as accidental deletion, formatting, or corruption in the storage drive.
Steps to Recover Deleted Doorbell Camera Videos via Stellar Photo Recovery
Download and install Stellar Photo Recovery on your PC.
Launch the software, and on the Home screen, select the location from which you want to recover videos and click Scan.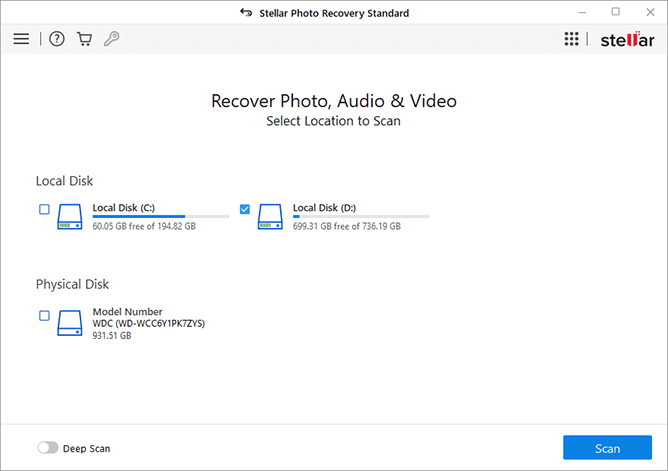 Once the scanning is completed, you can see the scan results and the preview of the recovered files.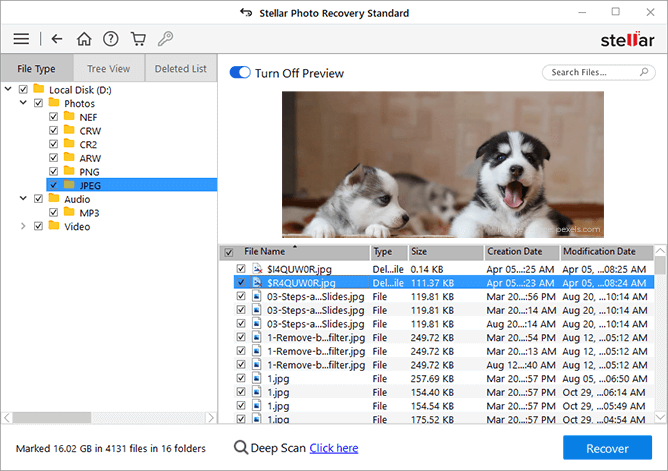 Choose the file that you want to restore, and click Recover.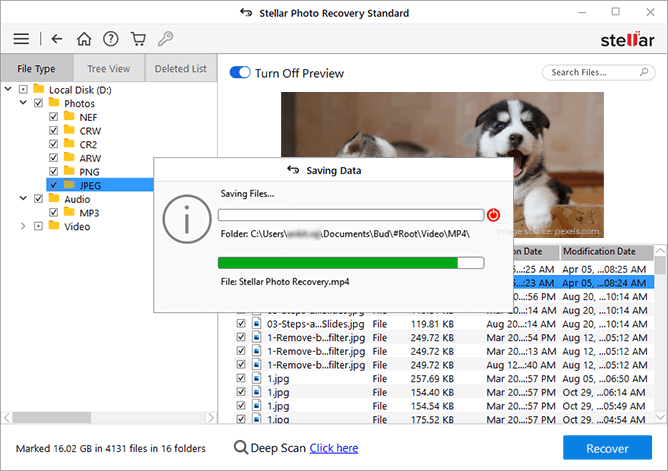 Specify the location where you want to store your recovered file, and click Save.
Conclusion
Doorbell cameras are excellent security devices to help in unfortunate events of burglary, theft, or any other security threat at your home or office. It's best to keep the doorbell videos downloaded on your local storage, as once they're deleted from the cloud, they're impossible to recover.
If you accidentally delete or lose significant recordings from local storage, use doorbell camera recovery software, such as Stellar Photo Recovery, to retrieve lost footage from all doorbell cameras. The software supports recovery from all security cameras and is already used by millions of people to recover lost or deleted video footage.
FAQ
1. How to Recover Lost Videos from Surveillance/CCTV Cameras?
You can go through this blog to recover CCTV/ DVR video footage lost due to deletion and corruption.
2. How to Recover Lost Videos from Netgear Arlo Pro?
Netgear Arlo Pro is the best Wi-Fi security camera known for recording quality videos. If you lost downloaded Arlo camera videos, you can quickly recover them by going to this blog.
3. How to access the Arlo video stored on the cloud?
There are two ways to access the Arlo video stored on the cloud–using the Arlo application or accessing it on the web using a web browser.
4. How to recover old videos from Arlo's camera?
To recover old videos from Arlo's camera, login to your account and access Arlo's cloud storage service. Then download the videos you require. However, remember that Arlo cloud stores your videos for 7, 30, or 60 days, depending on your plan.
5. Does Ring doorbell camera store videos without a subscription?
Ring doesn't store video footage without a Ring cloud storage subscription.
6. Can the deleted Ring doorbell camera videos be viewed?
No, the Ring camera web and mobile app don't have a Trash feature, so you can't see deleted Ring videos unless you have downloaded them locally. In this case, use doorbell camera recovery software, such as Stellar Photo Recovery, to recover the deleted local videos.
7. How to protect doorbell camera videos?
To protect your doorbell camera videos, regularly download them from the camera's respective servers and store them on your local backup drive. Then, if lost, you can recover lost doorbell camera videos with data recovery software.