Summary: This post shares how to recover deleted GoPro videos with the help of advanced GoPro video recovery software and GoPro Plus backup utility.
'GoPro Hero'  is one of the most popularly used digital camera, as it captures high definition videos of sporting events and adventure sports such as water skiing, play surfing, Motorsports, jet-skiing, etc. It is not just an ordinary camera – it features outstanding waterproof, wearable and shockproof capabilities. One thing for sure is that the professionals go to great lengths to get high-profile descriptive videos with the help of this camera.
Capturing high precision videos involves a lot of hard work and dedication; therefore, it would be highly demotivating if such videos are deleted due to any reason. But the good thing is that whenever a GoPro video gets deleted or lost, there is always a probability to recover it, provided that the drive is not overwritten by another data on the storage device.
How to recover deleted GoPro videos
All Go Pro HERO cameras — HERO5, HERO6, HERO7 Black, and HERO8 Black, record videos using the H.264 or H.265 codec in the MP4 file format. The best way to retrieve deleted GoPro videos is to use a GoPro video recovery software, which supports high quality video formats from the action camera. Another way to recover GoPro videos is from backup folder or GoPro cloud storage.
Methods to retrieve GoPro deleted videos
1.     Recover deleted videos from GoPro Plus backup
2.     Recover with GoPro video recovery software
Method 1: Recover deleted videos from GoPro Plus backup
GoPro offers cloud storage service – GoPro Plus for its users to back up videos and photos from all types of GoPro cameras except GoPro Fusion. Your videos get automatically uploaded to GoPro Plus anytime, when a HERO5 or newer model is connected to Wi-Fi and plugged into a wall charger. If you have taken the service subscription, retrieve deleted GoPro videos from this cloud storage.
How to recover GoPro video from GoPro Plus
 Open your GoPro Plus account either through GoPro mobile app, Quik for desktop or in browser via gopro.com. You can view and restore the deleted videos from there. GoPro Plus works on Android, iOS, Mac, and Windows PC. If you maintain your own backup folder on local drive, check there for the lost GoPro videos.
Method 2: Recover videos with GoPro recovery software 
GoPro video recovery software – Stellar Photo Recovery works really well to recover deleted or lost 360-degree video footages from encrypted, formatted or corrupt GoPro  camera SD card, hard drives, USB flash drives, etc. You can use the software in case of video loss due to GoPro SD card error as well. Stellar Photo Recovery restores deleted or missing H.264 and H.265 files of MP4 and other formats without losing the original video quality.You can recover GoPro videos on Mac and Windows with the help of Stellar Photo Recovery.
Step-by-step: How to recover GoPro videos
Step #1: Download & install Stellar GoPro Video Recovery software.
<
Step #2: Connect GoPro HERO SD card to computer using USB or memory card reader.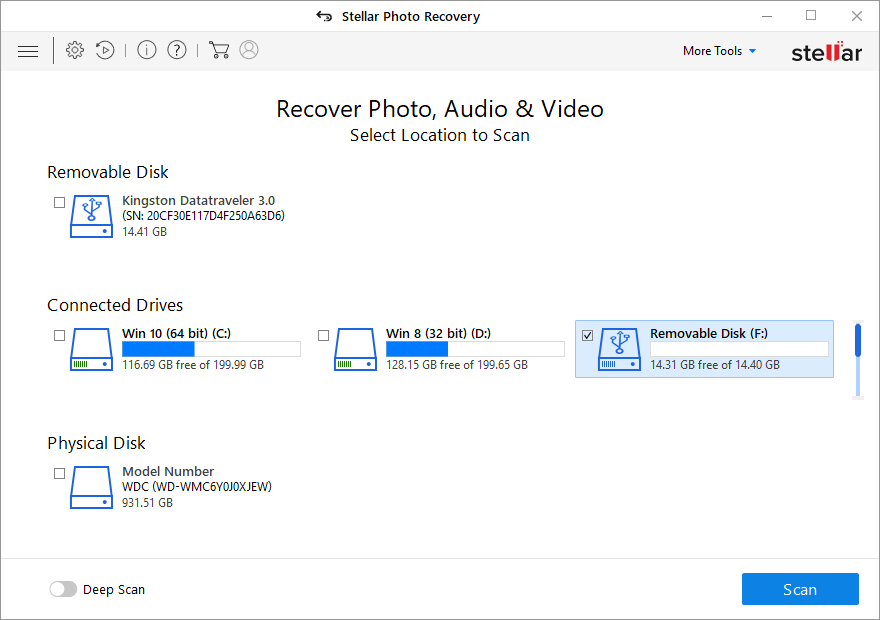 Step #3: Select the GoPro camera SD card from the connected internal and external drives listed on the screen.
Step #4: Customize the GoPro recovery process for quick and specific results. Click on 'Advanced Settings' icon on top menu bar. Advanced Settings window opens. Click on the file list icon. Select MP4 Files under Video Formats and click 'Close'.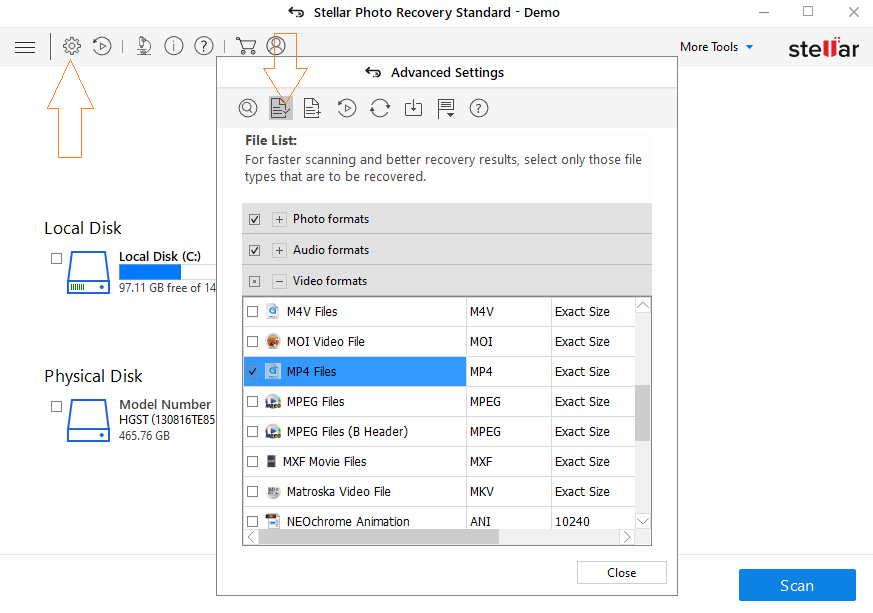 Step#5: Click on Scan button to initiate the scanning procedure.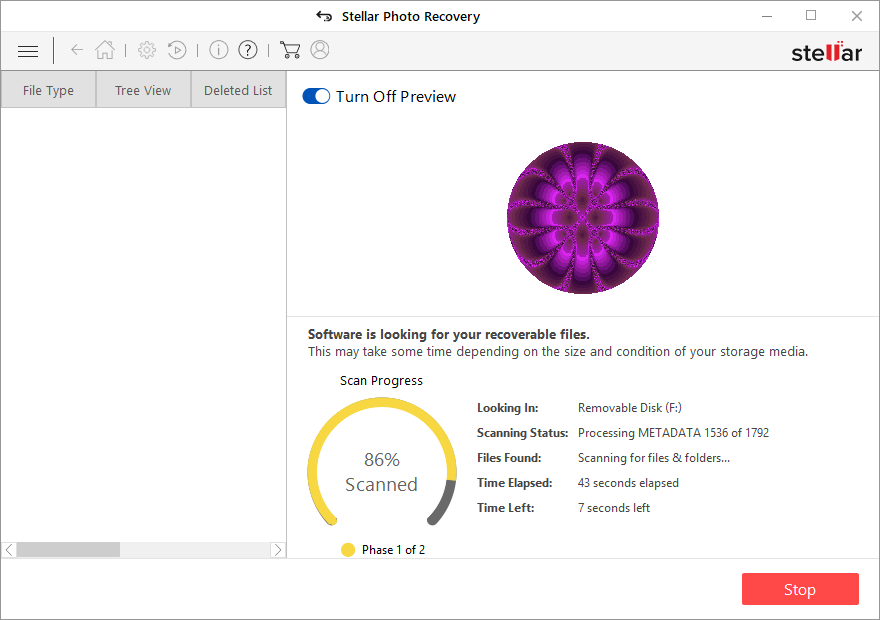 Step #6:  The tool displays all the MP4 video files for you to Preview. Select the GoPro files that you need to restore. Next, click 'Recover' button to save the video files.
Using the above-mentioned video recovery procedure; you can retrieve deleted videos from the SD Card of GoPro Hero camera and restore them in their original format. During the entire recovery process, the software takes care of all integral components of the video file.
Why your GoPro videos get deleted or lost?
Apart from deletion, there are other reasons that result in GoPro video loss and call for software. You may lose GoPro videos because of the following:
Abrupt interruption during video read/ write operation in the GoPro camera.
Connecting the GoPro camera SD card to different devices.
Ejecting the SD card from computer abruptly or using force eject.
Ignoring 'memory card full' error message that may lead to SD card corruption.
GoPro SD card error such as 'NO
SD' or 'SD ERR' on camera's LCD screen.
Attempting to remove SD card while the video is playing or during file transfer or copy process.
Finally
A photographer puts a lot of effort into capturing high-quality videos, and when they get lost, there's a feeling of despair. However, such deleted or lost GoPro these videos can be recovered using Stellar Photo Recovery software available for Windows and Mac.
Also Read: