How to Recover Permanently Deleted Photos from PC or Laptop
Summary: This blog will help you learn how to recover permanently deleted photos from your PC, computer, laptop, or any other storage drive with the help of photo recovery software.

Case 1: 'I made a huge mistake. In a hurry, I deleted the wrong photos from my PC and then emptied Recycle Bin. Is there any way I can recover permanently deleted photos from PC or Laptop?'
Case 2: 'My Windows 8 system files seem corrupt due to a virus. I can't see some of my valuable photos in the drive. Also can't find them in Recycle Bin. Are they permanently deleted? How can I recover my permanently deleted photos from PC or Laptop?'
'Recover Permanently deleted photos' imply when you delete images with the Shift + Delete key or remove them from Recycle Bin. Running system cleaner apps on your PC also result in the permanent deletion of photos.
Other than these, viruses, formatting, corruption, sudden power failure, malware, bad sectors in the hard drive, etc., can all lead to permanent loss of stored image files.
Unlike temporary deletion, in which photos go to Recycle Bin, from where you can quickly retrieve deleted photos, permanently deleted photos are difficult to recover.
There are a few techniques, such as photo recovery from Windows file history or restoring the previous version of Windows, but attempting them is like a wild goose chase.
Video tutorial: How to Recover Permanently Deleted Photos from PC or Laptop
Yes…A sure shot way is to trust a professional photo recovery software. They are designed to recover lost or permanently deleted photos from your computer drive, regardless of the cause of photo loss.
Tools like Stellar Photo Recovery can restore photos shot with any DSLR, Android, iPhone, webcam, CCTV, etc. that too with their original name, date, and time.
Note: It's important to immediately stop using your PC after the photos were lost, unless you're going to perform a recovery process. This will prevent overwriting of data and maximise the chances of photo recovery from your computer.
How to Recover Permanently Deleted Pictures or Recently Deleted Photos from your PC or Laptop: Step-by-Step Tutorial
Step 1: Download and launch Stellar Photo Recovery on your Windows PC.

Step 2: Select the location on your PC from where you lost photos. Click Scan.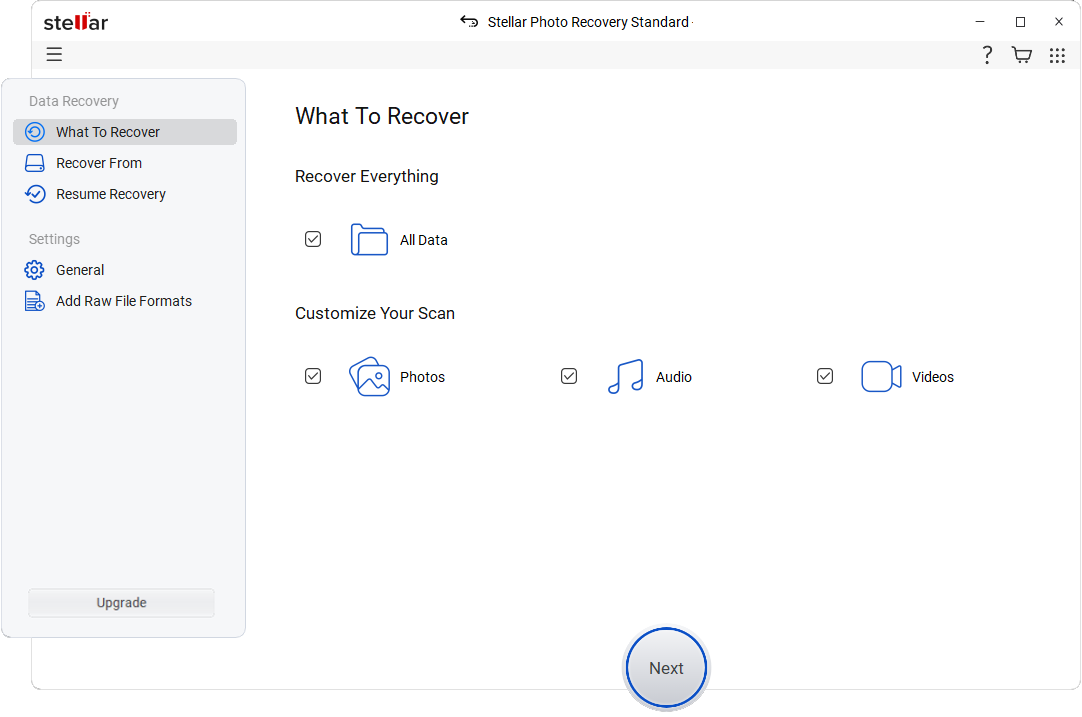 Step 3: Once the scan is completed, Preview your recoverable photos. If you don't see the required images in the list, click the Deep Scan option at the bottom for a thorough search.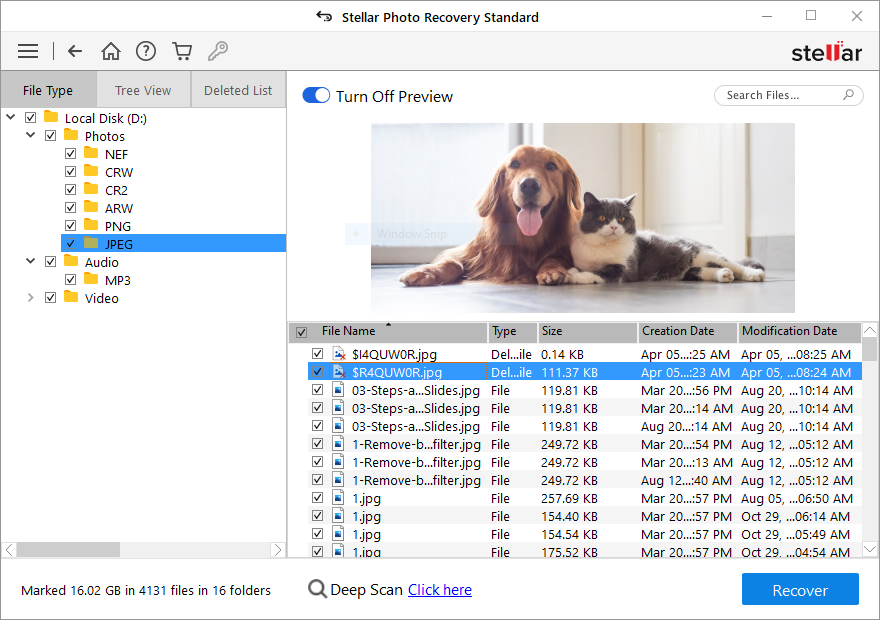 Step 4: Select the required photos, and click Recover.
Step 5: Click Browse and select a location on a different drive to save the recovered photos.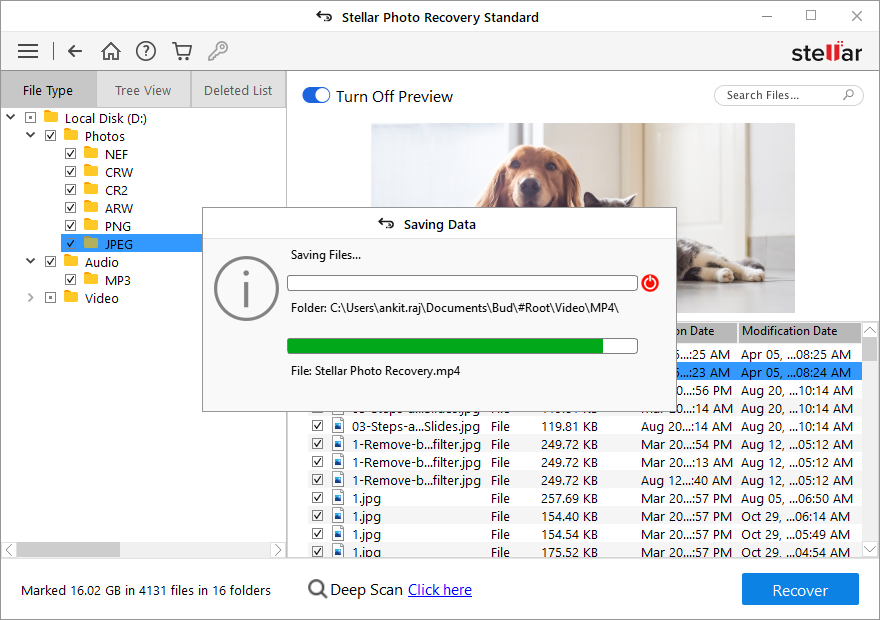 *The trial software scans the media and previews all the recoverable files. Once you can ascertain the effectiveness, you can save the recoverable files by activating the software. Please don't save the recovered photos in the same drive from which they were deleted or lost.
Key Benefits:
The software restores RAW file formats of popular DSLRs like Canon, Nikon, Sony, etc.
Get back photos with the original name, date, and timestamp
The photo recovery software is quick to restore hundreds of pictures of any format
Restore images without losing their original quality
With the Mac version of Stellar Data Recovery software, you can recover deleted photos on iPhone iPad, and Mac.
Other Methods to Recover Permanently Deleted Photos or Pictures
Although these methods to recover permanently deleted photos don't promise permanently deleted photos recovery, there's no harm in trying them. Who knows, they may work in your case!
You can use Windows data backup utilities like 'Windows Backup and Restore' (in Windows 7), 'Restore Previous versions', Recover from Google Photos, and Recover using the command prompt to get back lost photos.
These features are helpful when you manually set them up on your PC before the photos are lost or permanently deleted.
1. Recover Permanently Deleted Photos with 'Backup and Restore' in Windows 7

Go to Control Panel.
Click to follow System and Security > Backup and Restore.
Click Restore my files to recover all deleted photos.
2. Restore deleted photos with 'Previous Versions'
Windows has a 'Restore from Previous Versions' feature that includes copies of files automatically created by the PC backup. These files are also called shadow files. Previous versions include files saved on a backup (if you are using Windows Backup) and restore points that can come in handy for you to recover deleted pictures.
Right-click on the folder where the deleted pictures we stored.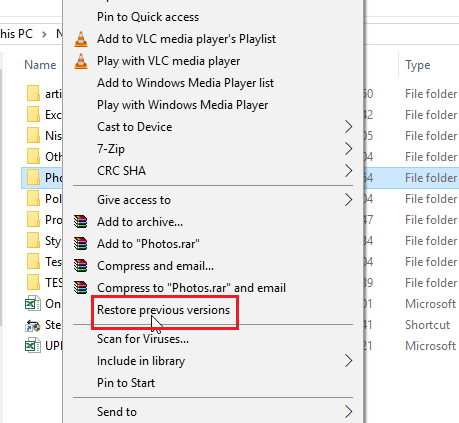 Select Restore previous versions.
In the dialog box, choose the date when your photos were last present in the folder.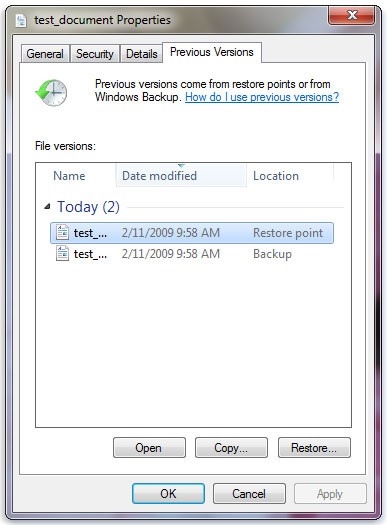 Click 'Restore' Note: Before restoring a previous version folder, select the previous version, and click Open to view it and ensure it's the version that contains your deleted photos.
3. Recover Deleted Photos from Google Photos
Go to photos.google.com.
Select the deleted photo for recovery.
Select save to the device.
Photos will be saved on your PC
4. Recover Photos from Trash in Google Photos
On your computer, open photos.google.com in your browser.
Click on the Menu on the top left corner.
Select Trash.
Select the pictures you want to recover. Place your cursor over the photo, and click on the Done icon.
Click the Restore icon on the top right to recover permanently or accidentally deleted photos.
The photos will be restored to your Google Photos library and added to their respective albums. Read more on How to Recover Deleted Photos from Google Photos.
How to Prevent Permanently Deleted Photos from PC or Laptop
Check your online account – Your photos are uploaded to the online Google Photos account. But if you are unable to get it through the desktop Google photos app, you can always check in your photos.google.com account to restore accidentally deleted photos.
Review Picasa web –Photos in Picasa, as almost all older versions of PCs have an inbuilt Picasa app. If your Picasa was in sync with your system, there is a great chance that you can get your deleted photos from picasaweb.google.com.
Tips on Permanently Deleted Pictures Recovery
Are you in quest of tips on how to recover permanently deleted photos? Here are some efficient and easy-to-follow tips you can use to prevent any data loss scenario.
1) Take Regular Backup of Photos
You understand that data loss events can unpredictable, particularly with an external storage device. Therefore, we recommend you take regular backup of your important images on external storage media so that you can recover deleted photos whenever you run into a data loss scenario.
To back up your important files, connect your external hard drive, phone, or SD card to the PC or Laptop and simply copy-paste your important files to the external drive.
While taking back up or restoring lost data, don't add or delete files from the location where the photos are stored or where you are saving the recovered photos on your PC. Once the delete photo recovery or backup is completed, you can make use of the photo storage folder.
2) Save Photos in a Safe Location
When recovering deleted photos, it is recommended not to save the recovered pictures at the location where they were saved before you lost or accidentally deleted them.
It is suggested that while downloading the Stellar Photo Recovery tool, ensure that you're downloading it to a safe destination on your PC or Laptop. Never choose a location that is vulnerable and prone to a data loss situation.
However, if you ever lose or accidentally delete your photos, you can count on the Stellar Photo Recovery tool to recover deleted photos and claim your lost memories. Fortunately, the helps you restore deleted files and lost photos of all file formats.
Wrapping up: How to Restore Deleted Photos from your PC or Laptop
The DIY Stellar Photo Recovery is not just effective in tough situations but is also an efficient tool to recover permanently deleted files in no time.
The professional photo recovery tool can recover permanently deleted photos from any Windows desktop, laptop, or storage drive.
To add on, usually, we don't realize the importance of backup until the moment we get into a data loss situation that may make recovering photos a bit tricky.
Windows has its own data backup utilities, such as 'Backup and Restore' and 'Restore from Previous versions' that can help restore deleted images but we tend to ignore them.
If the feature is turned ON on your PC, these could serve as efficient ways to recover permanently deleted photos.

Hope you enjoyed reading this blog? Let us know yours thoughts on how to recover permanently deleted photos from your PC or Laptop in the comments.
Also Read: How to Recover Deleted Photos on Different Devices