Summary: Users can install Windows OS on their Mac with the help of the Boot Camp Assistant utility. macOS allows users to switch from Mac to Windows, and boot into either of the OS through start-up menu. Installing Windows on Mac requires you to create a separate partition, which of course occupies disk space. Now, if your storage drive becomes overcrowded with data, you might need to delete BootCamp partition to reclaim the storage space. This blog will demonstrate how to do it without losing any valuable disk space and data.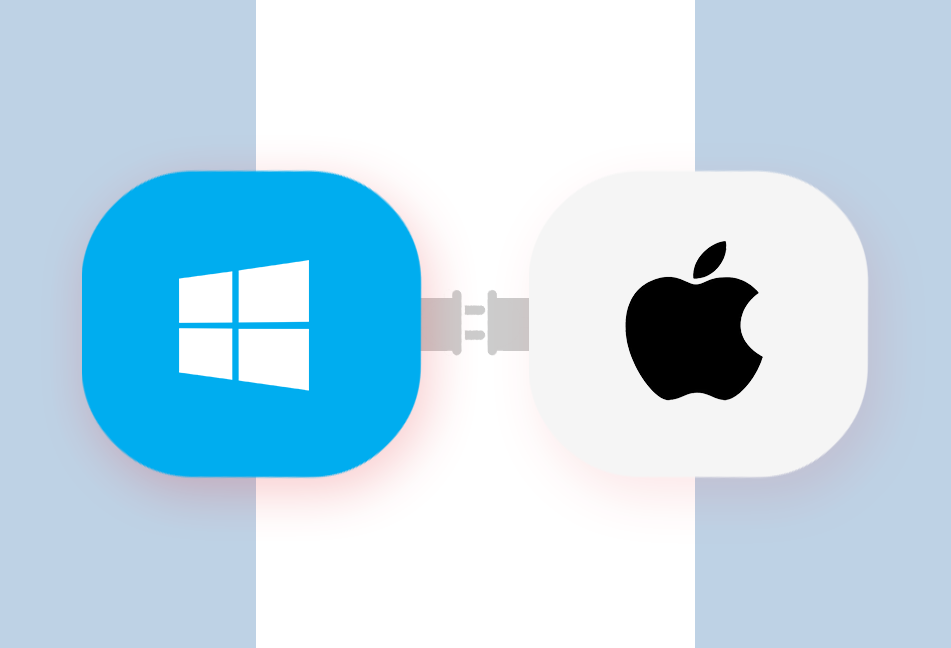 Having the option to install both macOS and Windows on the same laptop seems too good to be true. But it's possible thanks to Apple's Boot Camp Assistant tool. Whether the Windows OS is installed on the same hard drive partition or a separate one, dedicating an entire section of the hard drive to another OS needs sufficient space. Which is why, down the line, if you no longer need Windows on your Mac, you might want to delete the BootCamp partition and free up the respective space to give your Mac some breathing space and help improve its performance.
In this post, let's try to discover the mistakes people make when removing the BootCamp Partition on Mac along with the correct methods to do it.
Here's How NOT to Delete BootCamp Partition
Disk Utility is proprietary system software for performing disk partition and disk volume-related tasks on macOS. Though it's primarily used for partitioning and disk management, some users make the mistake of using it to delete their BootCamp Partitions as well.
The program can certainly be used to remove the BootCamp Partition, but you should know that it doesn't complete the job as flawlessly as you'd like. For one, it turns your Mac into an unstable machine that restarts abruptly and boots into Windows recovery mode randomly. Second, it doesn't merge the freed-up space into the macOS partition to create a single large volume. So eventually, your disk space is freed, but you can't use it as extensively as you'd like. Here's what Disk Utility will display after you've erased the BootCamp Partition, but the entire disk space isn't restored.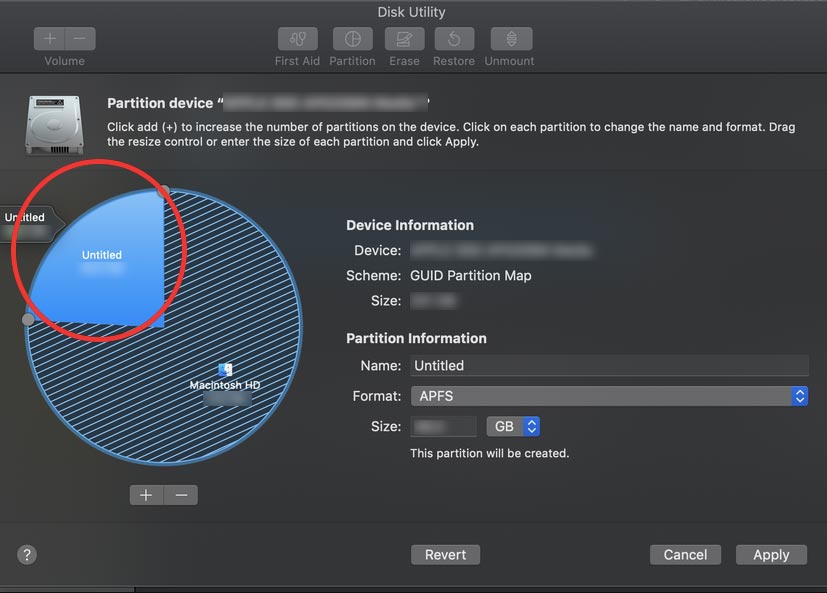 Correct Method to Delete BootCamp Partition
Apple forums are filled with queries on how to delete BootCamp Partition in Mac and restore the occupied disk space. So today, let's solve this problem effortlessly.
The best way to remove BootCamp Partition from your Mac is through the BootCamp Assistant. Boot Camp Assistant is a utility that comes pre-installed on your Mac and lets you install Windows on it. With the help of BootCamp Assistant, you can install and delete the copy of Windows that you have installed on your Mac.
Note: Before you delete the BootCamp Partition from your Mac, it is recommended that you create a backup of all the vital data saved on it. This is because when the Windows partition is uninstalled, all data saved on it is permanently deleted.
Here are the steps you need to follow:
Close all Applications running in the background.
Go to the Application > Utility folder and launch BootCamp Assistant.
Click 'Continue' at the bottom-right as soon as the graphical interface window pops up.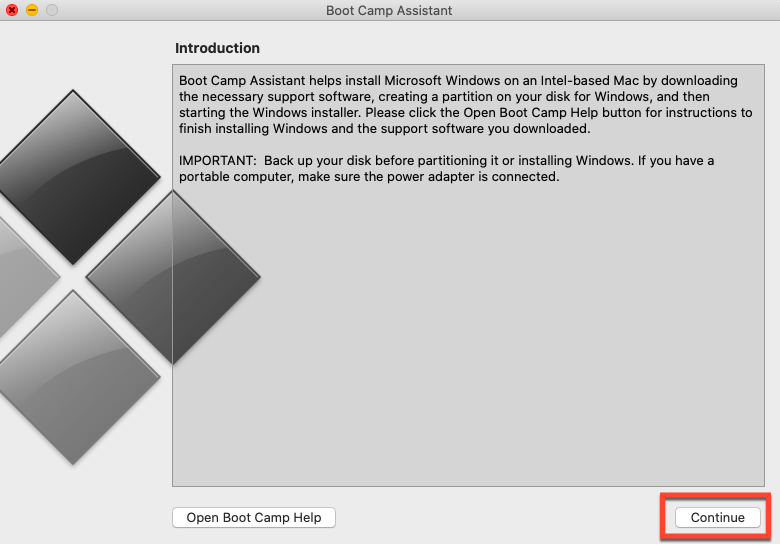 The next step is to select the "Remove Windows10 or later version" from the "Select Tasks" options and click 'Continue'.
Now choose one of the following:
Click 'Restore' if your Mac only has one internal disc.
Select the Windows drive, choose "Restore disc to a single macOS partition" and then click 'Continue'.
That's it! After this, you'll have a single Mac disk.
It's worthwhile to note here that you can restore your Mac using step 5 above only if you took a backup of all your data before deleting the BootCamp Partition. If, however, you couldn't back up your data or suffered unintentional data loss, you don't need to worry. You can recover all your lost data with the help of a professional data recovery tool.
Restore Data from Deleted BootCamp Partition
Even if you backed up your critical data in advance, there's always the possibility of losing a few files while deleting the Windows partition on your Mac. The good news is that there are various options available to retrieve lost data on an iMac, mini or MacBook after deleting the Bootcamp Partition.
Stellar Data Recovery® offers its professional data recovery application for Mac to recover important data that has been lost due to accidental deletion, disk formatting, partition deletion or hard drive corruption. Most common codec linked with photos, documents, audio, and video files can be recovered with the help of this software. Given that the data hasn't been overwritten by new data, the data recovery process is pretty straightforward.
Let's see the steps to recover data from deleted BootCamp Partition on Mac:
Download the Stellar Data Recovery Professional software and install it.

Launch the application to see an intuitive interface. Toggle ON all the options (Documents, Videos, Emails, Photos and Audio) to recover all kinds of files from the deleted partition. Then click the 'Next' button at the bottom-right corner.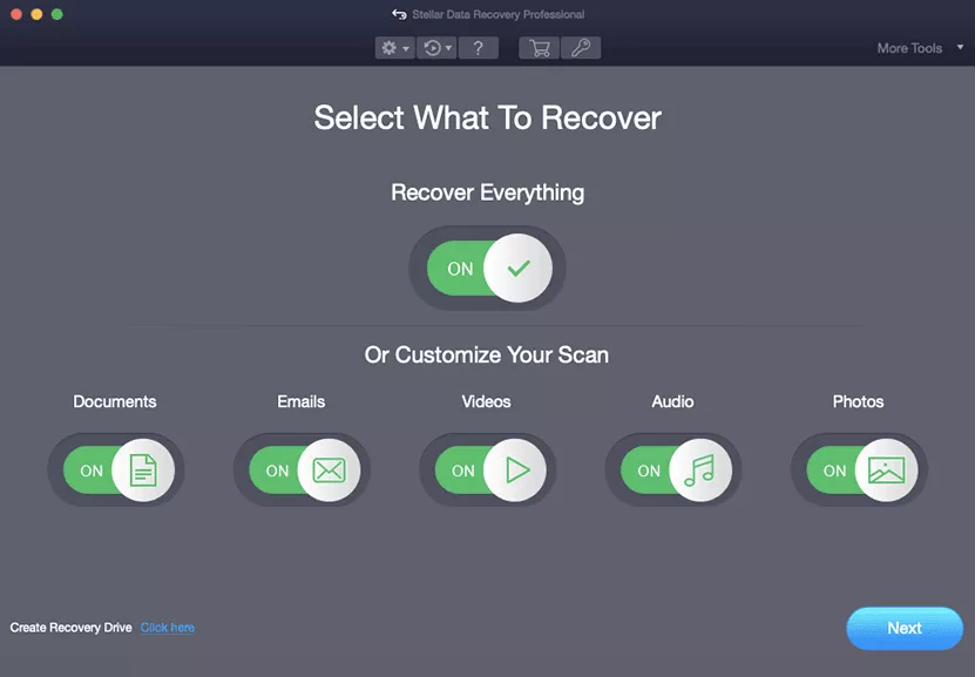 From the next screen, choose the "Can't Find Volume" option to look for the lost BootCamp Partition.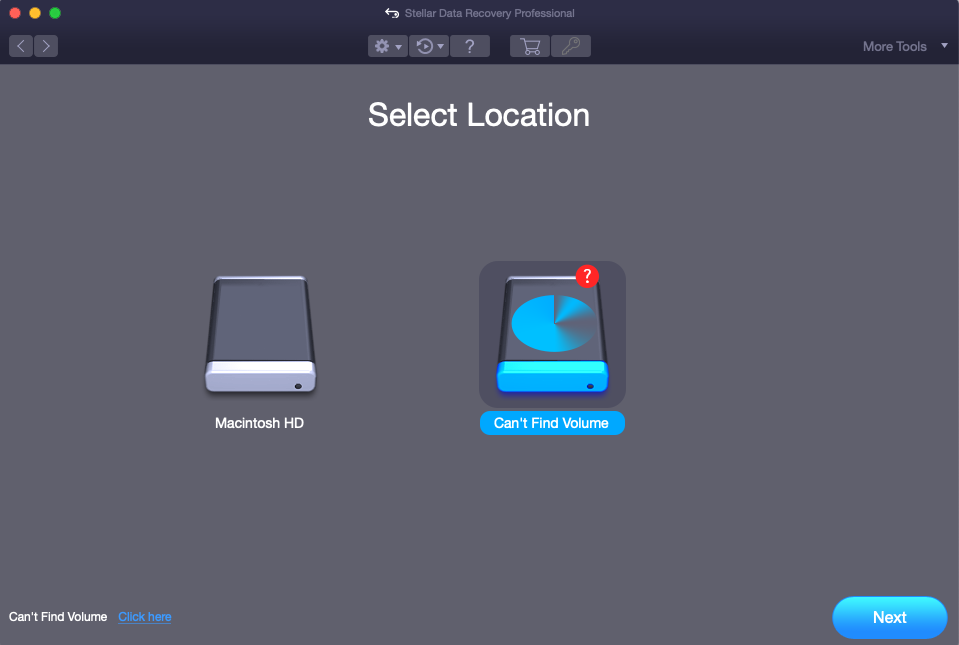 Select the Apple storage drive and not a partition and then begin the process by clicking on 'Search'.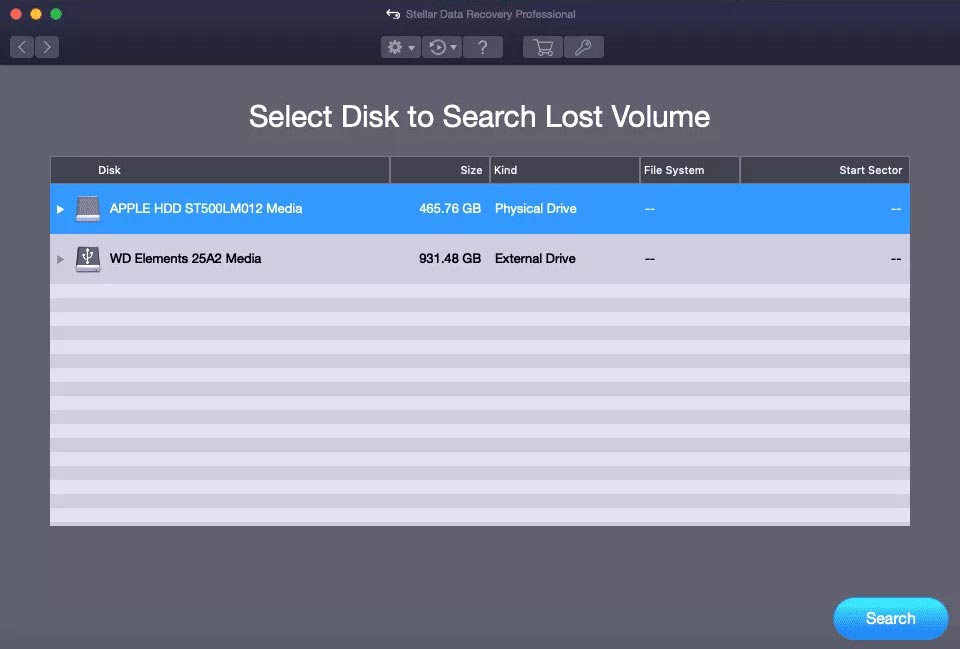 All of the missing volumes will be found and listed by the software. Locate the Boot Camp partition and select it by clicking on it once.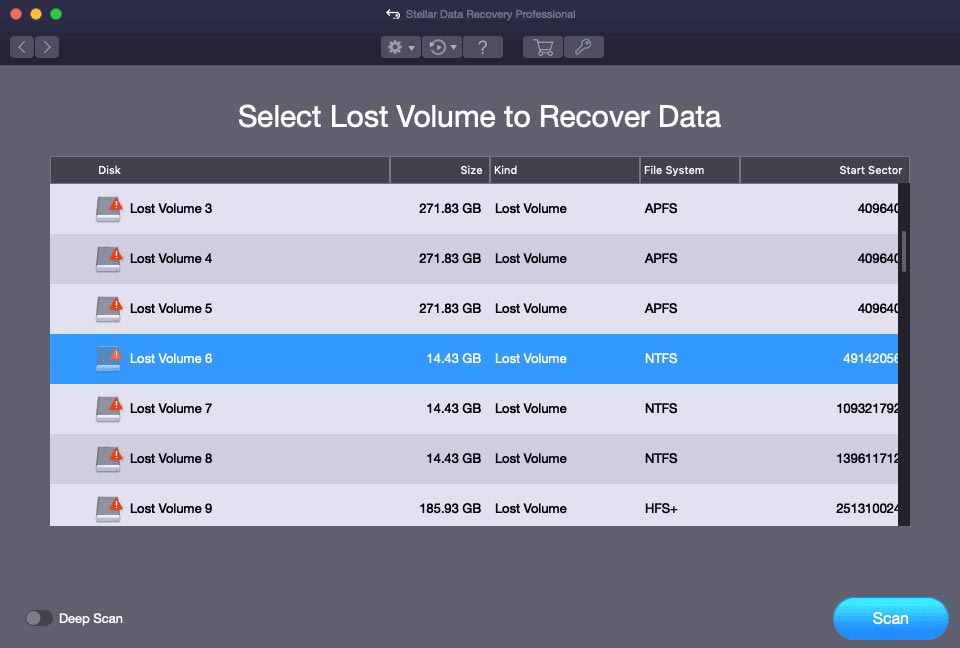 Toggle "Deep Scan" for Lost Volume (NTFS) and click the 'Scan' button to begin scanning the NTFS partition.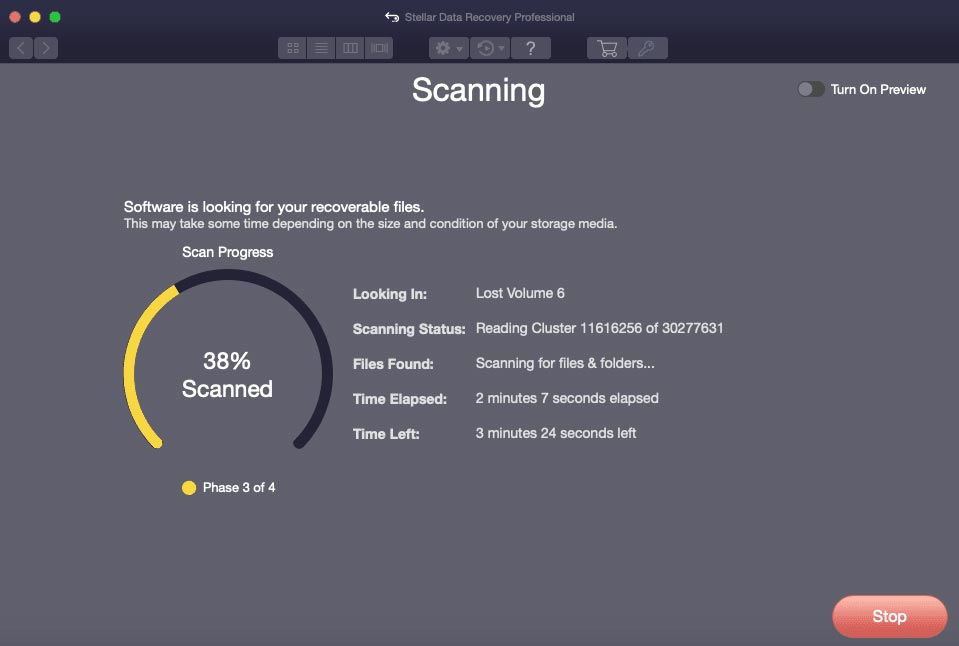 Once the scan completes, you can preview, recover, and save all desired files to a location of your choice.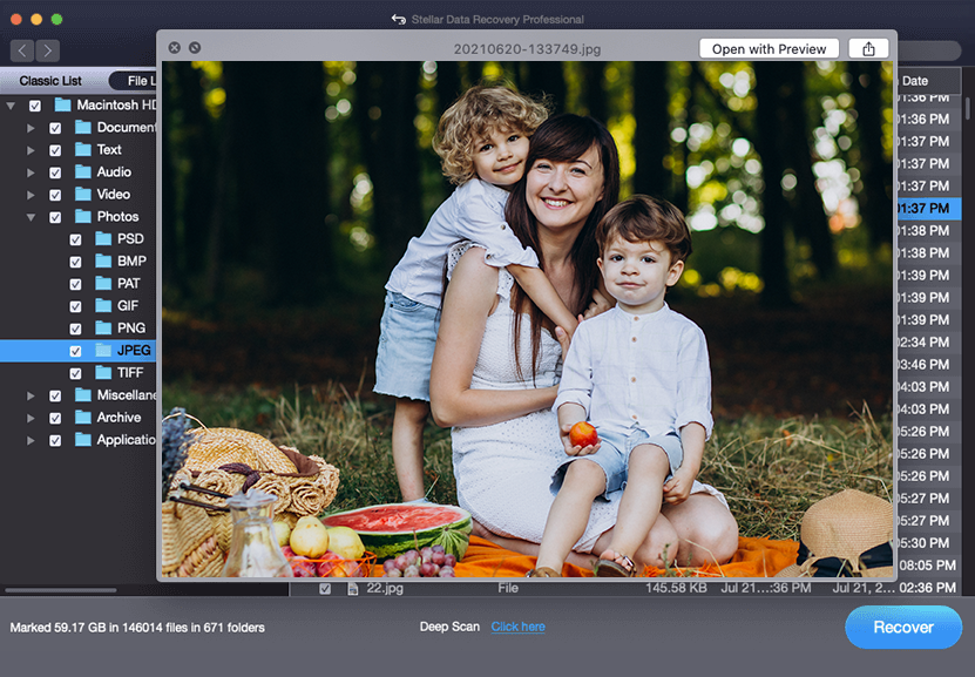 The software also provides support to search deleted APFS, HFS+, FAT and ex-FAT volumes.
To Conclude
As you can see, using Boot Camp Assistant to delete the BootCamp Partition from your Mac is simple. Using the steps shown in this article, you can easily access the entire default storage space on your Mac. However, if you have lost the data while deleting the Windows partition, it's a good idea to recover it with the help of Stellar Data Recovery Professional for Mac application.