How To Repair Corrupt Canon CRW Files?
Summary: In this blog, we'll share some DIY methods to repair corrupt CRW files. Here, you can also download free-to-try Stellar Repair for Photo software to repair corrupt or damaged Canon CRW files.
CRW, also known as Canon RAW CIFF image files are digital image file formats created by Canon Cameras. This file format captures RAW, unprocessed data using the Canon camera's image sensor allowing photographers to have more control during the post-processing stage.
Older Canon camera models typically use CRW file extension for storing RAW images, but this format is no longer used in newer models. The newer Canon camera models use more common formats like CR2 and CR3 files. CRW file format is now only supported by Canon's EOSD30, EOS6D, EOS10D, EOSD60, EOS300D, Powershots G1-G6, Powershot Pro1, and Powershots S30-S70.
Often, users report that while trying to open the CRW images, they can no longer view them because of either damage or corruption due to various reasons. Here, we bring in why your images get corrupt and the best methods to repair corrupt CRW files.
Why do CRW Files Get Corrupt?
There can be many reasons why your CRW files become corrupt. Some of the common reasons are:
Clicking photographs when the Canon camera battery is low
Virus or malware infection
Sudden system shutdown during CRW file transfer
Improper insertion or removal of SD card from the camera or system
SD card is physically damaged
The SD card carrying CRW files is corrupted
Running Canon camera SD card on multiple devices
How to Repair Corrupt CRW Files?
Although there are various ways you can use to fix corrupt CRW files, to begin with, let us get on with the safest and most secure way to fix corrupt CRW files – using Stellar Repair for Photo tool.
This CRW file repair software is known for repairing corrupt CRW or any other RAW file formats of popular camera brands. The software fixes the corruption in the raw image and saves the files in JPEG/JPG format.
Stellar Repair for Photo can repair pixelated, distorted, damaged, greyed-out, and corrupt images. Being a DIY (Do-It-Yourself) software, this tool offers a user-friendly interface to repair corrupt photos in just 3 simple steps – Add, Repair, and Save.
Key benefits of using Stellar Repair for Photo software to fix corrupted CRW pictures:
Repairs RAW photos captured from various cameras like Canon, Nikon, Kodak, and other brands.
It can repair multiple photos of the same or different file formats simultaneously.
Use sample files to repair severely corrupt image files.
There is no limit on the image file size.
Provides thumbnails for images that are severely corrupt beyond repair.
It allows you to preview the repaired images before saving them.
To repair corrupted CRW files, you can follow the steps mentioned below:
Step 1: Launch the Stellar Repair for Photo
Download and install the Stellar Repair for Photo software on your Windows and Mac. Once installed, launch the software.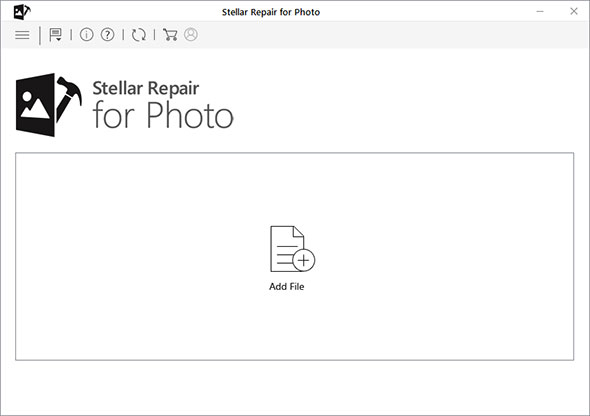 Step 2: Add Files
Click on the 'Add File' icon to insert corrupted CRW files. Select single or multiple images and click Open to add photos to the software for repair.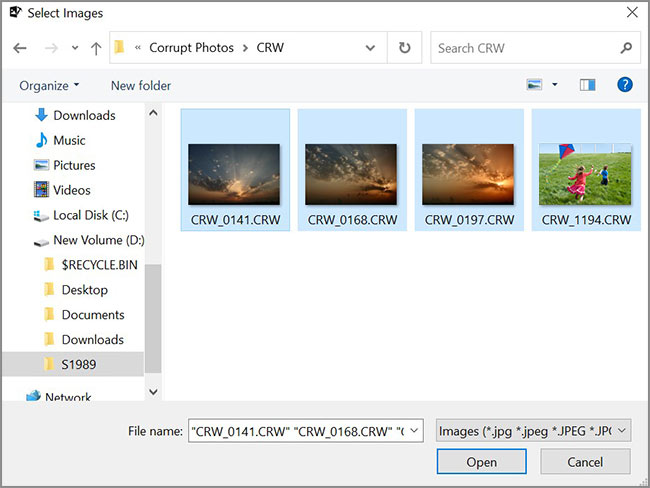 Step 3: Perform the Repair
Once you finish adding corrupted CRW image files, click the 'Repair' button to start the repair process.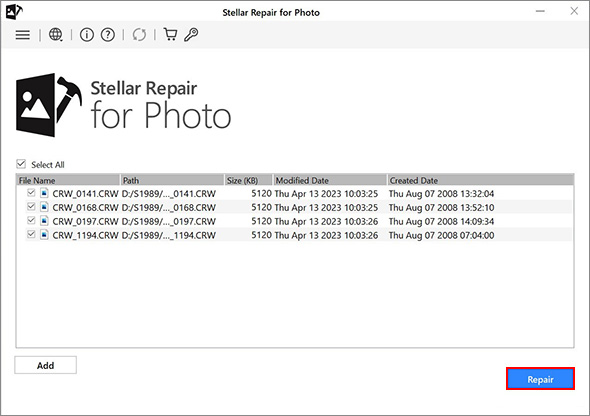 Step 4: Preview the Repair Process
Once the repair process gets completed, you can see the prompt saying 'Repair process completed'. Click OK.

Next, select the images you want to Preview to see how repaired image files look.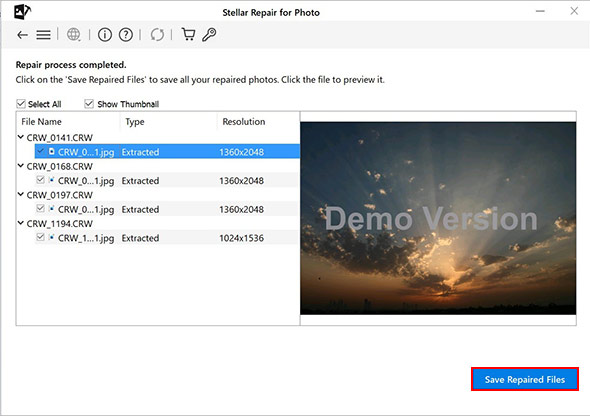 Step 5: Save Repaired Files
Once you are satisfied with the repair result, click Save Repaired Files and browse the location to save the repaired images at a desired destination.
Workarounds to Repair Corrupt CRW Files
Although Stellar Repair for Photo can easily fix the corruption of CRW files, there is no harm in using manual methods to resolve this. Following are some workarounds you can try to repair corrupt CRW files:
Ensure Your Photo Viewer App is Up-to-Date
If you can't open CRW files in Adobe Photoshop or other image-viewing software, ensure that the program used for opening CRW files is updated . If not, update the photos viewer first and then try opening the file again.
Open CRW Files in another Image Viewer Program
If the corrupt CRW files are not opening in your existing image viewer program, then try opening them in another program like Windows Live Photo Gallery, Picasa Photo Viewer, Google Photos library, Canon Raw Image Viewer, Adobe Photoshop and Adobe Lightroom.
Convert CRW Files into another File Format
If the CRW files are not opening, convert them to another file format like JPEG or DNG, etc. You can use Adobe Photoshop to convert CRW to another format. Here's how to do it:
Open the CRW image you want to convert.
Click on File at the top-right corner, select Scripts, and then choose Image Processor.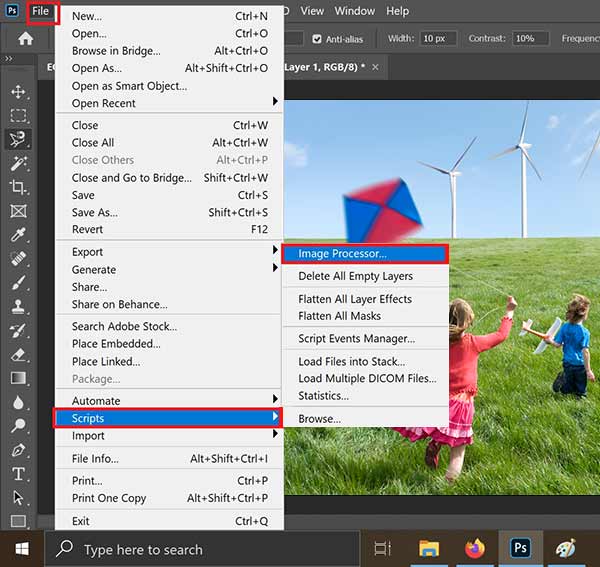 In the next window, enter the file output directory, and select the desired file type and desired quality of output image. Click Run to convert and you are done.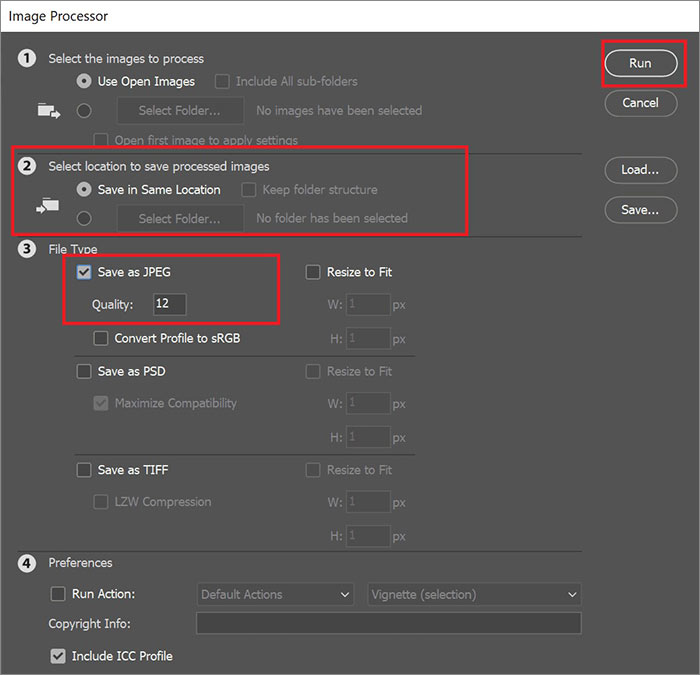 You can even use online image converter tools like Convertio, CloudConvert, Zamzar, FreeConvert, etc.
Use Canon Digital Photo Professional
Canon's Digital Photo Professional is a high-performance RAW image processing, editing, and viewing software. You can use this tool to edit, improve or convert EOS digital camera RAW CRW images on your computer.
Conclusion
The easiest and quickest way to repair corrupt Canon camera RAW files is by using CRW file repair software like Stellar Repair for Photo. This tool can easily repair all kinds of corruption and noise in the CRW files shot from any model of Canon camera. Moreover, when CRW images are severely corrupt, the software can easily extract thumbnails of the corrupted images. Plus this tool is available for macOS and Windows systems.
Download the free trial here, and see the repaired version of your corrupt CRW files.
FAQ
Does Windows 10 support CRW files?
Yes, you can use Microsoft Raw Image Extension to open and view CRW image files.
How to recover lost or deleted CRW files?
Use the CRW recovery tool to restore deleted or lost CRW images. You can even check the Recycle Bin or backup folder to retrieve deleted CRW files.
How do I know if my CRW picture is corrupted?
If your image doesn't open in any image viewer application, is blurred, or has an unusual color, you can say your CRW image files are corrupted.