Summary: An Exchange server may breakdown due to software or hardware failure, drive failure or corruption, sudden power loss, abrupt shutdown or crash, etc. This can bring the entire business activities to a halt and lead to financial losses. However, you may avoid such situations and restore mailbox from EDB file by using the Data Protection Manager (DPM), New-MailboxRestoreRequest cmdlet, and a third-party Exchange recovery tool, such as Stellar Repair for Exchange.

Data Protection Manager (DPM) is a core ingredient for Mailbox Exchange Recovery. It's an application that is used for backup and recovery of Exchange data. You may also use this to recover or restore mailbox from Exchange database (EDB) file.
With this utility, you can restore mailbox from EDB file and execute Exchange Server Recovery. You may also use the New-MailboxRestoreRequest, a PowerShell cmdlet to restore mailboxes in Exchange. In this post, we've discussed the methods to restore mailbox from EDB file with stepwise instructions.
IMPORTANT NOTE: Always backup Exchange server roles, including mailbox server transport services and Client Access Server, to ensure Exchange deployment complete protection.
Methods to Restore Mailbox from EDB File
Following are the methods to restore mailbox from EDB file in Exchange.
Method 1: Use DPM Recovery Wizard
The moment you select the database in the 'Protected data' pane, you will be able to view all related mailboxes to the particular database. You can easily recover the desired database from there. This recovery process depends on cmd and Exchange PowerShell.
Requirement — Log files and space for storing EDB file.
Setup — Mail server, along with mailbox role, mailbox for import, and path for export.
The steps are as follows:
First, verify Exchange server protection and mailbox database existence. Use the New-MailboxDatabase cmdlet to create a new database, if it is not present. Then use Set-MailboxDatabase cmdlet to configure recovery database settings.
Finally, follow these steps to use DPM to restore mailbox from EDB:
Go to DPM Administrator Console -> Recovery view -> All Protected Exchange Data node -> choose the desired mailbox
Go to Recovery Points Section -> Select desired Data and Recovery Point -> click Recovery Time -> click Recover to continue
Go to Recovery Wizard -> review selected recovery -> Next
State Recovery Type -> Next
Under the Specify Recovery Options section, perform the following:

Checkmark Mount the databases after they are recovered option as per requirement

Enable or Disable Modify Network bandwidth usage throttling as per needs

Enable or Disable SAN-based recovery using hardware snapshots as per the demand

Go to Notifications, specify recipients, and click on to Send an e-Mail upon recovery completion option

Under Summary page, review the recovery settings. Once you are through with it, click Close
Method 2: Use "New-MailboxRestoreRequest" Cmdlet
New-MailboxRestoreRequest is a PowerShell cmdlet that helps Exchange admins restore mailboxes from EDB files. Following is the syntax to restore mailbox from Exchange EDB file.
New-MailboxRequest –SourceDatabase 'RDB-CONTROL' –SourceStoreMailbox 'mailbox name' –TargetMailbox @servername.com –TargetRootFolder Recovery -SkipMerging StorageProviderForSource"
This restores the mailbox fully. Once done, dismount and delete recovery mailbox database by using Windows PowerShell cmdlet,
Remove-MailboxDatabase -Identity 'RDB-CONTROL'
Limitations of DPM and New-MailboxRestoreRequest Cmdlet
Lengthy process
Involves risk of data loss during restore
Method 3: Use Third-Party Exchange Recovery Tool
It is the software-oriented approach which lets you restore mailbox from EDB file, fast and efficiently, without hassle or risk of data loss.
Advantages of using Third-Party Exchange Recovery Tool
Saves time
Safe and quick
Free from risks
Free from manual invention
Cons:
Stellar Repair for Exchange is one of the most trusted and reliable Mailbox Exchange Recovery software that is recommended by several Exchange admins, MVPs, and professionals.
It is an advanced Exchange recovery solution to regain lost mails and mailbox items from damaged and corrupt Exchange Database (EDB) files. This comprehensive utility allows you to recover journals, calendars, contacts, emails, tasks, attachments, and much more. It also allows you to save the results in varying formats, such as PDF, EML, HTML, MSG, RTF, & PST. The unique trait about this software is that it allows you to directly export the recovered EDB files to live Exchange server and Office365.
Unlike manual methods discussed earlier, the software makes the process easier. Besides, it's compatible with MS Exchange server 2019, 2016, 2013, 2010, 2007, 2003, 2000, and 5.5 versions.
Stellar Repair for Exchange Key Traits
Repairs corrupt EDB files without compromising the folder hierarchy
Support for restoring mail items, such as emails, notes, calendars, attachments, contacts, etc.
Mail items preview support
Archive mailboxes conversion option
pub.EDB & Pri.EDB files repairing option
Multiple formats support to save recovered data
Save and Load Scan Information option
Log Report generation option for entire recovery process
Compatible with Windows 10, 8.1, 8, 7, Vista, and Windows Server 12 and 8.
How to use Stellar Repair for Exchange to Restore Mailbox from EDB?
Here the steps to restore mailbox from EDB by using the software:
Launch the software and select the EDB file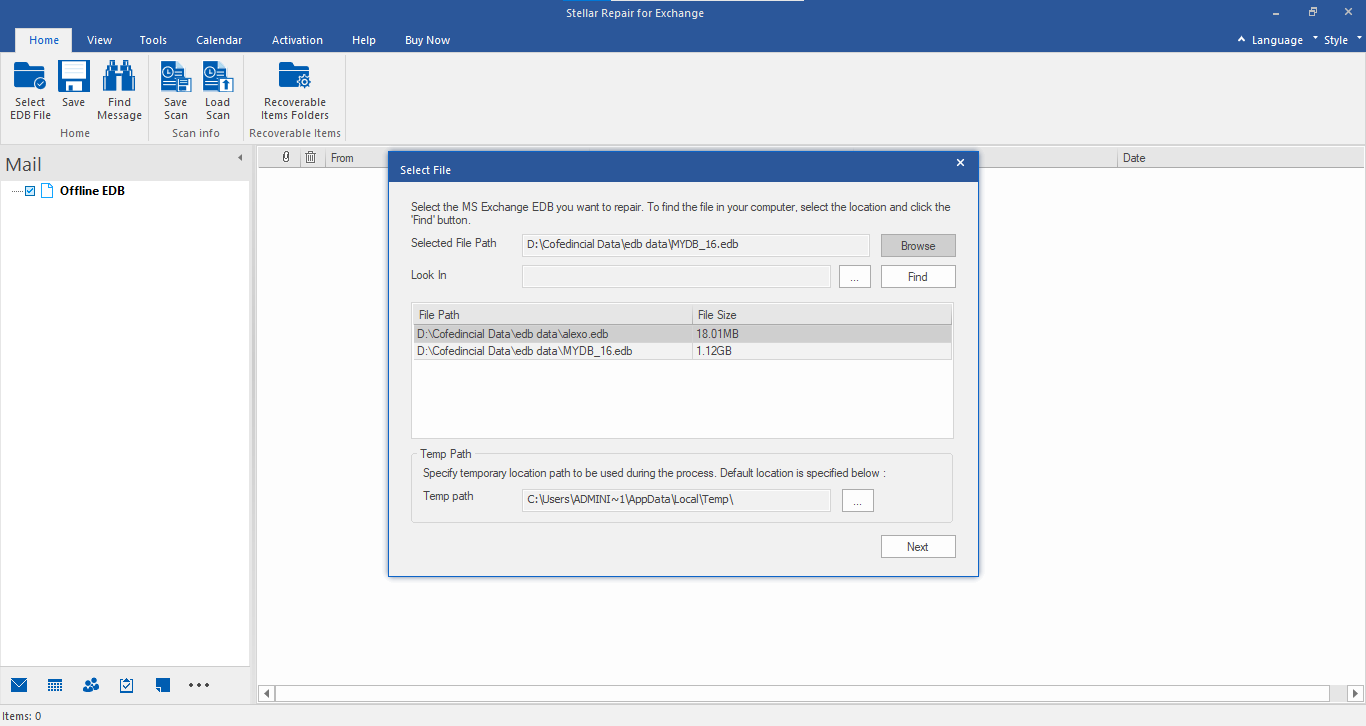 Repair the EDB file to recover and restore specific mailboxes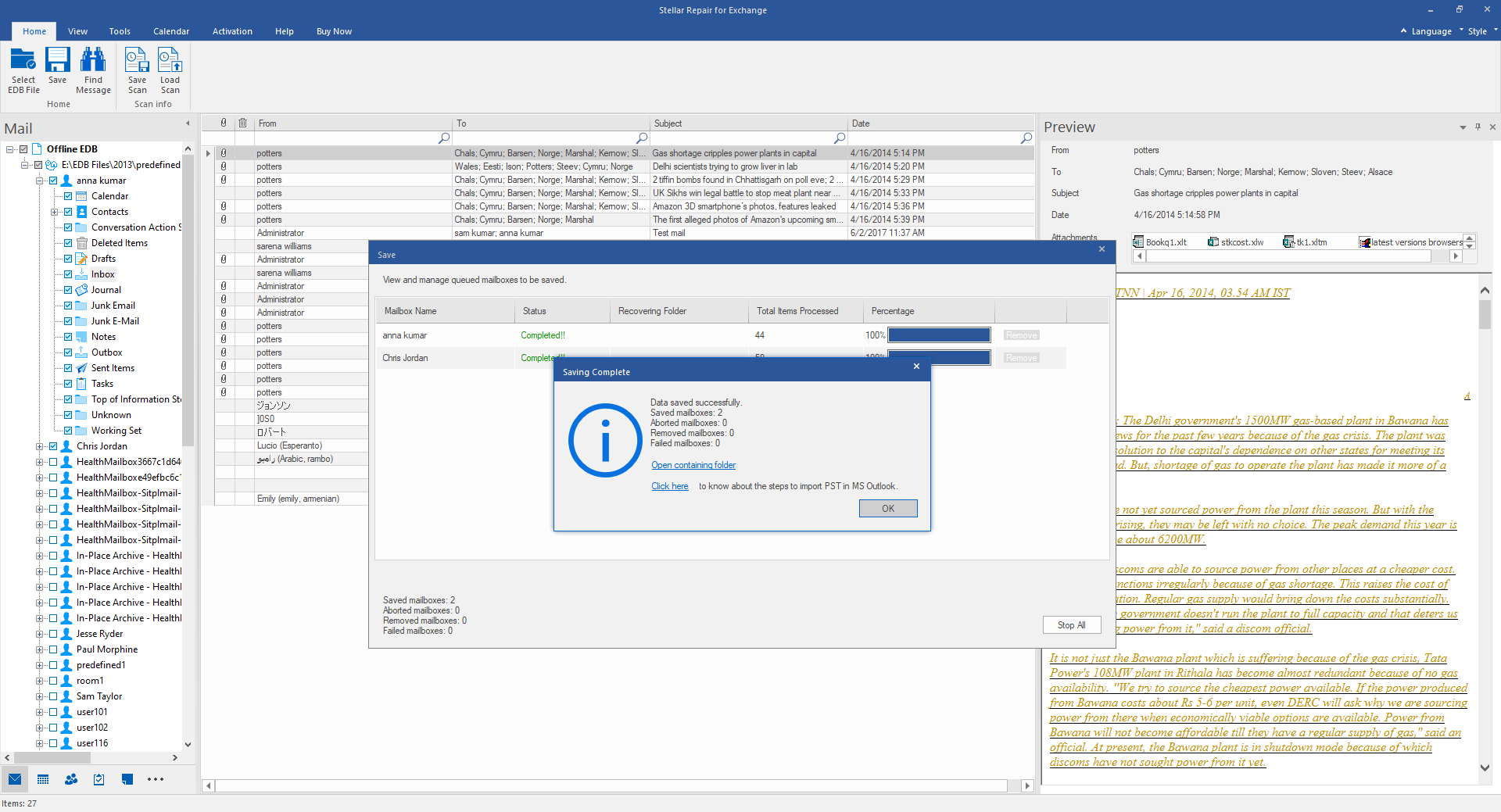 The Bottom Line
Now, that you are aware of both manual and software-based methods to restore mailbox from EDB file, choose the one that fits your needs. To save time and efforts, you can go with the software-based approach to restore mailbox from EDB file. It overcomes the limitations of manual methods.
The software also recovers deleted or lost mailboxes from an EDB file automatically. Most importantly, a third-party recovery software such as Stellar Repair for Exchange reinstates data from corrupt EDB file, without hindering the Exchange server services.