4 Solutions to Restore Missing or Deleted iPhone Contacts
Summary: This post shares the best methods to restore deleted contacts from your iPhone X/8/7/6/5s:
Restore from iCloud Backup
Restore from iTunes Backup
Recover through third-party iPhone data recovery tool
Restore through changing iPhone Settings
 Read on to know in detail which amongst them works the best for your situation.
Losing contact names and numbers from the device all of a sudden is not new for iPhone users. Sometimes contact names are missing with only the random numbers visible or the contact list is altogether empty. Mostly, the incidents occur after updating to a newer version of iOS, a bug in the device, accidental deletion, or else formatting of the iPhone.
You can always restore from iCloud or iTunes backup, but sometimes even those attempts might fail to recover deleted contacts. This can be because of wrong user names, passcodes or device settings.
In such cases, the best way to restore only the missing contacts is to use iPhone Data Recovery Software by Stellar. Read on to know the below four solutions to recover deleted contact on iPhone.
Solution 1: Recover Deleted Contacts from iCloud Backup
If you have synced your iPhone to iCloud backup, restore missing contact names and numbers with this method.
Go to your iPhone Settings > iCloud > Contacts (iOS 11 users follow: Settings > User Name > iCloud)
Toggle OFF and turn ON Contacts again
It asks what you would like to do with the previously synced iCloud contacts on your iPhone. Select Delete from My iPhone.
You will get back lost contacts in the iPhone. If you have different Cloud accounts like Gmail, linked to your device, those accounts too are displayed in your group lists. You can check and uncheck the group to view or hide, respectively.
Solution 2: Restore Contacts from iTunes Backup
This works only when you have backed up your iPhone to iTunes.
Connect your iPhone to the PC
Launch iTunes
Select your device from the Device list and pick the most recent backup entry date of your iPhone from the Summary page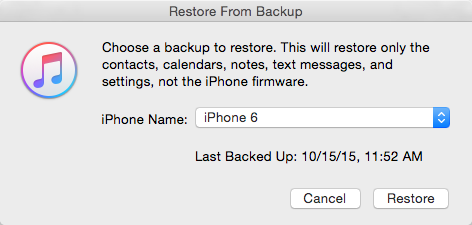 You can get back the lost or deleted contacts from iTunes backup. But the drawback of this method is that with iTunes you do not have a choice to selectively restore only the lost contacts on iPhone. This means that complete data from iTunes will be restored on your device replacing existing iPhone data. All current media photos, videos, messages, etc., on your iPhone will also be replaced by the iOS backup files. If you want to restore only contacts from iTunes backup use a safe third-party iPhone data recovery application.
Solution 3: Recover Deleted Contact on iPhone using Stellar Data Recovery for iPhone.
The best way to overcome the iTunes drawback and selectively restore only the missing contacts is to use iPhone Data Recovery Software by Stellar.
This secure & do-it-yourself software recovers lost or accidentally deleted iPhone contacts, call history, etc., regardless of the cause of the loss.
Stellar Data Recovery offers three ways to recover iPhone contacts missing on your device:
Recovery from iCloud Backup
Recover from iTunes Backup
Recovery from iPhone 
Home Screen: Stellar Data Recovery for iPhone
Recovery from iCloud Backup allows you to selectively recover deleted contacts from iPhone rather than restoring everything from photos, videos to messages etc.
If your iPhone contacts are synced with iTunes backup, use Recovery from iTunes backup to get back missing iPhone contacts.
There is a possibility that your device has all the contacts, but they are not showing up, in this case, select Recovery from iPhone to view the hidden iPhone contacts.
The free demo version of Stellar Data Recovery for iPhone allows you to scan and preview files from iPhone, iCloud and iTunes backup, and to save them you need to register the software.
The software can also be used to retrieve lost call history, photos, music, videos, messages, WhatsApp, WeChat, Line, Kik messages along with attachments, etc.
Solution 4: Restore Contacts through iPhone Settings
Minor changes in the Settings of iPhone can also help to restore deleted contacts. Try the below Setting changes and check if they work for you:
Change Contacts' Groups Settings
Reset the Network Connections
Change Default Account in Settings back to iCloud (works for iPhone 8/7/6s)
Method 1: Change Contacts' Groups Settings
Go to your Contacts, tap into Groups
Uncheck All iCloud
Select All on iPhone
Click on Done (top right)
Check if you got back all contacts
Method 2: Reset the Network Connections
Under Settings > General > Reset > Reset Network Settings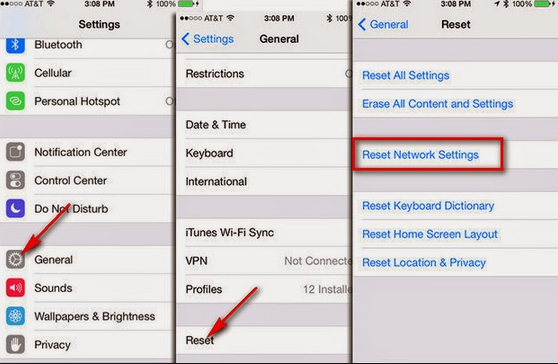 Enter your passcode
Choose Reset Network Settings to continue ignoring message that this action will delete all your network settings
This action will clear your current saved networks and Wi-Fi passwords, but you can always re-enter your network passwords later. So give this a try to retrieve lost contacts.
Method 3: Change Default Account in Settings back to iCloud (works for iPhone 8/7/6s)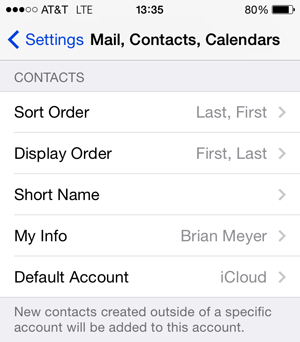 Go to your iPhone Settings > Mail, Contacts, Calendars > Contacts
Click Default Account
Select iCloud instead of On my iPhone
Check if your phone's missing contacts recovered
 To Wrap-up
Stellar Data Recovery for iPhone intelligently restores your missing or accidentally deleted contacts without causing loss of iPhone's existing data, unlike iTunes or iCloud Backup recovery methods. Changing the iPhone settings can also help you get back missing contacts. So now no need to worry about the contacts list loss. Try the above methods and recover deleted contacts on iPhone.
Have you ever used any of the above methods for restoring missing iPhone contacts? Do share your experience in the comments below.