What is an SVG File and How to Recover it?
Summary: If your SVG file has been deleted, you can recover it through the Recycle bin or trash, or through your backups. If there are no backups, you can use recovery software. Stellar Photo Recovery lets you recover almost every photo format.
Let's start with the basics–what's an SVG file? Scalable Vector Graphics, or SVGs, is the favorite file format of website designers. It is a versatile file format for the responsive design process, as the files can be scaled up and down without distorting any data. While there are plenty of recovery solutions for other formats, in case of a mishap, SVG recovery options may seem limited. In this post, we will cover all the ways to recover SVGs, while also getting an in-depth knowledge of the SVG file format.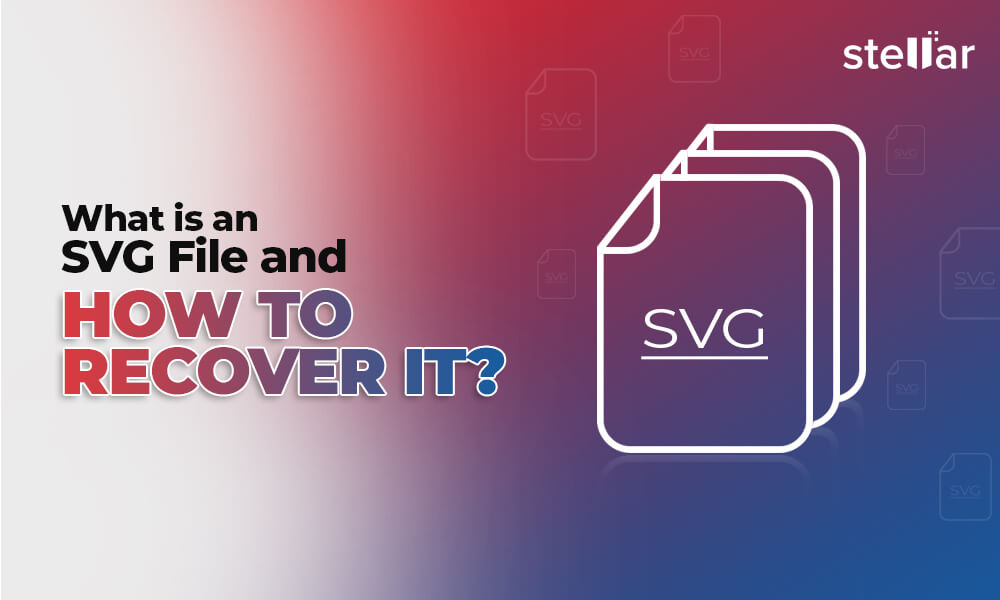 What is an SVG File?
An SVG file is short for Scalable Vector Graphics. To understand SVG and its importance, first, you need to understand the two types of file formats used for images: Raster and Vector. Raster graphics comprise pixels and are a definite size. They can be reduced in size but can't be increased without losing quality. Vector graphics are made of shapes, curves, and lines–joined using a mathematical formula. They can be scaled up and down without losing their sharpness and quality.
Among the most common vector graphic files are .cdr (Corel Draw) and .ai (Adobe Illustrator). Yet, it was in 2001, when a usable vector format made its entry as SVG. SVG files could be used for web design, unlike CDR and AI, giving wings to the era of responsive web designing. The SVGs remain as sharp and crisp, irrespective of the screen size and resolution. The file size is lower in SVG than it is in terms of other file formats.
SVGs can also be animated using CSS (style sheets), Web Animations API, or the <animate> tag of SVG. They can also be interactive during the development or coding part of the web design. They are at the heart of modern-day web development, the UI and UX.
How to Open an SVG File in Windows or Mac?
These days, SVG files can be viewed directly in the system or on any browser. Select the SVG file you want to open, and right-click on the 'Open With' options. All the compatible options, including browsers like Google Chrome and Apple Safari, and the default photo viewers will be shown. You can view the files in any way you like. You can also drag the file into the empty tab area of your browser to open it directly.
How to Create an SVG File?
You can create an SVG file using a notepad or any word processor, as it is merely a mathematical formula carried out in programming. You can also create SVG through the visual aspect by designing the file in Corel Draw or Adobe Illustrator. For the free alternatives, you can try using Inkspace. You can also create SVGs in Adobe Photoshop. You must select the layer and select 'Export As' under the right-click options. However, only the Shape Layers will work as true SVGs.
Recover Deleted SVG File from Illustrator
Adobe Illustrator is the software of choice for creating vector graphics. The easiest way to recover SVG files comes from the software itself. Most modern-day software is built with auto-save features, and so is Illustrator. Follow the steps below to recover deleted SVGs from Illustrator.
Launch Adobe Illustrator.
Open Edit > Preferences > File Handling & Clipboard in Mac or Edit > Preferences > File Handling in Windows.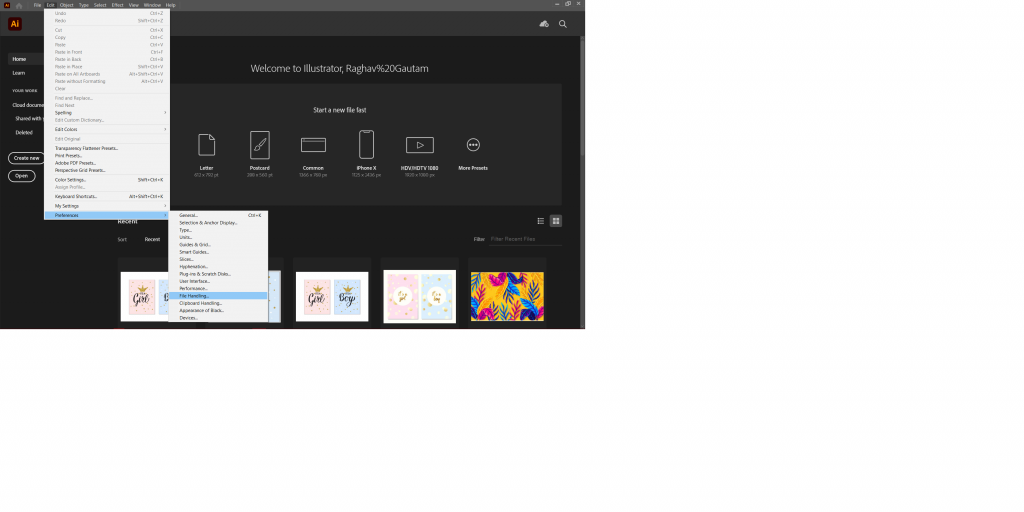 In the 'File Save' Options, check the 'Automatically Save Recovery Data Entry Every:' and select the time duration. The minimum time duration is of 30 seconds, while the maximum is 1 hour.
Now choose the recovery location.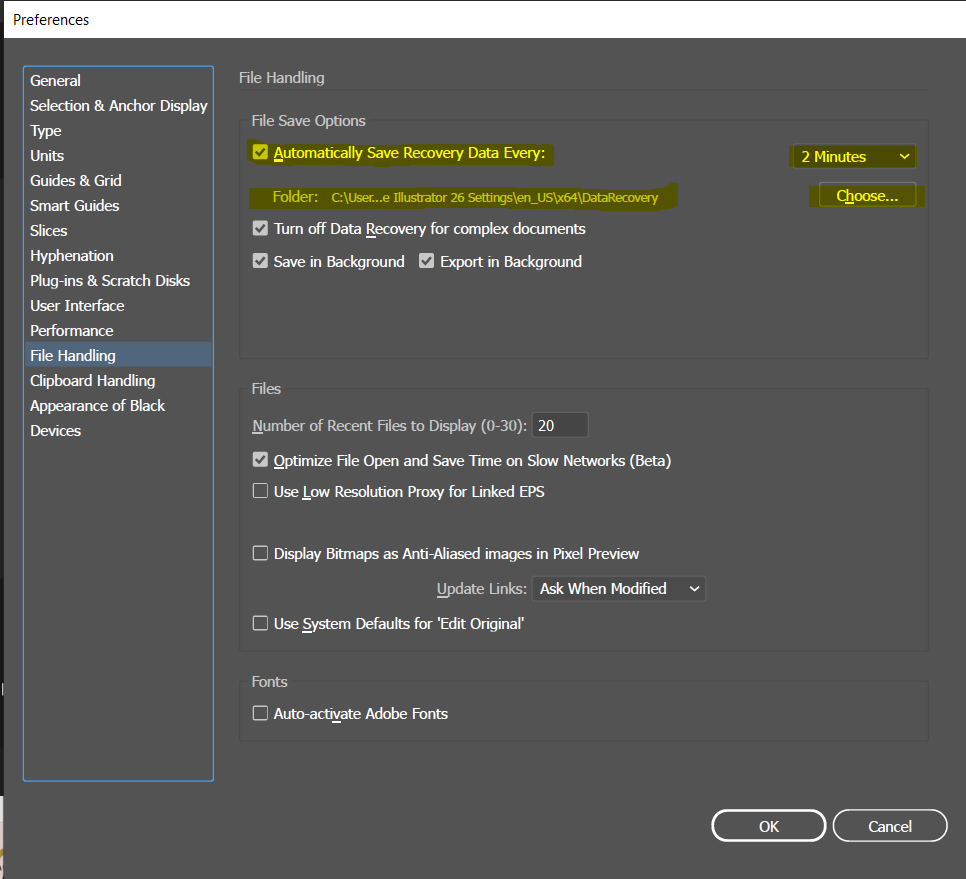 Under the 'Clipboard' head in Mac, or the separate 'Clipboard Handling' tab in the Preferences window of a Windows PC, select 'Include SVG Support.'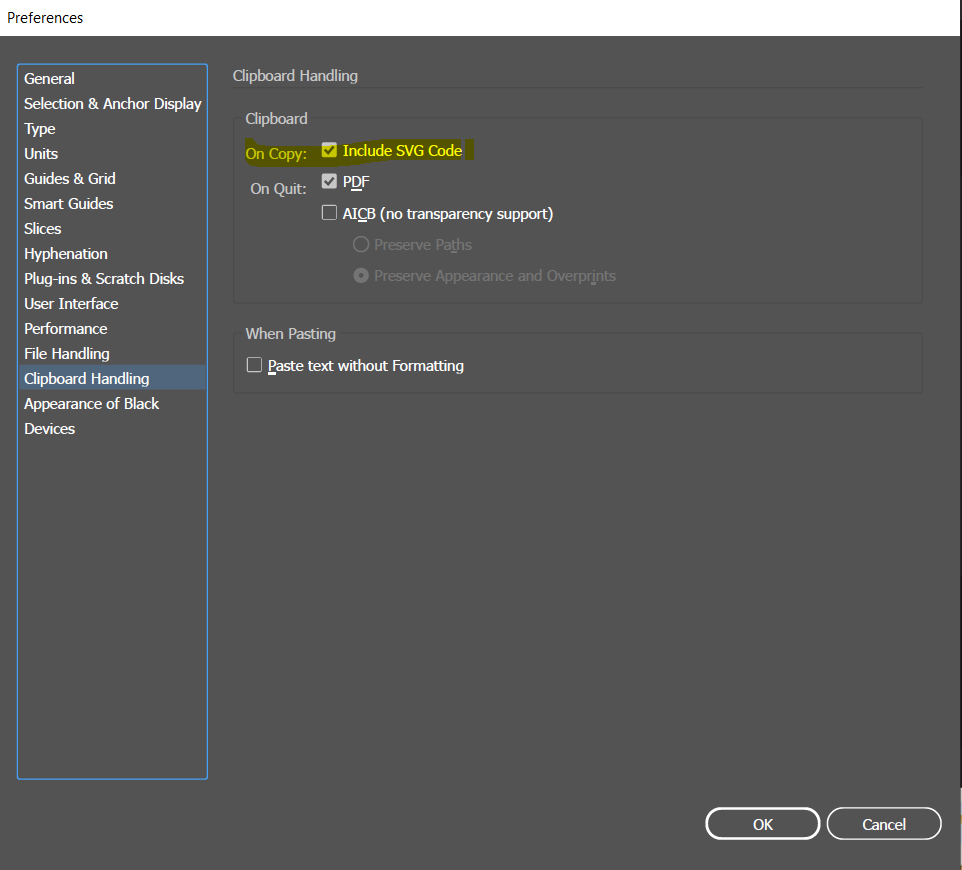 You may also check the PDF and AICB support if required.
Your data recovery option for Illustrator SVGs is now configured.
How to Recover SVG Files that are Deleted on a Mac?
Step 1: Check in the 'Trash'
Open the Trash Bin by clicking on its icon.
Look for your SVG files by name and type.
If you find the files, select them, right-click on them and click 'Put Back'. Your files will now be available in their original stored location.
Step 2: Look in the BackUp on Time Machine
If you have been in the habit of backing up files using Mac's own backup and restore method, Time Machine, then the SVG recovery chances are very high.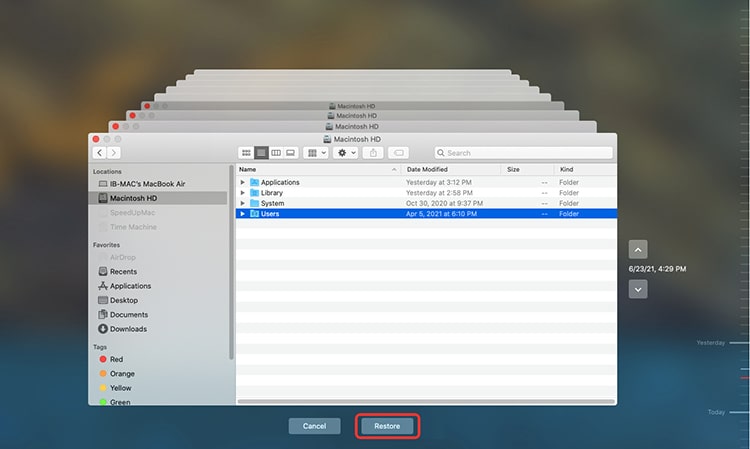 Connect your external device to the system.
Locate the folder containing SVGs.
The 'Clock' icon on the Menu Bar is where you have to click 'Enter Time Machine'.
Find and select the items, and click 'Restore'.
How to Recover SVG Files that are Deleted on a Windows PC?
Method 1: Look in the 'Recycle Bin'

Double-click on the 'Recycle Bin' icon on the Desktop.
Select your SVG files if you can find them, sorting through the name or file type.
'Restore' the selected files.
Your files will now be available in their original location.
Method 2: Recover from File History
Using Windows Backup & Recovery, you can recover lost media files if the system successfully backed them up. You need to enable file history to access this option. If you don't already have it, this option can help you stay worry-free in case of data deletion.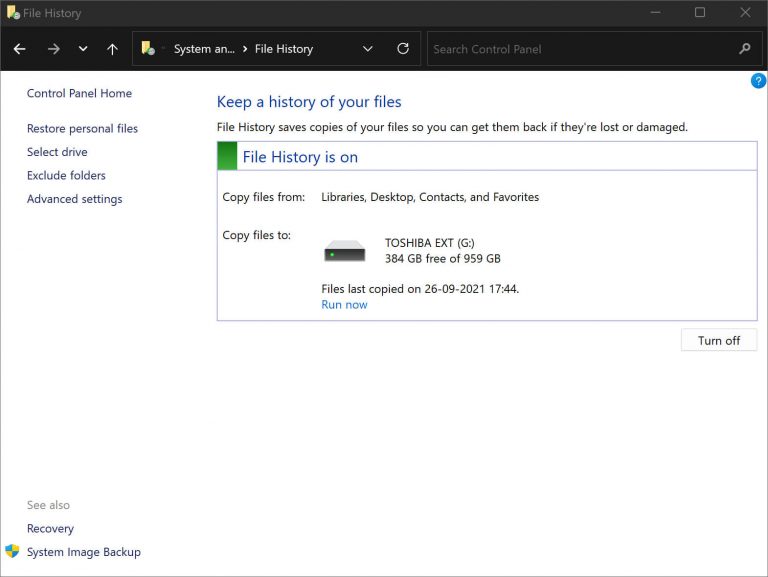 You will need to connect the external storage media on which the backup is stored.
Backup can be found under Windows Settings > Update & Security > Backup.
You can restore files from a current backup by using File History > More Options > Restore from a current backup.
Use 'Browse for Files' or 'Browse for Folders' to find your Media Files/Photos.
You can restore your files by selecting them and clicking 'Restore.'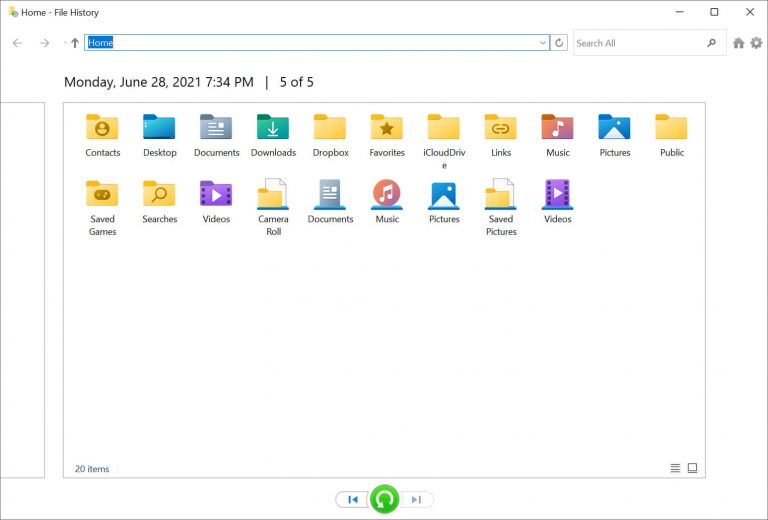 How to Recover SVG Files Using a Software Application?
You can use photo recovery software to recover your SVG files. Stellar Photo Recovery comes from the house of India's biggest data recovery company, Stellar, and is a customized solution for photo recovery with a variety of recovery solutions. Stellar Photo Recovery comes for both Windows and Mac PCs, and the steps below are the same for both OS.
DIY Steps to recover SVG files that have been accidentally deleted:
Run 'Stellar Photo Recovery' software.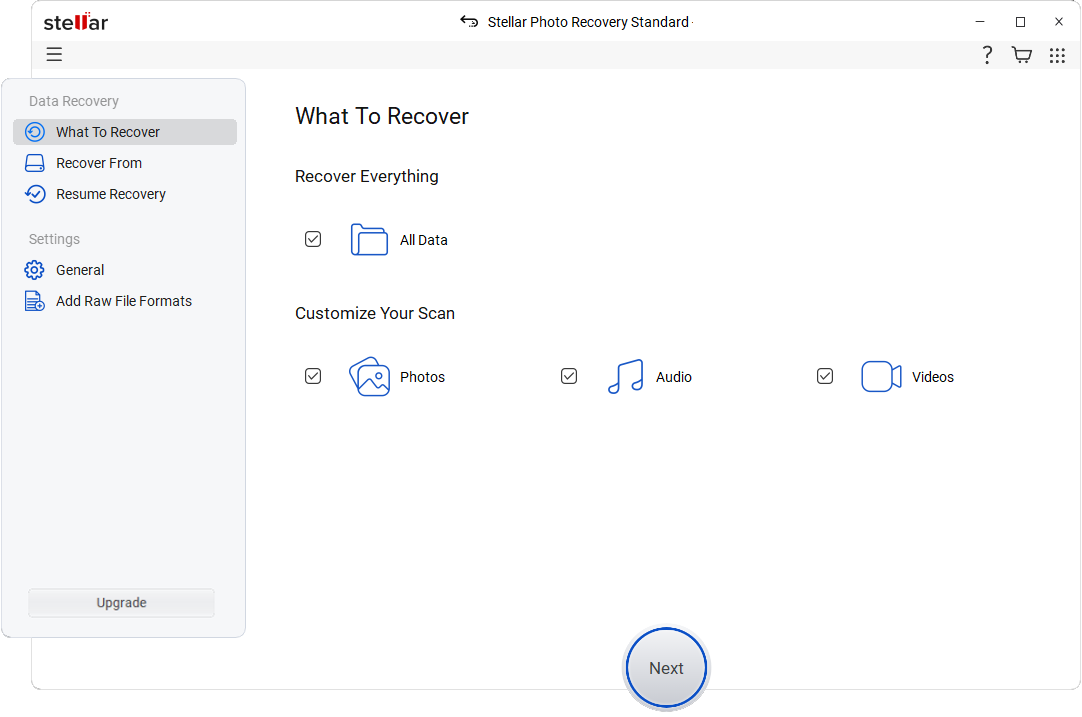 Select the original file location by selecting the drive and then click 'Scan'.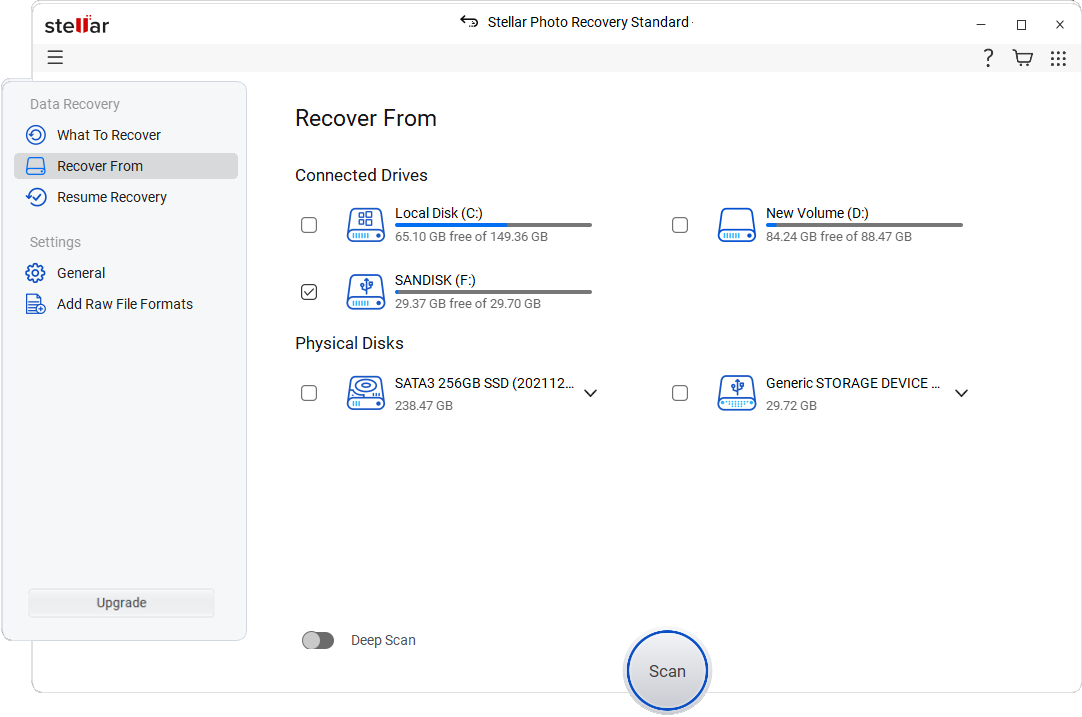 In case the Scan doesn't show favorable results, you can run a 'Deep Scan', which will take longer to process. But this scan will dive deep into the remote sectors of the hard disk.
Filter the results by 'File Type' by selecting the File Type.
Preview the photos or select them, in case the preview isn't clear or is unavailable.
After selecting all the desired files, hit 'Recover'.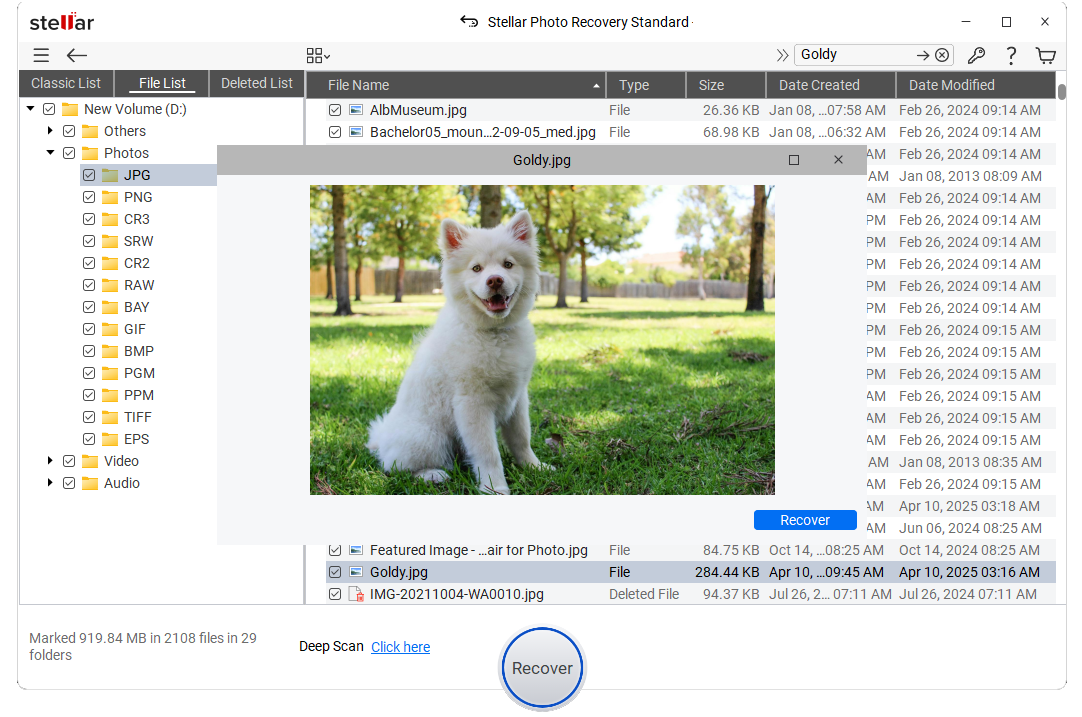 In case you can't find your file type, Stellar allows you to add a new file format in easy steps. You can hover over the following links, and add file format easily. You can add a new file type or add new file header types on Stellar Photo Recovery software and never lack any file format.
Watch this video to know How to Recover Deleted Photos?
How to Prevent SVG Files from Getting Deleted.
The wise old saying 'prevention is better than cure holds true even in terms of recovery. For anyone who is working on important projects, keeping backups is important. Cyber security threats are another growing concern, along with other data corruption and deletion issues. Follow the steps below and stay protected from data issues.
Invest in an external drive or cloud storage and carry out daily data backups. Most external hard drives and cloud storage providers offer automated data backup solutions. You only need to select the drives to sync for backup.
Double-check files before deleting them.
Avoid using Shift + Delete. Once every few days, clear Recycle Bin, while also checking if there's a case of accidental deletion of data.
Summing Up
All web designers and developers understand the value of SVGs. We have covered how to recover SVG files in case of deletion. In case the regular methods of recovery don't work out, we recommend Stellar Photo Recovery. We have covered detailed steps for recovering SVG files. You can also consult a data recovery expert to determine the best course of action in case of an important SVG file loss.