What is the Difference between File Erase and File Delete
Summary: This blog discusses the differences between deletion and erasure and also explains the importance of erasure. You will also be acquainted with BitRaser File Eraser, a trustworthy file erasure software that can permanently erase any type of file from your PC or Mac. The software is available for a 30-day free trial period. Click on the buttons below to download.
They sound synonymous but deleting and erasing a file are two different things. When you delete a file, you just reallocate it on the system making it harder to find, i.e., the files remain present in your system but are no more accessible. When you erase a file, it is gone forever.
A study done by a reputed data care firm on several users illustrated that more than half of respondents (51 percent) believed that the data deleted from the Recycle Bin was gone forever. The same percentage of users also thought that formatting the drive permanently erases the data from the device. Let us break this misconception by exploring the concepts of deletion and erasure in this blog.
Deletion
There are two ways to delete a file on your computer:
1) The first method involves sending the file to the recycle bin (Trash in Mac systems). You can either keep the file in the Recycle Bin or clear the Recycle Bin itself. People keep the file in the recycle bin if they want to have the option of restoring that file. When you clear the recycle bin, you eliminate the possibility of restoring the file directly from the system.
2) The second method is to delete the file from the system directly. This method is equivalent to clearing the recycle bin of the first step. You can do that by the keyboard function, Shift+Delete. You can't restore the files deleted via this method using your system settings.
What happens when you delete a file?
When you delete a file, the files disappear from their existing location and move to another location, which is inaccessible to the user. In other terms, a new index for the file is created which is not viewable to the user, and the links to the file are gone. This is the reason you cannot find a file on your system after deleting it from Recycle Bin as well.
After the deleted file moves to the new directory, your computer frees up the space to store new files. When a new file is stored in that space, the previously deleted file is overwritten by the new file and, thus, eliminated. [PD1] Until then, that deleted file can be easily discovered and recovered by a dedicated data recovery software.
Erasure
On the other hand, erasure is nothing but elimination of file, beyond the scope of recovery. A file is overwritten by a software during the erasure process, with random junk data[PD2] . Overwriting can be done once or multiple times, and the random junk data is mostly zeroes and ones. After overwriting, the file becomes unreadable. This ensures that a data recovery software cannot recover the file.
Erasure is a recognized method to wipe data from devices. It is the most effective and holistic way to ensure data sanitization in devices. Many standards and policies have been set up to govern the erasure process. These standards dictate the number of overwriting attempts and associated patterns.
Why is Erasing important?
Erasure is important for a variety of reasons. As discussed above, one can recover deleted data but not erased data. Erasure becomes especially important when you discard/lease/sell your device as you don't want the new user to recover your deleted data. If you just delete or format the system before parting with the device, you expose yourself to a serious privacy threat. Any person who has your old system can run a data recovery software anytime and recover sensitive information.
Regularly erasing your sensitive data is also a good data hygiene practice. When you regularly wipe your system, you eliminate any chance of a person getting hold of your data, if he/she were to access your computer. Take browsing as an example. Anyone who sees your browsing information can know a lot about you. Besides, whenever you browse, cookies get stored in your system. These cookies contain your credit/debit card details, e-mail logins, or social media credentials. A person could steal your personal information if he were to gain access to these cookies. Regularly erasing your browsing information protects you from such mishaps.
BitRaser File Eraser: A complete File Erasure tool.
Many file erasure software are available now, which can permanently wipe the files. One of the most trusted ones is BitRaser File Eraser, a professional DIY tool, tailor-made to destroy any type of file from your system. You can also use BitRaser to erase Application traces, Browsing histories, and Unused space from your device. Available for both PC and Mac, BitRaser File Eraser comes with a 30 days trial, allowing you to explore all its features, free of cost. Let's see the step-by-step method to erase files using BitRaser File Eraser in both PC and Mac systems.
Erasing files using BitRaser File Eraser in Mac and Windows
Run the software.
On the main screen, you will see the list of drives.
Select the drive from which you wish to erase the file.
Select the file you want to erase.
Click Erase Now button to start the Erasure.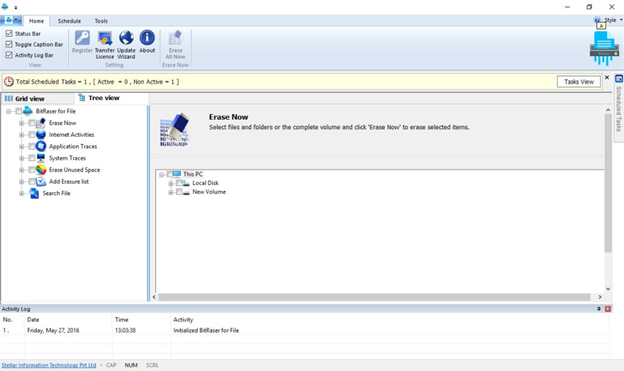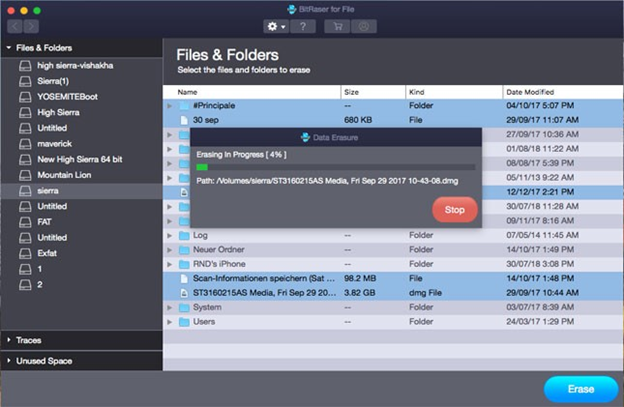 The tool also gives you the option to generate a certificate of erasure. This certificate is verifiable proof that the process has been successful.
Conclusion
There is a fundamental difference between Deletion and Erasure. Deletion just hides your files from immediate view whereas erasure destroys them, so that they cannot be recovered. Erasure is a fail-safe and efficient way to wipe the files from your device. One of the most reliable file erasure software is BitRaser File Eraser, which is a DIY tool, adept in erasing any type of files, folders, application traces, unused space, and Internet data from your PC or Mac. Download the software from the below links and enjoy a free 30-days trial.
BitRaser File Eraser for Windows
---