Why is Physical Destruction of Hard Drives Dangerous?
'The best way to prevent others from accessing data on your hard drive is to destroy it physically after the end of its life.'
That's what most organizations and individual users prefer to do when they need to dispose of their confidential data or old IT hardware for preventing unauthorized access to their sensitive information.
Due to the preference, organizations and individuals are unnecessarily creating millions of tons of toxic e-waste every year. Traditional data destruction techniques include hard drive shredding, grinding, degaussing, drilling, etc. that generate toxic waste as a by-product, including particulate matter (PM particles).
Plus, only a small amount of e-waste generated by the physical destruction of hard drives is recycled. Most hard drive e-waste goes un-recycled and is either dumped in or exported to the third world countries like Bangladesh, Pakistan, India, and China.
Global trends indicate that only 20% of global e-waste is formally recycled. And the rest 80% remains undocumented and is either incinerated or end up in landfills.
This is adversely affecting our environment and obstructing sustainable development.
According to UN reports, it was projected that 50 million metric tons of e-waste will be generated by the end of the year 2018. That's equivalent to the weight of more than 4900 Eiffel Towers. Think about it!
Why Is Physical Destruction of Hard Drive Not a Good Idea?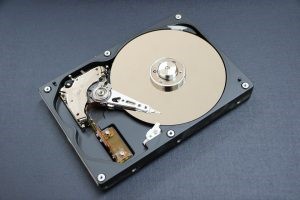 Physical destruction of hard drives to destroy data is not only dangerous to the environment but also not an ideal solution as it completely destroys the hard drive, thereby making it unusable.
Moreover, data destruction by physically destroying a hard drive isn't foolproof. Studies infer that the data can be recovered from large broken pieces of magnetic storage disks with the help of data recovery experts and specialized tools inside Class 100 Clean Room lab.
Data recovery from a physically destructed solid-state drive (SSD) is easier than hard drives; each memory chip in a damaged SSD drive, which stores data, can be removed individually and the data on these NAND flash chips can be copied to another storage device by using specialized equipment. This may sound frightening but entirely possible!
Then there's also a potential risk of data leakage from storage media while in transit over to IT asset disposition vendors (ITADs) or by way of any loophole in the ITAD's media sanitization practices.
How to Effectively Destroy Data?
These limitations of the physical destruction methods for media sanitization can be overcome by using data erasure software that performs permanent data erasure in conformance to data protection regulations.
Data erasure is a process of deliberately, permanently, and irreversibly destroying the data stored on a memory device such as hard disk as per international data erasure standards. A secure data erasure technique would ensure that even advanced forensic tools are not able to recover the data erased from the storage device.
Fun fact?
In a survey, around 64% of IT professionals were not able to correctly define Data Sanitization
BitRaser is a secure data erasure software with the latest cutting-edge technology in data erasure that offers an efficient, cost-effective, and eco-friendly way of sanitizing the media. But due to the lack of the knowledge of reliable data erasure software, organizations and individuals often choose to destroy their old hard disks physically.
Data erasure tool such as 'Bitraser' and BitRaser for File can destroy data beyond the scope of recovery at a very low cost while saving energy, resources, and the environment from pollution.
Why Choose a Certified Data Erasure Software over Physical Hard Drive Destruction
To comply with new data protection guidelines such as GDPR, effective from May 25, 2018. The EU's GDPR (General Data Protection Regulation) will replace the Data Protection Act 1998.
GDPR is going to give more control in people's hand as to how organizations use their data, and has the provision of imposing hefty penalties on organizations that fail to comply with the regulation.
Therefore, instead of physically destroying the hard drives and SSDs, organizations as well as individuals should implement software-based data sanitization methodology with the help of advanced data erasure tools that leaves no residual data after sanitization. Additionally, software-based data sanitization may reduce the total cost of ownership and is more secure and safe for the environment. And as said earlier, data destroyed with BitRaser can't be recovered even with the help of advanced forensic tools.
What makes BitRaser the Best Alternative to Physical Hard Drive Destruction?
BitRaser products are developed based on user-specific needs and thus, available in different variants.
BitRaser – For small, medium, and large enterprises
BitRaser for File – For individuals & power users including small organizations
BitRaser
BitRaser is a plug & play, hard drive wiping software that securely erases up to 32 hard drives simultaneously beyond the scope of recovery. It's equipped with 22 International data erasure standards such as NIST, US DOD 5220.22-M (3 passes/7 passes), Russian Standard GOST-R, British HMG IS5, Gutmann (35 passes)
BitRaser provides audit reports for fulfilling both internal as well as external corporate audit requirements and compliances. Below are a few prominent capabilities of BitRaser.
Linux Bootable – data erasure software
Supports RAID dismantling
Simultaneously erases up to 32 Drives in storage racks
Erases data from hard drives such as SATA, PATA, SSD, SAS, SCSI, IDE, and USB
Supports 27 international erasure standards including DOD & NIST
Supports dual erasure verification methods
BitRaser for File
BitRaser for File is the privacy safeguarding software- for home and power users that permanently erase files, folders, volumes, internet activities, application, & system traces from Windows-based systems and drives, beyond the scope of recovery.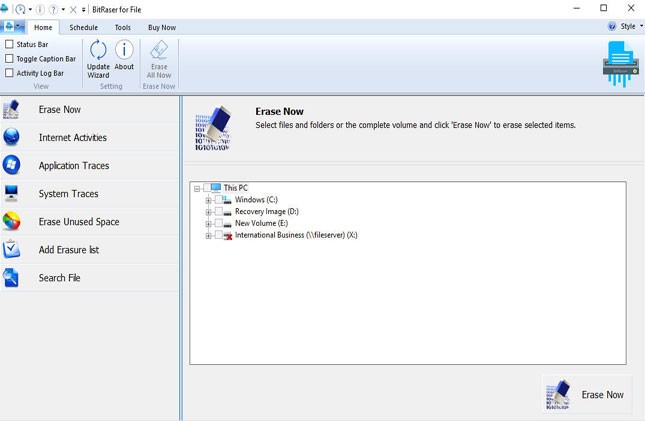 The 'BitRaser for File' uses 17 International standards like U.S. Department of Defense (Standard 5220.22-M), NATO, etc. to erase files & folders from hard drives beyond the scope of data recovery leaving no carbon footprint.
To help meet statutory & regulatory compliance required for data security & privacy – SOX, GLB, HIPAA, ISO27001, EU-GDPR, PCI-DSS, all BitRaser software variants generate a tamper-proof certificate after data erasure process completes. Organizations and Corporations can customize the report and certification with their company logo and text and save this certificate in PDF file format for future references and audit trails.
Conclusion
Instead of paying a data destruction service to destroy and throw away your hard drives, sanitize the data on the hard drives by using certified and secure data erasure software. After sanitization, reuse the hard drives to keep the environment clean.
Organizations and individuals may also sell their sanitized hard drives in the second-hand market and, in return, can make some additional profits while making their contribution towards saving the environment. This will help in sustainable development too.
So next time if you want to get rid of your confidential information, choose software-based sanitization techniques over physical destruction of hard drives. In short, destroy data, not hard drives.
As always, if you have any suggestions, feedback, or if you want to add something more to this post, feel free to share your thoughts via the comment section below.