6 Worst Reasons for Hard Disk Failure and Data Recovery Solutions
Stellar Data Recovery Software for Windows
Powerful Windows Data Recovery Software - Rated 4.5 stars by TechRadar
Hard drives are generally used to store large files, back up data, and to save important business files to keep them safe and secure. But, what if your hard drive suddenly stops working or fails? You may lose access to your crucial data. Hence, taking timely backup of your data should be your top priority.
So what are the worst reasons for hard drive failure? And how do we restore our lost data when a hard disk suddenly stops working or crashes?
Read on to know 6 worst reasons for hard drive failure and their symptoms; and solutions to recover lost data from a failed hard drive.
6 Worst Reasons for Internal/ External Hard Disk Failure
A Hard drive may fail at any moment. It happens after accumulation of bad sectors in the disk due to aging or a sudden crash. This may result in irrevocable damage to the disk platter surface. The reasons behind hard drive failure may be different, but they result in permanent data loss in most cases. Hence, recovering data from a crashed or failed hard drive at the earliest is quite essential. Here is a list of major reasons that lead to hard disk failure, their symptoms, and solutions.

1. Firmware or Manufacturer Faults
This error occurs due to improper power supply, virus attack, accidental shutdown, interruption during firmware upgrades, or manufacturing faults. You might observe the following symptoms even in a brand new hard disk.
Symptoms:
Drive freezes at startup.
The system can't detect/identify the hard disk at all.
The system fails to boot/hang up in the middle of booting procedure.
Solution:
Users can contact the hard disk manufacturer and ask them for Return Authorization (RA), as the disk must be under warranty. However, manufacturers generally don't provide any guarantee regarding safety of your data. For more information, please refer to the warranty/guarantee policy provided by the manufacturer. Further, to recover your data in case of hard drive failure, we would recommend a professional data recovery tool.
2. Electronic Failure or Power Surge
Sometimes, UPS is unable to deliver the required power supply. It's either too high or too slow. This can also occur when you use an unreliable power source or there is frequent interruption in the flow of electricity.
Symptoms:
Sudden startup failure
System BIOS can't detect the hard drive
Hard drive isn't able to spin up
Solution:
Make sure that the system hardware is getting proper power supply. You can fix this error by using UPS from a well-known brand. Also, turn off your system properly when not in use.
3. Overheating
This error may occur due to faulty CPU fan, improper ventilation, high-voltage power supply, high temperature, virus infection, and development of bad sectors. These reasons could heat up the system and lead to sudden hard disk failure.
Symptoms:
Pc frequently reboots/freezes
Fans are either moving too slow or not at all
System hardware is making clicking sounds or noise
Desktop or Laptop gets heated soon after starting
Solution:
Make sure that the CPU fans are working fine. Double check that sufficient cooling is delivered to the processor and their peripherals. You can also try applying thermal paste between heat sinks of the CPU fan to make it run smoothly.
4. Mechanical or Internal Failure
Mechanical failure in your hard drive can occur due to moving parts, malware or virus attack, bad sectors, improper power supply and so on. These reasons could lead to hard drive failure or damage and data corruption.
Earlier, several rootkit viruses were introduced that used to become active with turning on the system. They corrupted the system functioning at BIOS level. However, Windows latest versions (8/10) are efficient at detecting such malware and remove it using UEFI technology.
Symptoms:
Total system freeze
Grinding or clicking sounds from hard drive
Files & Folders becoming invisible or corrupt
Appearance of black screen while booting
Solution:
You must update your system on a daily or weekly basis. Keep your antivirus software updated and scan your computer to analyze malicious activities or virus attacks. Replace your hard drive every 3-4 years.
5. Corrupt File
Use of malicious or faulty apps, accidental closure of running programs, unethical way of shutting down the PC, power surges, etc. are reasons that lead to system file corruption and make the hard disk inaccessible.
Symptoms:
The files become corrupt or damaged.
The hard drive is inaccessible.
Solution:
Always shut down your PC in the standard manner. It will prevent command kernel to stop powering remaining CPU equipment. Close all the running programs before shutting down the system and avoid installation of faulty software or malicious applications into your PC. You can also fix your inaccessible hard drive to recover data.
6. Human Errors
Human errors are the most common cause of hard disk failure. Such errors may include modifying system registry settings, wrong installation of OS, alteration in system files attributes, accidental deletion of files or directories, etc. These type of errors are quite hard to repair.
Human errors might not only cause severe damage to hard disk, but could also lead to permanent data loss. Hence, to scan on advance level, and recover data from damaged or failed hard drive, proceed with the most efficient data recovery software.
Okay, the Drive Has Failed! Now What to Do?
If your hard drive has failed or crashed, and you don't even have a backup of your data, you could lose your important files and documents. Sometimes, you may feel that the hard drive has failed, but in reality, it has only become raw or inaccessible due to some logical reasons like software bugs, virus attack or malware, file or system corruption, accidental deletion or format, etc. You can follow the given methods to find out the exact reason, and then recover lost data from drive.
Retrieve Your Data from Corrupt/ Failed Hard Drive
Method 1: Carefully Connect the Hard Drive
Sometimes, when we connect the hard drive to the system, it doesn't show in File Explorer. It might happen if the drive is loosely connected to the port. To fix this, reconnect the hard disk carefully. If this doesn't help either, there might be some issue with the connecting port. Remove the drive, reboot the system and reconnect the drive to check if it is showing up now in the File Explorer.
Method 2: Fix Unallocated Drive
If the hard disk doesn't show up in the file explorer, but is shown unallocated in the Disk Management, follow the given steps to fix this error:
1. In the Disk Management window, right-click on Unallocated drive and select New Simple Volume.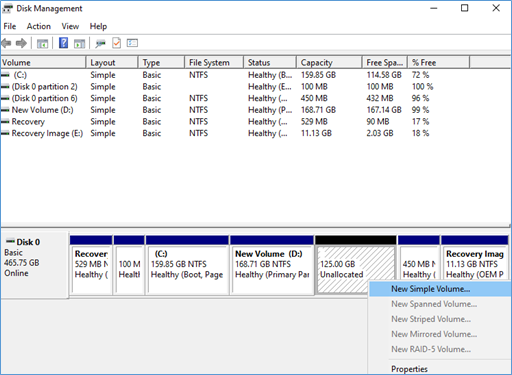 2. In the New Simple Volume wizard, click Next.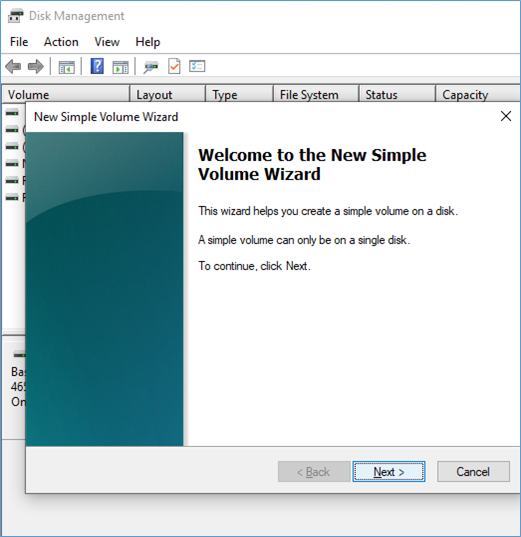 3. Click Next again to specify the volume size.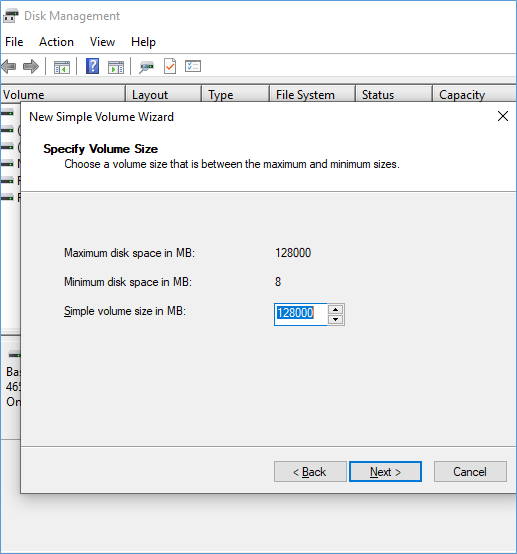 4. Click Next and select 'Assign the following drive letter.' Choose a letter from the drop-down list, and click Next.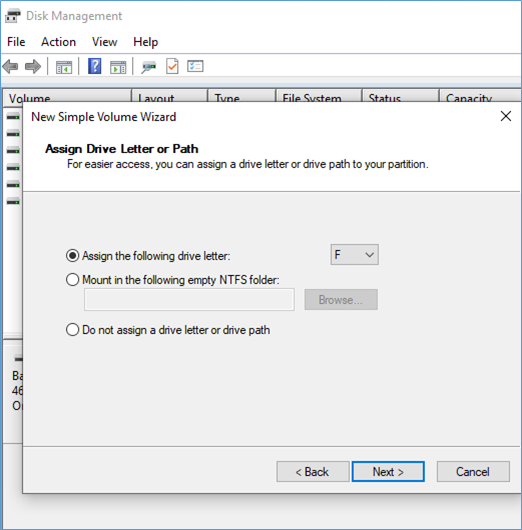 5. Select 'Format this volume with the following settings' and select the desired file system; click Next.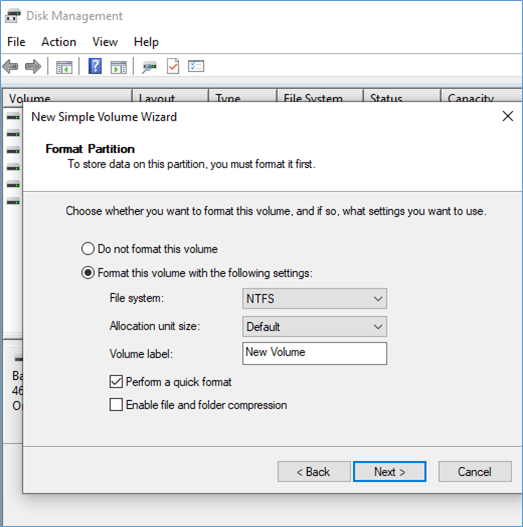 6. Click Finish and your hard drive is ready to use.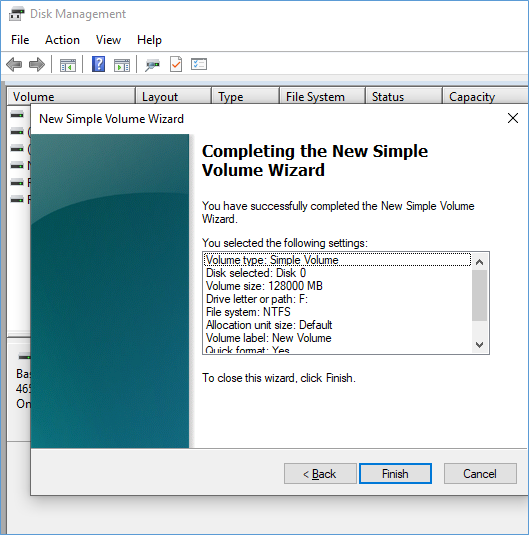 Now, you can access the hard drive. However, you won't be able to access your data as the hard drive had been formatted while fixing the error. But don't panic! You can recover your data from a formatted hard drive easily using a professional data recovery software.
However, if the drive is failed or crashed due to Mechanical or other physical reasons and the drive is not visible in Disk Management, data recovery through the software is not possible. To recover your data from a severely damaged, crashed or dead hard drive, you must refer to a professional data recovery service provider.
Tips To Prevent Data Loss from Failed Hard Drive
Sometimes, the hard disk can crash or become dead without even making any grinding or screeching sound. In such situations, you might even lose the chance of taking backup of your data on another device. Hence, follow the given tips to protect your data from permanent loss:
Tips:
Stop using the drive when you encounter any symptoms mentioned in this post.
Unplug or remove the drive from CPU, and keep it in a clean and safe environment.
Make sure that there are no 'hot spots' or any mark on the external controller board.
You can also search and confirm that no any drive parts are broken or damaged.
Take regular backup of your data, and keep a professional data recovery tool handy.
Take precaution while handling external drive and laptop to prevent damage due to sudden drop.
Wrapping Up
The hard drives are prone to corruption or failure at any moment. If you do not have backup of your data, you may lose important files, documents, and other stuff. In this blog, we mentioned 6 worst reasons of hard drive failure along with their symptoms and solutions to recover lost data. Some tips to prevent data loss and hard disk failure are also mentioned above. However, if the drive is already dead, take help of a professional data recovery service provider.
In case of any query, please write us in the comment section below. For more relevant updates, stay tuned!