Stellar Launched Backup Recovery Software for Windows 10, 8/8.1, 7
The avoidance of enormous data loss can be done in numerous ways. One of those ways is by taking its backup. As the backup is an efficient way to protect data loss, still some conditions persist that can affect those backup files also. These factors are:
Unrecognizable file format
Runtime error
CRC (Cyclic Redundancy Check) error
These errors lead to data outage and thus, backup of data becomes non-accessible.
To overcome this situation and to add additional options for a user, Stellar Extractor for Windows Backup comes with many distinguished features like recovering data from the corrupt BKF / ZIP / VHDX files. This comes with an advanced algorithm to recover data from the corrupt backup files. As application is very user friendly; it does not require any technical skill to recover data from the corrupt backup files.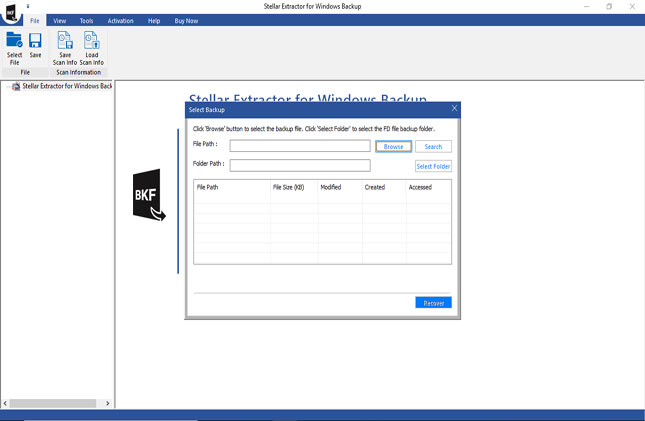 Features:
Restores corrupt or damaged Windows backup file
supports recovery from BKF, ZIP and VHDX formats
Powerful searching and recovery modules
Supports Backup Exec by SYMANTEC software
Preview available for VHDX & BKF file
The process of backup recovery is being done in three stages that are: Search, Recover and Save. The usage of this software doesn't make any changes to the original file, but it prompts the user to save the contents of the file as a new file.
The selection of the BKP/VHDX and ZIP can be done by knowing the location of the file and then the file is recovered. If the user doesn't know the location of the BKF / ZIP files from the computer, then it has an option to find those files.
The preview option lets the user to see the list of files in a tree structure and this option will let the user to see each and every detail about the backup selected, such as File Name, Size, Modified Date and Created Date. Users must make a note that the Preview option is available for BKF files and VHDX files, not for ZIP files.
The software is capable of saving scanned information of BKF files in .DAT format. This option saves time in restoring data as we do not need to scan the corrupt BKF file again and again. The facility to save ZIP files in Compressed or Uncompressed format is not available while saving BKF / VHDX files.
The detail of the ongoing process (backup recovery) is shown by the Log Window. After recovering and saving the contents of the corrupt file, the information, such as starting time and date of recovery process, name and size of selected files, and end time of recovery process is also shown.
To be conclusive, Stellar Extractor for Windows Backup provides an easy and clear interface to ensure complete recovery of your corrupt Windows backup files.