Steps to Convert Unlimited GroupWise Mailboxes or Archives into Outlook PST
Summary: This blog discusses steps to convert unlimited GroupWise Mailboxes or Archives into Outlook PST by using GroupWise Archive to Outlook Converter. Also, it explains a manual workaround to move GroupWise emails to Outlook.

There may be several instances that require you to convert GroupWise Archive Mailboxes into Outlook PST. Some of these instances are as follows:
Speed and Stability: You are experiencing sluggishness with your existing email client and wish to move to Microsoft Outlook. After all, the Outlook client is faster and more stable compared to GroupWise.
Convert Mailbox Backup in GroupWise to PST: The PST file has become inaccessible due to accidental deletion or corruption, and the file backup is not available. But you have an old backup when the file was exported when you or your client had a GroupWise environment. You can try converting the backup in GroupWise to PST for accessing the mailbox data.
IMPORTANT NOTE: Performing the manual steps to convert GroupWise mailboxes or archive data can be a time-consuming process. Also, the manual process involves the risk of data corruption. But, using a specialized GroupWise to PST converter can save you time and the hassle of performing the manual steps.
How to Convert GroupWise Mailboxes to Outlook PST Format Manually?
You will need to perform different manual processes to convert GroupWise emails or address book to Outlook PST format. The steps to convert multiple GroupWise emails to Outlook PST format:
Step 1: Log in to your GroupWise account with the correct username and password.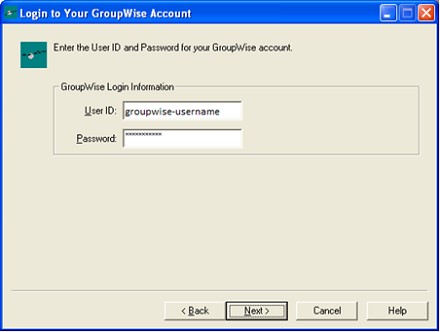 Step 2: Go to Tools > Options.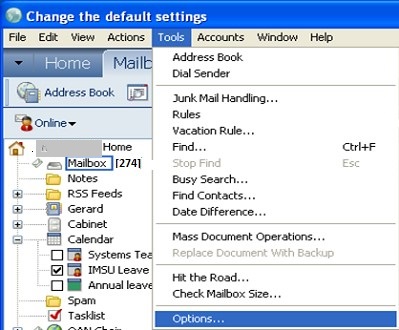 Step 3: In Options window, double-click Environment.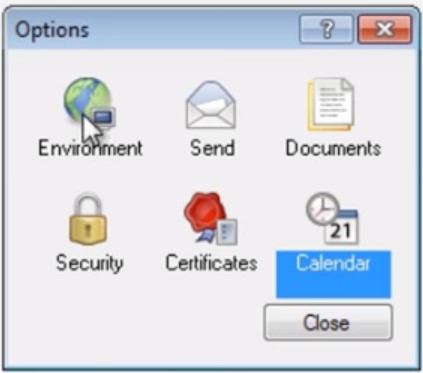 Step 4: In Environment window, click Default Actions, under 'Drag message to desktop' choose Create a copy (.eml).
NOTE: This action to choose the file type created may appear simple. But, if not done correctly, the file type you have created will be only shortcuts to messages and will become inaccessible.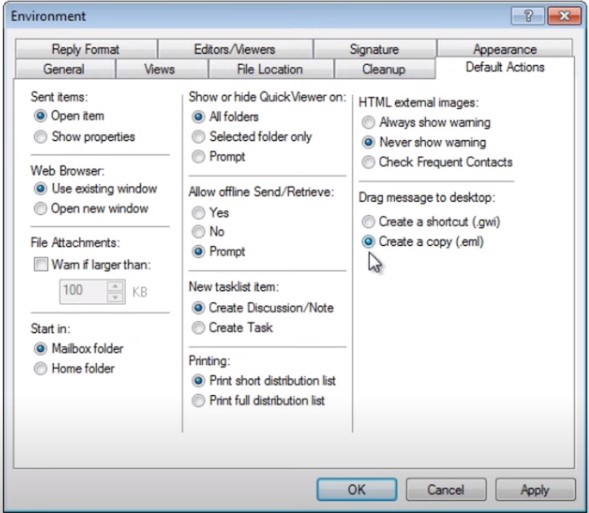 Step 5: Click OK, and then close the Options window.
Step 6: Next, create a folder on Windows to store EML files.
Step 7: Open the Documents folder on your PC, and create a folder named GroupWise Mail.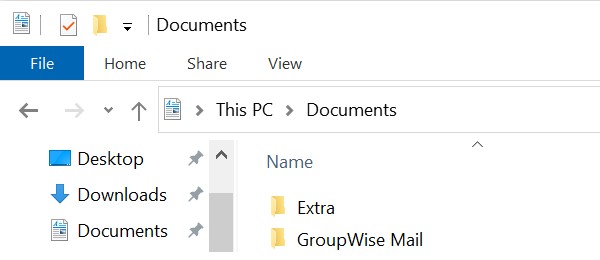 NOTE: You can replace the name of the 'GroupWise Mail' folder with anything you like.
Step 8: To move GroupWise emails, open the new GroupWise Mail folder and GroupWise windows.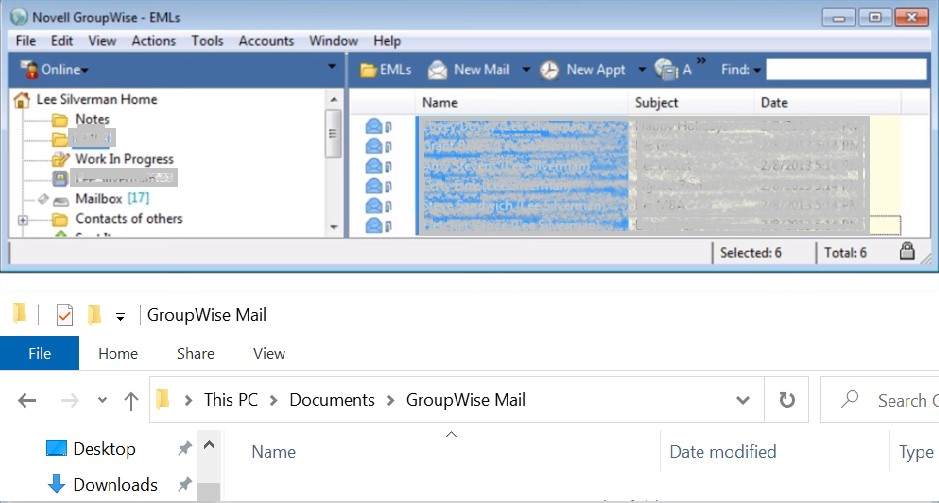 In the GroupWise window, select an individual or all emails you want to store as EML files.

NOTE: To convert archived emails, open the "Archive" folder in GroupWise and select the messages you wish to store as EML files.
Drag and drop the selected emails into the GroupWise Mail folder.
Confirm that the files listed in GroupWise Mail are all EML files.
Open Outlook and drag and drop the EML files into it.
To convert GroupWise address book into Outlook, read the blog: Method to Export GroupWise Address Book to Microsoft Outlook.
IMPORTANT NOTE: If you're using Outlook 2013/2016/2019 versions and it is configured with the POP type account, the emails will be saved in PST file format. But, if the Outlook profile is configured with an IMAP or Exchange account, all the emails will be saved in Outlook Offline Data File (.ost). In that case, you will need to export emails to PST file.
Limitations of Manual Process
While performing the above steps will help you move unlimited GroupWise emails to Outlook, it has a few limitations:
Time-consuming and Exhausting Process

: The manual process can be time-consuming and strenuous. This happens, particularly, when you need to export the imported GroupWise messages to the PST file format. Plus, following different processes to export GroupWise emails and address book contacts to Outlook PST takes a substantial amount of time.

Not Feasible for Large Database.

This is because you'll manually have to export the number of mailboxes for the total number of GroupWise users. For instance, for 100 users you'll have to manually export 100 mailboxes.

Outlook Freezing Issue:

Moving a large number of emails may cause Outlook to freeze.

Require Technical Assistance:

Performing all the steps can be confusing and may require technical assistance.
Use Stellar Converter for GroupWise to Overcome Limitations of Manual Process
Stellar Converter for GroupWise Technician software offers a simple and quick solution to convert all GroupWise mailbox items to Outlook PST. It also helps convert GroupWise archive to PST. Here's how the software can help you overcome the limitations of manual method:
Converts large-size mailbox data (like emails, attachments, contacts, etc.) to PST, which can be easily imported into Outlook.
Batch converts multiple mailboxes in a single process.
It directly converts GroupWise mailbox to PST in a few simple clicks.
The software interface can be operated by any user to perform GroupWise to PST conversion, without technical support.
Steps to Convert GroupWise Mailbox into PST
Step 1: Download, install and launch Stellar Converter for GroupWise software.
Step 2: In Connect to GroupWise Server, fill in the required details, and then click OK.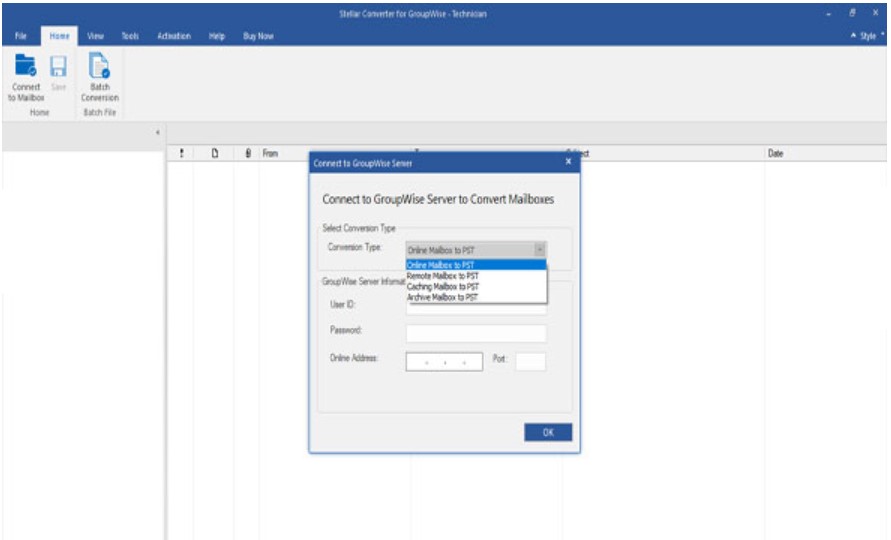 Step 3: The software will begin scanning GroupWise mailbox items.
Step 4: The software displays a preview of the entire converted mailbox.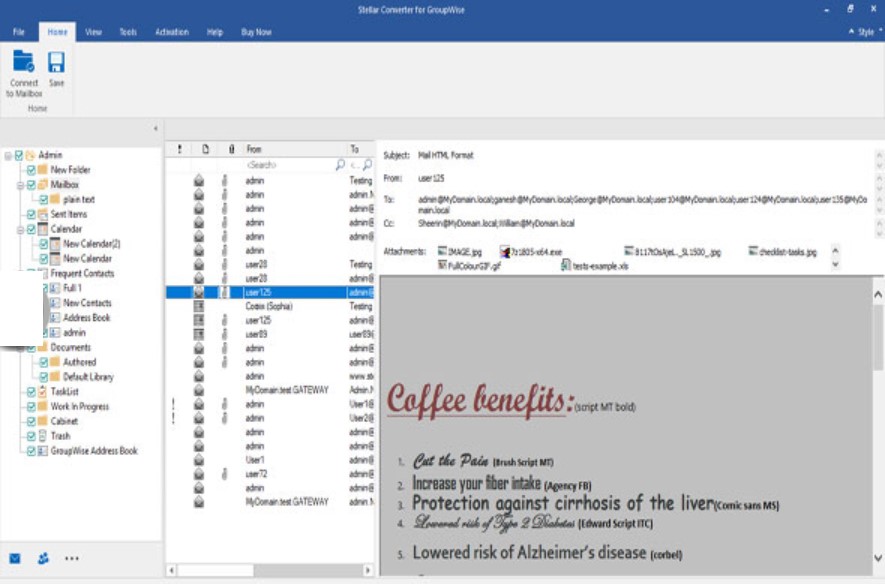 Step 5: Click Save on Home menu for saving the converted mailbox items.
Step 6: In Save As window, select PST under Save Option. Click Next to choose the location where you want to save the converted file.
The GroupWise mailbox items will be converted into PST.
Additional Features of Stellar Converter for MBOX Technician Software
Provides preview of all archived mailbox items in GroupWise before saving them.
Converts GroupWise mailbox by using Online, Remote, Caching, or Archive Modes.
Supports the latest GroupWise 2018 to Outlook conversion.
Allows saving converted data directly to Office 365, existing PST, or Outlook Profile.

Final Verdict
You can perform the manual steps explained in this post to convert unlimited GroupWise emails into Outlook. But, it cannot be used to convert all of the GroupWise mailbox items to Outlook. Also, there are several other downsides to using the manual process. It can be time-consuming and may leave you confused at times, owing to too many steps involved in the process. But, you can easily and quickly convert unlimited GroupWise mailboxes or archives into Outlook PST by using Stellar Converter for GroupWise Technician software.