Checklist for Micro Focus Mailboxes to Office 365 migration
Summary: This blog provides GroupWise (Micro Focus) to Office 365 pre-migration and post-migration checklist as well as introduces users to a reliable tool for migrating from GroupWise to Microsoft Office 365.
Micro Focus to Office 365 migration can be your need due to several advantages that the latter provides. The benefits that Microsoft Office 365 provides are Data security and control, anytime anywhere work privilege, large data storage capacity and more. However, before you migrate from GroupWise to Office 365, it is necessary to have a  migration checklist to ensure that you have prepared well and that the migration is successful. The checklist is below:
Micro Focus Migration Checklists
Here you will get to know about GroupWise to Office 365 pre and post-migration checklist.
Pre-migration checklist: 
All Micro Focus/GroupWise data (folders, address books, or calendars) that you shared in GroupWise is present.
Make a note of people with whom data was shared earlier. This note makes it easy to share the data with those people again once the migration is over.
Ensure that the details of the Rules created in GroupWise are handy so that you can recreate those in Office 365.
You have a printed document of GroupWise Calendar.
Make sure that the GroupWise account is clean by removing data that includes emails, folders, address books, appointments, etc.
After considering the points under 'Pre-migration Checklist', use a reliable GroupWise to Outlook migration tool that can export all GroupWise data items, such as emails, attachments, contacts, calendars, documents, and other folders to Office 365.  For instance, you can use Stellar Converter for GroupWise Technician. The reason is, it is a software that performs GroupWise to Office 365 migration easily and efficiently while offering many more benefits.
Know how to migrate GroupWise to Office 365 with Stellar Converter for GroupWise Technician
Steps:
Download, install and run the software.

(The main interface of the software having 'Connect to GroupWise Server' dialog box is displayed. This dialog box provides multiple modes to connect to a single GroupWise mailbox. The different modes are Online, Remote, Cache, and Archive.)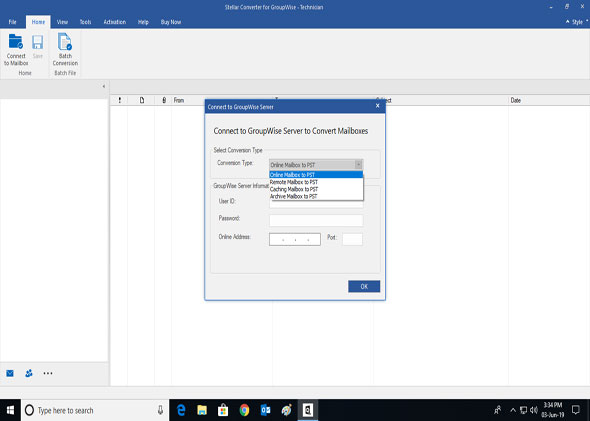 Select one of the four options that are provided to connect to GroupWise Server. Next, scan the mailbox data items.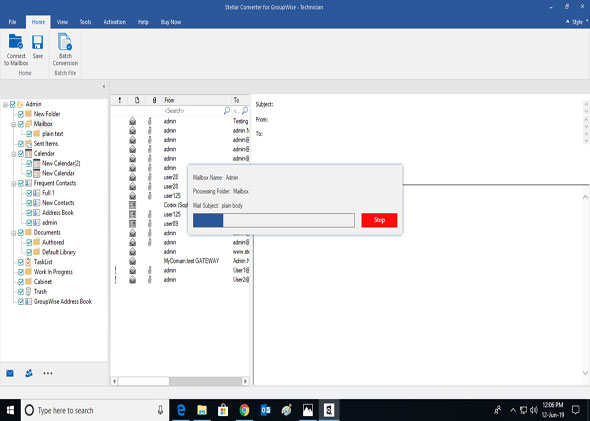 After completion of the 'Scan', a preview of all GroupWise data items is displayed in a three-pane structure.
From the preview window, select the data items you wish to migrate and click on the Save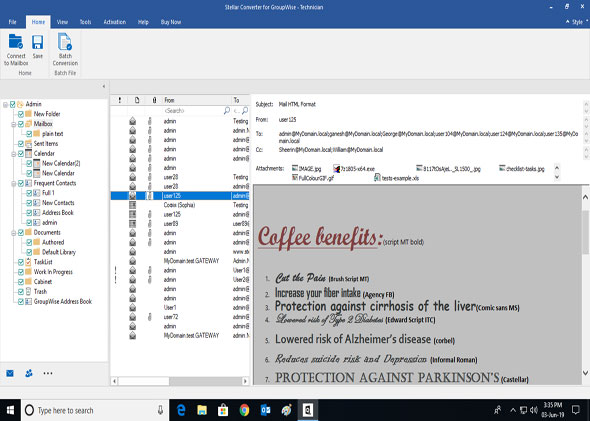 The 'Save File Option' dialog box with multiple file saving option comes up. The saving options are PST, Office 365, MSG, EML, RTF, PDF, and HTML.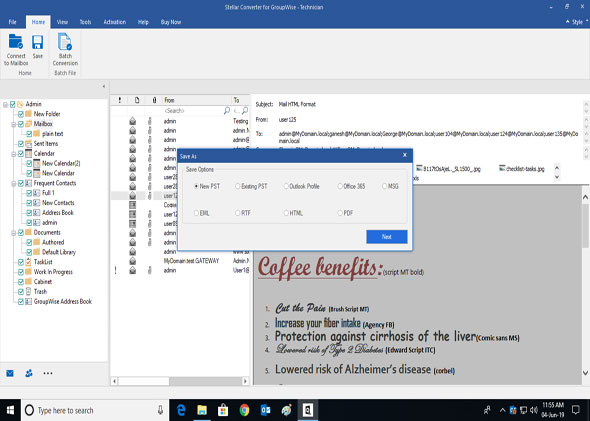 Select Office 365 and click on the OK
With the execution of the four steps mentioned above, you can accomplish the complete GroupWise migration to Office 365 successfully.
Migration in Progress – Consider the following points when you begin the migration of Novell GroupWise 365 migration:
Avoid accessing the Novell GroupWise account.
Remove the GroupWise email profile from your mobile devices.
Update the bookmarks for webmail to https://mail.office365.com, which is the new Outlook Web App address. In doing so, you uninstall GroupWise and install Outlook 2016.
Post-Migration Checklist:
This checklist is to ensure that migration of GroupWise to Office 365 performed by you was successful. Access your emails in Outlook 2016. If the 'MAPI' error message occurs after launching Outlook, right-click on the "" icon that is present on the desktop and click on the 'Verify' tab to:
Verify that all the emails have migrated without data loss.
Verify that all the entries in the calendar are available.
Verify that all the contacts in Address Book are present.
Verify that the folder structure has not changed.
Configure your mobile device for Office 365.
Refer to the notes and rules that you created in GroupWise and re-create those in Office 365 account.
Share the folders, calendars, and Address Book contacts in Office 365 that you had shared with others in GroupWise.
Note – Share data migrated to Office 365 between users.
Log in to the Outlook Web App the link of which is https://mail.office365.com.
Configure your signature again.
Create a 'Safe sender' list in Outlook again so that messages from those reliable senders' do not go in Outlook's Junk folder.
Conclusion
You are now aware of GroupWise to Office 365 pre-migration and post-migration checklists. Therefore, consider the points included in those to ensure that the migration performed by you is a success. Going forward, use Stellar Converter for GroupWise Technician as it is a powerful software that converts GroupWise mailbox to PST file easily and can directly save the data into Office 365. The performance rate of the tools is high as it has been recommended by the users and expert. Furthermore, the GUI of the software is easy-to-use which makes the migration fast and efficient.