Methods to Migrate GroupWise 2014 to Office 365
Summary: In this post, we will share a software-based method to migrate GroupWise 2014 to Office 365. The software lets you perform the migration easily without the risk of data loss. Download the software now to explore further!
>

The GroupWise is a distinguished email messaging and collaboration platform supporting emailing, calendaring, instant messaging, document management and personal information management that are essential for businesses. It is compatible with several Operating System, such as Linux, Mac OS X, and Windows. Because of this feature, it serves a large number of professionals handling businesses worldwide. It has a fair share of business users because it is easy-to-use, reliable and efficient. Nonetheless, you may wish to migrate from GroupWise 2014 to office 365 due to several benefits that the latter, which is a subscription-based online service, offers.
Benefits of Microsoft Office 365
Contains Multiple Applications – It contains multiple applications, such as MS Office, Exchange Online, Lync, SharePoint, and MS Web Apps that are in demand and widely used across the globe.
Provides Access to Mailbox Data – It provides access to mailbox data items, such as emails, documents, contacts, and calendars anytime, anywhere and on any device that may be a desktop, laptop or mobile.
Does not Require Investment – As Office 365 is an online service, it eliminates the costs involved in the installation and maintenance required for physical servers.
Easy to Learn and Use – Users can learn and use MS Office 365 easily
Secure and Reliable – It has multiple built-in security features to keep the data safe and secure. Therefore, it is a reliable service provided by Microsoft.
GroupWise 2014 to Office 365 Migration Method
Use Stellar Converter for GroupWise Technician to migrate GroupWise 2014 to Office 365 as it has a high success rate when compared to other GroupWise to Office 365 conversion software. Moreover, the manual methods come with a high cost, consumes a lot of user time and requires expertise or in-depth technical knowledge. Also, it provides many other benefits such as:
Exports emails and their attachments, address book contacts, discussion notes, documents, calendars, and other folders
Exports all or selected data items
Converts single or multiple mailboxes
Provides a preview of mailbox data items before saving
Allows conversion in various modes that are Remote, Cache, and Archive.
Saves exported data in multiple file formats that are PST, MSG, EML, RTF, PDF, and HTML
Supports GroupWise GW-2018/GW-2014/GW-2012/8.0/7.0/6.5/6.0.
Steps
If you have decided to migrate from GroupWise to Office 365 using Stellar Converter for GroupWise Technician, execute the steps below:
Download and install the software.
Double-click on the tool's icon to run the software.

(The primary interface of the software having 'Connect to GroupWise Server' dialog box comes up.)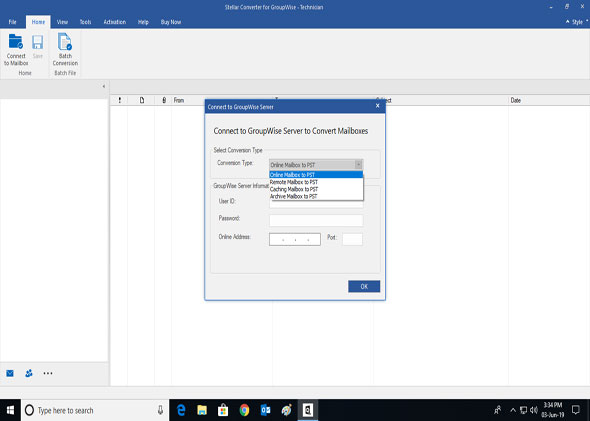 3. Choose if you wish to connect to single or multiple GroupWise mailboxes. Accordingly, you will be able to export single or multiple mailboxes to Office 365.
a. To connect to a single mailbox, select one of the following:
Select 'Convert Online GroupWise mailbox (Online Mailbox)' to convert the GroupWise mailbox into Online
Select 'Convert Remote GroupWise mailbox (Remote Mailbox)' to convert the GroupWise mailbox data items in Remote
Select 'Convert Caching GroupWise mailbox (Caching Mailbox)' want to convert the GroupWise mailbox items in Cache
Select 'Convert Archive GroupWise mailbox (Archive Mailbox)' to convert the GroupWise mailbox items in Archive
b. In the 'GroupWise Server Information' section, fill in the User ID, Password, Port, Online Address, Caching Mailbox Path, etc. depending upon the option you selected in the 'Connect to Single GroupWise Mailbox' section.
c. Click OK.
d. To connect to multiple mailboxes:
Click 'Connect to all GroupWise mailboxes' radio button.
Fill in User Id, Password, Address, Port, Caching Mailbox Path, etc. in the 'GroupWise Server Information' section.
Click OK.
After you execute Step 1, 2, and 3, the GroupWise server will be connected. The software starts scanning and displays a Preview window. The data items in the preview windows are available for migration. The preview window has a three-pane structure. You can preview a data item in the following way:
Click on a folder in the left pane to display all its data items in the top-right pane.
Click a data item in the top-right pane for the software to provide a preview in the bottom-right pane.
Scroll down to view the entire data item.
Click on a data item in the left pane and then click 'Save' from the 'File' menu. The 'Save As' dialog box containing the 'Save Options' is displayed.

Select 'Office 365' and click Next.
Enter the login credentials i.e. your Office 365 e-mail ID and password followed by a click on the OK button.
Finally, by executing these steps, you will be able to perform GroupWise to Office 365 migration.
Things to do before migrating from GroupWise to Office 365
Create an MS Office 365 user account or use an existing account to export mailbox data items.
Install Office 2019, 2016, 2013 or Office 2010 with Service Pack 2.
Points to remember before GroupWise to Office 365 Migration
For Domain systems, you cannot export data in offline mode.
You can export only offline mailbox data and not online mailbox data.
Conclusion
As discussed above in detail, we conclude that the best way to migrate GroupWise 2014 to Office 365 is to use Stellar Converter for GroupWise. The software provides an option to migrate to Office 365 with just a few clicks that makes the migration quite simple. Plus, the software is quite active, it performs the migration keeping the data intact and the folder structure unaltered.