[Resolved] Excel 2016 Won't Open XLS Files
Summary: In this guide, you will learn why Excel 2016 won't open XLS files in Windows. Also, different methods as well as workarounds to fix the issue and to open the older XLS format spreadsheets in Excel 2016 or later versions.

XLS is a Microsoft Excel spreadsheet file format, used by Excel 2003 and earlier versions. From Excel 2007 and later, a new XLSX format was introduced by Microsoft that is much secure and better at storing data.
Since XLS is an older Excel file extension, you may experience errors while opening the XLS files in Excel 2016, such as, "Excel cannot open the file .xls because the file format or file extension is not valid."
Excel 2016 won't open XLS files due to compatibility issues, which is a common problem. It usually occurs after upgrading the MS Office or Windows OS. However, this problem may also occur even after a minor MS Office or Windows update.
NOTE: XLS file may also won't open if it's corrupt or damaged. If the XLS/XLSX file was opening earlier but does not open anymore, it indicates corruption. In such a case, you can use the Excel Repair software from Stellar®. The software is free to download and lets you scan the damaged XLS file. If it's corrupt, the software repairs it and previews the data stored in the XLS file. You can then save this XLS file in a new XLS file and open it in MS Excel 2016 without any issue. Watch this video to know more,
Fortunately, there are many fixes and troubleshooting methods that you can follow to fix this issue and open the XLS files in Excel 2016.
Methods to Open XLS Files in MS Excel 2016
Follow these methods in the given order of sequence to resolve 'Excel 2016 won't open XLS files' issue and open the XLS files in Excel 2016.
Method 1: Open XLS File from MS Excel 2016
Instead of opening XLS file by double-click, open the MS Excel 2016 first and then,
Go to File>Open>Browse
Navigate to the XLS file that won't open in Excel 2016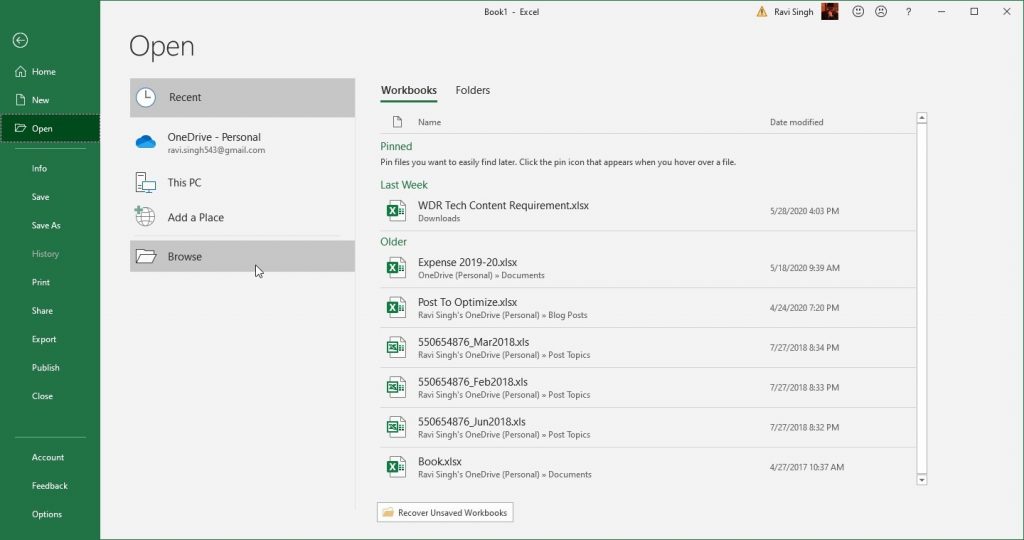 Select it and click 'Open'. This should open the XLS file without any issue
If it doesn't, follow the next method.
Method 2: Manually Open the XLS File by using the EXCEL.EXE Program File
This method has worked for many users when their Excel 2016 can't open the XLS files in Windows 10. Steps are as follows,
Right-click on the file with the .xls extension that won't open in Excel 2016
Select Open with from the options and then click on Choose another app. This opens a dialogue box
Click 'More Apps' from "How do you want to open this file?" options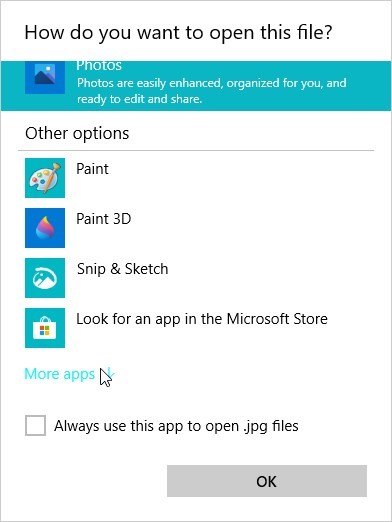 Then click 'Look for another app on this PC'. This opens a File Explorer window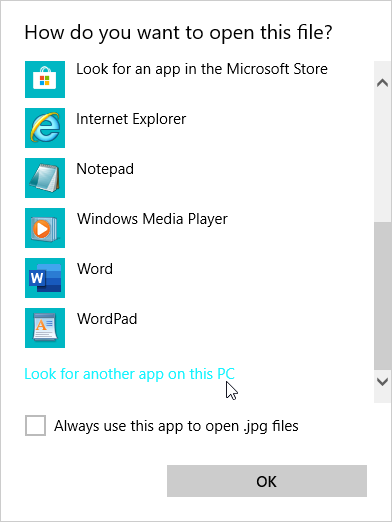 Navigate to EXCEL.EXE location which is usually located at,
C: Program Files (x86) > Microsoft Office > root > Office 16 > EXCEL.EXE
Click on EXCEL.EXE file and click 'Open'. Your .xls file should open right up
From now onwards, all .XLS files will get associated with Excel 2016, including the new .XLS files that you move, download or copy to your system. In short, Excel 2016 will become the default app to open .XLS files in your system.
Method 3: Edit Microsoft Trust Center Settings
Trust Center is an option in MS Excel that contains the privacy and security settings for MS Office programs. It helps keep system secure. However, by changing certain settings in Trust Center, you may be able to open the XLS file in Excel 2016. To do so, follow the given steps:
Open Microsoft Excel 2016, go to File>Options
Click on Trust Center and then click on Trust Center Settings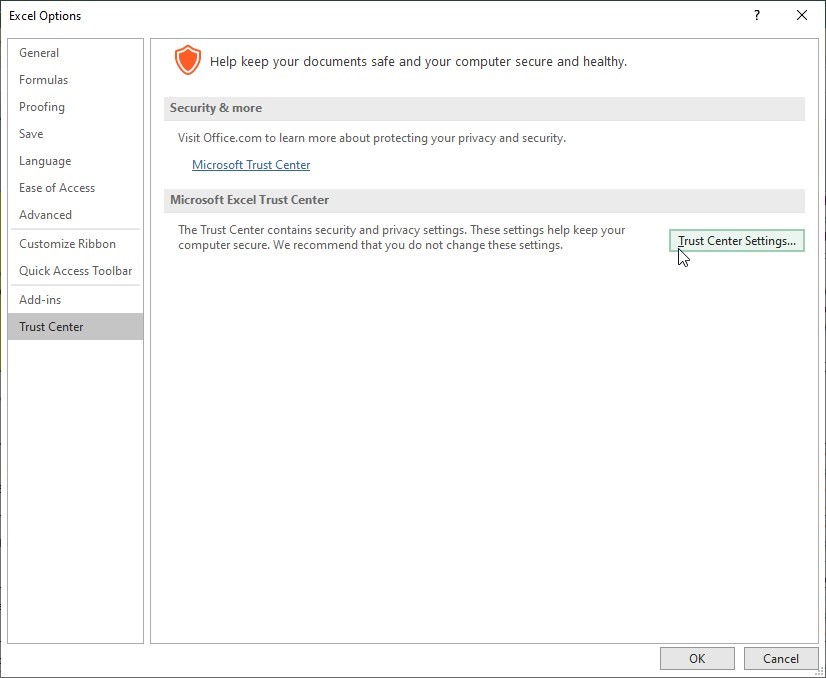 Select Protected view on the left and un-check all the options in the Protected View options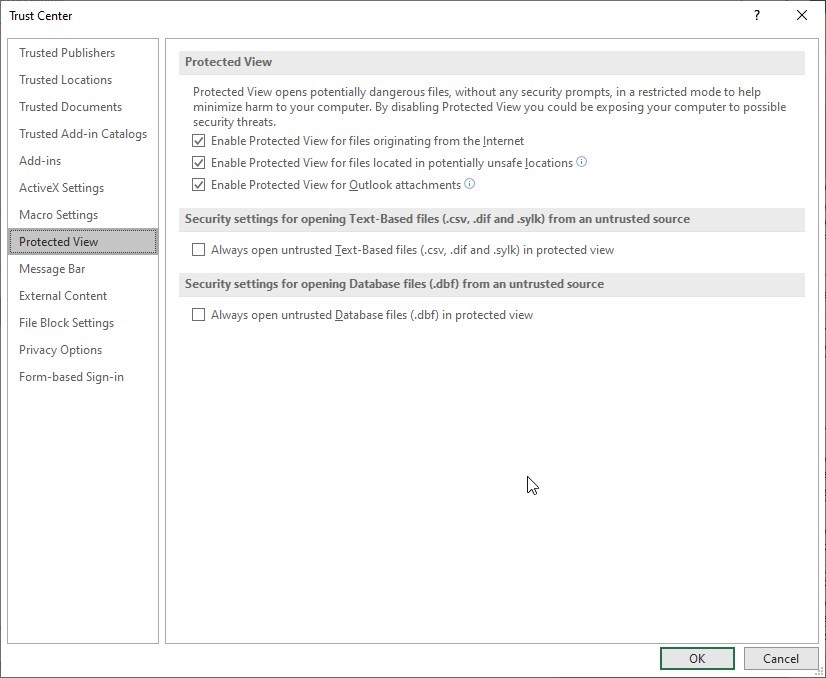 Click OK and restart MS Excel 2016.
Then try to open the Excel workbook (XLS file).
Method 4: Convert XLS files to XLSX
In MS Excel, compatibility mode lets you open and convert the XLS Office files, so they become usable in later versions. However, there are two issues with Compatibility Mode,
After conversion, it changes the layout of the spreadsheet
You can't go back – once the XLS file is opened and converted to the new XLSX format, you can't reverse it or go back
Thus, the best way to do it safely is to back up the XLS file and then follow the steps below,
Open the XLS file and go to File >Info
Click 'Convert' button in Compatibility Mode section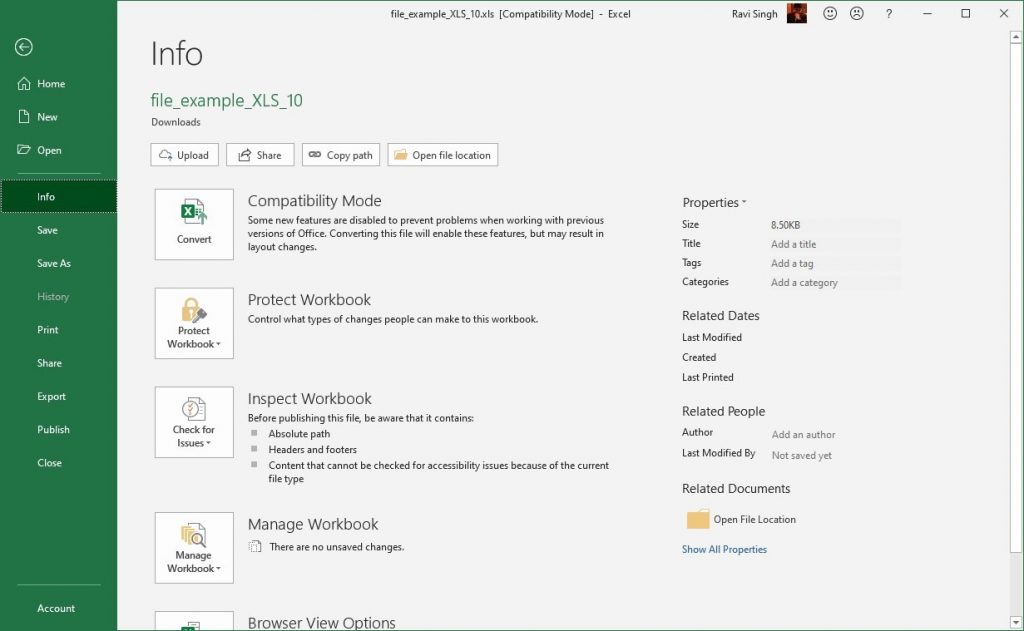 Click Convert and then click OK, if prompted
This will convert the old XLS spreadsheet to new XLSX format which is supported by Excel 2016
Restart Excel and open the converted XLSX file
Method 5: Repair and Save Excel Workbooks with Stellar Repair for Excel
If the methods mentioned above did not work and Excel 2016 still won't open XLS file, then the file is corrupt and requires immediate recovery. You can use Stellar Repair for Excel to fix the corruption and save the spreadsheet as a new XLS file. The software preserves spreadsheet properties such as cell formatting, freeze panes, split, gridlines, formula bar, etc. while fixing the corruption and saving the new Excel file.

You can fix all kinds of Excel file corruption with this software and get back your data. It supports all MS Excel versions starting from Excel 2000 to 2019. Moreover, you can choose to repair single as well as multiple XLS/XLSX files at once.
After repair, you can open the XLS file in Excel 2016 and save it in new XLSX format.
Conclusion
If you cannot open XLS Excel file in MS Excel 2016, follow the methods discussed in this post. Sometimes, a simple workaround resolves the issue. However, if you can't open the XLS in the Excel 2016, you should use an Excel recovery tool such as Stellar Repair for Excel.
When nothing works, then the XLS file is probably corrupt which can be repaired by using this Excel repair software from Stellar®. All you need to do is choose the XLS file, click on Repair and then save the spreadsheet to a new XLS file that you can open in Excel 2016/2013 and even in 2019. You can try it, the software is free to download.