RAID Data Recovery Software Launched by Stellar
After the invention of RAID, it has been possible to store huge volumes of business data across multiple hard disk drives. RAID not only helps in increasing the storage capacity but also provides some sort of fault tolerance. However, there are still many occasions, when the data stored in the RAID array becomes inaccessible due to controller failure, drive corruption, RAID rebuild failure etc.
To deal with all such occasions of logical RAID failure, Stellar Data Recovery has announced the launch of
Stellar Data Recovery Technician for Raid recovery. The Technician Edition of this new version of the software is able to recover data from any RAID 0, 5 and 6 array with an instance of logical corruption.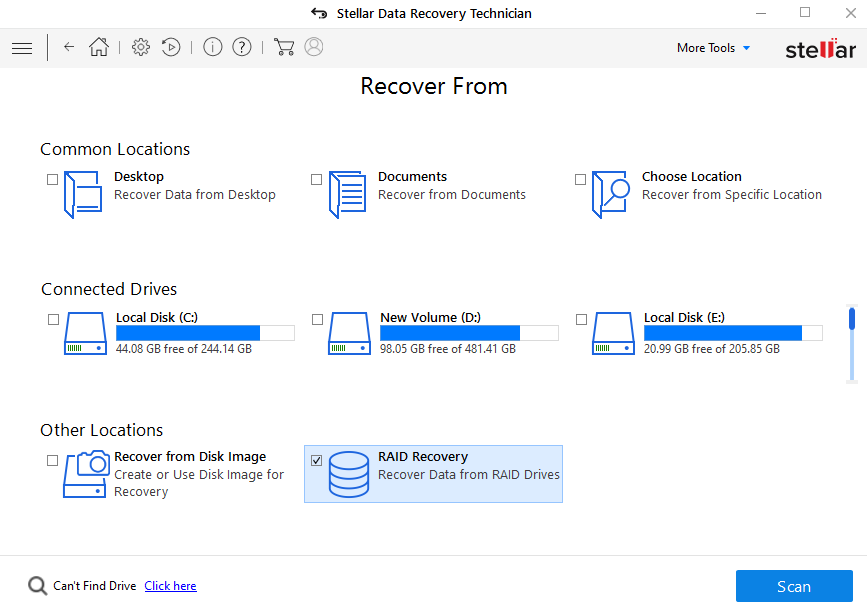 With a distinguished module in the name – 'RAID Recovery', technicians can use the software to recover lost or inaccessible RAID data. Along with its data recovery capability from corrupt RAID drives, the software is also helpful in recovering lost or deleted volumes. Moreover, the software does not even need the RAID controller card to be attached and successfully recovers data, when the RAID controller has already been damaged or corrupt.
The software allows entering the RAID parameters set while configuring your RAID array and provides recovery options for all possible cases, such as – when the RAID parameters are fully known, partially known or unknown. With this advanced version of Stellar Windows Data Recovery, now the technicians can recover data from the inaccessible RAID drives, even if the RAID parameters are either completely forgotten or unknown.
Features –
Stellar Data Recovery Technician
Recovers data from all logically corrupt or inaccessible RAID 0, 5 and 6 array
Recovers RAID data without the controller card
Recovers data even when the RAID has failed to rebuild
Recovers data from the inaccessible drives, when all RAID drives have been corrupt
Option to specify various RAID parameters, such as Strip/Block size, Parity Order/Rotation, Parity Repetition/Delay, while recovery
Option to recover RAID data even if the RAID parameters are unknown
Option to create a virtual RAID and recover data from it
Option to search lost volumes from the RAID drives
Raw Recovery option ensures successful recovery in case of severely corrupt RAID drives
Includes all the features of Stellar Windows Data Recovery – Home and Professional versions
Along with the useful RAID Recovery module, Stellar Data Recovery Technician also includes other data recovery features, such as Photo Recovery, Optical Media Recovery, and Drive Recovery. With an improved graphical user interface, faster scanning speed and simple user interface, the software are designed to fulfil all data recovery needs of the technicians.