How to Recover Data from your RAID based NAS?
Network Attached Storage or NAS is a storage device which can be compared with 'File Server' connected to the network through which an authorized user can store and retrieve data. RAID-based NAS is fairly popular as a cost-effective, reliable, and scalable storage solutions among enterprises, small businesses, and individuals. RAID-based NAS allows users to add or remove storage drives from it as per the requirement. However, just like other storage media and RAID configurations, RAID based NAS is also not failure proof, no matter if it's based on RAID 0, 1, 5, or 6.
A RAID based NAS could fail due to several reasons as mentioned below:
Power failure or Sudden power surge
Overheating and Improper shutdowns
Virus attack or Malware infection
Incorrect setup or User Error
OS errors
Hardware controller failure
System Failure, Multiple disk failure any in extreme cases Physical damage
A damaged or corrupt RAID based NAS can't be accessed or repaired without formatting the installed hard drives. One needs to reconfigure everything on the damaged RAID based NAS storage device to make it work again. This is the case of total disaster as the setup is completely destroyed along with data stored on a RAID based NAS storage.
In this guide we are going to explain, how you can get access to your RAID based NAS and recover data from it before formatting, resetting, or re-configuring your RAID based NAS configuration.
Recover Data from NAS Hard Drive
RAID-based NAS data recovery is a complex process. Therefore, you need an advanced RAID recovery tool such as Stellar Data Recovery Technician that helps recover data from a failed, damaged, or logically corrupt RAID 0, 5, and 6 level whether it's on NAS or inbuilt.
The tool supports the recovery of NAS storages from different vendors such as Buffalo LinkStation and Terrastation, Iomega StorCenter, Synology, LaCie, QNAP and other Linux-based NAS devices.
Things You Need:
Determine the RAID on which the NAS is based on, along with RAID parameters (most important)
A PC running Windows operating system
Stellar Data Recovery Technician software (NAS Recovery Software Free Download)
Free space (equivalent or more than the volume of recovered data from failed NAS drives) – use external or Internal HDDs
SATA to USB converter or enclosures for connecting NAS drives to PC for NAS RAID recovery. If the system has vacant SATA connectors, connect NAS RAID drives to those SATA connectors
Follow these steps for NAS RAID Recovery:
Power off the RAID NAS and then remove all hard drives from it. Note the sequence in which they are aligned in the rack.
Connect all NAS RAID drives to Windows PC via USB or SATA. Remember to connect all drives at one time
Install and run Stellar Data Recovery Technician software on the system
Select what to recover – photos, audio, videos, documents, emails or other files and folders.
Click 'Next'. Choose 'RAID Recovery' from the 'Select Location' screen and then click 'Scan'.
Under 'RAID Reconstruction' window, click either RAID 0, 5, or 6 tab

(whatever the configuration your RAID NAS had).

From the listed disks under RAID list box, move RAID disks to 'Move hard drives up/down for disk order' list box using left-right arrow buttons.
Use up-down arrow button adjacent to list box to arrange disks in the correct order as they were in the RAID stack.
Click 'Don't know start sector of drives. Show list of probable start sectors' if you are not sure about disk order. Then select one or more probable start sectors from the displayed checklist box or use Add Sector button to manually enter and add probable sectors (max 32 allowed) if not listed in the checklist box.
Select the 'Stripe/Block size' from the drop-down and click 'Build RAID'.
If entered parameters are correct, the software creates a probable RAID construction and the constructed RAID volumes are displayed in the 'Select Constructed RAID' window. Click the 'Show Volume List' button.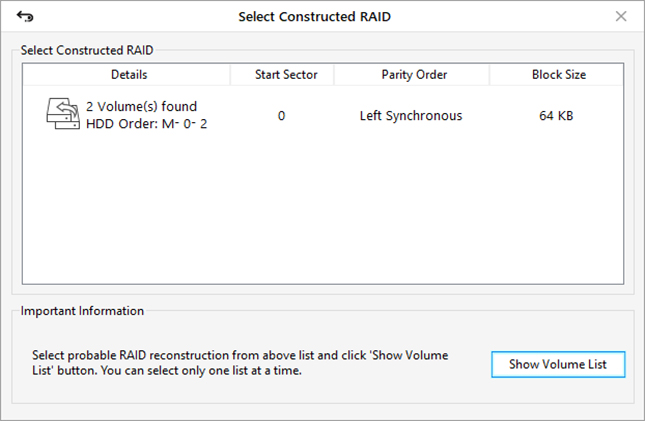 Figure 2:  Illustrates RAID volumes after Successful RAID Reconstruction
In 'Select Volume to Recover Data' windows, choose the volume from where data is to be recovered.
After selecting RAID volume, click 'Scan'.
If the desired files are not found in the scan results, click on the blue link – 'Click Here' – besides Deep Scan text at the bottom of the software window to begin 'Deep Scan' process.
In the left 'Tree View' pane, all recovered folders and files are listed. Use the search box on top-right corner to find, preview, and recover specific files or folders. Alternatively, you can click on the 'File Type' tab easily to browse and recover the required data.
Click the checkboxes of the files or folders that you want to recover. Then click the 'Recover' button. A pop up appears.
Click the 'Browse' button to select a specified location for data saving.
Note: Make sure not to select the drive in RAID NAS array (now connected to your PC). Select an external HDD or internal hard drive with enough storage space to save recovered data.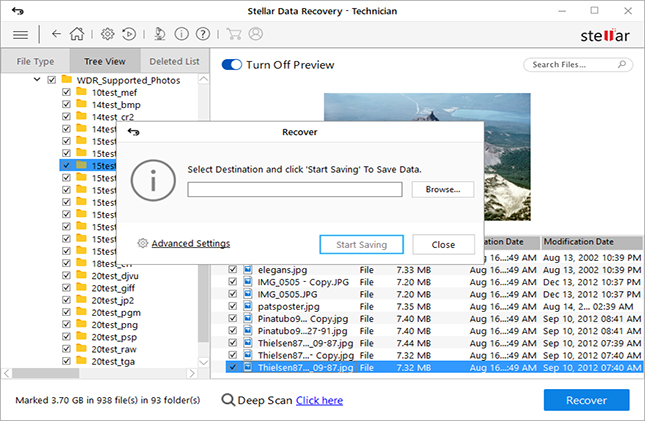 Figure 3: Illustrates saving path after selecting the files to recover
Click the 'Start Saving' button to save (recover) the selected files and folders at the specified location.
After recovering all data, start reconfiguring your RAID NAS storage by formatting the drives. Copy the recovered data to RAID NAS and start using your NAS storage like before.
Always create a backup of your important data whether it's stored on a NAS RAID storage device or your computer. Backups make recovery process much faster and save you from losing important files and documents.
Conclusion:
We discussed why a RAID 0, 5, or 6 based NAS storage device fails and how one can quickly recover from such data disaster. RAID-based NAS data recovery is a complex process, therefore, it's important that you handle a damaged or corrupt RAID NAS drives carefully for recovery process using a reliable and smart RAID recovery tool such as Stellar Data Recovery Technician that lets you reconstruct the RAID volumes even when you don't remember or know the RAID parameters required for re-construction of RAID. Moreover, this advanced tool also lets you recover deleted or missing RAID partitions from NAS and the data contained in them.