Summary: Erasing an SSD isn't the same as erasing an HDD. SSD is a complex and advanced storage device that requires a data erasure technique that doesn't harm its longevity. In this post, we will take an in-depth look into how an SSD stores and deletes data. We will also look at the methods to securely erase wipe an SSD.
While selling your old computer or handing it over to your friends or siblings, knowing how to wipe your SSD is essential. Wiping refers to completely erasing data from a storage drive so that the data is permanently deleted beyond any scope of recovery. The process ensures that your data remains safe from data theft and privacy breach incidents.
However, one should know that standard methods of data erasure will not work on SSD due to limited read/write cycles and other factors.
In this post, we will learn more about the SSDs and discuss different ways to wipe it.
How Does an SSD Store and Wipe Data?
Before moving on to how to wipe data from an SSD, we need to understand some basics related to SSD data storage and deletion.
Unlike the traditional platter-based storage media like HDDs, SSDs are complex flash-based storage devices that use electric charges to store data, as opposed to the magnetic field used in HDDs.
As SSDs have a limited amount of read/write operation limit, they perform "wear leveling" – a task that evenly spreads the data across various blocks of an SSD to ensure uniform usage of the blocks.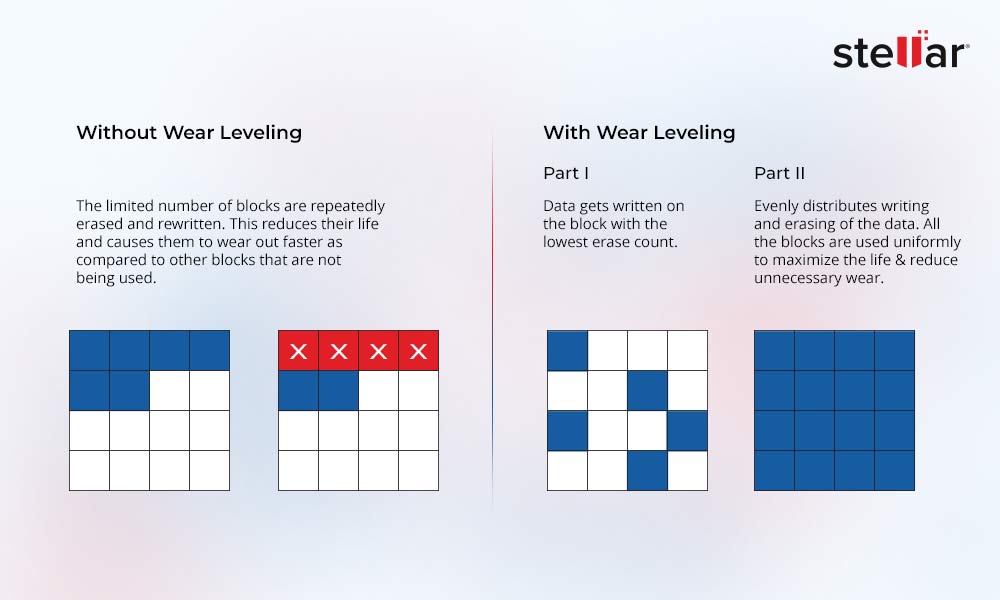 When a user deletes a file on an SSD, the OS sends the TRIM command to the SSD controller. The TRIM command marks the deleted pages for 'garbage collection' process. This process ensures these pages are removed once you reboot your system.
Wear leveling; while it helps prolong the life of an SSD, also brings a number of problems.
As the data is stored in such a way to ensure even wearing of the blocks, the data blocks are never stored adjacent to each other. Instead, they are distributed across the drive.
Wear leveling also decommissions blocks that have reached their end-of-life cycle. These decommissioned blocks may retain the data, leading to a possible data leakage.
This leads to subsequent issues for many data wiping tools like DBAN as they are unable to locate various blocks spread across the drive or the decommissioned blocks. Another thing is that these data erasure tools keep overwriting the blocks on the SSD with 0s and 1s, causing significant wear and damage to the SSD.
How to Wipe an SSD
Standard methods used to wipe HDDs fail in the case of SSDs. This is due to the challenges and the associated problems as mentioned in the previous section. Hence, to securely wipe data off an SSD, we should use the following methods –
Method 1: Use a File Eraser
File eraser software like BitRaser File Eraser allows users to erase individual or multiple files present on different sectors of an SSD. Doing so overwrites the deleted data securely, resulting in significantly less wear to the SSD.
BitRaser File Eraser is a certified file erasure software that helps users wipe SSDs and other storage media like HDDs, Pen drives, etc., securely. Its ease of use enables users to permanently erase sensitive data like internet history, saved passwords, online banking details, traces of deleted files and folders, and more.
Method 2: Reset Windows to Wipe your SSD
If you are planning to pass on your computer to a friend or family member, performing a factory reset on your Windows computer will help you wipe your SSD in a simple way. Doing so will reset your Windows PC to its factory state and remove all your data, files, and installed apps from it. However, there are slim chances of data recovery even after performing this. Carefully follow the steps below –
Press WIN + I to open Windows Settings.
Click on Update & Security.
Click on Recovery in the left pane. In the Recovery section, click on Reset PC under the Reset this PC option.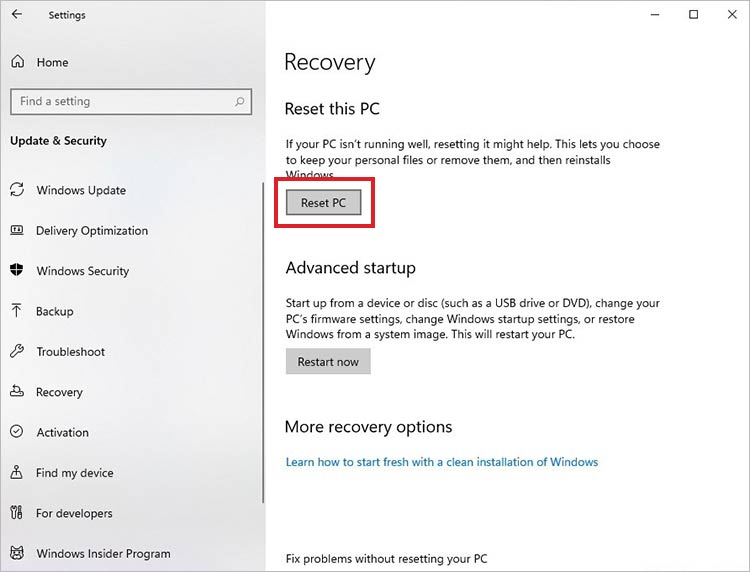 Click on the Remove everything option in the following dialog box.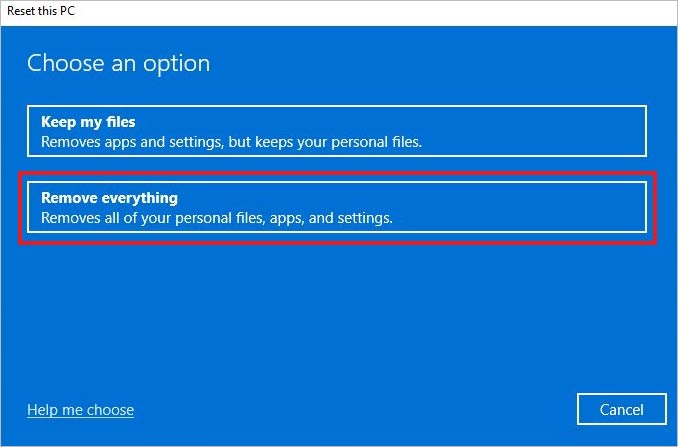 In the next dialog box, select between Cloud download or Local reinstall to reset Windows 11/10.
In the Additional settings dialog box, click on Change settings.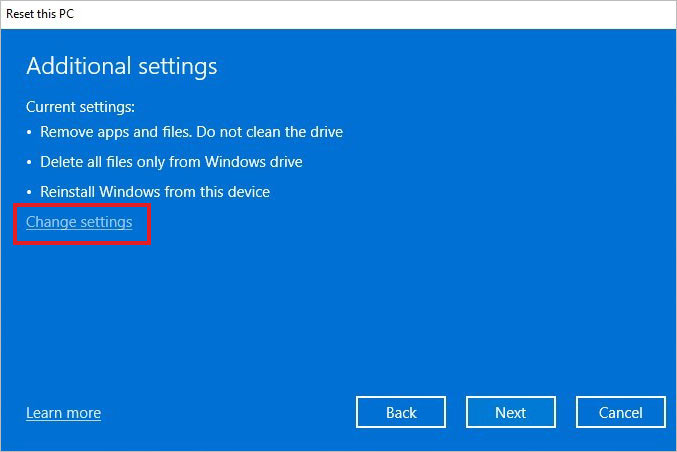 Toggle all the Clean data? and Delete files from all drives? options to Yes, and click on Confirm.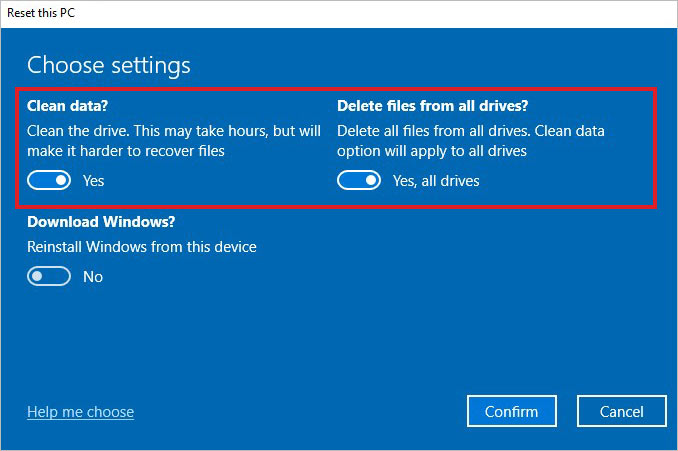 In the last window, click on Reset after reviewing all the changes that will be made. This will begin resetting your PC and remove all the data and applications present on it.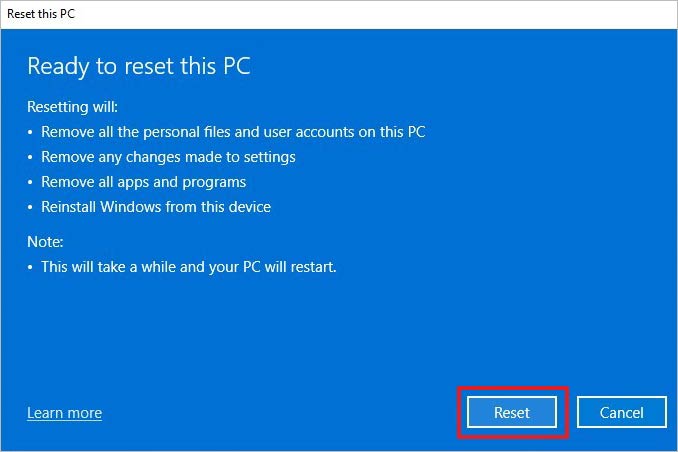 Method 3: Use Manufacturer Tools to Wipe an SSD
Almost every SSD manufacturer has its proprietary package of various utilities built-in with the SSD. Such utilities also contain a data eraser that securely wipes your SSD and makes its data irrecoverable. You can refer to your SSD manufacturer's website for more information.
Method 4: Perform Secure Delete via BIOS/UEFI Settings
SSD manufacturers include the 'Secure Erase' option with their drives that can be accessed via BIOS. If you have configured your SSD as the boot drive, simply go into the BIOS or UEFI settings and look for the Secure Erase/Wipe option. Different manufacturers use different names for this feature; hence, you might see another name for it. Here are the steps for doing this –
Go into the BIOS/UEFI settings.
Look for the SSD that you wish to wipe. Select it.
Look for the Secure Erase option.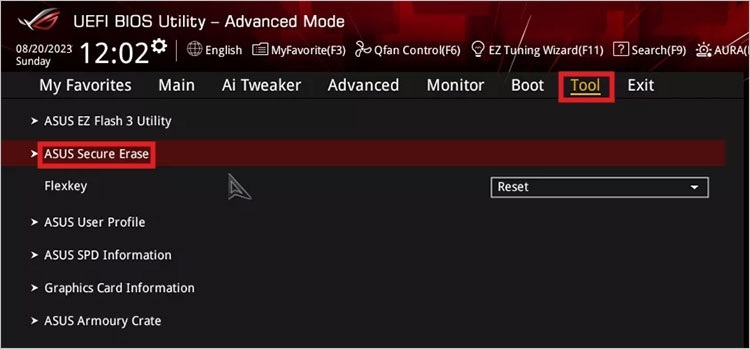 Follow the process after selecting the Secure Erase option.
Method 5: PSID revert
PSID, or Physical Security Identifier, is a unique string of 32-character code used to enhance a product's security. Almost every SED or self-encrypting drive comes with a PSID code. Such SSDs are TCG-enabled with a drive password encrypting the data. If you cannot access your encrypted SSD using the original authentication key or have lost it, you can use the PSID Revert functionality to wipe your SSD entirely and securely.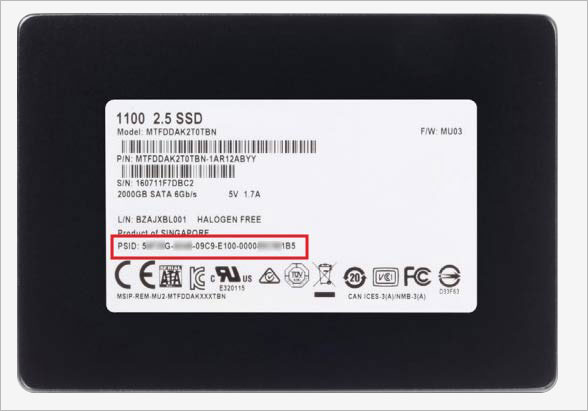 You can use the PSID revert function for unlocking your SED or self-encrypting drive to initiate a sanitization scramble command, which wipes all the data on the SSD and makes it ready to be reused. To use the PSID revert, you will need to do a google search firs (<SSD name> PSID) to see if your SSD supports that function.
Verify if the Erased Data is Recoverable
The above methods are very effective in completely wiping the SSD and its contents. If you are still unsure and want to verify that the data is completely wiped from an SSD, run a free data recovery software to scan the formatted SSD to see if it returns with anything.
The Takeaway
When selling a computer or handing it over to siblings or friends, we usually format our PC to wipe our data. However, the same cannot be done with a computer having an SSD. This is because an SSD is a complex storage solution that requires different data wiping methods that doesn't affect its life.
Numerous data leaks and privacy breaches in the past stand as a testament to how important secure erasure of an SSD or any other storage drive is. Completely wiping off the data before discarding your SSD is of grave importance today where a single keystroke or a line of code is enough to hijack your data.
Therefore, it is wise to be on your guard while disposing off your old computers or storage devices. In case we have missed any method for wiping an SSD, let us know in the comments.
Related Topics
Data Sanitization in Micron SSDs
FAQs
Q. Can I completely wipe an SSD?
A. Yes, you can completely wipe an SSD using secure erase via BIOS, manufacturer-specific drive sanitization tool, or PSID revert.
Q. Will wiping the SSD remove the partitions?
A. If you try to wipe an SSD configured as a boot drive, it will erase all the partitions and the data inside them.
Q. Will frequently formatting my SSD reduce its life?
A. Every time you format an SSD, it rewrites the blocks with 0s and 1s, causing them to wear out. This can significantly reduce the SSD's longevity. Hence, it is advised to avoid formatting your SSD frequently.