How to Repair MS Access 2016 Database when Compact and Repair does not Work
As Access database files keep on accumulating data, the volume of the file grows quickly. With this, the possibilities that the .ACCDB file will exceed its storage limitations rise to a larger extent. Likewise, any other database files, MS Access 2016 .ACCDB files are prone to corruption.
However, any initial issues can be resolved via Compact & Repair Database feature for preventing some problems at an initial level. Let's understand the reasons that make Access Compact and Repair command worth exploring.
Why Compact & Repair Access Database?
It helps to correct issues which affect the functionality of the database. These issues are:
#1: Database File grows Enormously
To accomplish some operations, Access database grows enormously in size and volume. Some of these functions can change in the database design, addition, or updates in the database objects.
Temporary and hidden objects are created by database while accomplishing some tasks. These temporary objects sometimes remain in the database even when they are no longer required
After an object is deleted from the database, its space is not occupied by another item; Therefore, it is retained by the database even after the object is deleted
Traces of temporary and deleted objects are retained by the database due to which the performance of the ACCDB files degrades. As a result, the database opens up slowly; execution time for database queries increases and other operations takes more time to accomplish. This calls for the need to repair MS Access database.
#2: Corruption in Database File
As discussed earlier, ACCDB files are prone to corruption as any other file. However, if the ACCDB file is shared over a network, where some users have access to the file and its components, it undergoes minimal chances of corruption.
On the other side, if the data is frequently added to the Memo fields, a major risk of database corruption is involved. This risk continues to grow over time. Compact and Repair command can be used to mitigate this risk as this will perform .ACCDB repair.
As a matter of fact, this type of corruption occurs due to issues with Visual Basic for Application (VBA) modules, and this incorporates risks of damage in database design such as unusable forms and inaccessible VBA codes.
When a user attempts to modify data in .ACCDB file, and the action gets interrupted due to unreliable Internet connectivity, the database is marked as corrupted. You can select to repair MS Access database, however, the security for the integrity of data objects is not assured.
What to Do When Compact and Repair Fails?
There are cases when Compact and Repair fails to resolve the existing issues, and the database objects remain inaccessible even after applying some solutions. Since it is vital to repair the MS Access database, third- party apps prove to be helpful (particularly when no other option is available).
Stellar Repair for Access helps in preventing the database from corruption due to over-sized file issues where Compact and Repair stops working. There are several benefits of employing the tool:
It repairs damaged .MDB and .ACCDB files
Supports calculated data types and linked tables
Restores entire objects including tables, queries, relations, and indexes
Retrieves data from password-protected forms
Restores deleted objects to the new database

Let's now understand the functional criteria of this Access Database Repair software.
How Stellar Repair for Access tool Helps when Compact and Repair Doesn't Work?
Download, install and launch the tool
Select the corrupted MS Access 2016 database file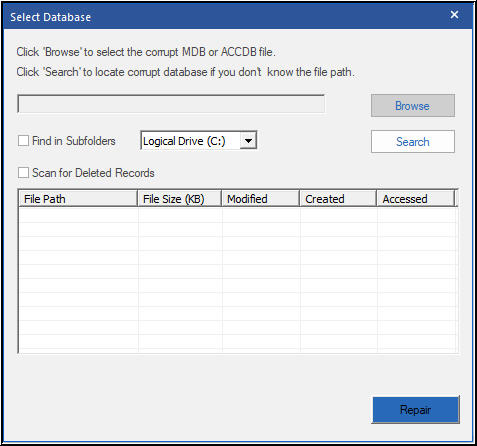 You can optionally select 'Scan for deleted records' option to recover items that have been deleted from the database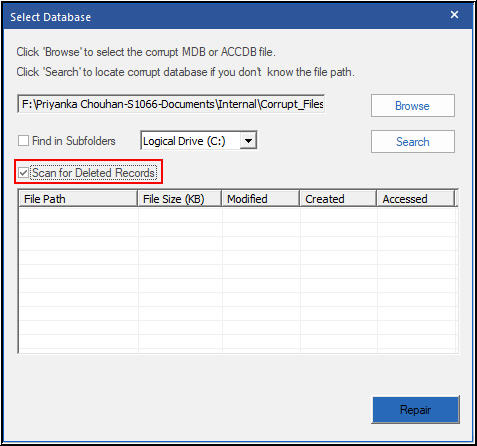 Once the selected files are uploaded to the tool panel, select the Repair button
The tool enlists all .ACCDB files existing on the specified volume or drive. Select the file that needs to be repaired
The tool will generate a log report and will show repair status within the panel.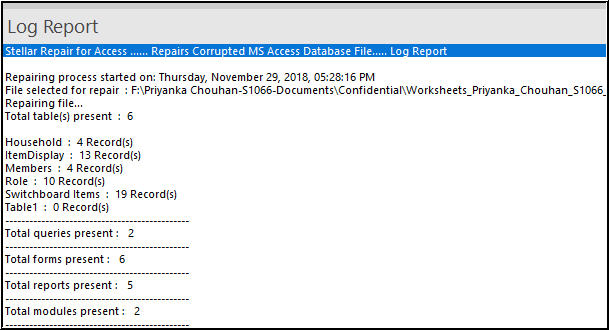 Once, the repair process is completed successfully, a message will appear, click on OK
Now, you can check the preview of all the repairable database objects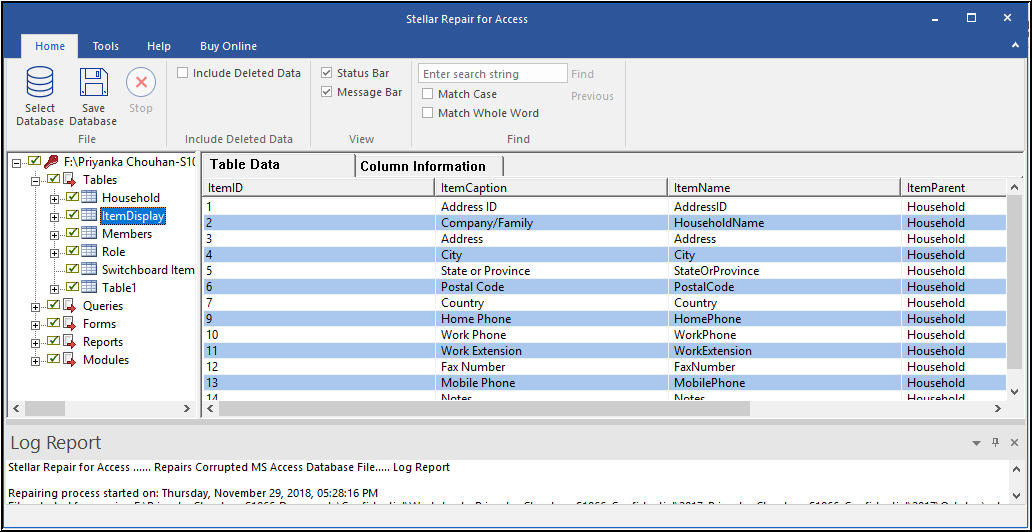 Once all the formalities are done, the Access Repair tool will prompt for the destination location to store the repaired file. Here, you can select to save the recovered .ACCDB file either at the source location where the original file exists, or you can create a new folder.
Next, a message will be displayed after the recovered data is successfully stored at the user-specified path on the hard drive.
This way, the ACCDB repair process can be executed to recover data from even highly damaged Access files.
Although Compact and Repair is a powerful built-in tool offered by Microsoft, sometimes, this feature itself becomes unavailable or does not work even after applying some fixes. This situation creates more complex issues and you are left with no other option than deploying a professional app.
Even though users have to resort to third-party database repair applications, but the advantage is that all the data remains intact during recovery and not even a single database object would be found missing.