Computers has become an important part in daily life. They not only entertain us by playing video, films and listening songs but it also stores important data such as files, folders, documents, photo, software and much more. Majority of the people would use Windows operating system because of its easy navigation, flexibility and better GUI. However, Windows system have security limitations and can easily be hacked or malfunction.
Whenever any virus comes in contact with the Windows OS they damage the important data of hard disk and can affect all the necessary files of the operating system as well. These files are required to boot the system properly. One of the important file which is required to load and run proper functioning of operating system is NTLDR and having the extension .ntldr. When the NTLDR file is missing or becomes corrupt following error comes.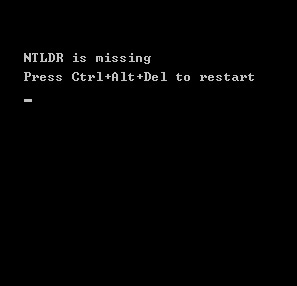 What is NTLDR file?
All the major windows operating system such as NT, Server 2003, XP etc are having this file. NTLDR is also used to load the booting information of operating system and the drive where the operating system is residing. If in case, users got this message, then they have to insert the bootable CD into the CD ROM and have to run the recovery command.
NTLDR Consist two main files:
Main boot loader file which is used to load booting information i.e., NTLDR
NTDETECT.COM is used to detect all the hardware configuration and peripherals devices attached to your PC.
There is an additional important file present in NTLDR, named boot.ini that contain the booting configuration of Windows.
Why NTLDR file is missing or corrupt?
Following are the common reason's which lets the NTLDR file to become missed or corrupt:
Boot.ini file is misconfigured.
Master boot record (MBR)/boot sector become corrupt and NTLDR file become inaccessible to for boot loader.
Improper shutdown of operating system due to electricity failure or due to human faults.
The operating system become heavily damaged or corrupted due to of virus attack.
In all of the above mentioned issues, User's will don't get any prior warning or messages which can provide the cause or ways to recover from the situation. Whenever these type of situation happens, System will automatically restart and user will get the blank screen and a text message "NTLDR file is missing, Press any key to continue….." In such cases, data loss conditions may happen and users don't have any option to get their data back except to use a data recovery software like Stellar Data Recovery Professional.
How to recover NTLDR file?
Insert the bootable Windows XP CD into the CD-ROM.
A message will come on a black screen, Press any key to boot from the CD….., after which user has to press any key.
Windows setup will start and users have to press "R" to repair Windows operating system among the available options.
Press "1" key to log on Windows Installation, and then press Enter.
Enter the administrator password to continue the installation.
Copy NTLDR and NTDETECT.COM file from CD to root directory by typing following command:
copy e:\i386\ntldr c:\
copy e:\i386\ntdetect.com c:\
Remove the CD after coping the file and reboot the system.
If above process doesn't seem to work then there is a possibility of missing boot.ini file or is misconfigured. Open the boot.ini file in safe mode by pressing F8 key whenever the system starts from the root directory and verify it that it is pointing exactly to the correct location of operating system and check whether the partition of the drive is correctly assigned or not. If not, then assign it and modify the required parameters of boot.ini, then reboot the system.
Conclusion
Once completing all the above process if Windows operating system doesn't seem to work and a blank screen come again and again which prompts to restart the system continuously, then it means the operating system is totally corrupt. In such conditions, there is no option left to choose except to format the hard drive. But this will format all the important data and programs you had installed as well.
There is need not to panic because data recovery software like Stellar Data Recovery Professional is available in the market through which the data from the lost/formatted drive can be easily recovered. This data recovery software uses advance level of algorithm and programming to recover your data without affecting the hardware or any logical part of the drive.