How to Uninstall Zoom Video App from Mac?
Summary: This blog helps you uninstall a popular video-communication software from your Mac—called the Zoom Desktop Client. Go through the methods shared in the blog to install or uninstall the software. Also, try the SpeedUp Mac software to uninstall Zoom totally and quickly from your Mac without leaving any traces or leftovers.

What is Zoom? Why is it so popular among Mac users?
Zoom is a video communication software that allows video and audio conferencing, webinars, and messaging across desktop, mobile, and room systems. Zoom is popular among Mac users because it's easy to use and offers a reliable platform for video communication.
How to Install Zoom on Mac?
To install Zoom Desktop Client on your Mac, perform the following steps:
a) Visit Read More and click Download under Zoom Client for Meetings.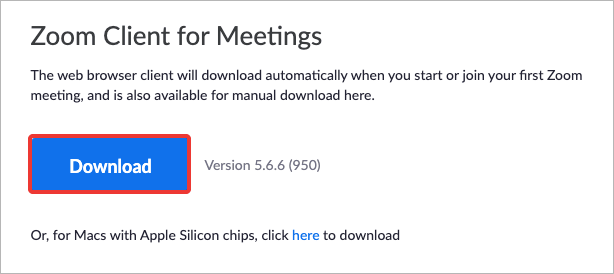 b) Open the Downloads folder on your Mac and double-click Zoom.pkg.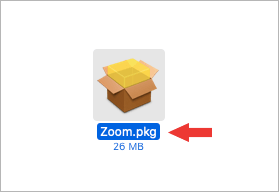 c) When the software installer opens, click Continue in the Introduction screen.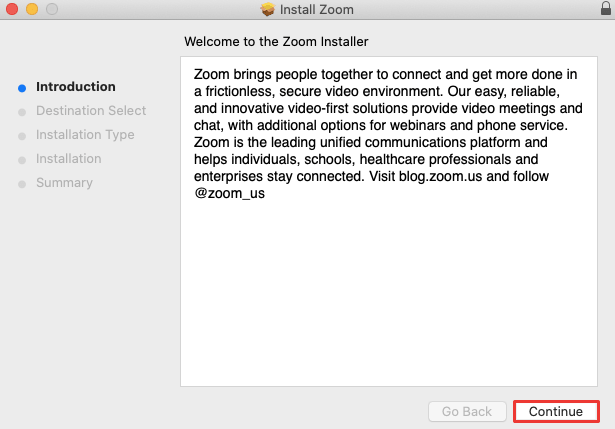 d) In the Destination Select screen, click either Install for all users of this computer or Install for me only as necessary, then click Continue.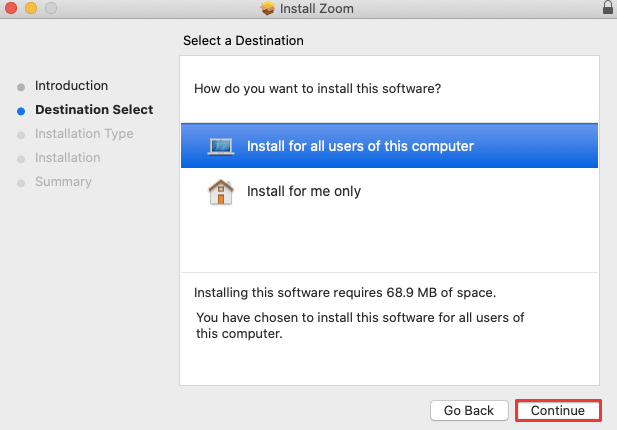 e) Click Install to initiate the installation process.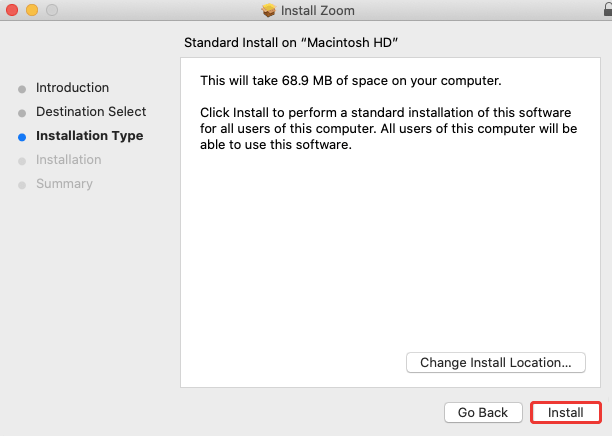 f) When the installation is over, click Close.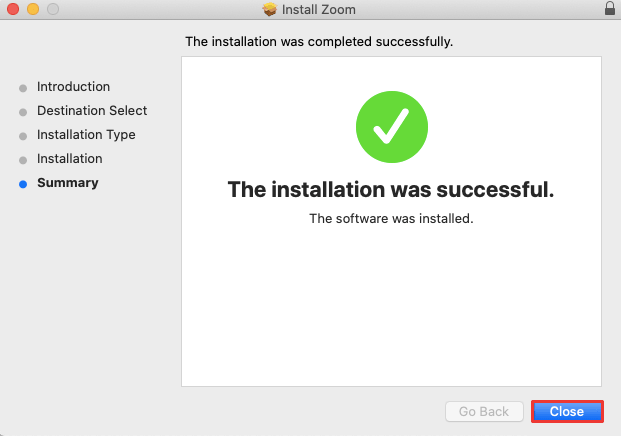 Note: If your Mac runs on macOS High Sierra or later, you need to allow software extension from Apple menu > System Preferences > Security & Privacy.
How to Uninstall Zoom on Mac?
If you want to remove the Zoom Desktop Client or want to fresh install the software, you should uninstall Zoom on Mac. The applicable methods are shared next.
A. Using Zoom App
To uninstall Zoom with version 4.4.53932.0709 and above, perform the following steps using the Zoom application:
a) Launch the Zoom Desktop Client app on your Mac.
b) From the Menu bar, select zoom.us and choose Uninstall Zoom.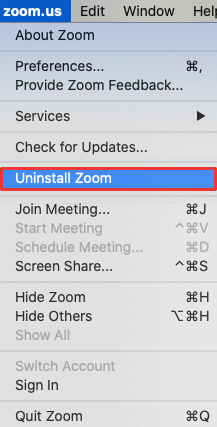 c) In the message window, click OK to confirm.

B. Using Finder App
To uninstall Zoom with version 4.4.53909.0617 and below, perform the following steps using the Finder application:
a) Launch Finder from Dock. From the Menu bar, navigate to Go > Go to Folder.
b) In the text box, type ~/.zoomus/ and click Go.
c) Drag and drop the ZoomOpener folder to the Trash icon present on Dock.
d) Empty Trash to remove the folder permanently from Mac.
e) Perform the above steps to remove other folders and files associated with Zoom.
f) Open /Applications and ~/Applications/ folders one by one, then find and delete zoom.us.app.
g) Open /System/Library/Extensions/ and delete ZoomAudioDevice.kext.
h) Open ~/Library/Application\ Support/ folder and remove zoom.us.
C. Using SpeedUp Mac App's Uninstaller
When the above process of removing the Zoom Desktop Client app together with associated files seems tedious and recurrent, you can use SpeedUp Mac software to uninstall the Zoom app with a click of a button. The steps are as follows:
a) Download and install *SpeedUp Mac software on your MacBook, iMac, or Mac mini.

b) Launch the software, click Uninstall tab from the top menu, and select the Zoom app.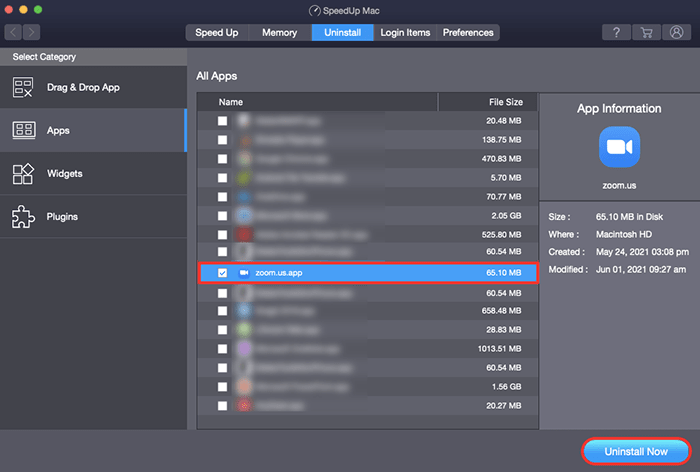 c) Press the Uninstall Now button. A warning message will open. Continue with caution.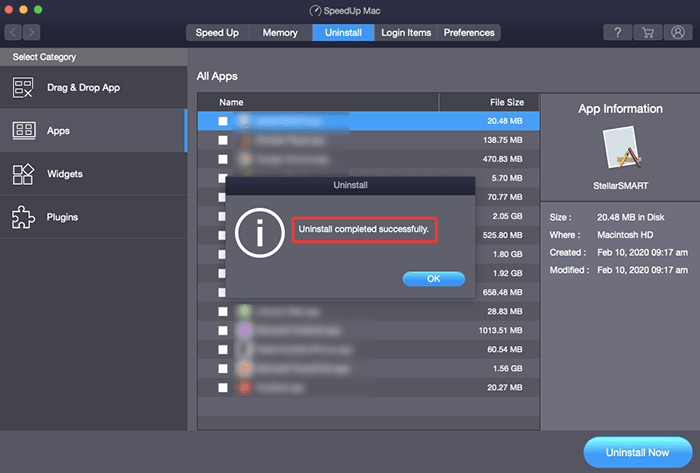 d) When the zoom uninstallation is successful, you'll receive a message; click OK.
The *SpeedUp Mac software comes with a 30 day free trial with all features active. And when the trial time is about to end, you can buy a 1-year subscription plan to continue using the tool.
Advantages of Using SpeedUp Mac to Uninstall Zoom
This free Mac disk cleaner software can not only uninstall Zoom Desktop Client from your storage medium but removes Zoom leftovers and traces, which may or may not be removed entirely by Zoom or the manual method shared above. Besides, the software eliminates extensions (Zoom Plugins), caches, junks, large and old files, redundant data, and widgets from a Mac system. Try the software if you are low on disk space—you'll be surprised to find out how much storage space the unwanted items are consuming on your Mac that is now free for usage.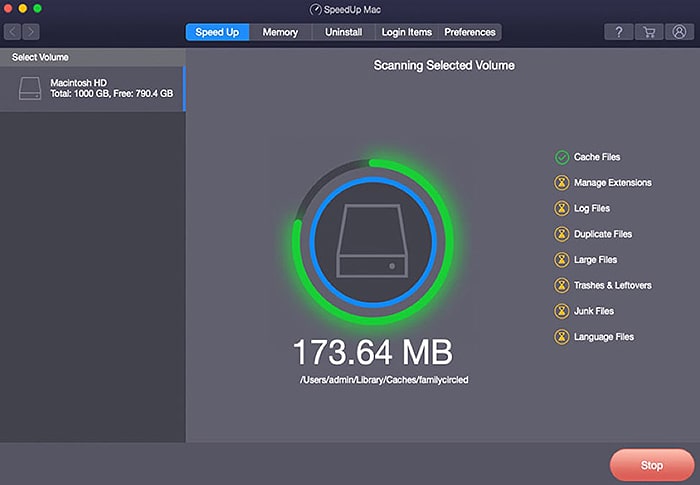 EndNote
We hope the blog helped you uninstall the Zoom application on your Mac easily. When the Zoom application's uninstallation method seems monotonous and time-consuming, you can try out SpeedUp Mac software to uninstall the app wholly and quickly. Besides, you can use the tool to schedule the uninstallation, clean up, and perform other tasks readily.