Cleaning up your Mac from caches, application traces, leftovers, trash items, duplicate files, and other junk files frees up drive space and boosts system performance. But manual cleanup isn't always helpful, as most users aren't aware of what to clean and where to find those unwanted items on their Mac. The best solution is to use a secure disk cleanup software that eases the clean-up task and optimizes your Mac routinely. The following sections talk about 7 Fantastic Mac disk clean-up software [2021 Big Sur Edition] that are life-saving (and FREE).
1. SpeedUp Mac
Company: Stellar Information Technology Private Limited
Ratings: 4.7 out of 5 in Trustpilot
SpeedUp Mac is one of the best junk cleaner software that scans Mac drive and finds junk, duplicate, and large files quickly and effortlessly. The software lets you delete the inessential files from Mac with the click of a button. You can even automate the cleanup task at a scheduled time. Also, the software is compatible with macOS Big Sur 11 and earlier.
Optimize your Mac with Speed Up Mac
The software's best feature is Speed Up, which allows you to optimize your Mac by effectively cleaning up the startup disk space. The steps to speed up Mac are as follows:
a) Download and install SpeedUp Mac software on your MacBook, iMac, or Mac mini.

Free for 30 Days
b) In macOS Mojave or later, give full disk access permission to SpeedUp Mac to work correctly on the startup disk. Know how
c) Launch the software to interact with its intuitive graphical user interface.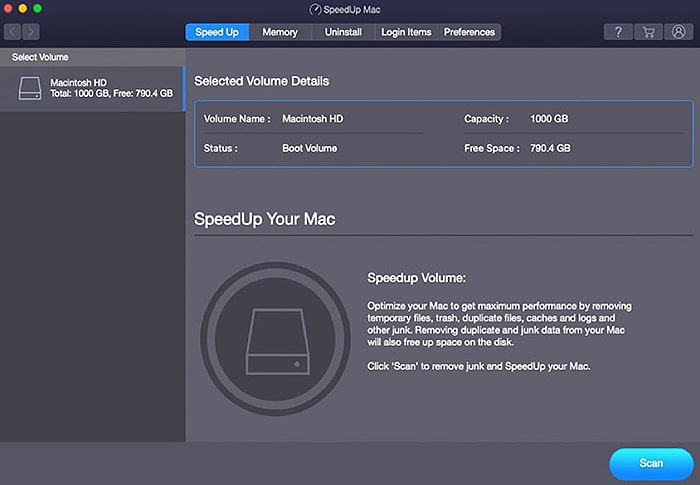 d) In the Speed Up tab, click the Scan button to scan the startup disk for temporary files, trash, duplicate files, caches and logs, and other junk.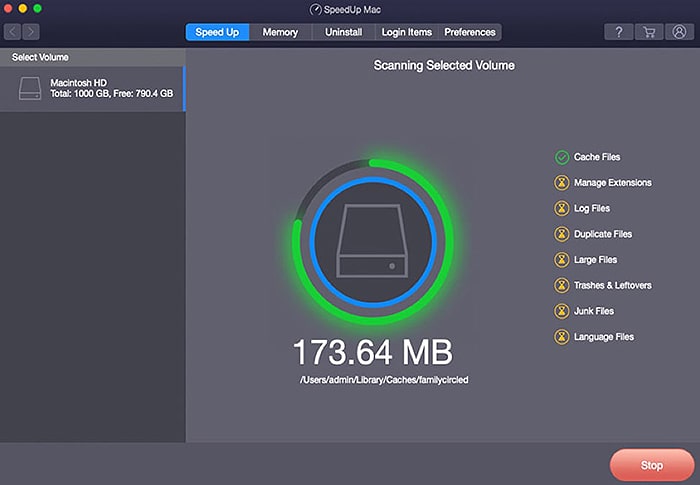 e) Once the scan is over, you'll find the total space that will be freed up from your Mac SSD or HDD. Click the CleanUp Now button to initiate disk cleaning on Mac.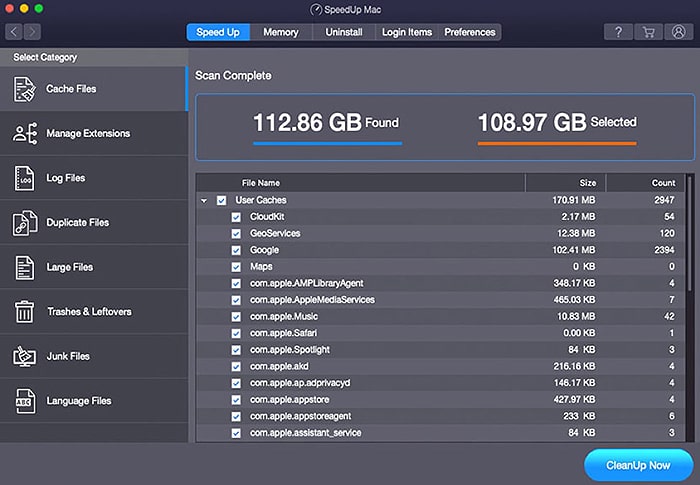 Uninstall Any Application from Mac
The Uninstaller is another best feature of the software. Use it to uninstall any application from Mac without leaving any leftovers and traces. The steps to uninstall apps are as follows:
a) Launch the software and from the toolbar, click the Uninstall tab from the top pane.
b) In the Drag & Drop App section, drag and drop the unneeded application to the uninstall area in the right pane.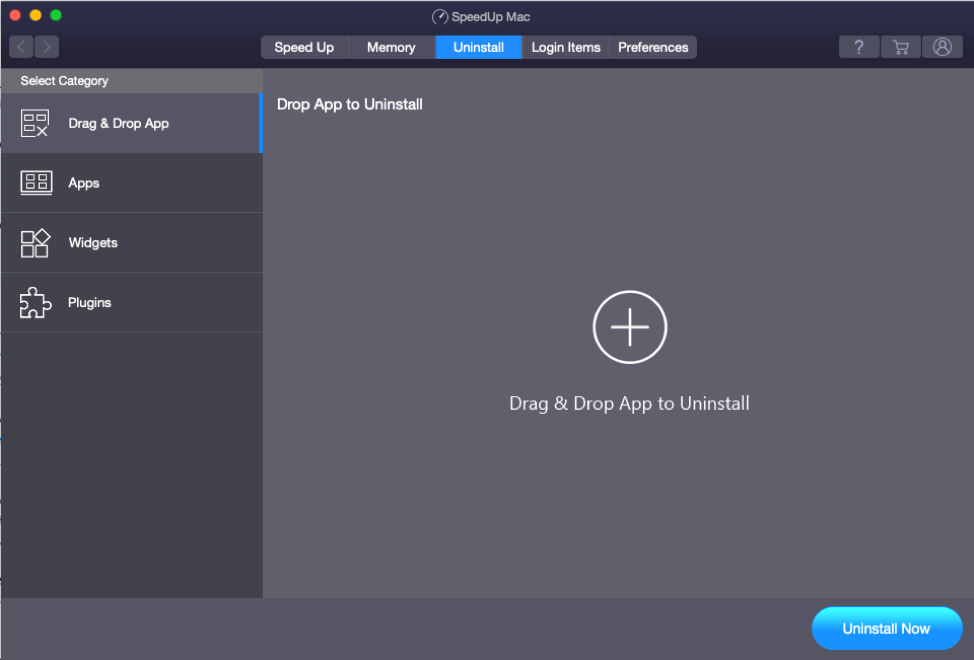 c) Or else, click Apps from the sidebar, select the applications you want to uninstall from the Name checkbox, and then click the Uninstall Now button.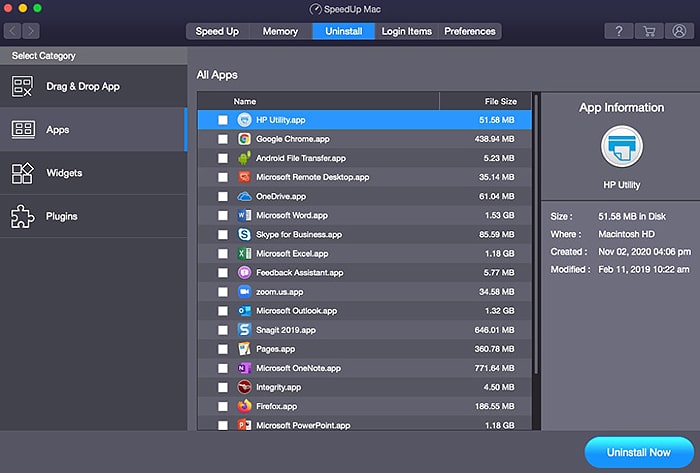 d) Once the complete uninstallation process is over, click OK on the message box.
Is SpeedUp Mac free to use?




Yes

, the software is completely free for 30 days. Once the free trial is over, activate with a nominal 1-year subscription fee to continue using the software.
2. Disk Doctor
Company: FIPLAB Limited
Ratings: 4.5 out of 5 Star in CNET
Disk Doctor is a practical disk cleaning application for your Mac that removes temp files, caches, logs, leftovers, large files (over 100 MB), and other unneeded files. A few clicks, and the application handles the rest to free up gigs of junks from your Mac drive. Also, the software is compatible with OS X Mavericks 10.9 or later.
Discard unwanted files by dividing them into categories
The software scans the Mac and segregates inessential files into multiple categories. The categories help you decide which files can be discarded from the system.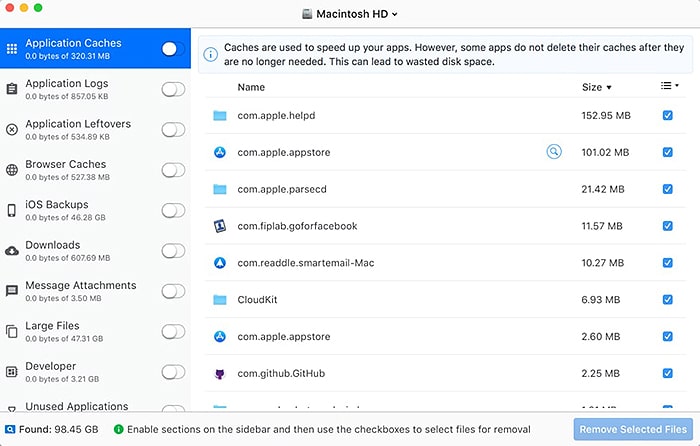 The categories are Applications Caches, Application Logs, Application Leftovers, Browser Caches, iTunes Temporary Files, Unused Applications, iOS Software Updates, iOS Backups, Partial Downloads, Downloads, Mail Caches, Message Attachments, Large Files, Developer Files, Broken Preferences, Broken Login Items, Screenshots, and Installer Packages.
To clean up the Mac startup disk, launch the software, then select a category from the sidebar. From the right pane that lists no longer needed files, see the files' preview, if available. Next, select the unneeded files and unselect those that you don't want to delete. Finally, click the Remove Selected Files button. The application will remove the files within just a few minutes.
Retina Display
The second best feature of the app is that its latest UI now supports Retina display. Plus, the app can present the interface in beautiful light and dark themes.
Is Disk Doctor Pro free to use?
No, Disk Doctor Pro is not free. However, you can download the free demo version to try out its best feature. The demo version allows free drive scanning but won't let you remove junk files unless you activate the software.
3. Drive Genius
Company: Prosoft Engineering Inc
Ratings: 4.5 out of 5 Star in CNET
Drive Genius is a Mac monitoring application that keeps your Mac running without any glitch thanks to the three indispensable utilities in one package—speedup, cleanup, and protect. The software constantly scans the drive for any problem. This software is more suited to advanced or professional users. Also, the software is compatible with macOS Sierra 10.12 or later, including macOS Big Sur 11 (Intel Only).
Find Duplicates
The software's best feature is "Find Duplicates," which discovers duplicate files on your Mac drive and replaces them with an alias. To find duplicate files, launch the software and select the startup drive from the sidebar. Next, click Find Duplicates to locate & remove the duplicates.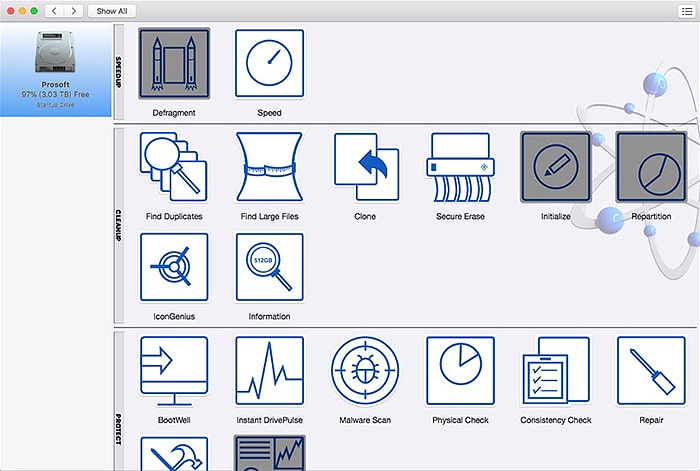 Find Large Files
The second best feature of the software is Find Large Files, which allows you to search huge files that you might not know are stored on your Mac drive and take considerable storage space.
To find large files, launch the software, select the startup drive from the sidebar, then click the Find Large Files utility from the right pane. You might be surprised to see what all preloaded or downloaded videos or other large files bloat up the drive space. You can then decide to either move them to another external drive or remove them altogether to free up drive space.
Is Drive Genius v6 free to use?




No

, as mentioned earlier, Drive Genius v6 is intended for professional users, and it incorporates many such advanced features, which can't be provided for free. For pro users, it's worth spending the money.
4. OnyX
Company: Titanium Software
Ratings: 4.5 out of 5 Star in MacUpdate
OnyX is a free multifunction application that can also clean your Mac disk. The app might be challenging to use initially due to the lack of an intuitive user interface. Once you are used to it, you can manage the app to perform the cleanup task quite well. The application supports Intel-based or Apple M1-based Mac and works harmoniously with macOS Big Sur 11.
Deep cleaning storage management
The app has a deep-cleaning storage management tool that you can access from the Utilities > Application tab. The app can also uninstall apps and remove unneeded caches and junks.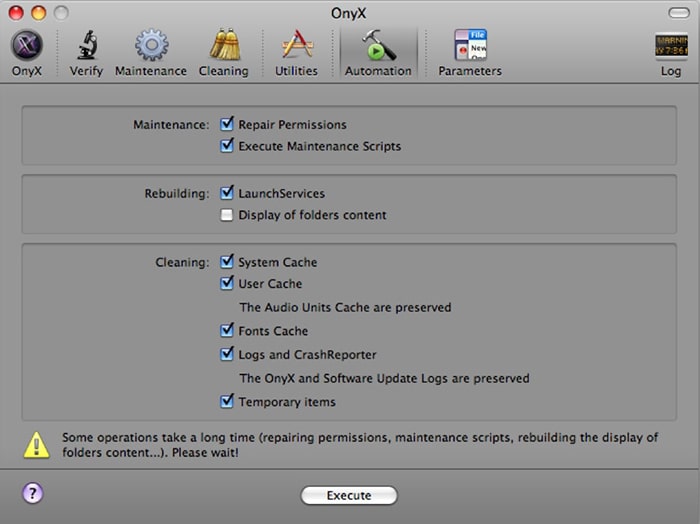 Apart from the required cleaning task, the software helps you verify files' structure, configure parameters, remove problematic files and folders, rebuild databases and indexes, and others.
Is OnyX free to use?




Yes

, the software is entirely free for a lifetime. But you need to download its compatible version for the macOS installed on your Mac. The company advises not to use an incompatible version of OnyX.
5. App Cleaner & Uninstaller
Company: Nektony
Ratings: 3.4 out of 5 Star in MacUpdate
App Cleaner & Uninstaller is a simple application that allows you to safely and completely uninstall apps on Mac. Plus, the software shows application leftovers and helps you remove them entirely. Also, the software is compatible with macOS 10.10 and above; plus, it is M1 ready.
Remove Application Traces
The software clears application traces so that the Mac drive only stores data associated with the used apps and not the uninstalled apps.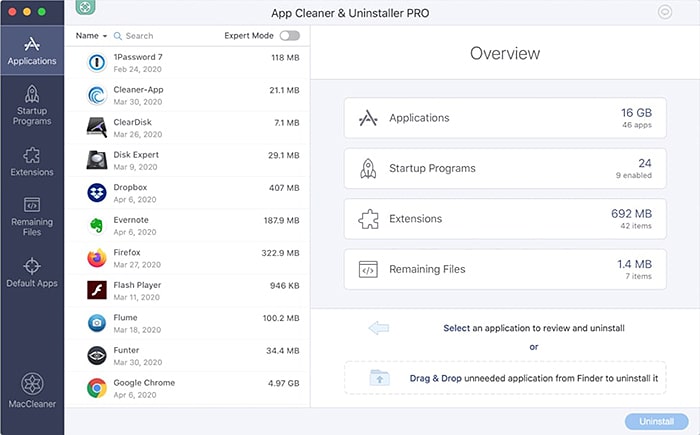 Is App Cleaner & Uninstaller free to use?




Yes

, the free version of the software is available, and you can use it to optimize your Mac. The App Cleaner & Uninstaller PRO version allows you to get added benefits; for instance, you can manage system and browser extensions and disable startup programs.
6. AVG Cleaner for Mac
Company: Avast Software
Ratings: 9 out of 10 Star in Softonic
AVG Cleaner is a useful Mac cleaner software that cleans startup disk and also finds duplicates so that the storage drive stores only the essential items just once. The app scans Mac drive for junks, caches, unnecessary downloads, etc., that take up drive space.
Disk Cleaner
The software's best feature is Disk Cleaner that allows you to see how much clutter is taking up your disk space. Click Scan Mac to run the disk cleaner utility.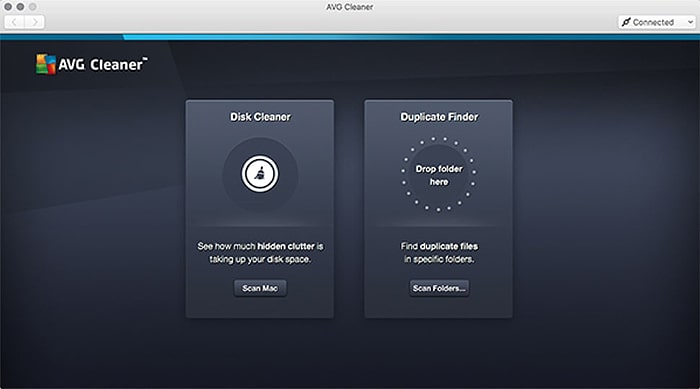 Duplicate Finder
The second best feature of the software is Duplicate Finder that can find duplicate files in specific folders. You can drop folder(s) to the drop folder area and click the Scan Folders button to locate duplicates in the specified folder(s).
Is AVG Cleaner for Mac free to use?




Yes

, the software is free.
7. CCleaner for Mac
Company: Piriform Software Ltd
Ratings: 3.8 out of 5 Stars in MacUpdate
CCleaner for Mac is one of the best cleaning software that makes your computer run faster, reduces your Mac's clutter, and removes browser search history and cookies from your Mac. The software scans Mac drive as well as third-party applications. The tool also frees up Mac memory.
Duplicate Finder
The app has a duplicate finder that allows you to free up Mac storage drive space by removing all the duplicate files present on your Mac.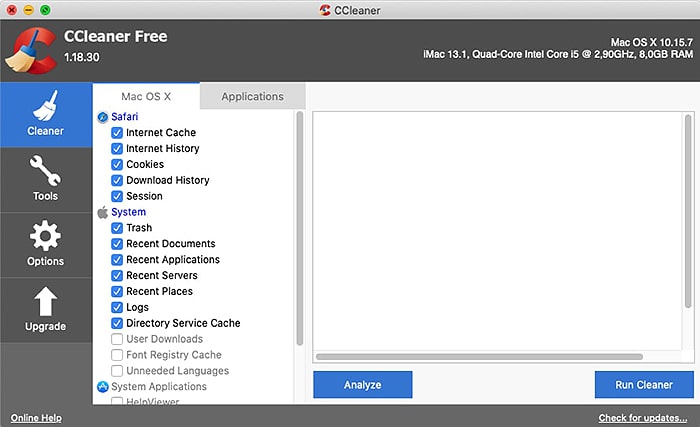 Is CCleaner free to use?


Yes, the software is free. Also, the free version allows you to delete junk files on your Mac without any clean-up limit. But to avail the software's advanced features, such as real-time monitoring of junk files, deletion of browser history, etc., you need to upgrade to its professional edition.
We hope now you know the most fantastic software to clean Mac disk and optimize it quickly.

References for Mac Maintenance
Along with using a Mac disk cleaner, you can perform the following maintenance tasks on your Mac periodically:
1. Repair your startup disk with Disk Utility (via Recovery Mode). Watch how
2. Clean your macOS manually. Read more.
3. Manage Login items on your Mac. Read more.
4. Speed up slow running Safari browser. Read more.
5. Optimize Mac system memory. Read more.