Summary: In this article, we'll share a few DIY methods to clean up your Mac startup disk without spending a penny. The methods we'll discuss are as follows:

1. Native Method to Free Clean Up Startup Disk
2. SpeedUp Mac Software to Clean Up Startup Disk

Download the 30-day free Mac disk cleaner software to clean up Macintosh HD in macOS.



Using your Mac regularly creates a lot of junk, trash, leftovers, and whatnot. And because of that, your Mac starts running slow. Without dealing with this issue, you continue to use your slow Mac as it is. The problem only becomes real when your Mac's slow speed starts interrupting its performance.
Don't worry. There are a number of ways you can use to free up your Mac hard drive of unnecessary data and enhance the performance of your Mac. The next sections describe a few methods to clean up your Macintosh HD startup disk in macOS.
To save storage space, macOS Sierra or later uses Optimized Storage features. Such macOS automatically removes old fonts, languages, and dictionaries that aren't used on your Mac. When storage space is required, macOS clears caches, logs, and other unneeded data. The operating system reminds you to delete installers of the used apps. It also detects duplicate downloads in Safari and keeps the most recent version.
Besides, you can clean your Macintosh HD manually and boost your Mac performance just like new. All you need to do is,
Go to the

Downloads

folder, trash the unneeded files, then empty

Trash

.
Navigate to your Macintosh HD and remove duplicate files.
In the Mail app, go to

Mailbox > Erase Junk Mail

. Then go to

Mailbox > Erase Deleted Items

to remove the email permanently.
Move files from Macintosh HD to an external storage drive.
Compress your files to save startup disk space.
SpeedUp Mac is a cutting-edge cleanup software that allows you to clean up your Mac's startup disk efficiently with a click of a button. Steps are as follows:
Step 1)
Download and install the 30-day free
SpeedUp
Mac
software on your MacBook, iMac, or Mac mini.
Step 2) In macOS Mojave or later, provide Full Disk Access permission to SpeedUp Mac to make it run flawlessly.
Step 3) Launch the software. From the left pane, select the boot volume, then click Scan.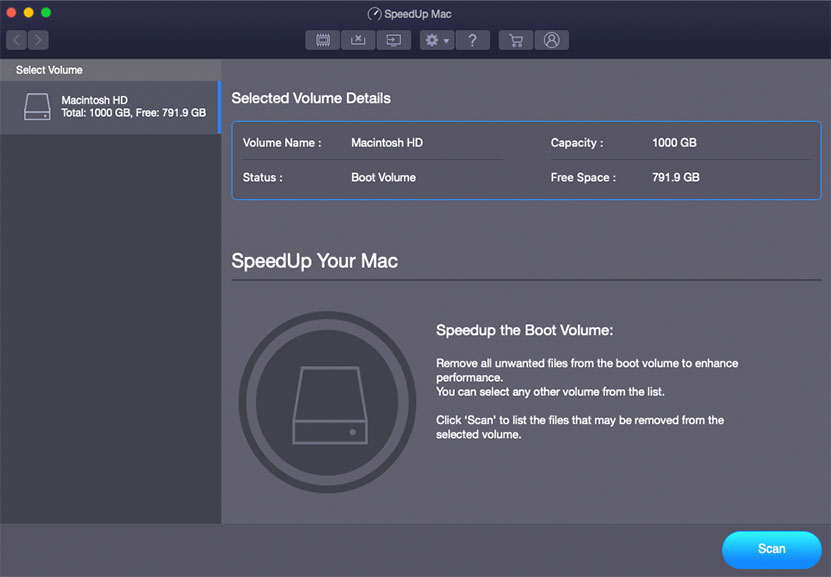 Step 4) During scanning, the software displays scan status. If you want to stop the scanning process, click Stop. Else, let the scan complete.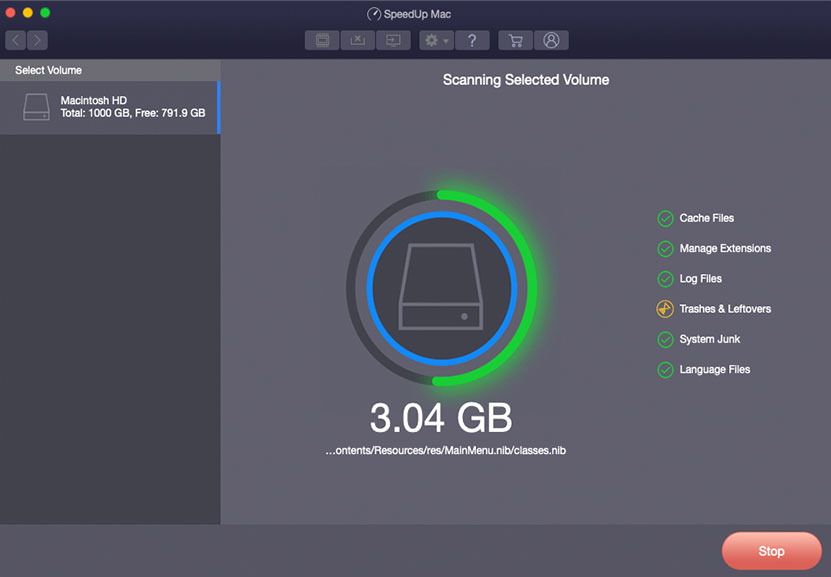 Step 5) After scanning is over, the software displays various tabs on the left pane with Cache Files selected by default. Unselect important files, then click SpeedUp Now to clean user caches.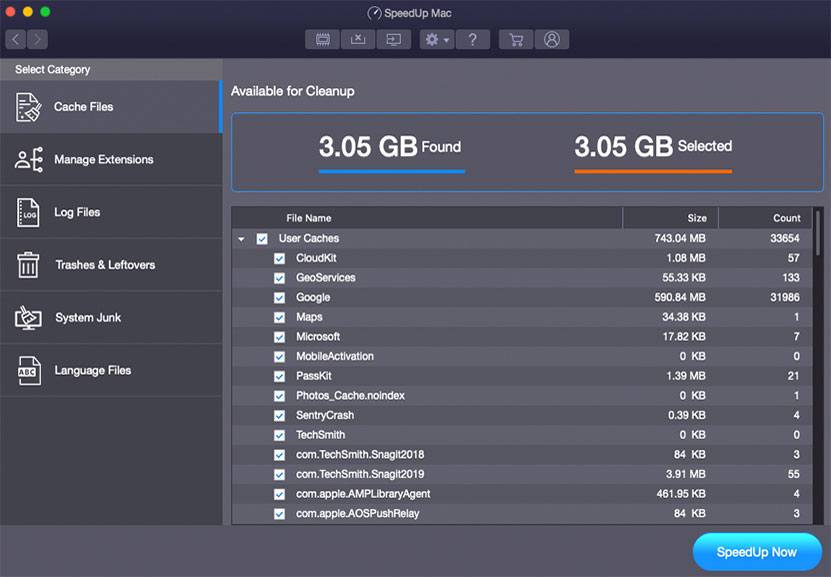 Step 6) On the Remove Files message box, click Yes. Then, click OK on the Process completed successfully message box.
Step 7) Continue the speedup process by selecting the required tab (Manage Extensions, Log Files, Duplicate Files, Large Files, Trashes & Leftovers, System Junk, and Language Files) from the left pane one at a time.
Note: To perform the Mac cleanup and optimization task after the 30-day free trial period, activate the software at a nominal 1-year subscription charge. 
Conclusion
Implement SpeedUp Mac to clean up startup disk in macOS with a click of a button. Also, schedule the cleanup task at a specific time to automate the Mac optimization process. Download and install the software in macOS now to avail the 30-day free trial offer.