Here's the list of best duplicate file finders in 2022.
1. SpeedUp Mac
Company: Stellar Information Technology Private Limited
Ratings: 4.7 out of 5 on Trustpilot
Stellar SpeedUp Mac is a duplicate file finder and startup disk clean-up application designed specially for Mac users. Using this application, you can easily find and clear up macOS-based storage devices, including Macintosh HD, USB drives, external hard drives, SD cards, etc. The software automatically finds duplicate files on a specific drive and lets you preview them so that you can decide whether you want to delete them. It has a 30-day free trial version using which you can test the software's utility for your purpose before buying it.
How to give your Mac a speed boost with SpeedUp Mac
To download and install SpeedUp Mac, go to the product page on Stellar's website and follow these steps:
Download SpeedUp Mac application by clicking on the "Free for 30 days" button.

After the download is complete, double-click on the .dmg file to install it.
Drag the SpeedUp application to your application folder and launch it.
Now that you have installed SpeedUp Mac, follow these steps to find duplicate files on Mac.
Note: In macOS Mojave or later, give "Full Disk Access" permission to SpeedUp Mac to make it run efficiently. Learn how to Enable Full Disk Access.
After launching the software, you will be greeted with a simple interface. Navigate to the toolbar and click on the Settings button. Select Preferences from the drop-down menu.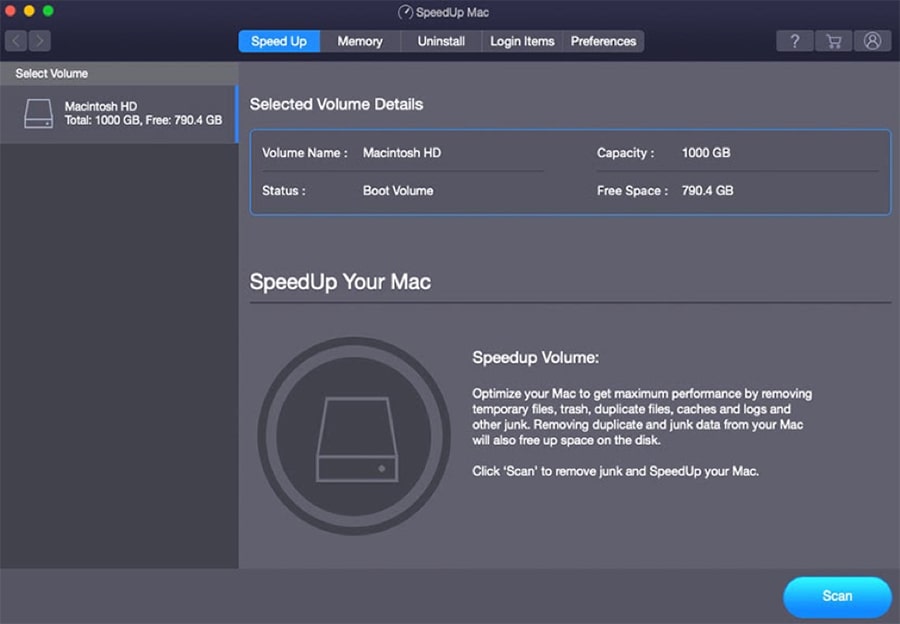 From the left panel, select Files. Click the Duplicate Files tab from the right panel.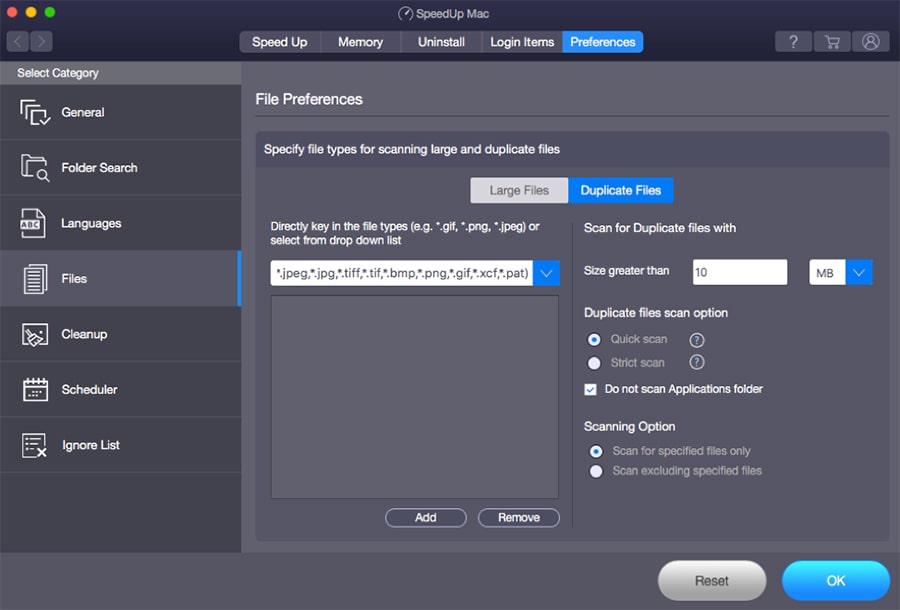 In the "Size greater than" box, specify the size of duplicate files you want the software to scan. Select scan type and scanning option, and then click OK.
Click the General tab. Under the Files section, select Duplicate Files and unselect the rest. Click OK.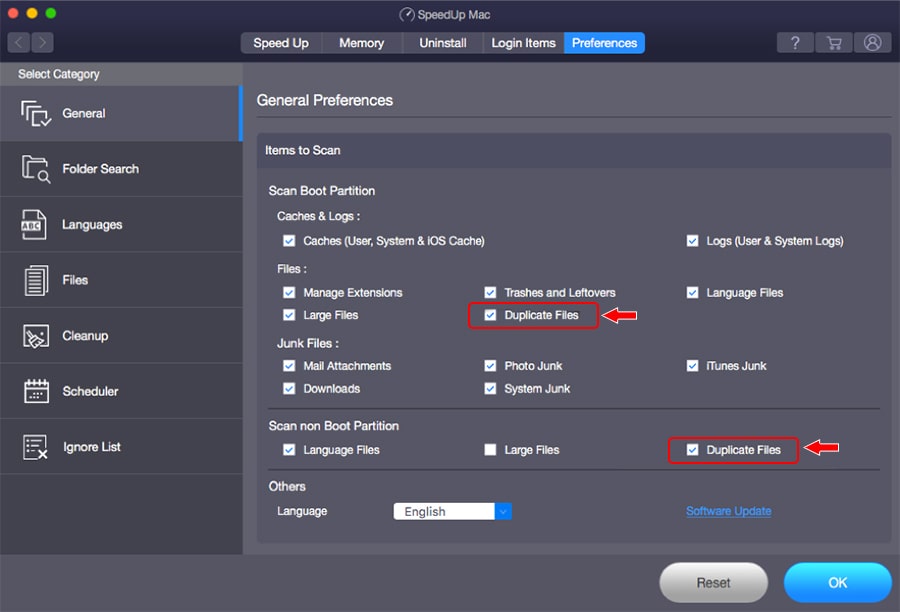 Return to the launching screen and select a suitable volume to scan. Click Scan. Once the scan is over, click Duplicate Files from the left panel.
In the right panel, find all the duplicate files. Keep one copy of each and remove all duplicate files from your Mac. Click OK.
That's the simplest method to remove duplicate files from Mac, won't you agree? Download SpeedUp Mac's free trial to experience its utility for your purpose.
2. Gemini
Company: MacPaw Inc.
Ratings: 4.6 out of 5 on Trustpilot
Gemini is an attractive and no-mess duplicate finder. It is a name you can trust. Enabling you to scan your entire hard drive as well as individual folders, this tool's scans are always reliable. Once it has searched for duplicate files on your Mac, it lets you take a call on which files you wish to keep and which to delete. The latest version of the software lets you take care of partial duplicates – multiple versions of the same picture.
Once the scan completes, Gemini highlights the volume of duplicate files on your Mac along with a clear break-up showing what kind of files are taking up the most disk space (images, audios, or videos). After that, you can review the scan results for a closer look and simply click the 'Smart Cleanup' button to take charge of the clean-up. And of course, before actually deleting duplicates, the tool lets you handpick which files to keep and which to discard.
One of the key features of the application is that it gives you a clear picture of the exact duplicate files and files that "seem similar". This helps you in further refining your decision to delete or keep duplicate files.
You can pick a plan for using Gemini depending on how many Macs you plan to run it on – 1, 2, or 5. MacPaw promises instant activation for the software, a 30-day money-back guarantee, and secure payments. The payment for the tool's license is a one-time thing, and it's compatible with macOS 10.10 and higher.
3. Duplicate Sweeper
Company: Wild Angle Software
Ratings: 5 out of 5 on CNET
Duplicate Sweeper is an application that makes searching for, spotting, and deleting duplicate files on your Mac super easy. The tool's advanced algorithms are built to identify files with the same content in one go, even if they're named differently. Using Duplicate Sweeper, you can find duplicate files on your Mac in addition to iCloud Drive, Google Drive, and OneDrive. To conduct a scan and spot duplicates, you don't need to pay anything or register, but to remove the files, you will need to purchase the software's license.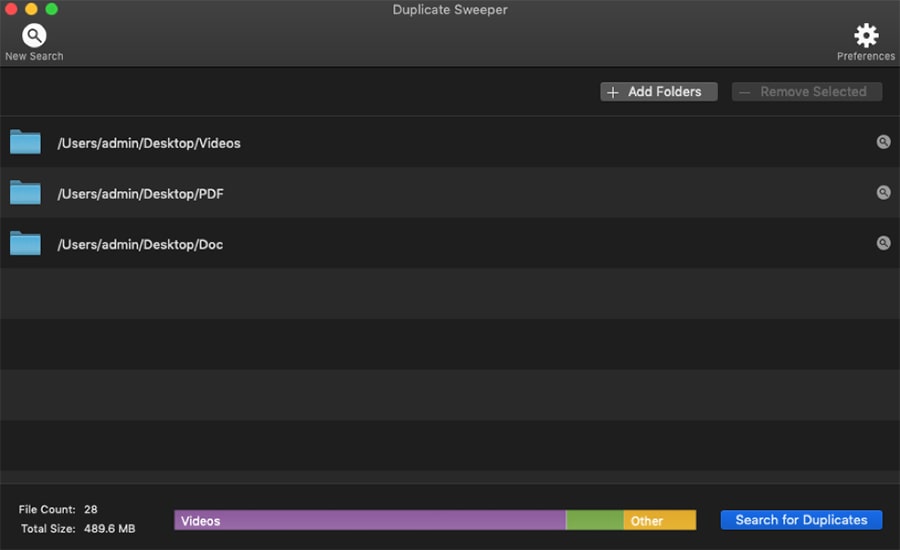 One of the best features of this tool is that it lets you automatically select duplicates to delete from the system based on when they were created or modified. You can also do this manually for more control. Plus, even after deletion, the duplicates are first sent to Trash so that if a file is deleted by mistake, you can restore it.
The software is quite reasonably priced, if you don't like how it works, you can request a full refund within 30 days of your purchase.
4. dupeGuru
Company: dupeGuru
Ratings: 3.4 on Alternativeto
dupeGuru is a cross-platform duplicate finder Mac tool that lets you remove duplicate files from your Mac, Windows, and Linux systems through an easy-to-use GUI. Leveraging the power of Python 3, the software uses multiple GUI toolkits, but they all use the same core code. dupeGuru finds duplicates by scanning the file names or contents through a fuzzy matching algorithm. It's an efficient tool that features specific modes like Music and Picture, which scan and tag music or picture specific information in the duplicate results window.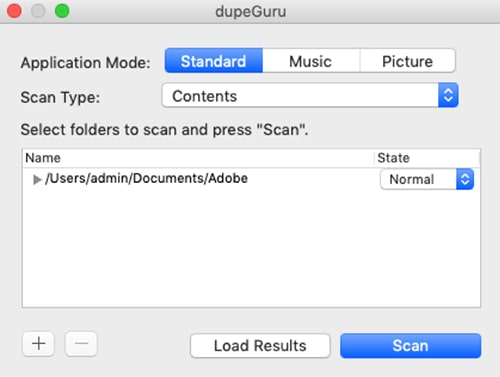 dupeGuru is open-source and hence free-to-use. For this very reason, you can be sure that it won't pose a threat to your Mac's integrity. The application's UI can be used in different languages and it can help you find out hundreds of duplicates in a matter of minutes.
5. Easy Duplicate Finder
Company: Webminds
Ratings: 2.8 on CNET
Easy Duplicate Finder is one of the most widely trusted duplicate file remover applications for uncluttering Mac hard drive. Not just your HDD or SSD, you can use it to find and delete duplicate files from your Cloud drives as well. Its drag-and-drop user interface makes it ultra-easy for users with zero technical background to use it without any hassle. What's more, the intuitive scanning modes of this tool make duplicate file finding very efficient.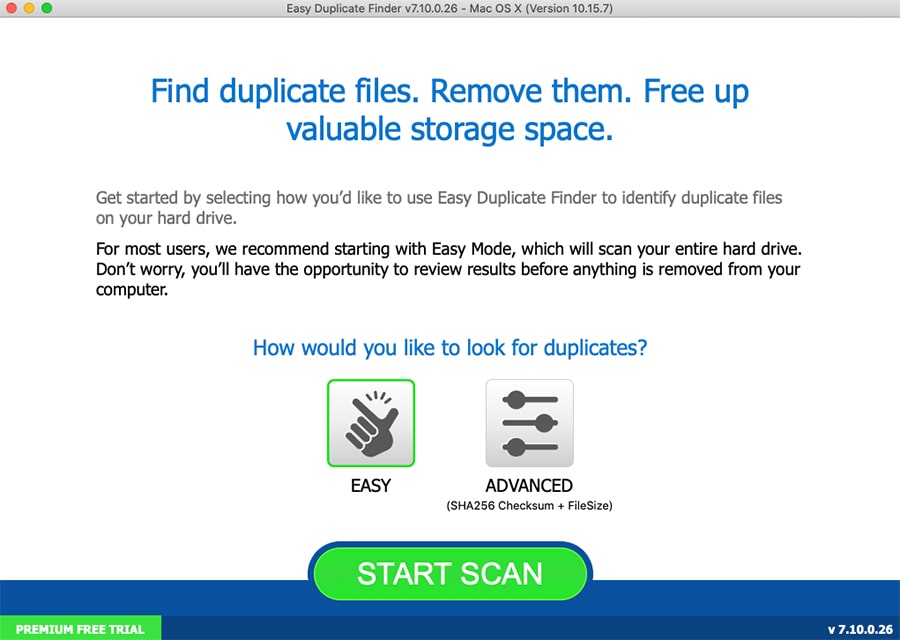 A simple process of a few steps can help you scan and remove duplicate files from Mac hard drive easily. In addition to the basic find and remove mechanism, the tool lets you keep some duplicate files as backup by moving them to a different folder on your system or on the cloud. Further, you can configure the application through many customizable settings and preview each file before you remove it from the hard drive.
Though it's quite an efficient application, the cost for its annual license is slightly on the higher side compared to the other software in this list. It does include unlimited updates for 1 year though.
A few more tips to keep your Mac uncluttered
Keeping the saying "prevention is better than cure" in mind, we suggest you follow these tips regularly to avoid data cluttering up on your Mac:
Check the Trash and clear it regularly.
Remember to back up your data using TimeMachine as it is good practice to backup all data periodically. Learn how to use Time Machine on Mac.
Use the built-in Finder app from time to time to spot duplicate files and manually remove them before they clutter up. Learn how to remove duplicate files from Mac.
Conclusion
Clearing up your Mac can ensure that you have a better and smoother user experience when working on it. Duplicate files can take up a large portion of storage resources, but you can eliminate them using a simple tool like SpeedUp Mac. We suggest you follow the other tips mentioned above as well to keep your Mac running properly.
Hope this article could help you figure out how to get rid of duplicate files on your Mac. If we missed out on any other useful tips, do let us know in the comments!