How to Use macOS Contacts with Outlook?
Summary: Using macOS Contacts with Outlook isn't a copy/paste job. It requires exporting contacts in a different format to make it compatible with Outlook. This article guides you to export macOS Contact to Outlook using different methods, and also provides tips on using converter to get a hassle free solution.

New age Operating systems have created applications that provide users with better email communication. Service providers like Windows and Apple have their own email services: Outlook from Microsoft and Apple Mail from macOS. These applications are compatible with numerous web servers and enable email communication using threaded messages.
MacOS uses Apple Mail as their default email client, whereas Microsoft Outlook is a widely used email application from Microsoft Office suite, which also works on macOS. These applications are efficient but different from each other. However, for various reasons, a user may need to import Mac contacts to Outlook, and they are:
A user switches from macOS to Windows, and wants to use Outlook as an email client.
When an Apple computer user wants to share contacts with a Windows user.
A user wanting to move from Apple Mail to Outlook on Windows.
Since, many users have reasons to move from macOS to Windows and therefore, need to export contacts from Mac and import them to Outlook. Hence, this article provides instructions as well as guidance on how to use macOS contacts with Outlook.
How to Import macOS Contacts into Outlook
Open Outlook.
Click File → Import.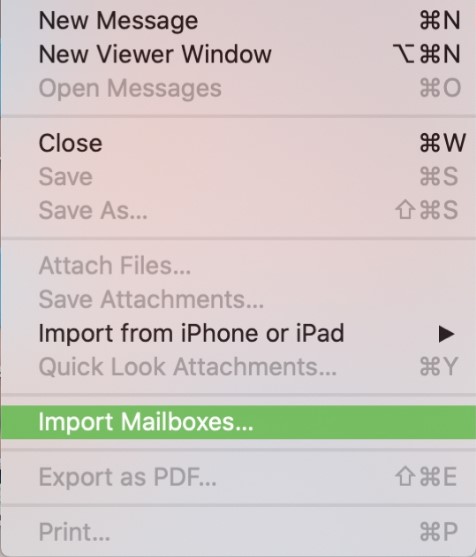 Select the type of information you want to import.

A – Outlook 2011 data is used when upgrading from Office 2011 to a newer version, such as Office 2016.
B – Outlook for Windows Archive File is used when transferring contacts from the Windows version of Outlook to the MacOS version.
C – Outlook for Mac Archive File is used when transferring contacts from the same version of Outlook for Mac.
Click one of the above options listed, and then click Continue.
After that, click Import.
Once import is completed, then click 'Done' or 'Finished'.
This will successfully import the contacts to Microsoft Outlook.
More Tips for using macOS Contacts with Outlook
In Outlook for Mac, contacts are automatically assigned categories when you have your Address Book contacts in groups.
There are chances that notes and photos are backed up in the VCF file. To avoid this, go to Contacts > Preferences > vCard, and then uncheck the Export notes in vCards and Export photos in vCards check boxes.
If in Step 2, you choose File > Export > Contacts Archive, the contacts are exported as an ABBU file instead of VCF. Use the ABBU format to import the contacts back into a macOS application.
Import Apple Mail contents, including Contacts to MS Outlook
Apple Mail stores and saves email data, contacts, calendar, etc. in OLM format, whereas Outlook for Windows is only compatible with PST files. Therefore, any import/export of mail content requires conversion of the files. You can do this manually, but often the accuracy of manual method is questionable. Also, manual method takes more time than third-party software.

When it comes to exporting macOS Contacts/Address Book to MS Outlook, there cannot be any better tool or software than Stellar Converter for OLM. It is easy-to-use and also makes the process of migration seamless for the users.
Since, Microsoft doesn't offer any tool to convert OLM contacts to MS Outlook, using a professional OLM to PST converter is the best way to go. Stellar Converter for OLM offers you best results when it comes to converting OLM components like emails, contacts, calendar, tasks, etc. to a compatible PST format.
Conclusion
Outlook for Mac uses OLM file format to save and store data, whereas Windows Outlook is compatible to PST format. Therefore, any kind of exchange between these two Operating systems requires a user to convert the files. When it comes to Contacts, one has to manually export Contacts to VCF file and then import it to Windows Outlook. The process is long and tedious but with Stellar Converter for OLM, a user can automate the entire process of converting macOS contacts to PST file and import them to Windows Outlook.