5 Best Ways to Recover a Failed Internal Mac Hard Drive
Note: The blog resolves Mac hard drive recovery issues. Besides, it helps you perform Mac hard drive repair using several built-in methodologies.Primarily, the objective of this blog is to recover your failing Mac hard drive using default methods provided by the macOS. However, the blog advocates using a Mac hard drive recovery software as a last resort or when the native methods have failed to produce positive results.

A few methods will work for failing Mac external hard drive recovery as well. Let's move ahead and recover the failing Mac hard drive.
Whether your Mac storage media is a hard drive or an SSD; you can free try the application to recover your hard drive's data. Once your data is retrieved successfully from the failing Mac hard drive, you can then upgrade your Mac with a new piece of the storage device.
Method 1 (Easy & Free Trial): Stellar Data Recovery Professional for Mac
Method 5: Convert your Internal Drive to an External
Method 1 (Free to Try): Stellar Data Recovery Professional for Mac
This is a recommended method among all solutions.
Stellar Data Recovery Professional for Mac is an advanced hard drive rescue software that can help you recover a failing or corrupt storage hard drive conveniently. The software works on multiple file systems such as – APFS, HFS, HFS+, NTFS, FAT and ex-FAT. You can run this hard drive recovery program on Mac to recover a damaged internal partition, USBs, SSDs, PCI-e SSDs, unrecognized external hard drives, Time Machine, encrypted volumes, Fusion drives and more.
Let's examine a few cases of Mac hard drive corruption and how Stellar Data Recovery Professional for Mac can help you recover important files?
1. Recovering Files from a Corrupt Volume(s) or Partition(s)
Stellar Data Recovery Professional for Mac automatically switches to Advanced Recovery (via Deep Scan) if your chosen hard drive, SSD or volume is severely damaged. Deep Scan is a robust feature of the software designed to execute an advanced level of file recovery. The software performs recovery of files on a corrupt Mac storage drive using the file-signature search algorithm.
Below is the process of running Deep Scan on your corrupt Mac storage drive. Download the software on your Mac for a free trial.

Step 1: Customize your data recovery by sliding the toggle buttons. You can turn Off and On using a single click against each type.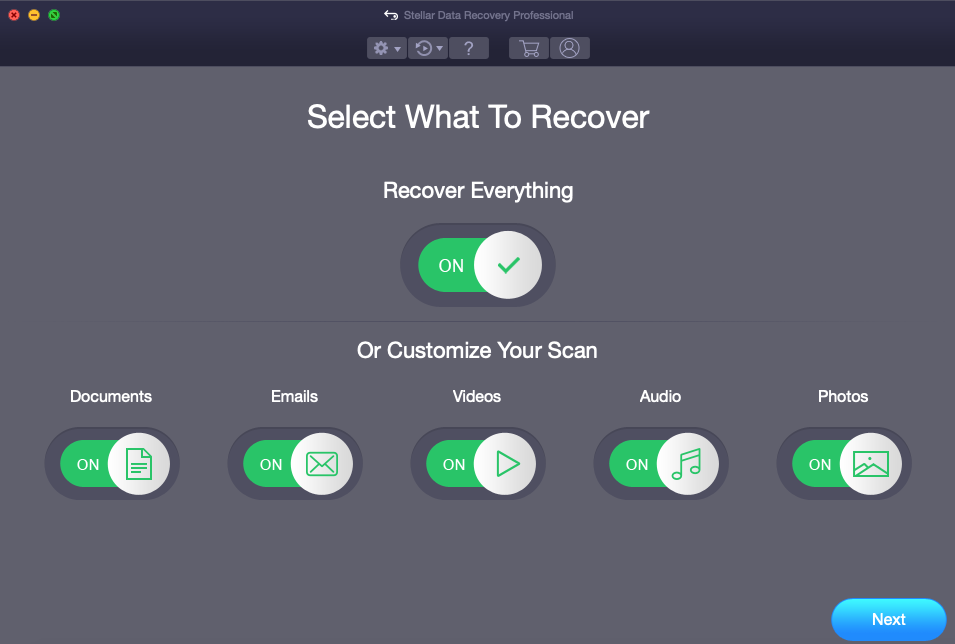 Step 2: Select your drive and toggle-on the Deep Scan. The Deep Scan will analyze the media for all the data types including – Documents, Pictures, Videos, Audio, Emails and other file formats. (As stated earlier: Deep Scan automatically switches when a corrupt volume is selected).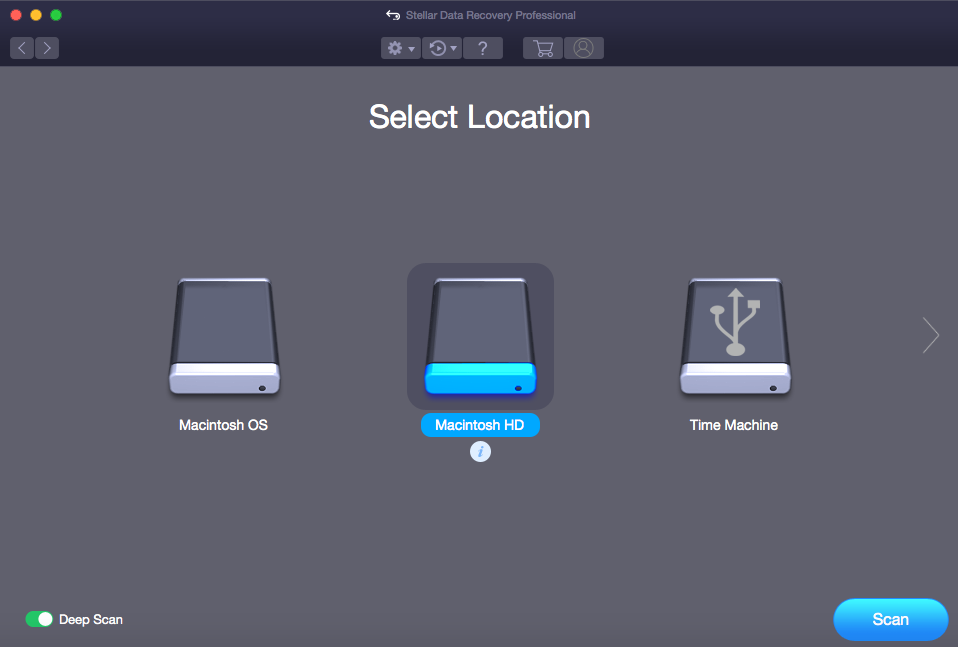 Step 3: Press the Scan button to start the mechanism. After the scan process is over; preview the recoverable files.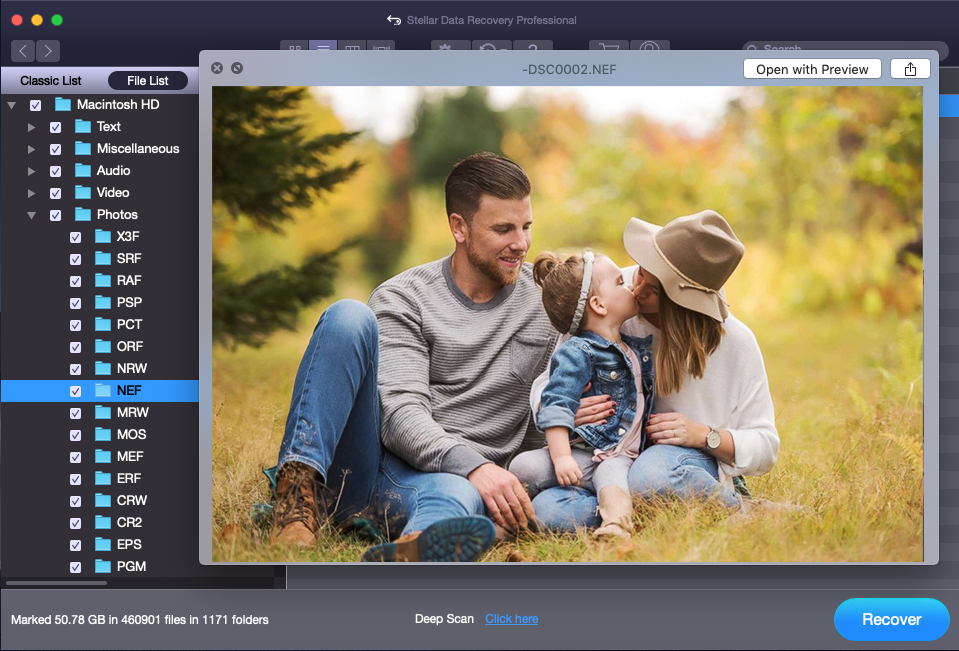 Step 4: At this moment, recover your files to another drive. Please Note: the free trial version of Stellar Data Recovery Professional displays all the recoverable data.
To save the files successfully to another destination, activation of the application is required. Did it work for you? Get the full version here.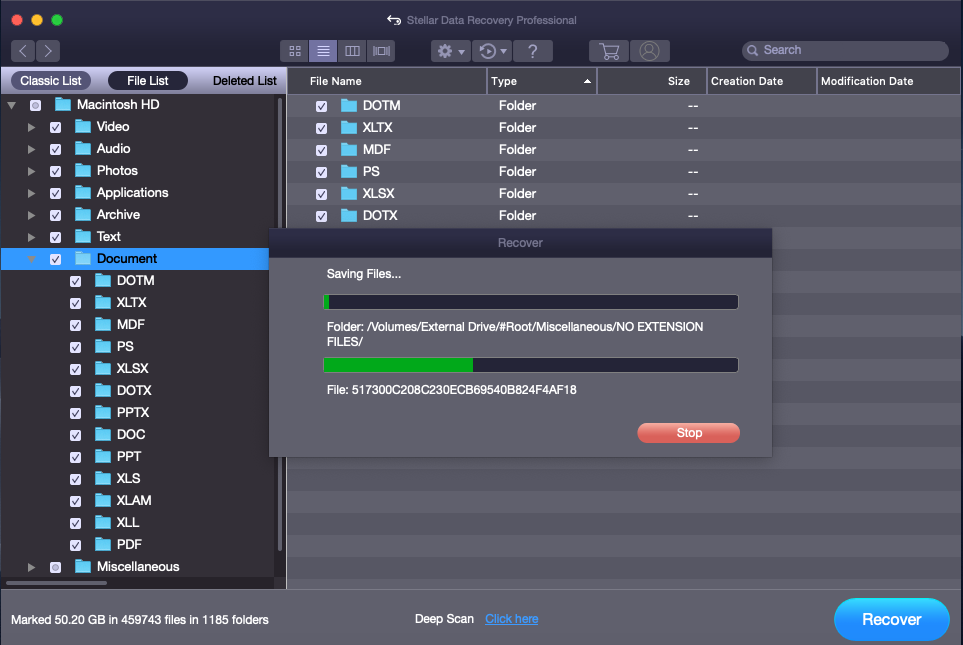 2. Creating a Disk Image of Failing Solid State Drive
With Stellar Data Recovery Professional for Mac, you can create a disk image file of a storage drive (HDD & SSD). If your Mac start-up disk contains a huge number of bad blocks, then you can leverage the 'Create Image' feature of the software.
Once an image file or the .dmg of the corrupt storage drive is created; you can use the disk image file to recover the data at any point in time.
Watch the video and following steps to build an SSD/HDD image for data recovery with Stellar Data Recovery Professional for Mac:
Step 1: Hoping you have already downloaded the software; now connect your storage drive to Mac and launch the Stellar hard drive restoration tool.
Step 2: From the top menu bar; select the Create Image option.
Step 3: Chose the failing hard drive which you want to image (select sector range and click Next.
Step 4: Save the disk image file to a new destination (the destination size must be larger than the source).
Step 5: Allow the software to create the disk image files of your failing storage drive.
Step 6: Perform data recovery on the disk image files once the image is created successfully. (Note: your storage media should be plugged-in to Mac in case the image files belong to an external storage drive).
Step 7: Scan the image file(s) and preview the recoverable data.
Step 8: Now, press the Recover button to save the data to another destination.

3. Recovering Files from an Unmounted Hard Drive on Mac
Sometimes that one important external hard drive fails to show-up on macOS. Has it ever happened to you?
If your Mac hard drives or partition isn't mounting in the Finder & the Desktop (but appears greyed out in the Disk Utility!), then recover inaccessible files by implementing below steps with Stellar Data Recovery Professional for Mac application:
Run the software & toggle the file types for data recovery.
Select the unmounted drive or partition from the 'Select Location' window.
Start the scan and let it complete. After the scan is over; the software will display all the recoverable files for preview. Preview your recoverable data by double-clicking the file(s).
Now, recover your files to another drive.
4. Benefits of the Mac Hard Drive Recovery Application:
With Stellar Data Recovery Professional installed on your iMac, Mac Pro, mini or MacBook; you can perform disk recovery, corrupt SSD recovery, external hard drive recovery, SD/CF card recovery, Time Machine & Time Capsule recovery and further you can recover permanently deleted files from a password-protected hard drive. The free trial version allows you to evaluate all the data recovery features on your Mac before you go further to activate the Stellar Data Recovery Professional for Mac.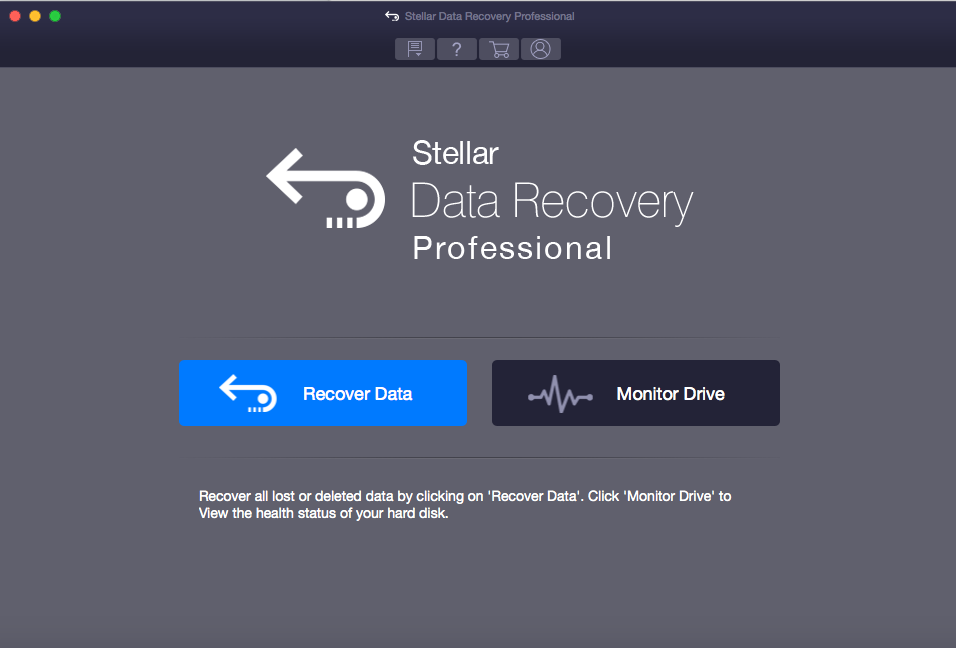 Important: Above, we shared how Stellar Data Recovery Professional for Mac can be useful for recovering files from various instances of Mac hard disk corruption and failure.
Next, you will be knowing about other methods of recovering a failed Mac hard drive. We caution you to proceed ahead with great care because sometime the problem could become complex when several random approaches are put in place.
Stellar Toolkit for Data Recovery software supports Mac HFS storage drive recovery on a Windows computer. You can try this software for free if your Mac drive isn't working and you have a Windows PC for recovery. Read More:
Method 2: Repair with macOS Disk Utility's First Aid
Your MacBook, Mac mini, Mac Pro and iMac contains Disk Utility through macOS Utilities in the hidden location called as Recovery Partition.
If your Mac's start-up disk goes berserk then launch Disk Utility through Recovery Mode and perform disk repair activity absolutely for free.
Steps to repair a failing Mac hard drive is discussed below:
Step 1: Reboot your macOS and immediately press-hold Command + R simultaneously.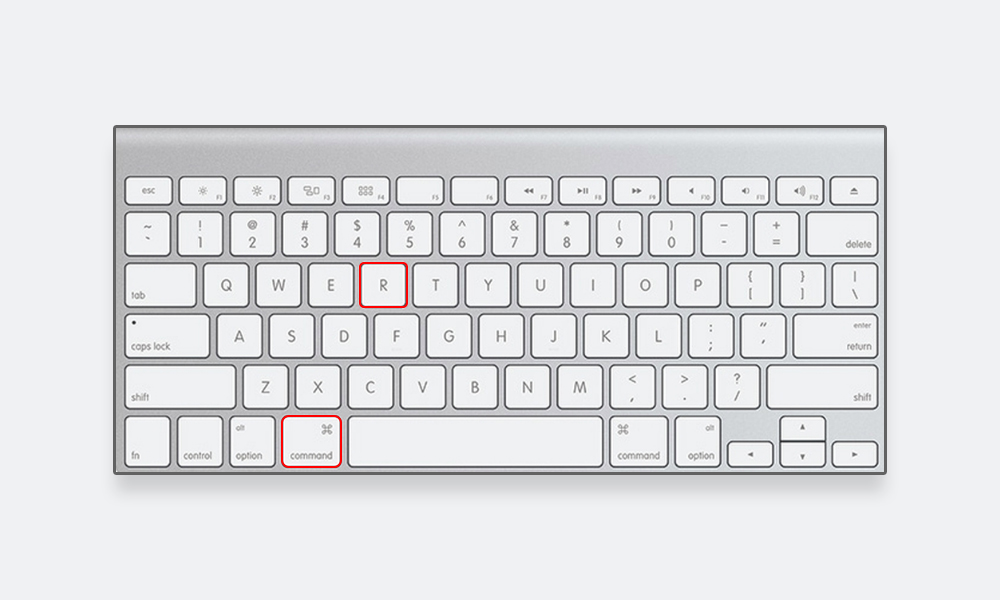 Step 2: Shortly, you will be booted in the Recovery Mode (a hidden macOS partition). Here, you are presented with four options to troubleshoot your Mac. Disk Utility is one of those four options; click Disk Utility to launch.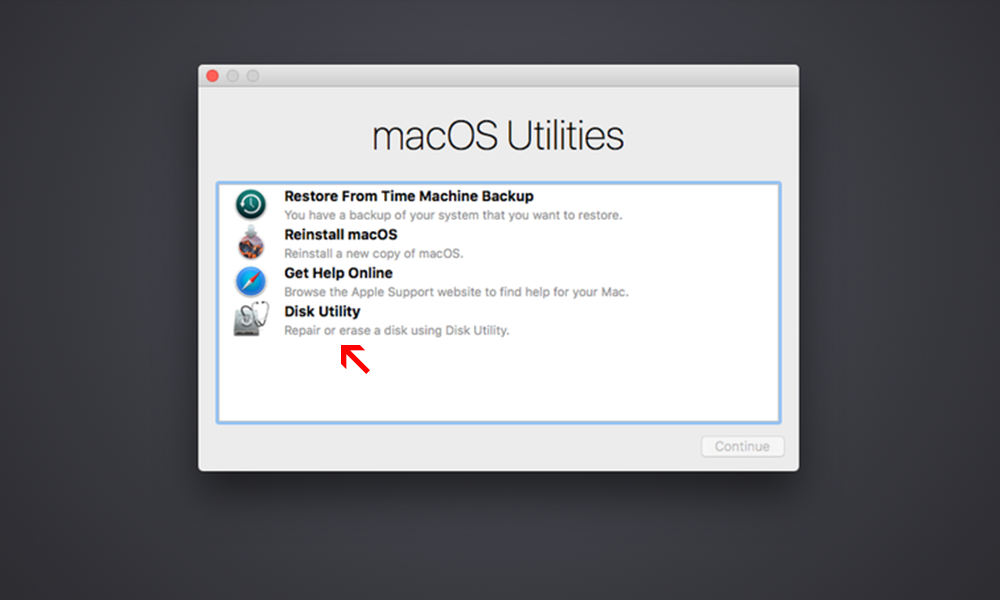 Step 3: Choose your start-up disk and run First Aid to repair cryptic disk errors.
Now, there will be two possible outcomes after the Disk Utility is done repairing the drive:
a) Your start-up disk is repaired successfully with the Disk Utility: When the Disk Utility shows you the output that it has repaired the corrupt disk successfully then you can log-out from the recovery partition and boot into the desktop as you would usually do. Read More: Repair Corrupt USB on Mac and Recover Files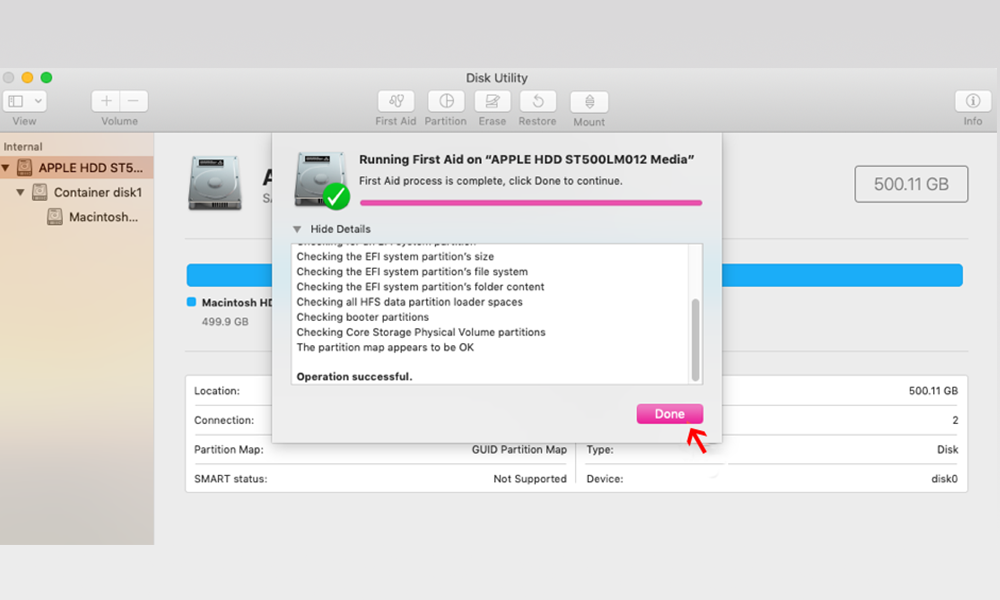 b) Disk Utility Can't Repair the Corrupt Start-up Disk Drive!: There are several limitations of the Disk Utility itself such as it can't repair a corrupt partition map. Also, it can't repair advance disk errors such as Invalid-B Tree Node. To Repair Invalid B Tree Node on a start-up disk it is required to back up the drive and erase it with a new partition scheme.
Refer to Method #1 to recover data from a corrupt or failing drive using the aforementioned data recovery Mac software; later erase the start-up disk with the new partition scheme.
Method 3: Repair the Mac Start-up Drive with FSCK command
If Disk Utility method didn't yield any results, then you can repair a failing Mac hard drive using a non – GUI mode on OS X and macOS. It's called F.S.C.K. and it's free to use.
To repair the disk errors on Mac with FSCK, follow the below procedure:
Step 1: Make sure your Mac is turned off.
Step 2: Press the power button to start up the Mac and press hold the Command and S button (i.e. Command + S).
Step 3: This will bring the Single User Mode from where you can repair the failing Mac start-up disk drive and rescue all files from it.
Step 4: Now, please enter the command line – /sbin/fsck – fy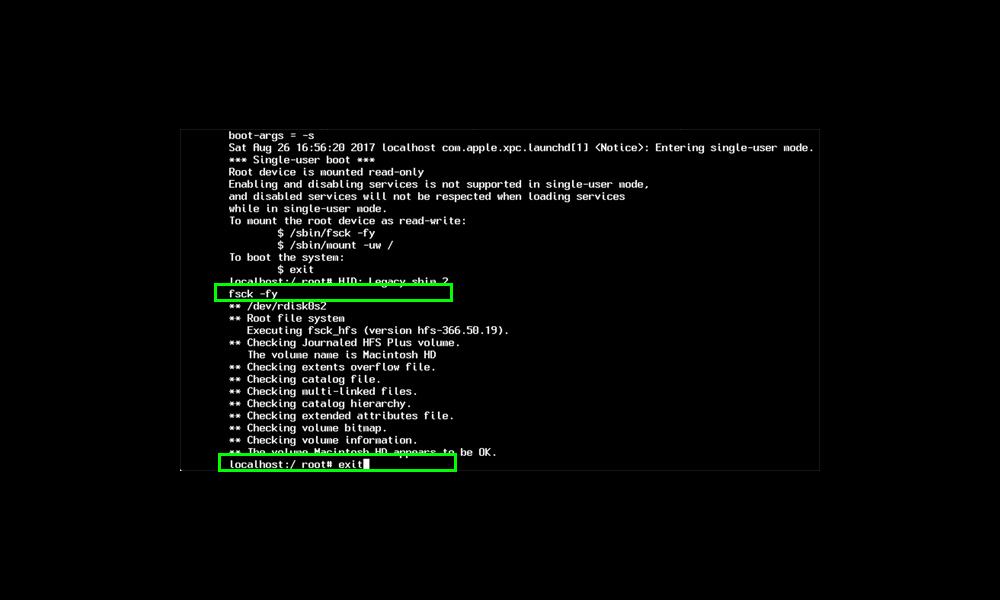 Step 5: Press Return (Enter).
Step 6: The command line will begin analyzing your Macintosh HD volume and will return the message as per the action performed.
Step 7: When the Macintosh HD is healthy, it will display the message: "The Volume (name) appears to be OK".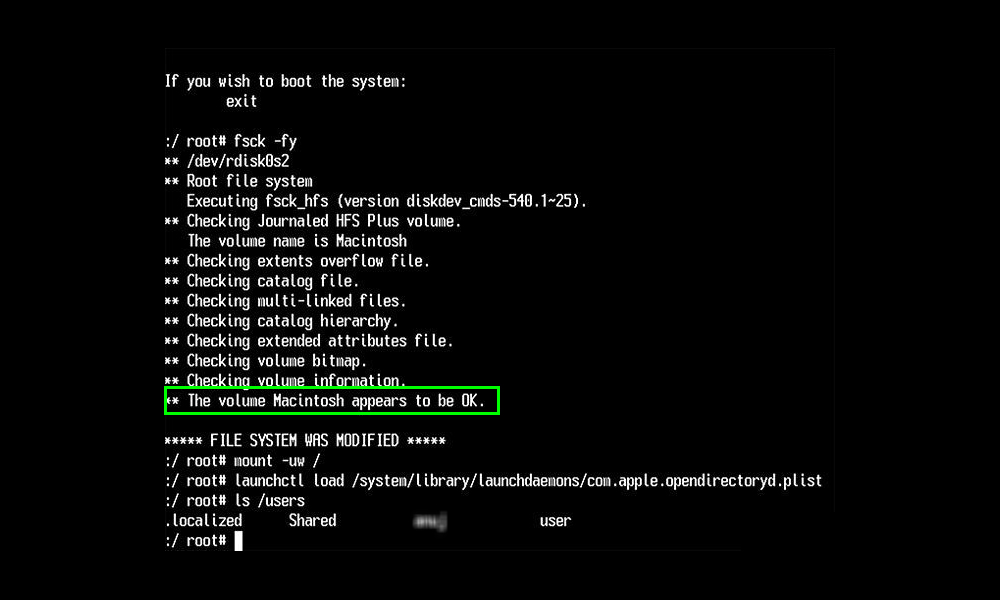 Step 8: When FSCK repairs the damaged disk drive, it shows the message: "File System Was Modified". Repeat the FSCK run again until the file system is corrected and the message in step (7) is displayed.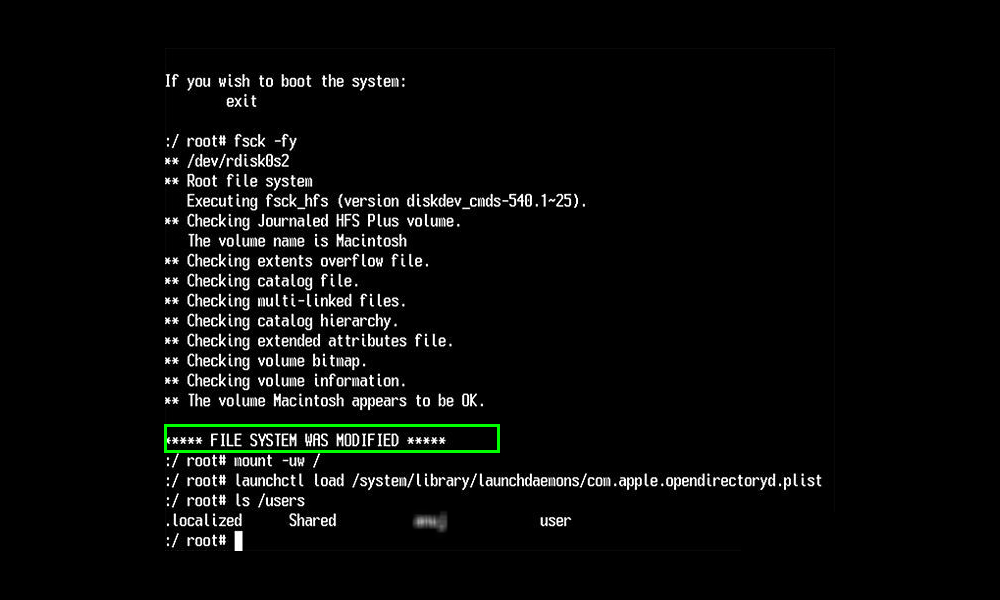 Like Disk Utility, the FSCK helps much in repairing cryptic disk errors of minor nature. Though, it may or may not fix the corrupt start-up drive entirely. If FSCK efforts don't result in your favour then leverage Stellar Data Recovery Professional for Mac to recover files from the troubled storage media.
The software has a technician edition that additionally repairs corrupted or damaged photo & videos files from the hard drive on multiple Mac systems. This version is called Stellar Data Recovery Technician for Mac. This Edition is best suited for corporate users, AMC services and even families that have more than one Mac system at their home.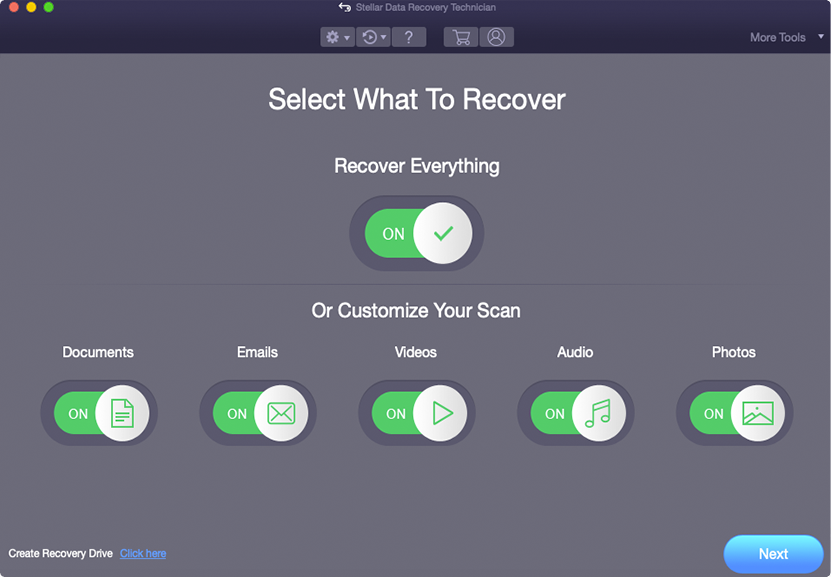 Method 4: Target Disk Mode. Recover Files from a Failed Mac Start-up Disk Drive
Target Disk Mode is an advanced method that helps you mount and access a failed start-up hard disk using additional accessories, which includes a Firewire or a Thunderbolt cable. These cables connect the 2 Macs (Working Mac and Failed Mac hard drive) for the purpose of transferring files and recovering the data.
Let's learn to implement Target Disk Mode using a working Mac and a Firewire cable.
Make sure uninterrupted power supply is provided to both the Macs.
Use a Firewire 800 or Firewire 400 cable to connect both the Macs through USB ports. You may also use a Thunderbolt for the same.
Start the Mac with failing/failed hard drive and immediately press the keyboard button "T".
The Mac should boot into the Firewire mode. Once it does, you will see a large Firewire icon the Mac screen.
On a healthy Mac, you will see the troubled hard drive icon showing on the Desktop. The 'Macintosh HD' will have a Firewire symbol mounted on its icon. In the case of Thunderbolt cable, the Macintosh HD will have the Thunderbolt icon mounted on it.
Once Macintosh HD is mounted, you can perform disk repair and copy files from the hard drive to a working external hard drive.
Mounting, accessing and copying files from a failed hard drive to a working disk is possible with Target Disk Mode facility.

However, if the drive appears to be unmounted or unrecognized on the healthier Mac system, then you might have to consider running Stellar Data Recovery Professional for Mac; tool to recover files from the unmounted hard drive.
Please go through method #1 – Recovering data from an unmounted Mac hard drive to know more.
Method 5: Convert Failing Macintosh HD into an External Hard Drive
Transforming the failing Macintosh start-up drive to an external hard drive for recovering inaccessible files could possibly be an alternative solution of the Target Disk Mode.
But how should you make an external drive out of an internal Mac HDD?
The process is explained further with easy steps:
Step 1: Safely take out the internal Macintosh HD out of your Mac system. There are plenty of D-I-Y videos which can help you remove the Mac storage drive safely from a MacBook/iMac etc. But, in case you are unsure of removing the internal drive by your own, then seek the consultation of a nearby expert.
Step 2: Prior to the removal of the internal storage drive, you must also order an external hard drive enclosure from an online seller. Nowadays, hard drive enclosures are inexpensive and can be acquired by spending a little sum of money.
Step 3: Open the plastic cover of the enclosure and place / slide your internal hard drive in the matching context. Once done, turn over the hard drive and put in the screws that came up with the enclosure. Tighten all the screws with the help of a screwdriver.
Step 4: Put back the front-back plastic cover to cover-up the hard drive.
Step 5: Now connect one and another tip of the USB cable to the ports the storage drive and MacOS for mounting and accessing files.
Step 6: Start transferring your files once the external storage drive (earlier the start-up disk) greets you in the Finder or Desktop.
Read More: External Hard Drive not Mounting on Mac
Conclusion
It is not feasible to repair a troubled Mac hard drive with a screwdriver hence, the purpose of this blog is to make you aware of Disk Utility, FSCK, Target Disk Mode functioning which can be used fruitfully to recover a failing Mac internal storage drive.
Further, if it happens that all the "free" and "godly" methods fail to restore your failing drive; then you can leverage the "Powerful & Easy" Mac hard drive restoration tool i.e. Stellar Data Recovery Professional for Mac.
Stellar Drive Monitor utility is available in the full version of the Stellar Data Recovery Professional. This little but useful tool helps you monitor the health of the start-up drive, evaluate the bad blocks and backup the media in an emergency.

Remember, don't panic and don't delay in recovering the failing storage drive. Avoid doing unnecessary research on your disk. Stay focused on rescuing the data by implementing one of the above methods.
Please share your failing hard drive related concerns via the comment section.