Convert Online GroupWise Mailbox to Outlook PST
When you migrate from one email client to another, like Micro Focus GroupWise (earlier Novell GroupWise) to Microsoft Outlook, the first need would be to ensure complete & precise migration of the mailbox data. And, further, how easily and quickly you can make this transition.
In this blog post, we will share the different methods with step-wise instructions to convert GroupWise mailbox into PST format which can be imported in Outlook, thus supporting the migration from GroupWise to Outlook.
We will also outline the key differences between these email conversion methods and the best choice you can make to ensure that all your mailbox data is moved from GroupWise to Outlook.
Methods to Convert Online GroupWise mailbox into PST
So here are the methods to convert Online GroupWise mailbox into PST.
[Note]: The following instructions for exporting GroupWise mails to PST are based on Micro Focus support website that states "the information is no longer maintained and is provided 'as is' for convenience".
These instructions are applicable for Novell GroupWise 6.5:
Install GroupWise and Outlook clients.
Launch GroupWise and login into the client.
Now launch Outlook.

This will connect Outlook to the GroupWise account you're already logged into

Select Import/Export from File tab in main menu.
Select Export to a file option and then select Personal Folder Table (.pst).
Select the folder(s) and subfolders you wish to export. Click Next.
Browse the location to save the exported PST file.
Click Finish.
The selected folder(s) will get saved at a preferred location in PST file format. It would take some time to save the emails and attachments. After the process is finished, import the PST file in Microsoft Outlook to access mailbox items exported from GroupWise.
Method 2: Using Stellar GroupWise to PST Converter Software
Stellar Converter for GroupWise is a specialized software tool for converting GroupWise mailbox into PST file format. The tool extracts emails, attachments, address book contacts, documents, calendars, appointments, tasks, reminders, and sticky notes in PST file. The tool can also directly export the GroupWise mailboxes to Office 365.
Here are the steps to convert GroupWise to PST using this software:

Launch the software and click Convert to Mailbox button in Home tab.
Select Online Mailbox to PST option from the dropdown menu.
Enter User ID, Password and Online Address of the server where you have to configure GroupWise mailboxes. Click OK [See Image 1]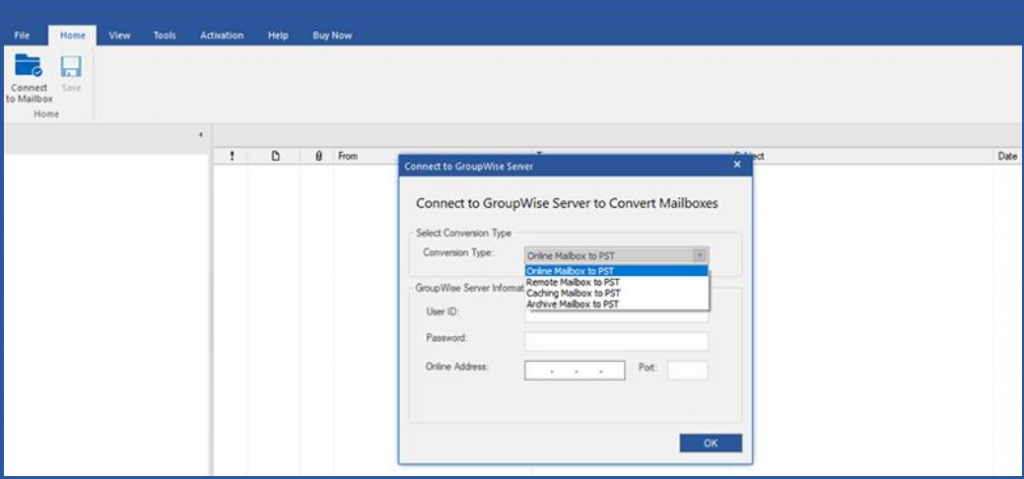 The software will start mailbox scanning process. After the scanning is completed, the software will display a preview of the mailbox items. You can click on any item listed in Left pane to preview it. [See Image 2]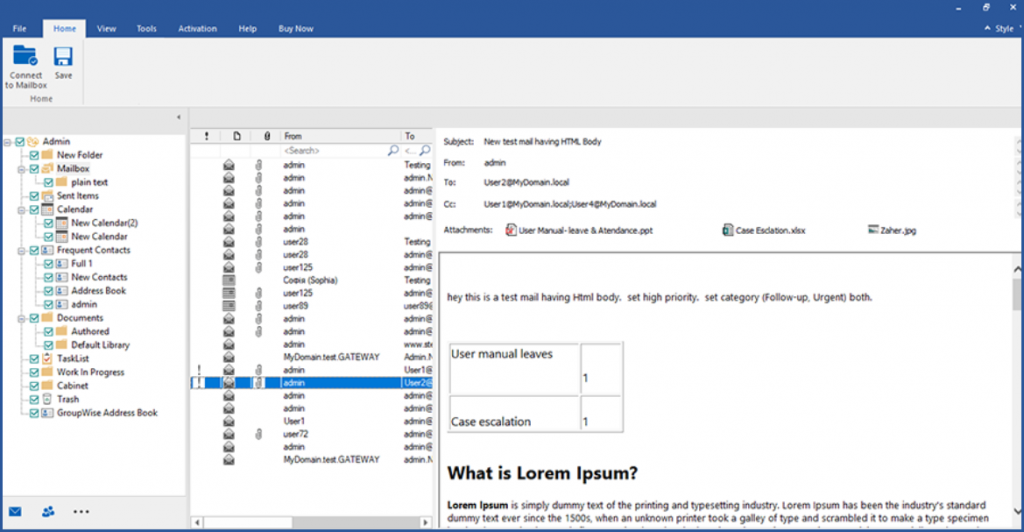 Select the mailbox and underlying folder(s) to convert them into PST file format.
Click Save, select PST as the file format option, and then click Next.
Browse the location to save the PST file and click OK.
Note: Stellar GroupWise to PST Converter also offers the choice to convert the mailboxes into MSG, EML, RTF, PDF, or HTML file formats. [See Image 3]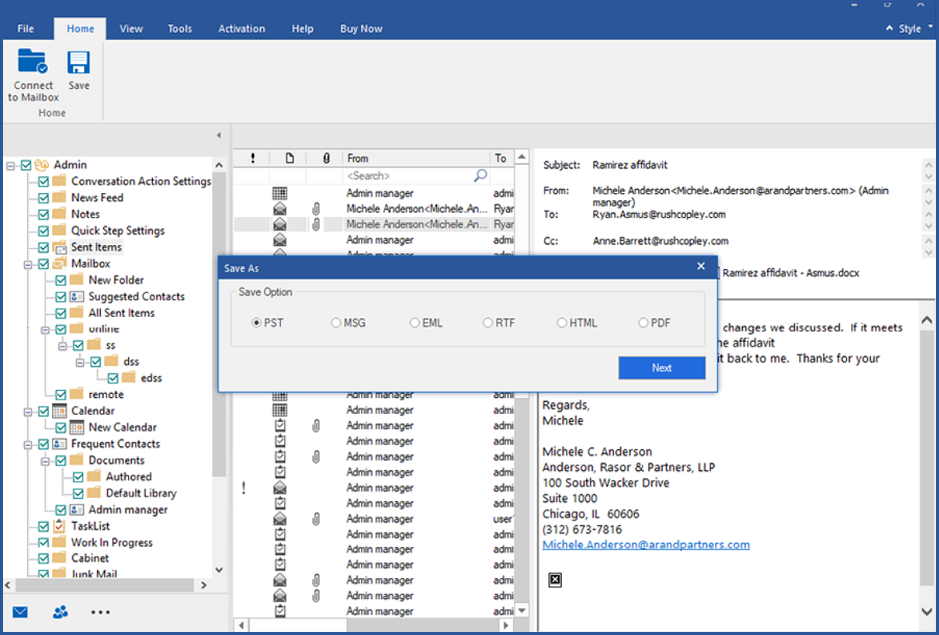 Method 1 vs Method 2: Which One to Choose?
Method 1, i.e. Use of Import/Export facility through GroupWise client, is a free method to convert GroupWise mailbox into PST. But it may not be a reliable method, as the information used in Method 1 is no longer maintained and therefore could lead to problems like incomplete mailbox conversion, inaccurate outcome or wastage of time.
Also, as per Micro Focus website, Method 1 is applicable only for Novell GroupWise 6.5, so it may not support the conversion of other GroupWise versions.
Method 2, i.e. use of GroupWise to PST Conversion software, offers an up-to-date solution for mailbox data conversion. Stellar Converter for GroupWise promises to convert the complete mailbox data of GroupWise and offers the choice of multiple file formats for saving this data.
The best part is the tool is available for a free trial to help you ascertain the process outcome and also previews the mailbox data to decide before you activate the tool for exporting the converted data.
GroupWise to PST Conversion Methods: Quick Comparison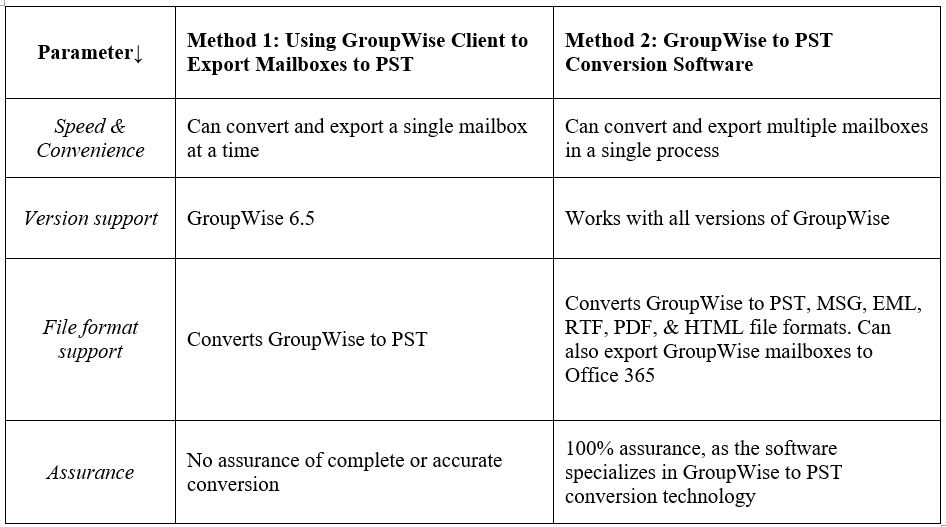 Conclusion
GroupWise to PST conversion is a key need when you want to move your users to Outlook. Complete and accurate conversion of mailbox data is the most important aspect of this email migration need. In this post we shared the two methods, based on using GroupWise Converter and software for GroupWise to PST conversion. We also shared the facts regarding both these methods for making an informed decision. Best part you can try these methods on your own including free trial of the GroupWise to PST converter software.