How to fix Excel 2016 Opening Blank Workbook Issue
Summary: One of the most commonly encountered errors in Microsoft Excel is the "blank workbook" error. After saving a completed workbook one day, you might open it the next day to find Excel is taking you to a blank workbook in its place. Read this blog to under what causes such behavior. Also, find solutions on 'how to fix Excel 2016 opening blank workbook?' issue. You can also use an Excel file repair tool to quickly restore your Excel workbook with complete data.

Microsoft Excel workbooks are a favourite among home and professional users since they offer the chance to save a lot of information in an organized manner within the same file. However, if an Excel worksheet becomes too stuffed with different kinds of data (like numbers, characters, formulae, charts, macros, etc.) it can become prone to damage and corruption.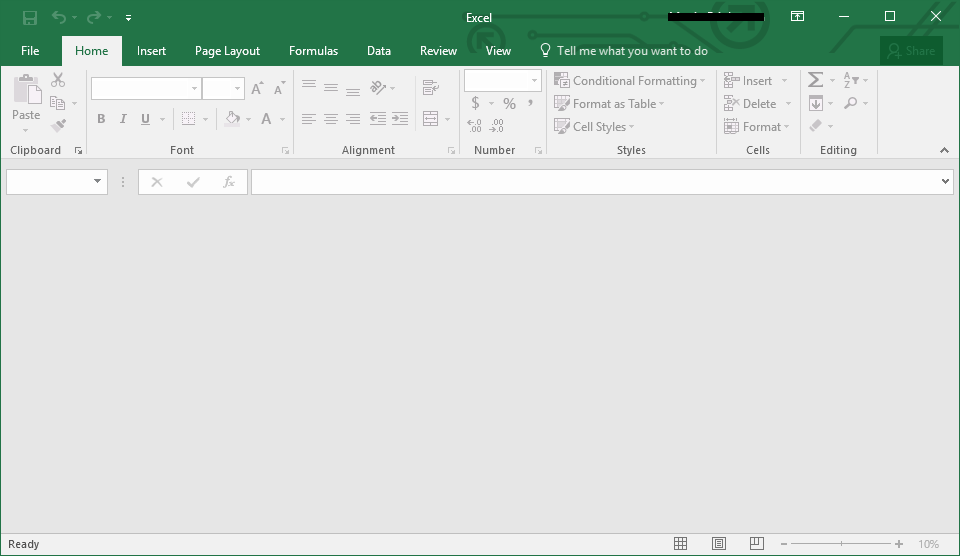 Not being able to access saved Excel workbooks can be a big problem, especially if such workbooks contain critical information. One particular error where users cannot access their workbook data is the error with Excel opening blank workbook/spreadsheet. Although it may sound scary, the error can be caused by something as simple as a messed up Excel 'Preferences' setting or something more complicated like underlying corruption in the workbook. Regardless of what sparks it, you can fix it easily with a few simple tricks.
Solving the "Excel 2016 open blank workbook" issue
Here are the different solutions you can try out to fix the "Excel 2016 opening blank" issue. Move to the next solution if the previous one doesn't work:
Solution 1:

Uncheck the "Ignore DDE" option
When a user double-clicks an Excel workbook in Windows, a dynamic data exchange (DDE) message is sent to the Excel application to instruct it to open that workbook. If by mistake this DDE message is set to be "ignored" by Excel, the workbook you wish to open will not open on double-clicking. So check the value of this setting and uncheck the "ignore DDE" option as follows:
In Microsoft Excel click on File -> Options
Click on "Advanced" and then locate the General section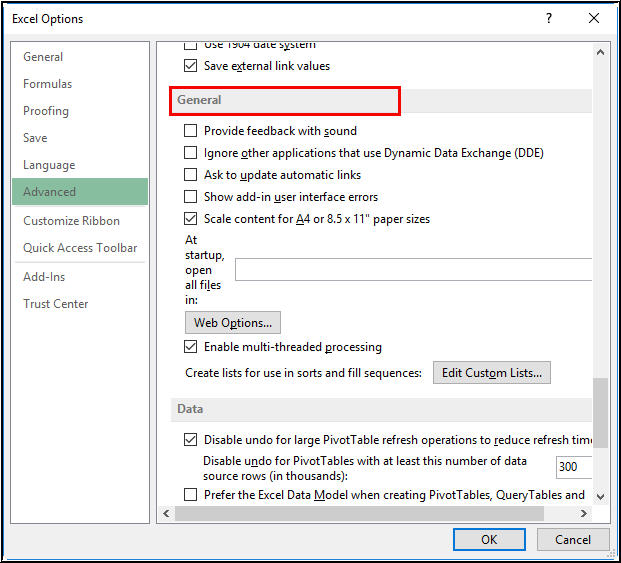 Uncheck the box next to "Ignore other applications that use Dynamic Data Exchange (DDE)"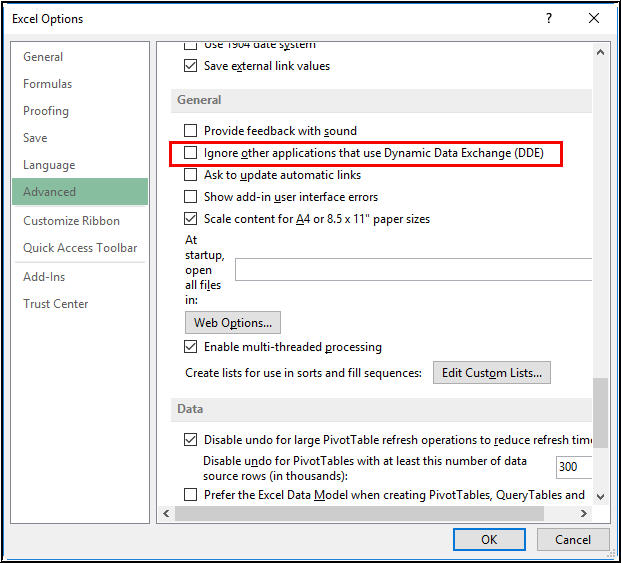 Solution 2:

Disable hardware graphics acceleration for MS Excel Workbooks
If the graphics card of your computer is misbehaving due to messed up hardware acceleration, this can cause Excel workbooks to demonstrate unanticipated symptoms, especially if you are using graphics (like advanced charts) in your Excel sheets. To fix this, turn off hardware acceleration for MS Excel as follows:
In Microsoft Excel click on File -> Options
Click on Advanced and then locate the Display section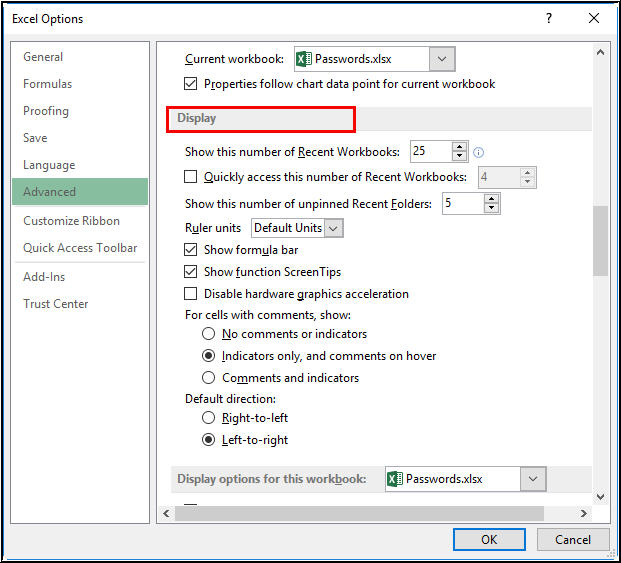 Check the box next to "Disable hardware graphics acceleration"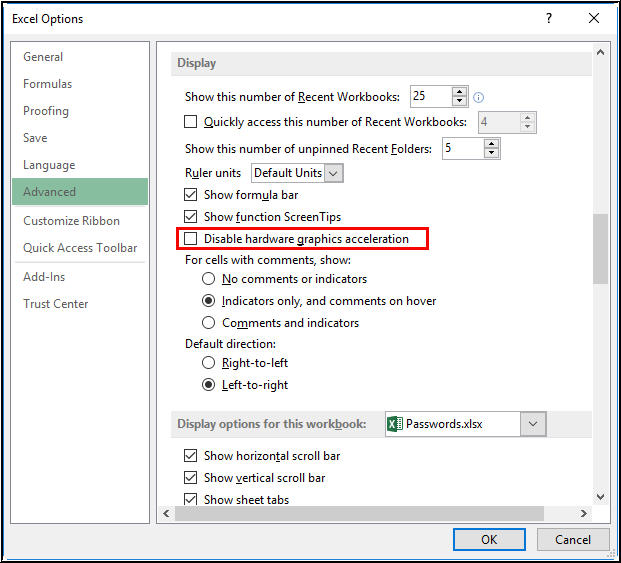 Solution 3:

Reset Excel workbook file associations
Verify if the file associations in the system are performing correctly and reset the ones pertaining to Excel to their default settings. To do this:
Open Control Panel and go to Default Programs

For Windows 10

Click on the "Reset" button on the bottom right side

For Windows 8

Click on "Set your default programs"
Select Excel and click "Choose default for this program"
In the Set Program Associations window, click on "Select All" and click the Save button

For Windows Vista &7

Click on "Set your default programs"
Select Excel in the Programs list and then click on "Choose defaults for this program" option at the bottom
In the Set Program Associations window, click on "Select All" and click the Save button
Solution 4:

Repair MS Office installation
If the above tricks aren't successful in resolving the issue, your MS Office installation might be damaged. In this case, repair it using the following steps:
Open the Control Panel in Windows
Click on the "Programs and Features" option
Select "Microsoft Office" in the programs list and then click the "Repair" option
If prompted, click on "Continue"
Note: This process can take a little time to complete. Do not interrupt it before it is completed.
Also read: Excel AutoRecover not Working, What is Next?
Solution 5:

Repair Blank Excel Workbook with Excel Repair Software
In case the "Excel 2016 opening blank" issue still exists, the Excel workbook you're trying to open might be severely damaged. In this case, repair the Excel workbook using reliable and competent software Stellar Repair for Excel. This advanced application makes for the best strategy to find and fix nasty Excel errors and restore all tables, charts, cell comments, images, formulas, sorts, and filters from it to a new working Excel workbook file. Free download the tool's demo version to scan and preview recoverable data from the file.

Conclusion
Even the most popular software applications can experience occasional errors, but that doesn't mean you need to stop working. Fix such errors with easy manual techniques if possible, and if they don't help, place your trust in competent automated products to save the day & data from corrupt excel blank workbook.