How to Fix GoPro Hero 4K Videos not Playing on Mac
Summary: Often GoPro HERO videos don't play on Mac systems. This post shares various methods to play GoPro HERO 4K videos on Mac. Also, learn about the best GoPro video repair software – Stellar Repair for Video that can fix choppy GoPro videos on Mac.

Sam was facing a choppy and slow video playback while playing his GoPro HERO 7 snowboarding footages on Mac. It was strange because the videos played perfectly on his camera. So what could be the issue?
GoPro captures excellent 4K, 8K, and 360° recordings. However, sometimes users are not able to play high-quality videos on Mac. There can be many reasons for this, from incompatible media player to even video corruption. In any case, the GoPro video playback issue on Mac can be fixed.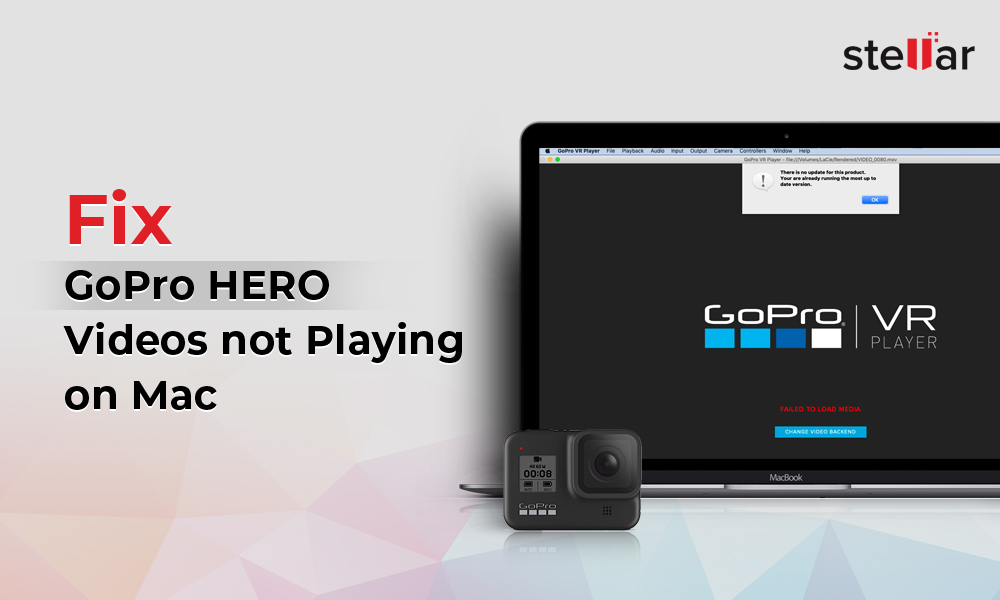 Reasons why your GoPro 4K videos not playing on Mac
Broadly there are three reasons due to which GoPro videos may not play on Mac:
Media player incompatibility
Here, it's important to understand how your GoPro camera records the video footage.
GoPro saves its 4K or 8K videos in MP4 file format. However, HERO6 and above models use High Efficiency Video Coding (HEVC), also known as H.265 as standard video compression while HERO5 and prior models use H.264 codec.
You can play H.264 videos on almost any media player. But H.265 is not yet supported by many programs, including QuickTime. That's the reason most of the time, users face GoPro video issues on Mac.
2. You are using an older Mac/ macOS version
The GoPro recordings won't play on old Mac machines, even if the OS supports the HEVC format. You can play GoPro HEVC footages on macOS High Sierra, and later systems utilizing the A10 processor or above. Besides, your Mac ought to be of 2016 or later make.
Mac machines that support H.265 are:
MacBook and Macbook Pro – 2016 onwards
iMac and iMac Pro – 2017 onwards
27-inch 5K iMac (2015-2017)
3. Video corruption
GoPro video lagging, choppy, or not playing may not be only because of device or macOS incompatibility. The 4K videos won't play, if the file has turned corrupt due to improper transfer, incomplete download, or malware.
6 Ways to play GoPro 4K video on Macintosh 
Upgrade to macOS High Sierra or later
Copy videos from GoPro SD card to Mac
Play in different media player
Convert GoPro video format to H.264
Use GoPro Quik for Desktop
Use GoPro video repair software
Method 1: Update to macOS High Sierra or later
The first thing to do when GoPro videos are unplayable on Mac is to check if your macOS supports HEVC video format.
If you are not using macOS High Sierra or later, upgrade the operating system to view and edit HEVC videos of HERO camera.
Method 2: Copy videos from GoPro SD card to Mac
GoPro videos won't play on Mac or play choppy if you are directly trying to play them from the camera SD card.
Always, first, copy the videos to Mac from your GoPro HERO camera's SD card and then play them.
Method 3: Play GoPro video in different media player
As of now, Apple's QuickTime doesn't play H.265 video files. Try to play GoPro recordings on Mac using VLC Media Player, 5KPlayer, MPV Player, PotPlayer, or any other H.265 supporting player.
Method 4: Convert GoPro video format to H.264
Compared to H.265, the H.264 codec is widely compatible with devices and media players. So another way to play HERO 4K videos on Mac is to convert H.265 videos to H.264 format.
You can download Handbrake or Stellar Converter for Audio Video on Mac or opt for an online H.265 to H.264 converter tool like Convertio, AnyConv, etc.
Note: Keep the video file type to QuickTime supported MOV or AVI.
Method 5: Use GoPro Quik for Desktop on Mac
GoPro has a legacy app, Quik for Desktop, to view and edit HERO footages on Mac or PC. Although the developer no more provides its update or support. But you can still download Quik from here and easily play HERO videos on Mac.
Quik for Desktop is available for Mac OS 10.9.X or later. You can use Quik to play HERO7, HERO6, HERO5 Black / Session, HERO4 Black / Silver, HERO Session, and HERO3+ Black / Silver cameras.
Method 6: GoPro 4K video repair software
If all the above methods fail to play HERO 4K videos on Mac, it could be because of file corruption. A corrupt GoPro video file will not open, play choppy, jerky, out-of-sync, or have no sound.
You need a file repair software that can fix such H.265/ HEVC videos.
Install Stellar Repair for Video on your Mac to repair corrupt, broken or unplayable H.264 and H.265 4K videos. It can fix corruption in the file header, video frames, sound section, slider, and video movement.
You can batch repair multiple GoPro HERO 4K videos in just 3 steps – Add File, Repair, and Save.

Steps to repair GoPro HERO 4K videos not playing on Mac
Step 1: Download & launch Stellar Repair for Video on Mac.
Step 2: Click Add file to upload corrupt GoPro videos.
Step 3: Click Repair.
Step 4: Preview the repaired 4K video and click Save Repaired Files. You can save the repaired GoPro videos at the desired location on Mac.
Conclusion
Mostly GoPro HERO videos not playing on Mac issue occurs because older macOS versions and QuickTime don't support HEVC format. You can either try a different media player or convert H.265 format to H.264. GoPro apps like Quik for Desktop is also a viable option.
In case these methods don't work, there are chances the video has turned corrupt. A corrupt GoPro video won't play on Mac. Even if it does, it will be choppy or distorted. Try a video repair software – Stellar Repair for Video that can effectively repair corrupt video files of GoPro HERO cameras.
Try the free demo version and preview your repaired GoPro HERO videos now.

About The Author
Nishat Paiker is an expert technical writer and editor with over 8 years of experience. She has deep knowledge about data recovery and loves to explore new technology and DIY tools. Nishat has keen interest in photography. You will often find her giving photography tips and hacks.