How to Repair Corrupt MP4 and MOV Files using VLC Player
Summary:
This blog shares various methods to use VLC Media Player to repair corrupt MP4 and MOV formats videos. In some cases, if you aren't able to fix a video problem, the post recommends Stellar Repair for Video tool that can make severely corrupt videos playable again.
Table of Content
MP4 and MOV are among the most commonly used video file formats that are compatible with almost every video player including VLC Media Player. Most of you are familiar with VLC as a free media player for viewing movies. But, you may not be familiar with the file repair capabilities of the player. VLC has features to fix corrupted, damaged, truncated, or broken video files. Its transcode abilities allow converting damaged MOV and MP4 videos into playable files again. Here we will share in detail how you can repair your corrupt MP4 and MOV videos using these VLC features.
But before proceeding to VLC repair methods, let's look at the reasons that corrupt MOV and MP4 video files.
What Causes Corruption in MP4 & MOV Files?
Virus infection in video file.
Corruption in the storage drive or media
Sudden power loss when the video is playing in VLC or other player.
Video file read & write errors that occur due to abrupt interruption or power surge while downloading, conversion, editing, processing or transferring video.
OS crash.
Camera technical glitches during recording or saving.
Video codec issues.
Outdated media players, corrupt video drivers etc.
Damaged video files can be due to compression issues.
Files downloaded from unreliable internet resources might not play.
Others reasons
Watch the video – How to repair corrupt MP4 & MOV files using VLC Player
Ways to repair corrupt videos by using VLC Media Player
1. Repair corrupt MOV & MP4 files with Convert/Save with in VLC
2. Repair with VLC built-in video fix feature
3. Increase cache values in VLC
4. Change video output module in VLC
5. Choose to repair video file, if VLC on prompts
Method#1: Repair Corrupt MOV & MP4 Files with Convert/Save in VLC
VLC Media Player can convert unplayable video files to a playable format. This method works if videos are not playing due to incompatible codecs. Follow the below steps:
Step 1: Launch VLC Player.
Step 2: Go to Media and select Convert/ Save.
Step 3: Click on Add to insert videos that need to be transcoded.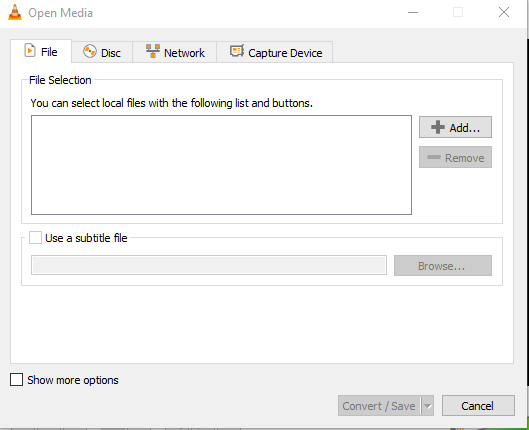 Step 4: Click Convert/ Save.
Step 5: In the Convert window that appears, provide the file name and location against the Destination file option.
Step 6: Select the desired input codec from the Profile list.
Step 7: You can choose the Edit Selected Profile button to change a specified profile settings. You can also create a new profile or delete any existing profile.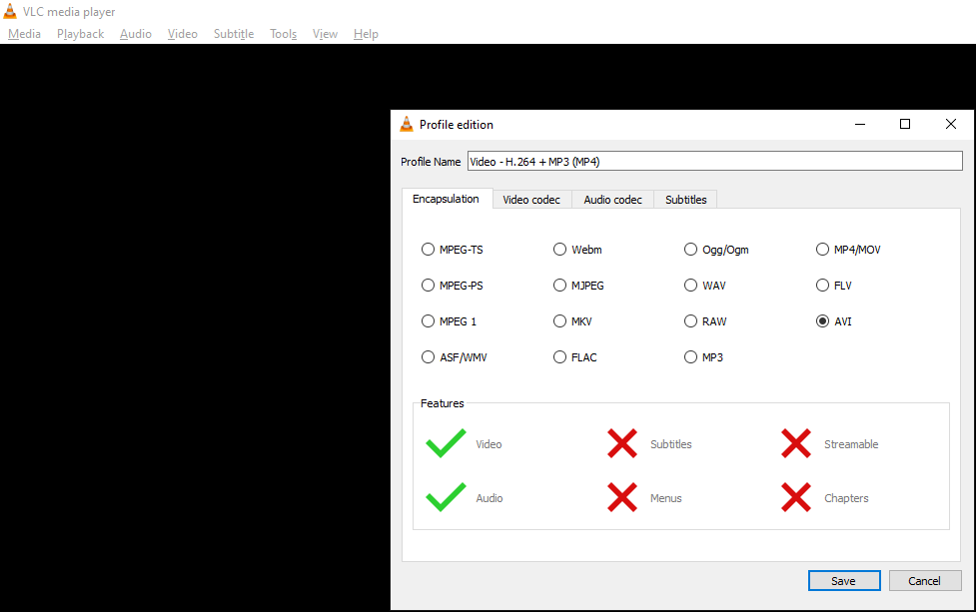 Step 8: Next, click Start in the Convert window.
This may help repair video files, therefore, making it playable in VLC and other media players. If not, there are other procedures that can also repair corrupt video files.
Method#2: Repair with VLC built-in video fix feature
VLC Player has a built-in feature to fix AVI video files. If you have a corrupt video other than AVI, like MP4 or MOV, first change the file extension to .AVI and then use this VLC feature to fix the video problem.
Note: Don't work on the original MP4 or MOV file. Create a copy and apply this VLC fix on it.
Follow the below steps to repair MP4 or MOV video using AVI fix in VLC:
Step 1: To rename MP4/ MOV video file, right click on it. Select Rename and change extension to .AVI. Hit Enter.
Step 2: Now, launch VLC Player
Step 3: Select Tools on top. Click and follow Preferences >Input or Codecs.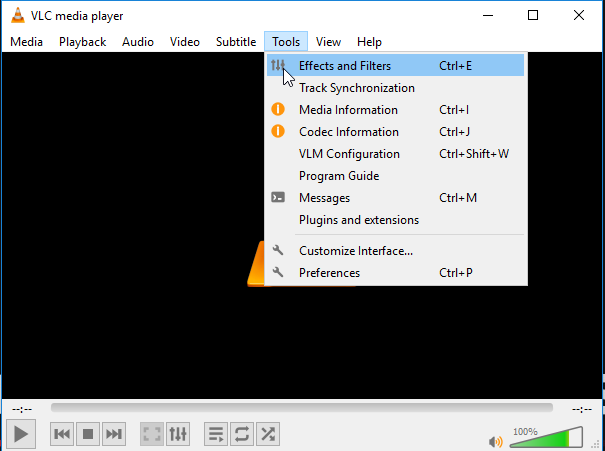 Step 4: Select Always Fix next to Repair AVI Files.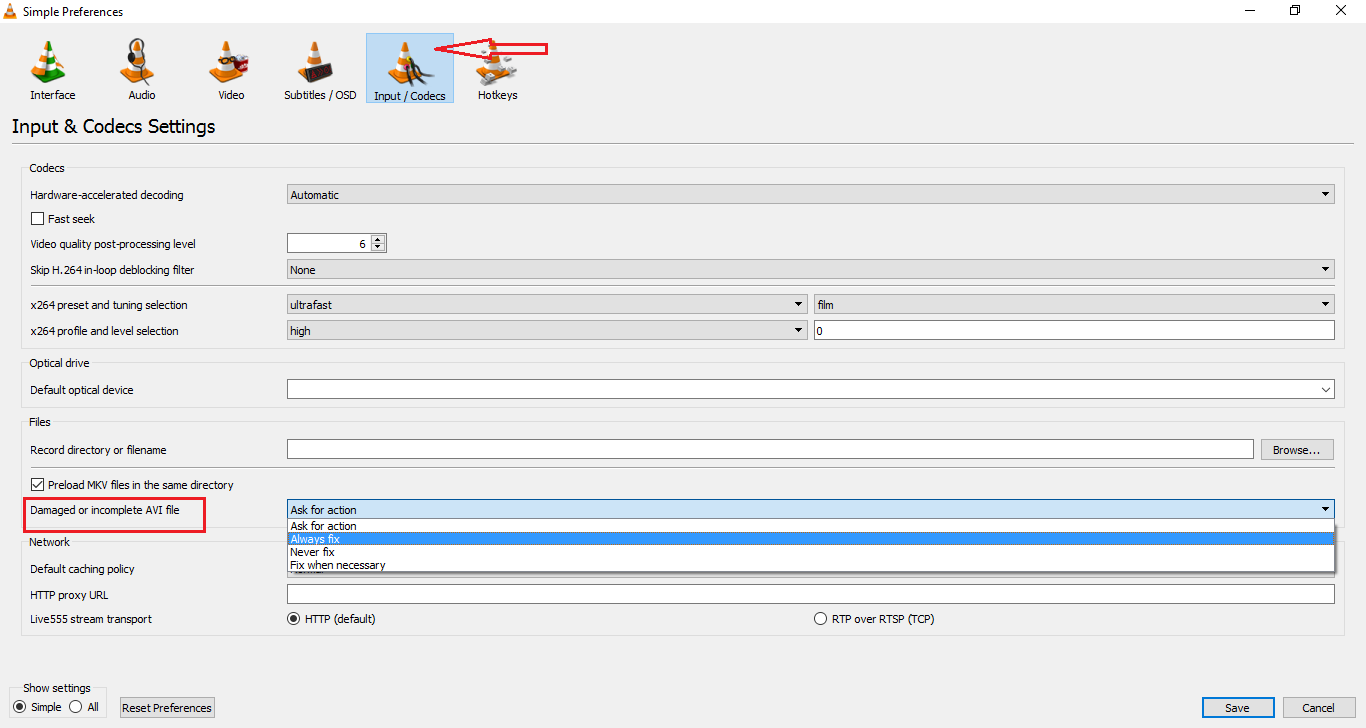 Step 5: Click on Save at the bottom
Now, try to play your repaired videos in VLC or other player, the video problem should be fixed.
Method#3 Increase cache values in VLC
If your videos or movies stutter, lag, or are playing jerky in VLC, increasing the media player's cache values may help.
Follow the below steps to increase cache value:
Step 1: Open VLC Player.
Step 2: Go to Tools. Click Preferences.
Step 3: At the bottom left in Show settings select the All.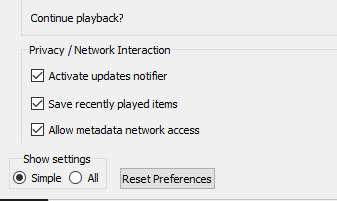 Step 4: Click on Input/ Codecs option from the list.
Step 5: On the right pane, scroll down to Advanced.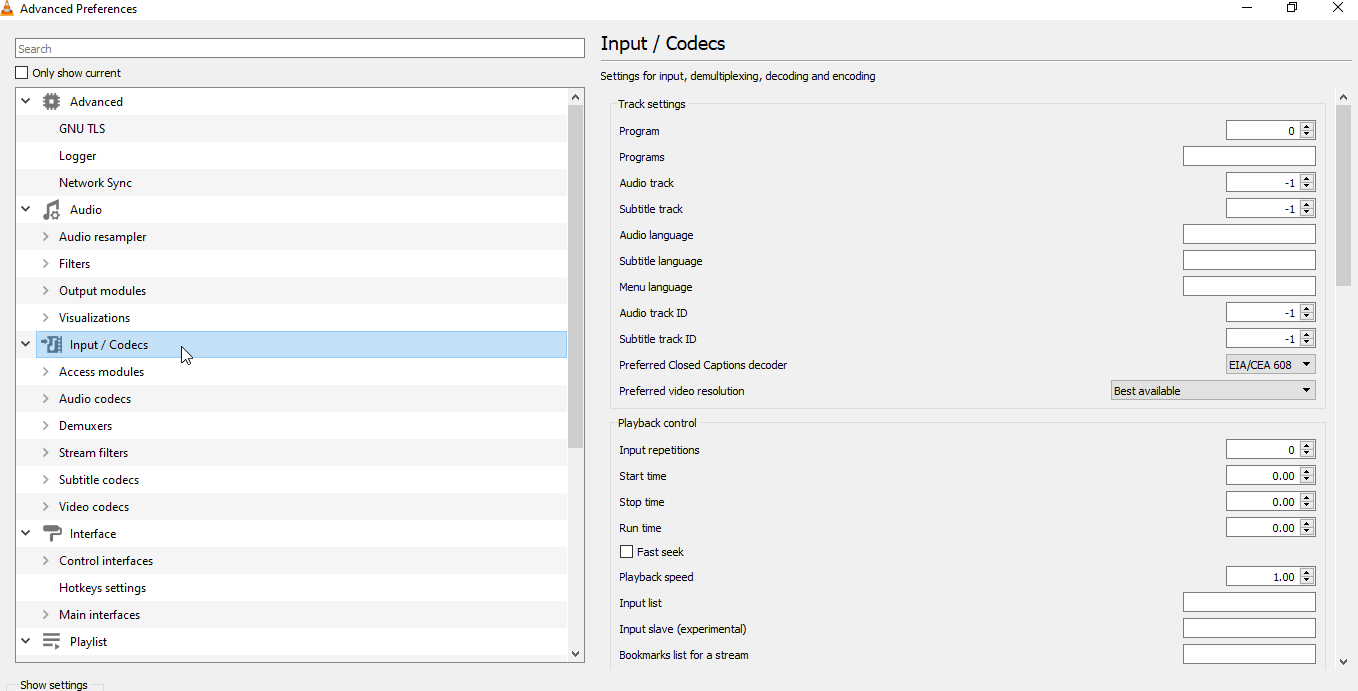 Step 6: Under Advanced, across File caching (ms) change the values from 300 to 1000 or above.

Step 7: Click Save and restart VLC.
Now, your MP4 and MOV videos should play fine in VLC Media Player.
Method#4 Change video output module in VLC
If your MP4 or MOV video files show black, white or other distortions when trying to play in VLC Media Player, change the video output settings of the player.
This would fix poorly playing video problem in VLC.
Step 1: Open Tools > Preferences.
Step 2: Choose Video.
Step 3: In Video Settings, under Output change settings from Automatic to DirectX (DirecDraw) video output. Note: Windows XP and below users can try DirectX 3D, DirectX, OpenGL and Windows GDI video output modules.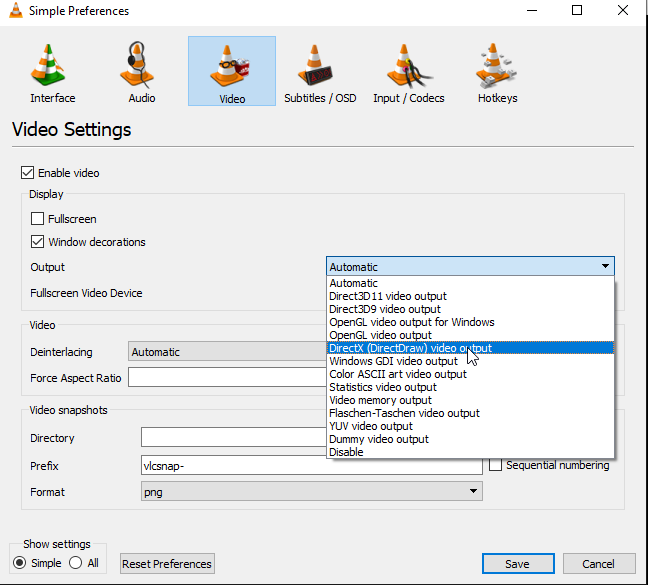 Step 4: Click Save and restart VLC.
Method#5 Choose to repair video file, if VLC on prompts
At times, while trying to access a corrupt video file in VLC Player, you may get a message 'repair broken files' or 'the player cannot read file'. The player may prompt a message for user permission to repair such video files. However, unaware of the VLC repairing capabilities, many of you may select 'No'. its recommended when the application asks to repair any MP4, MOV, AVI or other media files, click 'Yes'. Next follow the prompts directions.
Unable to repair videos with VLC Player? Get a Video Repair Software
If none of the above-mentioned VLC Media player video fixes help in resolving the issue, you can try using Video Repair Software to repair your corrupt MOV and MP4 files. The tool has the capability to deal with all kinds of MP4, MOV corruption issues including broken file header, compression issues, slider movement problem, frames corruption etc. The software also fixes video errors that pop-up due to file corruption.
You can try the software free version here to evaluate and asses if the software can repair your corrupt video.
Steps to Repair corrupt Video Files – MOV, MP4 with Video Repair software
Step 1: Launch Stellar Repair for Video
Step 2: Click Add file upload damaged or unplayable MP4 and MOV files to the software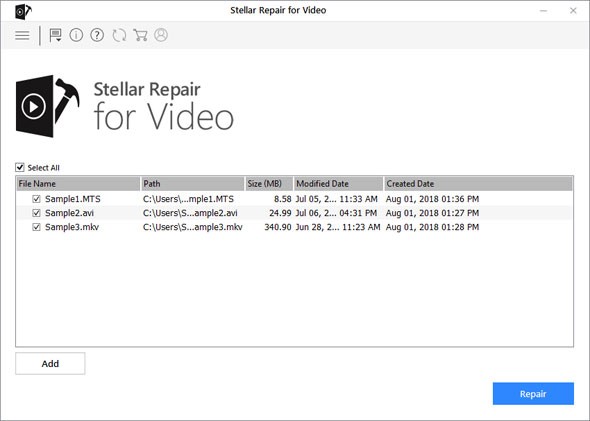 Step 3: Click the 'Repair' button. The software begins repair process.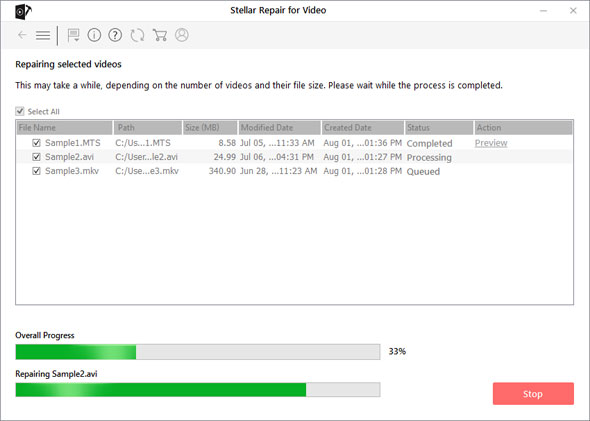 Step 4: Preview the repaired files before saving them to your desired location.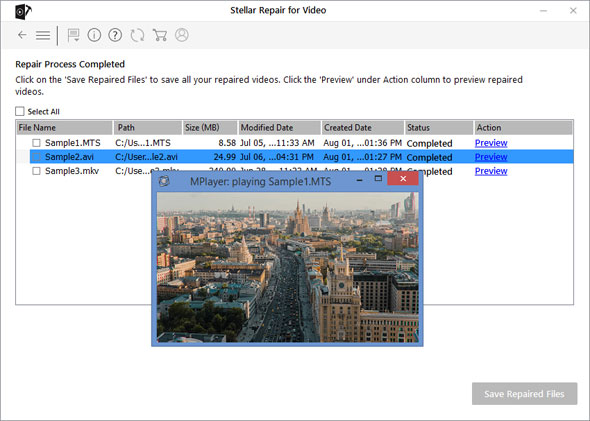 Step 5: Select files and click on Save Repaired Files. In dialog box choose location to save the your repaired videos and click Save.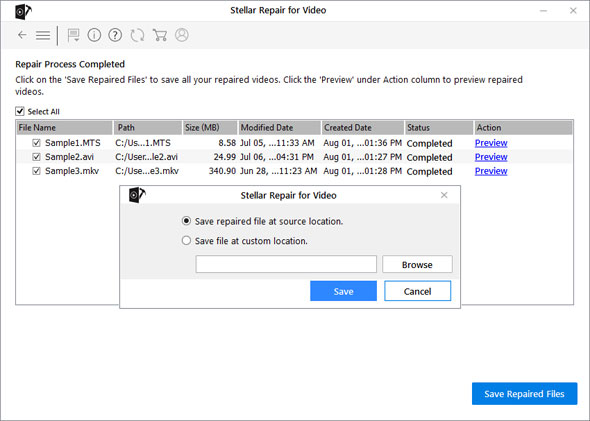 Advantages of using a professional video repair tool
Using a professional video repair tool such as Stellar Repair for Video can help you fix severely corrupt video files. Unlike VLC Media Player, you don't require to follow intricate steps. The algorithms of the video repair software automatically fixes a corrupt video in 3 steps – Add file, Repair and Save. The software is compatible with latest Windows and macOS versions including Catalina.
Other benefits:
It repairs video files stored on hard drives (external or internal), memory cards, digital camera, smartphones, or other video storage devices
Not only MP4 and MOV, you can repair several other video file formats such as AVI, ASF, WMV, MKV, FLV, DIVX, WEBM, MJPEG, MPEG, AVCHD, MTS, 3G2, 3GP, M4V and F4V.
The software can help you fix any number of corrupt videos at one go.
Finally
VLC Media Player has repairing capabilities but the open source tool isn't always successful in repairing corrupt videos. A dedicated video repair software can be considered an effective alternative to bring corrupt video files to a playable format. The professional video repair software saves your good amount of time and you can also approach technical expert for free video repair advice.

Was this helpful?