Summary: This blog outlines the possible reasons behind Outlook error 0x800ccc1a and discusses some effective solutions to fix the error. If the error persists, preventing you from using your Outlook application, try using Stellar Repair for Outlook software to repair PST file. Once repaired, import the file into Outlook to make it functional again.

You may struggle sending or receiving emails in Outlook 2016, 2010, or 2007 on encountering "error 0x800ccc1a: Your server does not support encryption". For complete error message, refer to the image below:
Figure 1 – Outlook 0x800ccc1a Error Message
The error message clearly indicates that there is an issue with the encryption type specified. Besides this, other possible reasons that may result in the Outlook send/receive error are as follows:
Incorrect port numbers for incoming and outgoing servers
Missing or corrupt Outlook .PST file
Solutions to Fix Outlook Error 0x800ccc1a
To fix 0x800ccc1a Outlook error, follow the solutions in the sequence given below:
Solution 1 – Change Encryption Settings in Outlook
To change encryption settings in Outlook, follow the steps below:
Open your Outlook (2016/2010) account and click on File from the main menu. This opens an 'Info' screen, click the Account Settings dropdown, and click Account Settings.
Note: For Outlook 2007, click on Tools, and then select Account Settings.
Figure 2 – Open Account Settings in Outlook
In 'Account Settings' window, click on the email account, and then click Change.
Figure 3 – Change Email Account in Outlook
In 'Change Accounts' window, click on More Settings.
Figure 4 – Change Server Settings for Outlook Account
In the dialog box that opens, click the Advanced tab, and uncheck the checkbox "This server requires an encrypted connection (SSL)".
Note: If you need to keep your server connection to be encrypted, then change the port numbers for incoming (POP/IMAP) and outgoing (SMTP) server. Refer to this link to know about the correct port numbers.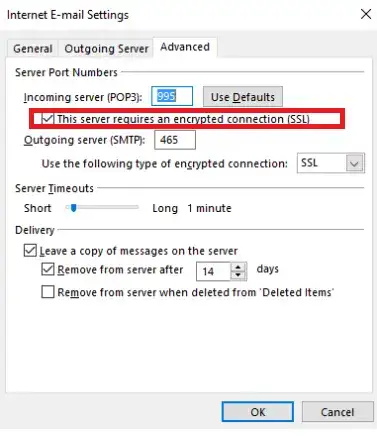 Figure 5 – Internet E-mail Settings
Click Next, choose Finish, and then click Close.
Restart your Outlook application and check if the issue is resolved. If not, try the next solution.
Solution 2 – Repair PST File
Sometimes, corruption in PST file may result in the Outlook '0x800ccc1a' send/receive error. Use the Microsoft built-in 'Scanpst.exe' tool to repair the corrupt PST file by following these steps:
Outlook 2019: C:\Program Files (x86)\Microsoft Office\root\Office16
Outlook 2016: C:\Program Files (x86)\Microsoft Office\root\Office16
Outlook 2013: C:\Program Files (x86)\Microsoft Office\Office15
Outlook 2010: C:\Program Files (x86)\Microsoft Office\Office14
Outlook 2007: C:\Program Files (x86)\Microsoft Office\Office12
Note: If you cannot find Scanpst.exe, ensure that 'Show hidden files and folders' setting is enabled in Folder Options.

Figure 6 – Open the SCANPST Utility
In the dialog box that appears, click Browse to select your PST file.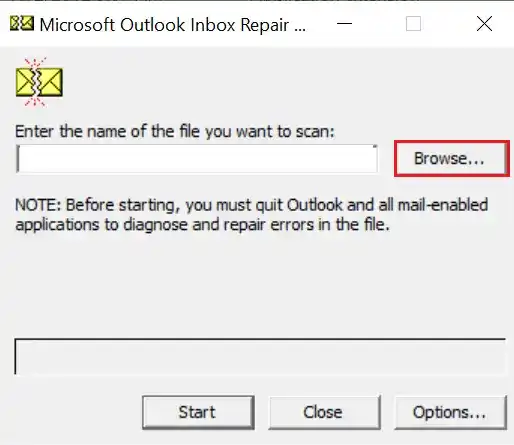 Figure 7 – Browse and Select PST File
Click the Start button to begin scanning the PST file for corruption errors.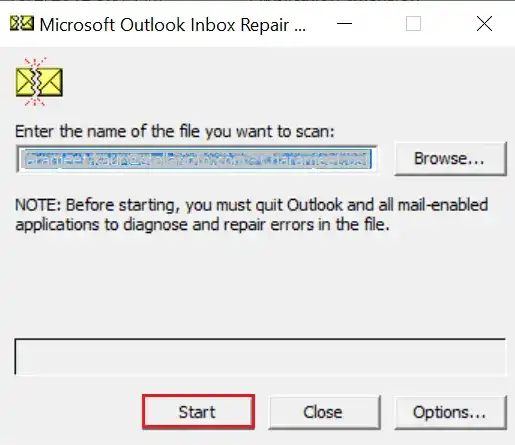 Figure 8 – Scan PST File
If any errors are reported after completion of the scan process, click Repair to fix those errors.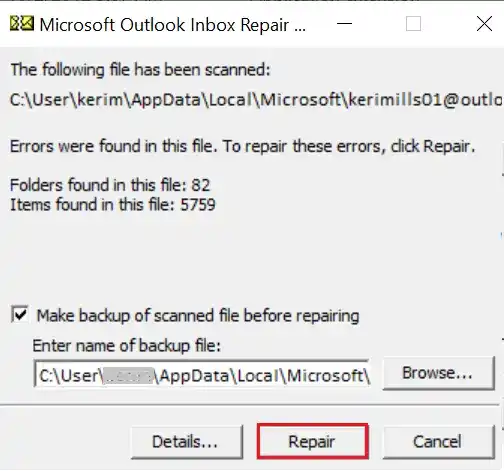 Figure 9 – SCANPST Errors
Once the repair process is complete, click OK.
If the 'Scanpst.exe' utility fails to repair your corrupted PST file, use Stellar Repair for Outlook software to fix PST file corruption. The software is purpose-built to repair severely corrupt PST file while keeping all its data intact. You can download the demo version of the PST repair tool to scan and preview the recoverable mail items before saving them.

This PST file repair tool can repair PST file in three simple steps:
Browse or Find the PST file you want to repair.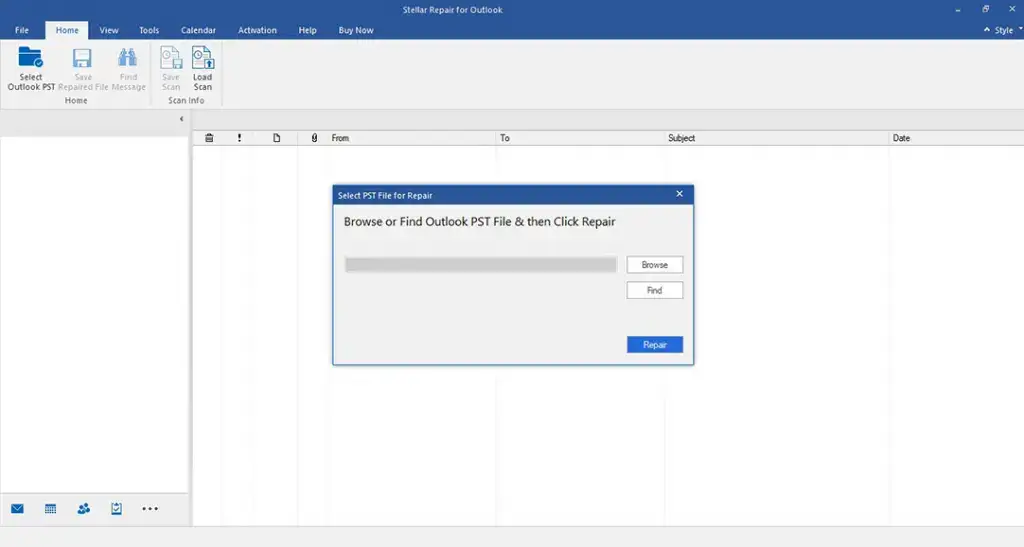 Figure 10 – Select Outlook PST File
Click Repair to initiate the repairing process.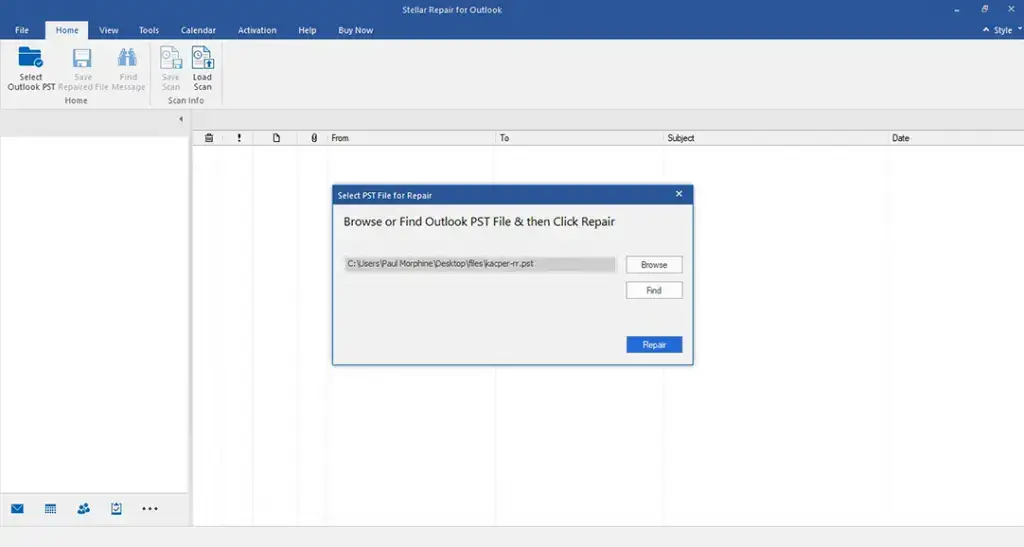 Figure 11 – Repair Corrupt PST
Preview the repaired file and its recoverable data. Once satisfied with the results, click Save Repaired File on Home menu. This will open a 'Save As' window with multiple file saving options. Choose the appropriate options, and then click OK.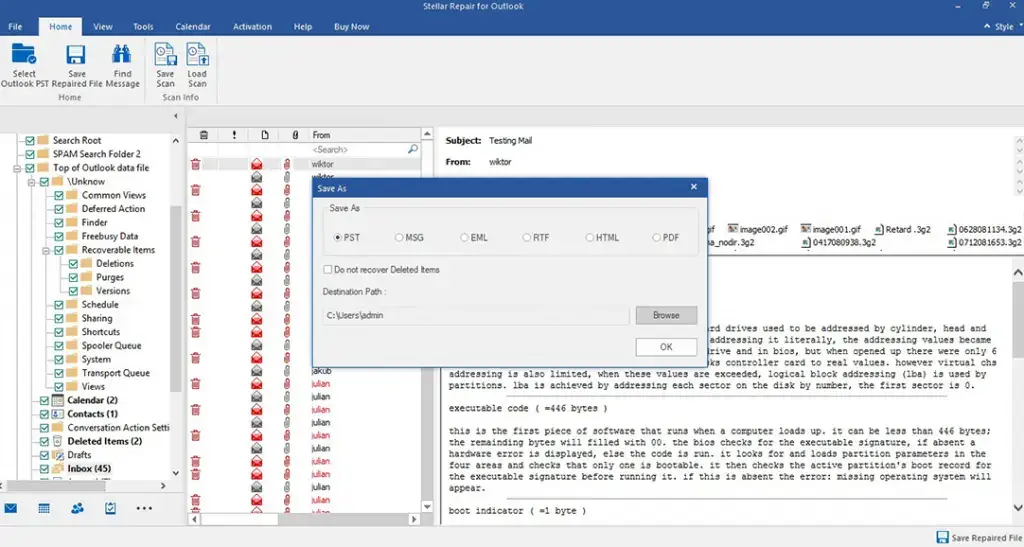 Figure 12 – Save Repaired PST
Conclusion
The error '0x800ccc1a' usually occurs, in Outlook 2016, 2010, and 2007, due to problem with encryption type (particularly SSL) or incorrect port numbers. Try to fix the error by reconfiguring the encryption settings. If this doesn't resolve the issue, it means that your Outlook PST file is corrupt or damaged and causing the '0x800ccc1a' error. Use Outlook built-in 'Scanpst.exe' repair utility to repair corrupted PST file. However, the built-in repair utility may fail to fix severely corrupt PST file and does not guarantee recovering the complete file contents. A better alternative is to use PST file recovery software that can repair severely corrupt PST file of any size in just a few clicks. Also, the software helps recover all the file data, preserving its integrity.